The winter holiday is approaching, and you want to plan winter adventures in California with teenagers. Let us tell you that you make the right choice by choosing California as your winter destination. First, California is arguably one of the most beautiful winter destinations in the US. Second, California always has something for everyone, even during the coldest days. The rest is for you to find out.
Our list of winter adventures in California with teenagers is an ideal suggestion for your family to get active or chill out. We revealed the best California has to offer. Even though you may experience quite intense rainfall in some parts of California during winter, your fun time in California will be fine. Read our list below to make sure you get all the information.
1. Castle on the Lake
The infamous Lake Tahoe is a lovely spot to visit all year round and in any season. Being the place with the highest snowfall in the region makes Lake Tahoe the excellent choice to experience winter adventures in California with teenagers. Not in the mood for skiing? You may think Lake Tahoe is made only for skiing!
Do you know that the Scandinavia-style Vikingsholm Castle on Emerald Bay is also explorable during winter? The castle is accessible via drive and hike, boat, and kayak. We recommend parking your car at the Vikingsholm Parking Car and booking a $10 ticket for the hiking tour. However, whichever ways you choose are enjoyable, and the Emerald Bay lookout that offers a great lake view is a bonus.
2. Sleep to the Sounds of Coyotes in the Desert
Camping (in the desert) is not only a summer thing. How about we tell you that a suitable campsite is all you need for a winter camp? Before telling you the tricks, we want to make sure you love Joshua Tree National Park. The park, which is where two deserts meet, is home to rare plants and a trove of wildlife. Due to its desert ecosystem, you should expect contrasting temperatures. The daytime winter temperature can reach around 60ºF with approximately 30ºF at night.
Camping at Joshua Tree National Park during winter is enjoyable, even though there are more popular times to visit. To avoid your teenagers' grumpiness during the holiday, make sure you regularly check the weather forecast. Remember to book camping or glamping sites that provide electric blankets, heated showers, and indoor sinks to keep your family cozy during freezing nights.
3. Can't Spell Santa Cruz without Santa
Famous for the surf culture, Santa Cruz is your next winter stop like no other. Santa Cruz is about celebrating and appreciating all creatures. We have put together wildlife tours on this list of winter adventures in California with teenagers. Experience sea life in winter at Seymour Marine Discovery Center where you can touch sea mammals in the cold water! They also have various exhibits that can refresh your teenagers' knowledge of marine science.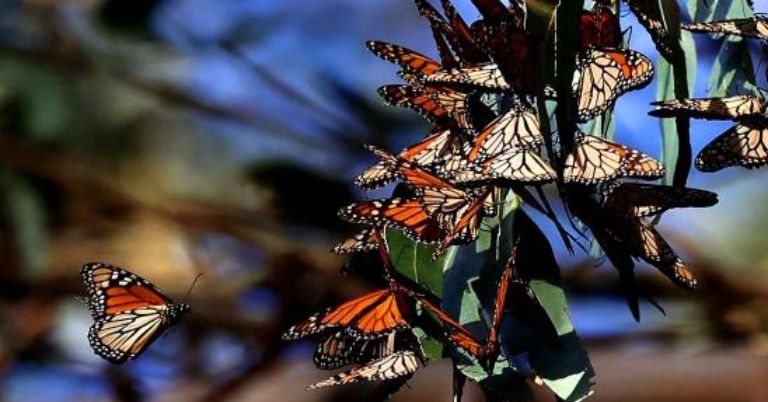 If you're more of a butterfly person (how could you not?) and want another magical moment with animals in Santa Cruz, Monarch Butterfly Magic at Natural Bridges is the way to go. Winter is one of the seasons when Natural Bridges State Beach welcomes monarch butterflies back to their haven. The migration offers breathtaking sights for visitors even in the middle of low temperatures. Remind your teens to bring their cameras with them.
4. Adventurous Santa
Once you choose SkyPark at Santa's Village, you will stop asking yourself about winter adventures in California with teenagers (we mean, who doesn't?). SkyPark at Santa's Village is one of our favorite adventure theme parks. Just near Lake Arrowhead, California, your family can enjoy a range of activities in the pine forest.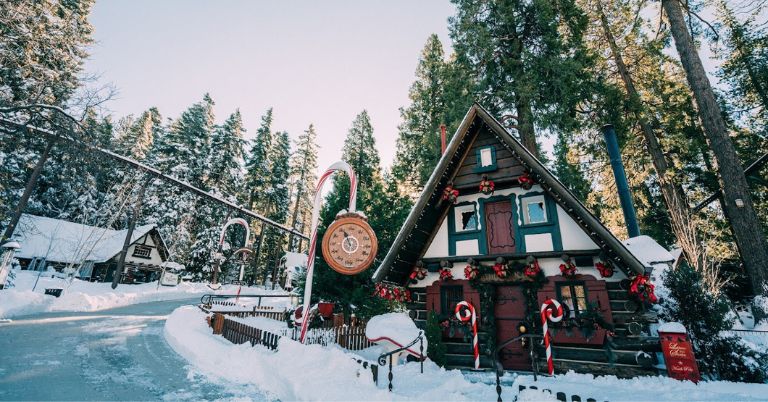 SkyPark at Santa's Village adds breathtaking moments to your season's festivities. If you are after a maximum holiday spirit, no look further than this theme park. Your teenagers can first-hand interact with Santa. SkyPark at Santa's Village is delightful and adventurous as it also provides world-class pedal cars, zip lines, rock climbing, and so on.
5. Get Along with Disney's Characters
If you can handle the chilliness, then go to Disneyland. The happiest place on earth is even more magical during Christmas time. Imagine your teenager's childhood dream to be among Disney's characters during the festive season. For maximum experience, you can consider staying at one of Disney's hotels in the area. By staying at one of these accommodations, your family can get special access to the park's attractions.
Usually, the Christmas celebration in Disneyland starts in mid-November and until early January. What makes Disneyland deserves a spot on your list of winter adventures in California with teenagers is the vibe it offers. Your teenager can taste seasonal treats with each area of the park being decorated with glittering garlands and wreaths.
6. Winter Bucket List in Eastern Sierra
Another one-stop winter spot that has it all! While you may already know that Eastern Sierra offers scenic and beautiful landscapes, you should familiarize yourself with a range of winter activities in the area. Thinking of stargazing and photographing? We've got you covered! Head to Eastern Sierra Dark Sky Festival to find out about various sky fests full of exciting agendas.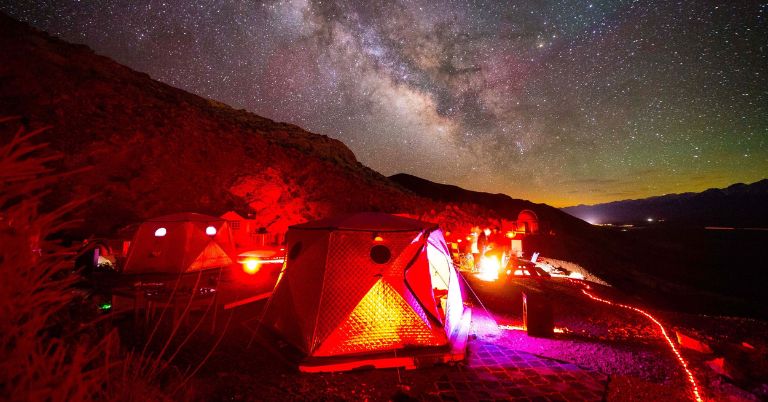 If your teen is the kind of person who doesn't want to sit still and prefers to get active, worry not. You can be a snowy cowboy who loves to hike, fish, and climb in Bishop. Once you set foot in this small town, you will find the Native American atmosphere. What we like most about Bishop is that it accommodates your active beings and is home to the best bakeries in the state.
7. Shop Til you Drop
We understand that some families perceive adventurous holidays as strolling around a lovely town, digging for some good food, and indulging in a nice walk all day long. If you long after this kind of winter break, look at the quant Paseo Nuevo in downtown Santa Barbara. Get into the Christmas spirit while doing old-fashioned-but-fun Christmas traditions; shopping, photos with Santa, culinary, and enjoying musical performances.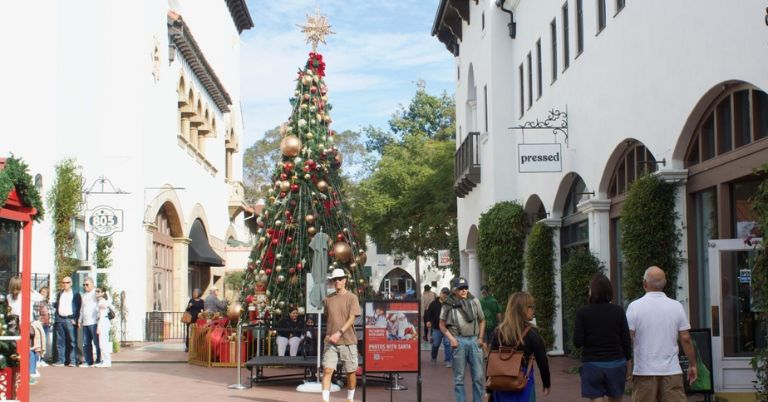 Paseo Nuevo is a shopping center complex. The area is quite spacious as the complex is integrated with the main street, so you can enter the complex at whichever end. Its Spanish architecture makes you feel like you are in the middle of a discreet village with a friendly and vintage neighborhood. If you want to see more of what Santa Barbara has to offer, head to this list.
8. Spectacular Snowy Landscape
Listing the winter adventures in California with teenagers may involve traditional show-playing like skiing and snowshoeing. If you are one of these people, the Sequoia and Kings Canyon National Parks are calling! These two parks are different but under combined management. While Sequoia National Park is famous for its giant trees, you can regard the Kings Canyon National Park as the deepest canyon in the country.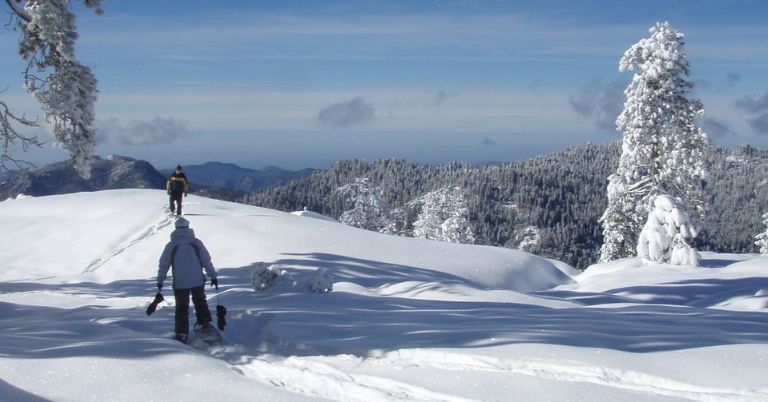 With these extreme natures of the parks, these parks are called 'A Land of Giants.' This also means that these parks give more room for your family to freely enjoy winter adventures. Whether you prefer skiing, sledding, tubing, snowboarding, and snow playing, the Sequoia and Kings Canyon National Parks are ready to welcome your family.
9. Monterey's Seaside Village
When you think about winter adventures with teenagers in California, has the beach town ever crossed your mind? Because it's very possible to have plenty of fun with fewer crowds at the beach in Monterey. First, thanks to its coastal climate. Temperatures in Monterey rarely dip below 45ºF. Second, the area is perfect for those who prefer a snow-free winter holiday. Last but not least, the crisp air is the freshest thing you want to wake up to every day.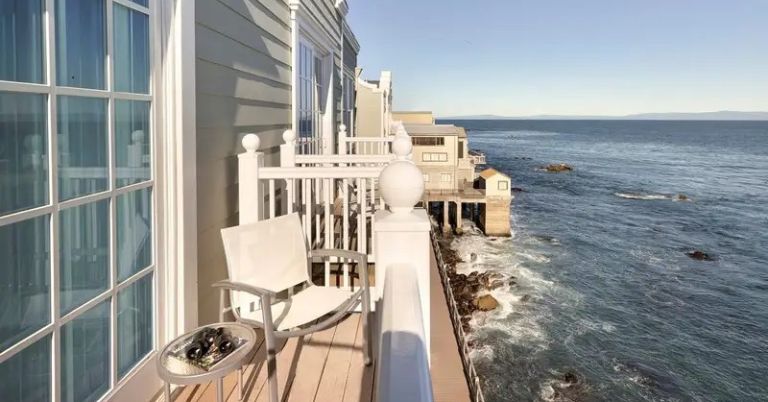 Celebrate all brights in the world, even during winter, in Carmel-by-the-Sea, a quaint village that offers European vibes in every corner. Walking through the passageways and aisles of Carmel-by-the-Sea will give you the feeling of summer that lasts forever. You and your teenagers can enjoy the beautiful coastal views, family-friendly environment, and various good restaurants.
10. All-day Family Fun with Snow
If you're tired of skiing and your teenagers want something else that still includes snow playing, let me tell you, playing with snow should be effortless and fun. Head to Big Bear in the heart of Southern California for a truly fun snow experience and choose some of the Big Bear Snow Play attractions. The only requirement your family needs to fulfill is 36 inches in height.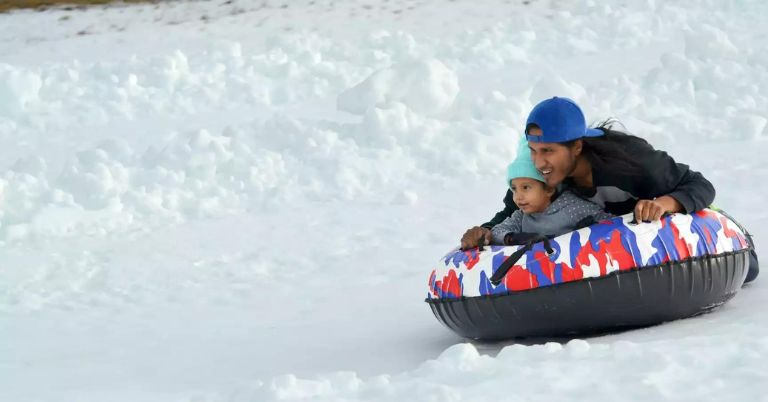 At Big Bear Snow Play, your family can play outdoors feeling safe with many attractions to choose from, ranging from the ropes course, speedway, and snow tubing, to glow tubing. Breathing in the fresh air while barrelling down a snowy hill with family here will be memorable. If one full day is not enough for your family to explore, we recommend you book the heated lodge equipped with a cotton candy machine.
11. Put Your Festive Mood On
When thinking about winter adventures with teenagers in California, you may also think about the festive season. If you plan your Californian holiday, count Paso Robles, which will charm your family with its festive events, light parades, and other excitements depending on the season. Paso Robles is a small town full of seasonal impressive family-friendly agendas. Once you're here during a specific celebration, its community-based nature will make you feel like you are finding a new family.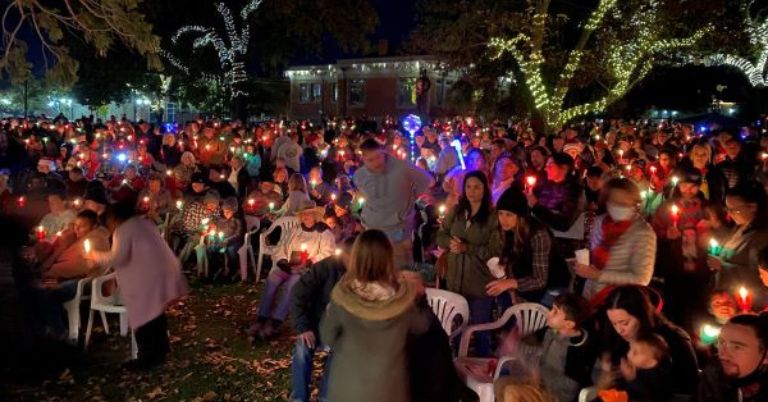 We once came there with our teens in December, and our family enjoyed the Annual Downtown Lighting Ceremony that let the whole town enliven the festive spirit. We watched serene music performances and speeches; our favorite was candlelight community caroling. The latter felt so magical as the town was illuminated by the lights. As the cherry on top, we witnessed the holiday tree being turned on.
Conclusion
California always ranks high on the list of holiday destinations as the state has everything for everyone. One thing to note when considering a winter holiday in California is the temperatures get colder the farther north you go. If you are looking for winter adventures in California with teenagers but still long for the warmth of summer, try Palm Springs or Death Valley.
If you want to add winter activities to your holiday agenda, head to the mountainous part of California, such as Lake Tahoe and the Northern Sierra. Temperatures can be pleasant during winter in California, given its desert climate nature. However, always take precautions since rainfall is not so predictable.
---
Latest Post:
---
FAQ (Frequently Asked Question)
What is there to do in California in the winter?
You can do skiing, snowshoeing, strolling around Santa's Village, camping, and many more. California has it all. From glacier mountains, world-class surf spots, and wildlife, to exotic deserts. The diverse geographies allow us to experience various winter events and activities. Thus, you will run out of winter adventures in California with teenagers.
Where is the warmest place in California in December?
Palm Springs. If you don't fare well with freezing temperatures, include Palm Springs on your list of winter adventures in California with teenagers. Sunny with cool nights is the typical winter feel in Palm Springs, with the temperatures hovering around 72ºF.
What city in California has snow?
Lake Tahoe, Arnold, and Truckee are the northern areas where you can find snow. Mountain towns in the southern part of California that have snow are Big Bear Lake, Wrightwood, Julian, and others. When you think about winter adventures in California with teenagers, take into account the snowfall level in these places.
What is the best place to visit in the winter?
The Eastern Sierra is our favorite winter destination for its unique winter activities. The numerous sky fests in the area give us a chance to embrace wintry nights. But at the same time, we'd like to think of the Eastern Sierra as a family's playground, as you'll always have winter sports activities here.
Latest posts by William Niocolas
(see all)