Charlotte, also known as Queen City, draws in many tourists looking for an array of beautiful attractions and special events. Whether you catch interactive exhibits and films, celebrate special weekend events, explore natural resources, or discover majestic animals, the city offers everyone plenty of enjoyment and excitement for your family.
You may get complicated in deciding the best destination for family time. Don't worry! We have summarized the top 23 family things to do in Charlotte, NC, this weekend. From the diverse selection of museums to the beautiful array of green spaces, Charlotte is a fun city to play in and explore. Just relax, scroll down, and plan a visit to Queen City.
1. Attend the Carolina Renaissance Festival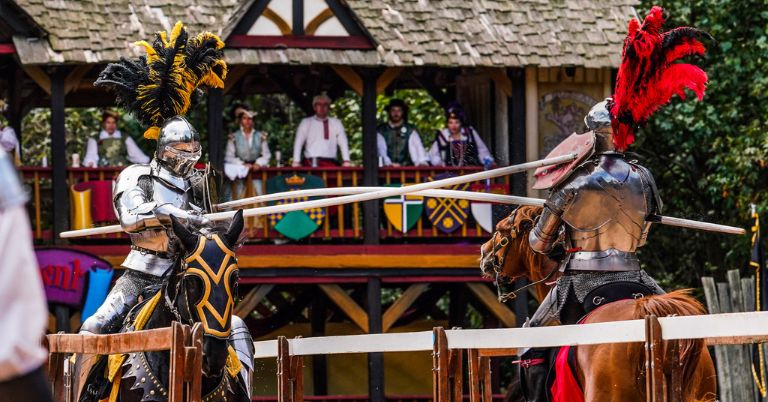 One of the family things to do in Charlotte, NC, this weekend is to attend the Carolina Renaissance Festival. It is a mix of Queen City's lovely history and a state-of-the-art fair dedicated to visitors of all ages and backgrounds. Invite your family to the state's largest annual outdoor festival, whether you are going to enjoy circus performers, belly dancers, dressed characters, feasting, games and rides, and more.
The festival also offers interactive and immersive entertainment for teens, including jousting knights on horseback, falconry, and others. Stare at Charlotte's bravest knights' battles, paired with Hooves thundering, armor clashing, and trumpets blaring. The outdoor Artisan market is also up for grabs. More than 140 vendors present an extensive range of hand-made, unique wares, including leatherwork, sculpture, jewelry, blacksmithing, glass blowing, and more.
2. Meet the Majestic marine life at SEA LIVE Charlotte-Concord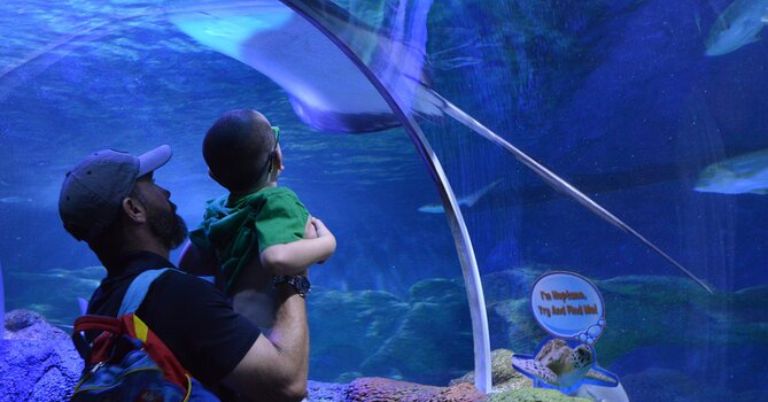 Bring your family to meet thousands of sea creatures through the state's largest tunnel aquarium, SEA LIVE Charlotte-Concord. It is a perfect venue for teens to have an eye-on-eye look at majestic marine inhabitants. Whether you discover sea turtles, sharks, and tropical fishes, the 180-degree spectacular underwater tunnel creates a lasting experience. Feel free to interact closely with the inhabitants.
Over ten breathtaking exhibits are also accessible, including the Tropical Ocean Exhibit, Interactive Touchpool, Sea Turtle Rescue Center, Stingray Bay Exhibit, and others. You can also enjoy a variety of special events like Little Sea Stars, Spooky Seas, and more at the weekend. For next-level sophistication, get an augmented reality experience with fantastic and immersive displays. You can also see how the staff cares for the magnificent creatures in the Go Behind-the-Scene program.
3. Watch Baseball match at Truist Field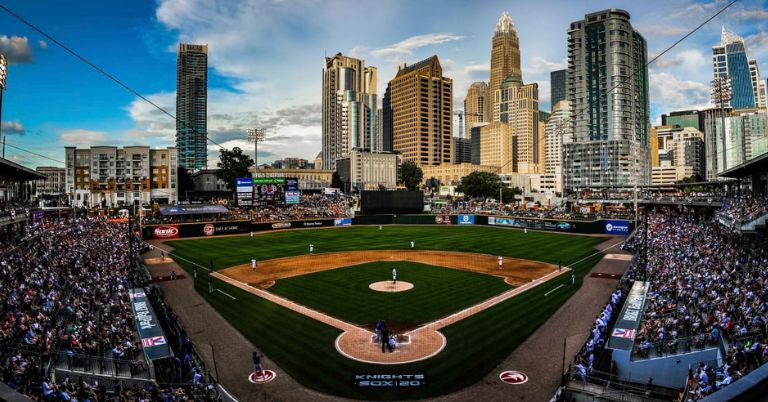 Truist Field is home to a Triple-A Minor League Baseball team, the Charlotte Knights. Located in the Uptown-are, you can cheer on the baseball match at the stadium this weekend. Invite your family to be part of the team's supporters. Besides baseball games, various attractive activities and programs are also available. The sports venue has also hosted other sporting events and live music concerts throughout the years.
The picnic area is so beautiful. The sports venue offers everything, whether you are crazy about a baseball game or looking for fun outside the stadium. Get a panoramic view of the city skyline outside. A variety of vendors for food and drinks are also available. While watching the baseball game, grab a bite of your favorite foods like hotdogs, hamburgers, cheeseburgers, and more. What a lovely experience for teens this weekend!
4. Refresh at Freedom Park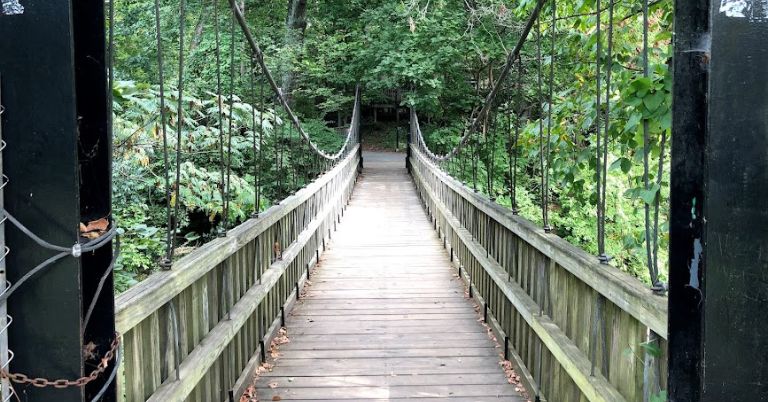 Spend your weekend by taking refreshments at Freedom Park. It is one of the most serene and beautiful spots for teens in Queen City. The park is perfect for escaping the city's hustle and bustle while taking a breath of fresh air. With a 98-acre park, including a 7-acre lake, you can experience fun things to do this weekend. Whether you walk through the paved trails, play volleyball, have a picnic, or just lay down on the grass, the park meets everyone's needs.
One hidden gem in Freedom Park is its rope bridge. You can walk through the bridge while capturing photos or videos. Surrounded by beautiful trees, the spot is instagramable. Most teens will love it. The park also hosts outdoor live music entertainment. Get involved in one of the city's largest festivals, featuring art walks, music courses, galleries, and more.
5. Cheer up the Queen City's NBA team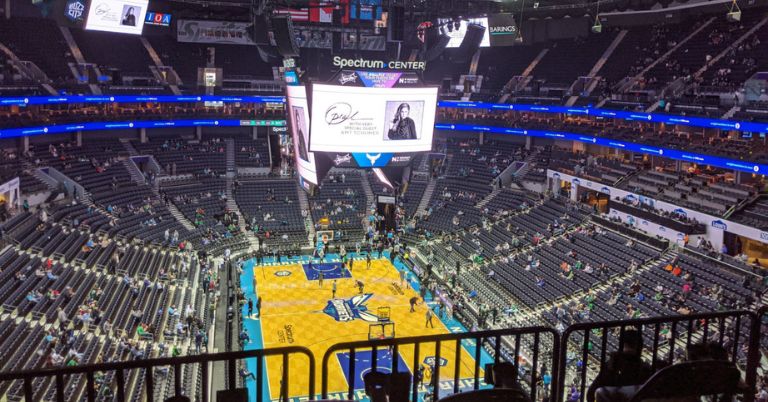 If you are into basketball, come and cheer up the Queen City's NBA team, The Charlotte Hornets, at Spectrum Center. Get a taste of the electric atmosphere and roaring crowds at the weekend. The basketball games run from October to April. Check the schedule and get the tickets. You can invite your family to cheer on the basketball team in one breath. Bring your snacks and drinks while cheering on the team. Some arena restaurants are up for grabs. With its diverse menus, the restaurant offers everything for fans.
Besides watching the game, the artwork exhibits are open to guests, including teens. Feel free to delve into unique displays and artworks offering a visual illustration of the region's history and its rich sports. When the match is off, the arena is also used for other events, including live music performances, WWE events, and more.
6. Get excited about Aviation at Carolinas Aviation Museum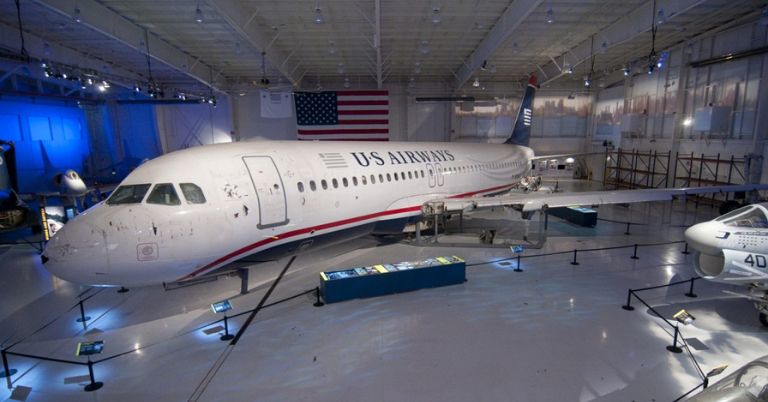 Carolinas Aviation Museum is dedicated to aviation enthusiasts of all ages and backgrounds. The venue is home to a variety of aircraft and artifacts, including the well-known aircraft Miracle on the Hudson. Broaden your knowledge by exploring the exhibition, which highlights stories of hope, heroism, and innovation throughout the aviation display. Whether you are looking for inspiration or discovering old aircraft, the museum offers dreams and goals to all guests, especially teens.
Start your aviation journey by delving into the fantastic aircraft exhibits, including civil aircraft, commercial aircraft, military aircraft, and helicopters this weekend. Get close to an array of beautiful airplanes from the advent of aviation. Besides that, you can get involved in the immersive program of STEM education and innovation center.
7. Get an up-close look at the biggest cat at Tiger World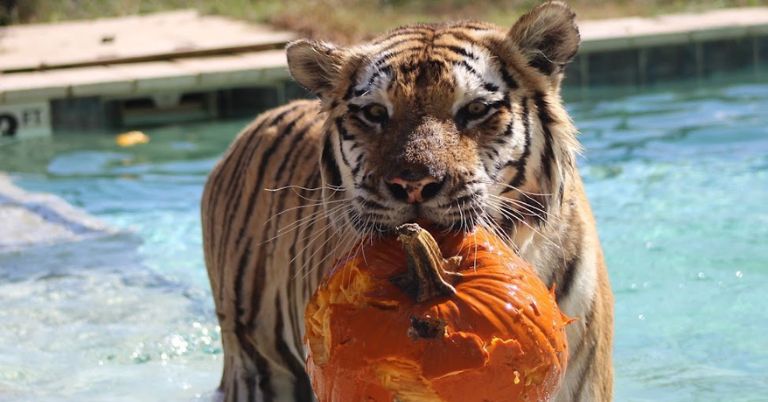 Invite your family to encounter the giant cat in the world at Tiger World. The sanctuary park is an educational center and center for animal conservation dedicated to rehabilitating, preserving, and rescuing exotic creatures. Whether you are looking for self-guided or walk-around guided tours, the park is open for visitors of all ages, especially teenagers. The personal tour guides are also ready, willing, and able to guide the visitors throughout the immersive experience and learning.
You can see over 54 exotic animals, including 14 endangered species like tigers, nachos, and others. Explore and observe how the animals play, eat, swim, sleep, and interact with each other. The lively and intimate environment is ideal for bringing your family and learning about majestic animals closely and up close.
8. Delve into the Charlotte's based bank at the Wells Fargo Museum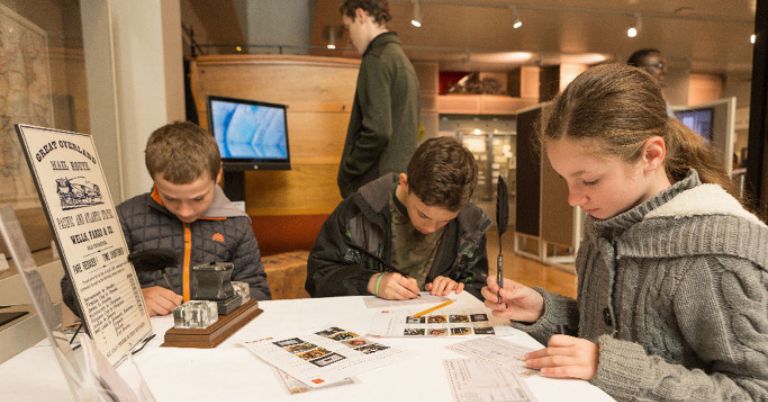 Spend your holiday with your family at the Wells Fargo Museum. It is one of the extraordinary family things to do in Charlotte, NC, this weekend. Located next to the Levine Center for the Arts in Uptown Charlotte, the museum is a great place for teens to learn about the history of Wells Fargo, including gold mining in North Carolina and the origins of Wachovia Bank. Feel free to discover and observe the gold-rush era through the attractive exhibits and immersive programs.
You can discover a working telegraph, a simulated bank teller from the 1960s, a recreated mine tunnel, the old Concord stagecoach, gold nuggets, and unique coins from the interactive exhibits. Whether you choose a self-guided walk-through or a guided tour, the museum brings the vivid history of an American bank and gold mining to your life. The museum store offers a wide range of Well Fargo branded apparel, collectibles, and gifts.
9. Encounter diverse plants at the Daniel Stowe Botanical Garden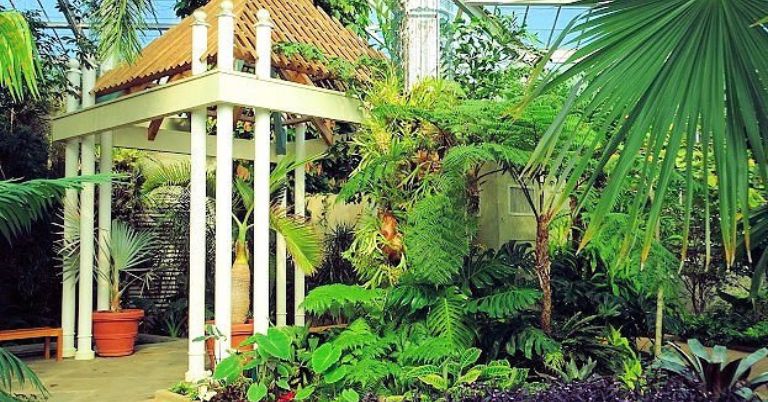 Located in the Belmont neighborhood, the Daniel Stowe Botanical Garden is a peaceful venue to escape from the busy city in North Carolina at the weekend. Featuring thousands of plants across its forest and meadow, you can take a breath of fresh air while exploring the diverse plants. The natural spot is a mix of a conservatory and garden, offering 380 acres of beautiful land, sparkling fountains, and walk-around paved trails.
Whether you are looking for a variety of flowers or tropical plants, the garden is dedicated to all exotic plants where visitors can enjoy and get hands-on experience. Named one of the country's 20 Great Gardens, the Daniel Stowe Botanical Garden is a perfect venue for teens to spend a holiday with the family. Get involved in featured events like Yoga in the Garden, Hallo-Wine, and Sip and Paint: Spooky Season.
10. Improve your creativity at Hot Glass Alley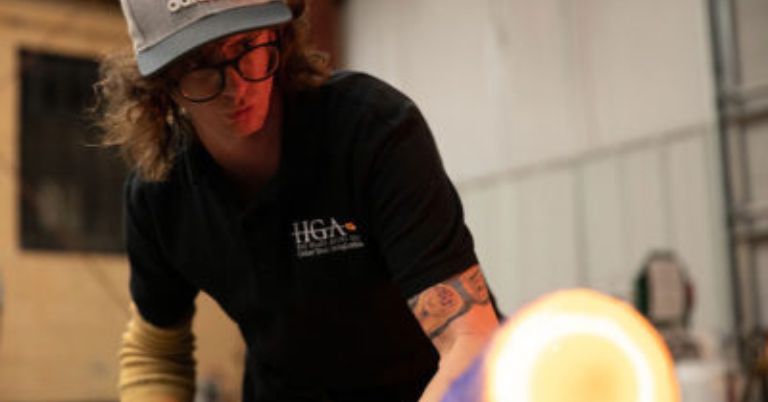 Head to the Hot Glass Alley if you want to improve your skill and creativity. It is the city's first art studio of hot glass. Located in the NoDa district of Queen City, the studio presents an array of glass vessels, functional pieces, small sculptures, art glass objects, and seasonal gifts in unique forms and series. Feel free to make your own art glass. You will have a 30-minute class to create your art glass.
Whether you create unique glasses, customized cups, sparkling vases, or other glass pieces, the glass studio brings hands-on experience to your life. Get involved in private lessons if you want to learn how to make art of glass from basic to advanced techniques. The art studio is also accessible for private events or other parties. Express your creativity and get amazing experience at the fantastic glass studio this weekend.
---
---
11. Enjoy magnificent collections at the Schiele Museum
The Schiele Museum is home to magnificent collections offering an array of educational opportunities and experiences for teens with their families. Whether you explore the permanent or seasonal exhibits, the museum provides a high-quality spot to create memories. It is perfect for inspiring appreciation and wonder for the natural world and science. Start your walk-in tours by stopping at the Catawba Indian Village exhibit, highlighting Catawba Indian culture, survival, and adaptation.
The must-see exhibits are accessible to all guests. Feel free to explore habitats, animals, minerals, fossils, and American Indian cultures under one roof. The interactive exhibits give an experience of the Mesozoic Era through fantastic prehistoric beasts. Take your family to enjoy environmental and agricultural science at the immersive events this weekend. You will get them all in these incredible programs.
12. Taste an authentic local experience at The Optimist Hall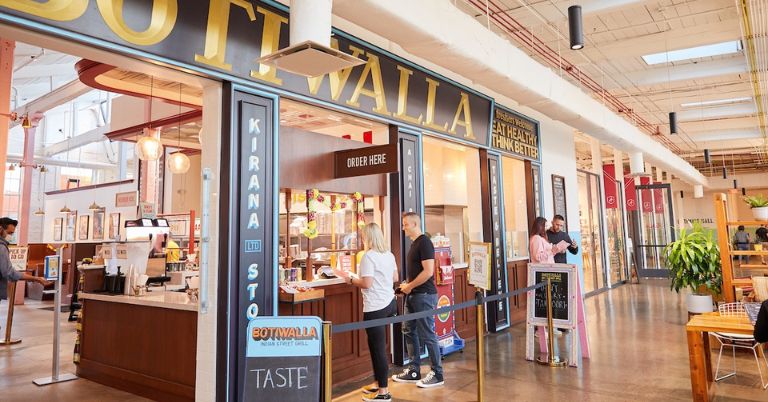 Bring your family to taste irresistible foods and drinks at The Optimist Hall. Located between Uptown Charlotte and NoDa, you can stroll into the food hall, which features a variety of food vendors, stalls, bars, retailers, and some restaurants. A diverse array of foods and drinks are up for grabs. Whether you savor vegan favors, sip a cup of hot coffee, or shop for pets, the hall offers something for everyone under one roof.
Are you looking for greeting cards, eclectic paper, or a writing utensil? Stop in at Archer Paper Goods. If you are a big fan of Italian cuisine, just go to Ava restaurant. It offers a signature dish served with pepperoni or Margherita. Stop in for the award-winning beverages at Billy Sunday. With its elegant patio, get a taste of authentic cocktails and other bar menus.
13. Stroll into Charlotte's live hub at Camp North End
If you are looking for a vibrant, lively hub to hang out at with teens, Camp North End is a must-visit. With an outdoor courtyard, the venue is a perfect space to gather with family. The food trucks are available to offer a variety of foods and beverages. During the summer, the gathering space also presents weekly live music performances of all genres.
The venue offers a great combination of food halls, shopping areas, and art galleries. Don't hesitate to spend your entire day in the most fantastic hub, with no exceptions. For the next-level experience, head to the location on Wednesday. You will have the opportunity to encounter the local farmer's market, which offers exclusive curation, authentic local food, and fresh products.
14. Drive NASCAR's vehicle at the Richard Petty Driving Experience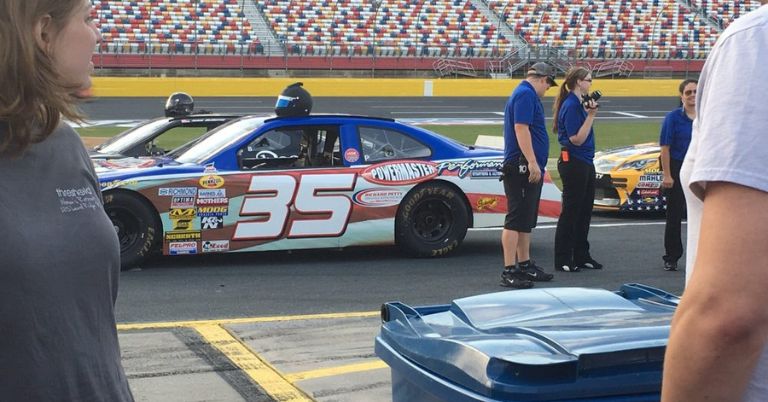 Get an incredible opportunity to drive a real NASCAR vehicle like a professional driver. Richard Petty Driving Experience allows guests to feel the world-class race cars for themselves. The following drivers will receive instructions and training before speeding up. Feel free to get behind the wheel and speed up the vehicles. No instructor rides and no car to follow, all you need is to drive the NASCAR vehicles.
You will have communication with a personal spotter through radio communication. The spotter will inform you about the time of the racing session. Challenge yourself to pass the other cars with one of the fastest cars in the world. Of course, driving NASCAR cars brings unforgettable memories to your life. Choose your preferred driving experience, such as a 5-minute, an 8-minute, a 16-minute racing session, or a longer time.
15. Grab a bite in Rooftop Bars
Charlotte comes with a scenic landscape and a beautiful skyline. Enjoy the stunning views while tasting authentic foods and beverages at rooftop bars. You can stroll into a variety of rooftop bars, from charming rooftop brewpubs to Charlotte rooftop lounges. Taking joy in the rooftop bars is a perfect option to escape the hustle and bustle of the city. Over 12 rooftop bars are accessible for guests of all needs.
Known as a fantastic and elevated venue for teens, Aura Rooftop can be the best option. Whether you are looking for tasty small plates, crafted cocktails rose, or bubbles, the rooftop has everything for all guests. There is also a pool for the guests. Besides Aura, get a chance to enjoy the magical scenic view from Ferenheit Charlotte. The venue features a rooftop terrace, lounge, stylish indoor setting, cozy dining tables, and more. Don't miss tasting an array of authentic drinks and signature American cuisines.
16. Hop in Electric Cart City Tour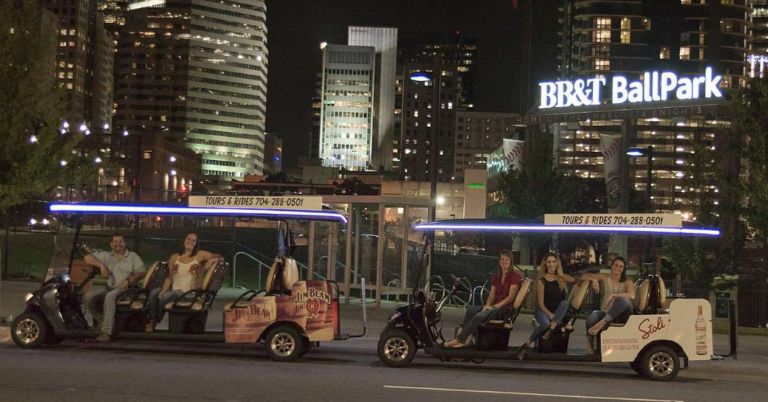 Discover Queen City by hopping on board electric carts. You will have an educational and fun experience with a 90- minute sightseeing city tour. Led by the professional tour guide, get ready to delve deep into the vibrant city and its architecture, local life, character, and history. Whether you explore the city's most iconic landmarks, parks, sports stadiums, and museums, you are free to learn about the city's past, present, and future in a fun journey.
Along the way, you can see some iconic places. If you are a sports lover, stop in to take photos and videos outside the Carolina Panthers Stadium. Get ready to have an eye-on-eye look at 19th-century architecture. Throughout the sightseeing tour, feel free to learn about the rich history of this beautiful city. An electric cart city tour is perfect for exploring the city with teens and families.
17. Grab snacks at the 7th Street Public Market
Located in downtown Charlotte, the Market at 7th Street is a perfect destination to taste a wide range of snacks, foods, and beverages. The food hall offers a mix of local culture and foods under one roof. You can get a taste of local foods from regional farmers, local entrepreneurs, and food artisans. Whether you are looking for local products, affordable fresh foods, or high-quality snacks, the market is ready to bring everything to your life.
As a great gathering venue, the market is accessible from anywhere in Charlotte. You can get to the food center by public transport, private cars, walking, or biking. After exploring the city's iconic places like the First Ward, Discovery Place, ImangiOn, the Spectrum Center, and more, head to the market and savor the best snacks and foods at an affordable place.
18. Be the next Einstein at Discovery Place Science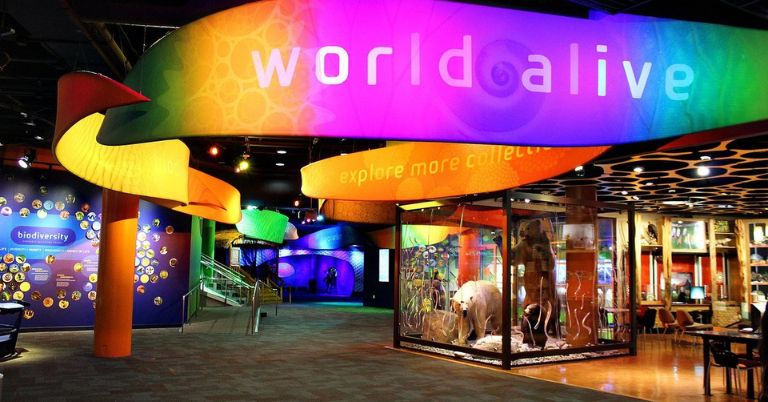 Let's spark imagination and be the next Einstein at Discovery Place Science. It is a hands-on and innovative museum located in the heart of Queen City. Encourage your family to improve creativity and scientific exploration through the interactive exhibits. You can explore the stunning underwater world, featuring majestic marine creatures. The museum captivates the guests' senses when you see tropical fishes, sea-horse, or other animals.
Get ready to explore the state-of-the-art interactive lab, offering the space to design, innovate, and create great projects. Take the opportunity to level up your skills in these fascinating spaces. If you want to experience the sounds and sights of the forest, head to the indoor rainforest. You can have an up-close experience of the jungle. For the next-level experience, don't miss to visit IMAX museum. The Discovery Place Science is a great space for teens to spend the weekend. Plan a visit to an immersive museum.
19. Discover America's largest private house at the Biltmore Estate
The Biltmore Estate offers everything you need to create a lasting memory. Whether you are looking for a leisurely or active retreat, the venue is perfect for teens to escape the buzz of the city. Biltmore has a variety of indoor and outdoor attractions for guests of all ages. Fascinating tours, numerous shops, and special events await you. Feel free to explore the attractions with your family. Start your journey by stopping at the indoor exhibits.
You can explore a soaring glass conservatory with a great tropical display. You can discover both day trips and overnight tours with an 8,000-acre backyard, preserved forests, and breathtaking views. Get ready to stroll into the house and gardens on self-guided or guided tours. However, you have to own a Biltmore Annual Pass to experience more tours, like the Rooftop Tour, Biltmore House Backstairs Tours, and more.
20. Go picnic at First Ward Park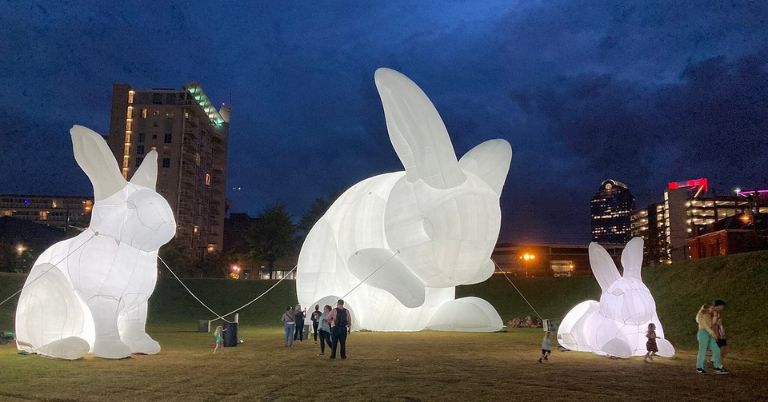 A picnic at First Ward Park is one of the family things to do in Charlotte, NC this weekend. Located in the heart of Uptown Charlotte, the decent green space is superb for spending time with family. The free-admission park draws its visitors through the temporary exhibits; one is the sparkling, inflatable rabbits. Whether you exercise, go sightseeing, or escape the city, the great park offers everything for its guests.
The fun place also features an array of drink and food vendors. Grab a snack and a drink at affordable prices. The natural spot is gorgeous and fun to play on, surrounded by green trees and sculptures. Everything in the park is well-maintained and clean, from the bathroom to the parking area. Take your family to feel the breeze and have excitement like no other.
---
---
21. Catch Indoor Entertainment at the Levine Center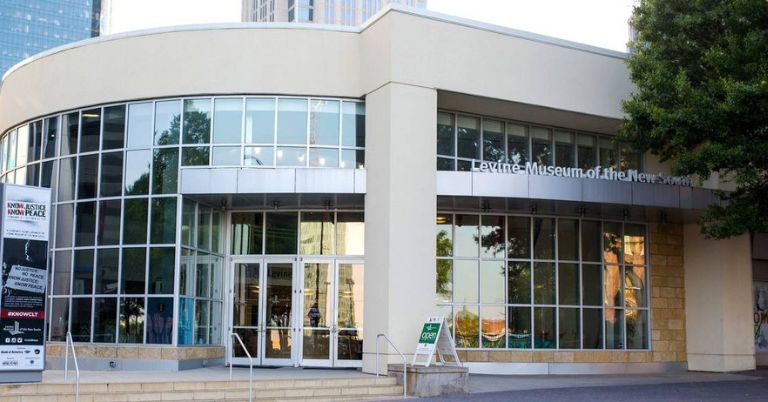 If you want a cultural experience, call your family to visit the Levine Center for the Arts. The museum is home to the Mint Museum Uptown, the John S. and James L. Knight Theater, the Harvey B. Gantt Center, and the Bechtler Museum of Modern Art. Each unique scene provides a great experience and memory for teens. If you want to adore the 20th-century collections, the Bechtler museum presents over 1,400 works.
Explore the contributions of Africans and African-Americans to culture by stopping in at the Harvey B. Gantt Center for African-American Arts. The scene is also home to one of the most significant artworks in the country, the John & Vivian Hewitt Collection of African –American Art. If you are into opera productions, Broadway productions, or concert performances, you can go to James L. Knight Theater. The indoor entertainment center provides everything you need to spend time with your family.
22. Get out on the water by Charlotte Cycle-boats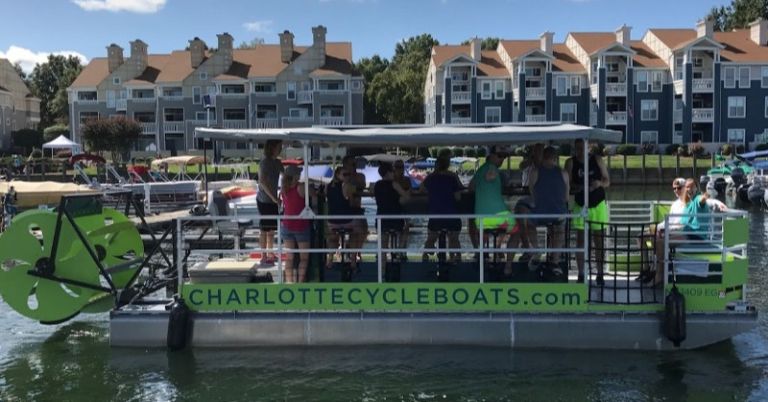 Let's get out on the water by taking Charlotte Cycleboats. The attraction is fun and unique: revel in fantastic natural resources. Invite your family to pedal the boat in one breath. The pedal-powered party boat presents an incredible experience that creates a lasting memory. Located on Lake Norman, come onboard and use your power to move eco-friendly water boats. Led by certified guards, you can enjoy the water excursion and have refreshments.
With up to 15 passengers, the boat features a canopy roof and solar panels to regenerate the electric motor for emergencies and docking. The tour departs from North Harbor in Davidson, and you will have a 2-hour water tour with your family. Enjoy the natural resources onboard and admire the beautiful skyline. Don't forget to bring your best camera. You are allowed to take videos and photos with stunning backgrounds.
23. Join culinary excursion with Feast Food Tours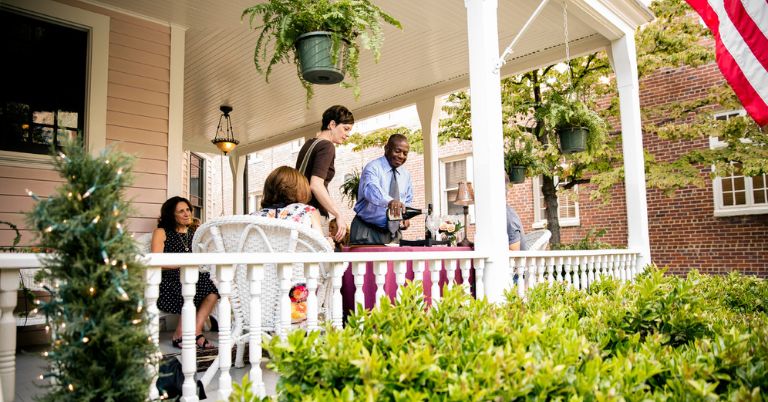 Get involved in Charlotte's culinary community by following the Feast Food Tours. The food tour provider brings excellent experiences into your life. You have an opportunity to meet with top-notch artisans, restaurateurs, chefs, and farmers behind Charlotte's authentic food scene. Feel free to explore the culinary scene through an in-person workshop, walking food tours, culinary events, custom excursions, and interactive live streams.
Gathering around the table provides more than delicious food and drinks. It also presents stories and memories lasting in your life. Taking the tour will give you more experience and knowledge if you are into the cooking scene. Get ready to witness the demonstration of impressive cooking, discover new ingredients, menus, and places for gathering, connect with others, and taste the best culinary options. On the Feast Food Tour, you can create an incredible story in your life.
---
Latest Post:
---
Is Charlotte NC Family Friendly?
Yes alright. Charlotte, NC, offers endless family-friendly destinations and events. Whether you take your family to enjoy a free park catch live music, taste foods, or explore museums, the city has fun things to do for everyone.
How can I have fun in Charlotte NC?
Charlotte NC has an ultimate list of fun things to do, from savoring the best culinary to catching live music performances. Whether you are looking for signature local cuisine, shopping, sports, outdoor adventure, or an immersive museum, the city has provided it all for visitors.
How do I spend a day in Charlotte NC?
The best ways to spend a day in Charlotte NC are soaking in the beaches, exploring museum, strolling into rooftop bars, and taking outdoor excursions like biking, hiking, or kayaking.
Is Charlotte a walkable city?
Yes. Some of Charlotte's neighborhoods, including Cherry, Fourth Ward, First Ward, Downtown, and Dilworth have a walk score higher than 75. But, Queen City has a total walk score of 34 lower than New York City's walk score of 98.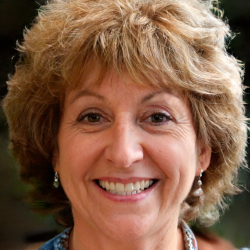 Latest posts by Suzy Prichard
(see all)