If you ever want to spend your weekend in Philadelphia with your family, there are many options on what you can do here. The activities in Philadelphia mainly consist of historical tours, children's activities, and food tours. These are the perfect family activities for the weekend, and you will get the most out of them. Here are the 20 family activities in Philadelphia for the weekend.
1. Please Touch Museum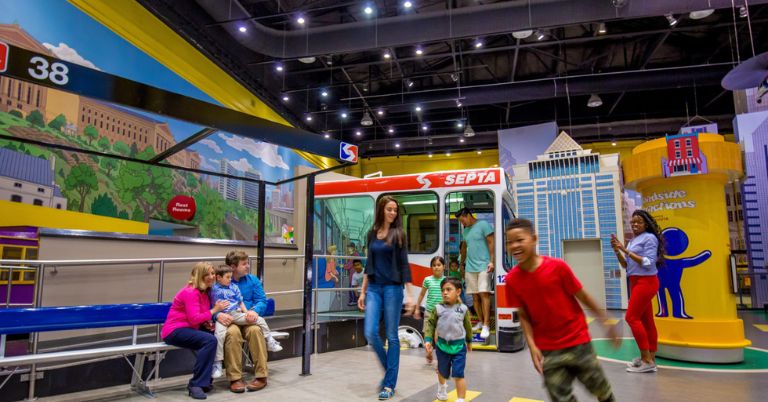 The please touch museum is the children's museum in Philadelphia. This is the perfect place for any family to visit for the weekend if they ever want to come to Philadelphia. This museum aims to bring the past, present, and future together through its interactive exhibits. These exhibits are great for your kids to learn while having fun during the weekend. The museum has a lifetime of hands-on learning and cultural awareness programs.
The museum is located inside the memorial hall. However, before entering, you must buy a ticket or become a member if you visit the museum frequently. You can also make reservations for certain activities. For further information and ticket purchases, please visit the museum's website.
2. Escape Rooms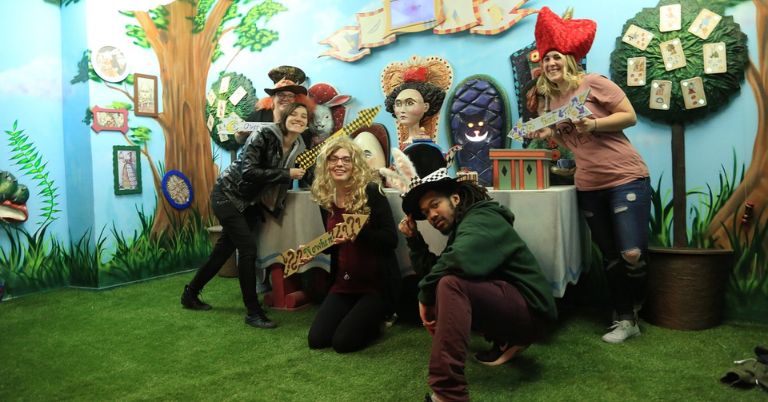 Another great way to spend your weekend in Philadelphia, especially with your family, is to do some escape room. Escape rooms are a trending game. Some escape rooms are accessible, some are hard, and some places even provide levels for specific difficulties. The game's objective is to escape the room with various clues and solve small puzzles that can be found around. Try challenging yourself and your family to find clues, solve puzzles, and escape the room.
Some escape rooms in Philadelphia, namely MindEscape, Escape the 1980s, Liberty Escape Rooms, Amazing Escape Games, and Olde City, have received good reviews and are known for their fun and challenging escape rooms. There are many escape rooms in Philadelphia, but some of the popular ones that most people tend to go to and have received good reviews are the ones listed previously.
3. South Philly Markets, Mosaics, and Magic Experience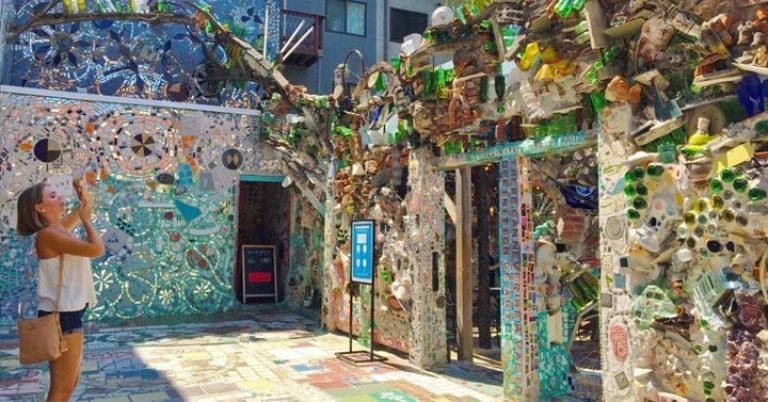 Another great idea to do in Philadelphia for the weekend with your family is to try out the South Philly market, mosaic, and magic experiences. If you wish to make the most of your time on a tour, you should do the South Philly market, mosaic, and magic experiences. This tour will also take you to the same route as the South Philly art tour, only since it has more to offer, the price will be a bit higher and will take up more of your time.
You will be guided through the South Ninth Street Italian Market, take in the South Street sights, and see the colorful mosaics of Isaiah Zagar at Philadelphia's Magic Gardens. It is important to note that Philadelphia's Magic Gardens has an admission fee that is not included in the tour. Enjoy some time at some photogenic places and get free food samples at three food stops.
4. Philadelphia Zoo
The Philadelphia zoo is the perfect destination to spend family time in Philadelphia during the weekend. A zoo that pioneers in animal care and conservation. Reserve tickets for you and your family to visit the zoo. They also provide dining and refreshment if you ever want to take some time to rest while enjoying your time with your family.
The zoo has first-in-the-world animal travel and exploration train system. You get to see animals worldwide and enjoy your weekend with your family. Some additional exhibits include Big Cat Falls, the McNeil Avian Center, the PECO Primate Reserve, an interactive wildlife academy of dynamic displays, rare breeds, and indoor-outdoor learning.
5. Adventure Aquarium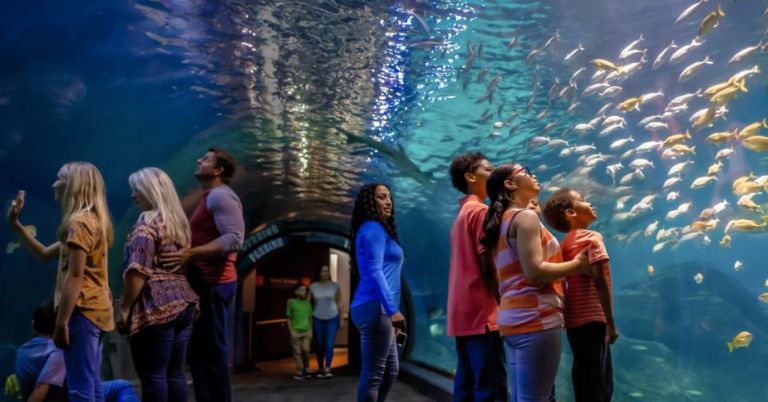 Besides visiting the zoo for the land-based animals, try visiting the aquarium for the ocean-based animals. This is one of the family things to do in Philadelphia this weekend. One of the family-friendly attractions featured here is a one-of-a-kind exhibit where visitors interact with penguins, sea turtles, sharks, and other deep sea creatures by diving in with them.
There are also special events if you have some plans with your family in Philadelphia. If you are interested, you can purchase a membership that guarantees you and your family new experiences, fun-filled adventures, and many fish-filled activities.
6. Sesame Place
The sesame place in Philadelphia is a park with a water attraction, a dine-in with Elmo, and parades. This is the perfect place to visit for family things to do in Philadelphia this weekend. The park also offers certain events, so if you are planning to visit during these events, try signing up for one from their website.
The park has a variety of attractions, and whether you are a kid or an adult, these attractions are open to all. From carnival rides to water slides, sesame place in Philadelphia has it all. Try out Elmo's cloud chaser, oscar's rotten rusty rockets, or even a family raft slide. Water attractions are open daily from 10 a.m to 6 p.m, while the rest of the park closes at 8 p.m. So make sure you arrive at the right time.
7. Legoland Discovery Center
Legoland discovery center is a kid's paradise. Bring your kids here for them to enjoy the weekend building legos without making a mess in your house. Legoland has attractions and events so that not only kids can enjoy their time in Legoland. There is even an adult night event for adults who still enjoy building legos. One unique attraction that's only available in Philadelphia is the Miniland. Miniland is a miniature lego replica of the city of Philadelphia.
Legoland also provides group trips, so that way the whole family can enjoy their time. You can book a birthday package if you have a family member's birthday. This will be the best birthday and a great way to spend the weekend with your family in Philadelphia. Information on other ways to visit is available on Legoland's website.
8. Philadelphia Signature Lunch Cruise with Buffet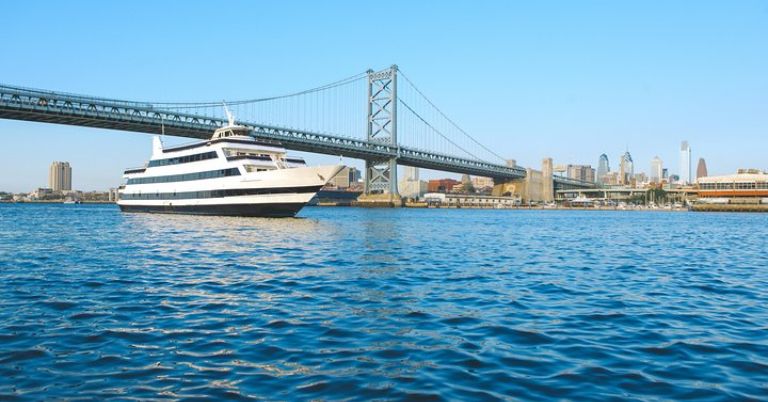 Rather than having lunch on land, it's better to have lunch on a cruise. One of the great family things to do in Philadelphia this weekend is to book a signature lunch cruise with a buffet. You get to see a perspective not many people see in Philadelphia while enjoying an indulgent meal. And also, learn about Philadelphia's landmarks too.
The cruise takes two hours and is served with unlimited coffee, hot tea, iced tea, and water. The private outdoor table gives you and your family a fantastic view of the Philadelphia skyline. The perfect place to have lunch with your family while in Philadelphia for the weekend. Bottomless non-alcoholic beverages and DJ entertainment are also included.
9. Philadelphia Food Tour
Another great way to spend the weekend in Philadelphia with your family is to book a food tour. Everyone likes food, and this food tour is the best option for a family activity in Philadelphia. This is one of the family things to do in Philadelphia this weekend. As Philadelphia is an amazing foodie city, it can still become a challenge for people to find the best spots. On this tour, you and your family will see great places to eat.
The tour group, which only provides for a maximum of 12 people, will guide you from Reading Terminal Market to Sansom Street and experience the best of the Philly food scene. The tour will go on for approximately two and a half hours. Remember to make a booking first from the travel website.
10. Longwood Garden
Visit the Longwood gardens for a more calming journey in Philadelphia with your family. It is one of the world's premier horticultural display gardens. This place has a botanical garden, a tulip display, and many more. There are even fun activities here, including gardening demonstrations, educational programs, children's activities, concerts, and musical theater. A perfect place to take pictures with your family.
You still need to book a ticket if you wish to stop by. Fun events for families include seeing exotic plants from around the world, exploring the picturesque meadows, and learning about some fun facts. You can also participate in the Longwood virtual puzzle for some fun activities to do.
11. Hike at Valley to Summit
The best place to do some outdoor activities with your family is in the Valley to Summit. It's one of the best-rated places to do all sorts of outdoor nature-based activities, like rock climbing, day hikes, canoeing, backpacking, and many more fun activities. They also provide guided wilderness adventures if you and your family wish to be guided on the trip. A good family hike here should be on your to-do list.
You and your family will also have fun while staying in shape here since you will work out your legs or arms. It's full of endless activities here, as the overall goal of the Valley to Summit is to recreate in a responsible manner that protects the environment while simultaneously enhancing people's interactions with nature.
12. Schuylkill River Trail
Take a walk, cycle, or even hike on the Schuylkill River Trail. The Schuylkill River Trail is a planned urban pathway set to extend about 70 miles. It is an excellent place for families to go for a calming walk after a tiring day. It can also be an excellent place for families planning to exercise in Philadelphia for the weekend.
The river trail gives a great view of beautiful bridges and skylines. The river trail also has forests and other nature-infused areas that are also great for hiking. Bring your family here, whether they want to do some activities or just want a calming journey. This place offers all that is stated.
13. Dilworth Park
The Dilworth Park provides excellent activities for families and children, making it perfect for families visiting Philadelphia. The park has an interactive fountain that opens in the warmer months and transforms into an ice skating rink during the winter, a cafe, and tree-grove seating areas. During the spring, the park will be filled with many activities happening all week long. There are festivals, live music performances, outdoor movie screenings, and happy hour specials.
Bring your family here for the weekend to have a great time, but make sure to come at the right time of the year. With the activities mentioned before, you can make plans with your family for the weekend. Based on the time of the year, spring is the best time to visit the park if your family enjoys various activities, and the rest of the year is the best time for a calming time.
14. Craft Hall
The craft hall is a restaurant with a place to hang out. You have to make a reservation if you plan to eat at the restaurant, which also has a brewery. The open concept space allows guests to enjoy the outdoors and indoors. You will see how their bread is baked, meat is smoked, and beer is brewed.
The craft hall playground is also perfect for you and your family to have fun. It's a playground for kids and adults. There are video games, board games, an arcade, and even a kid's playground. The craft hall is designed for people of all ages and is perfect for families visiting Philadelphia for the weekend. Whether you have kids, teens, or even all of you are adults, you can still have a great time in the craft hall.
15. Blue Cross RiverRink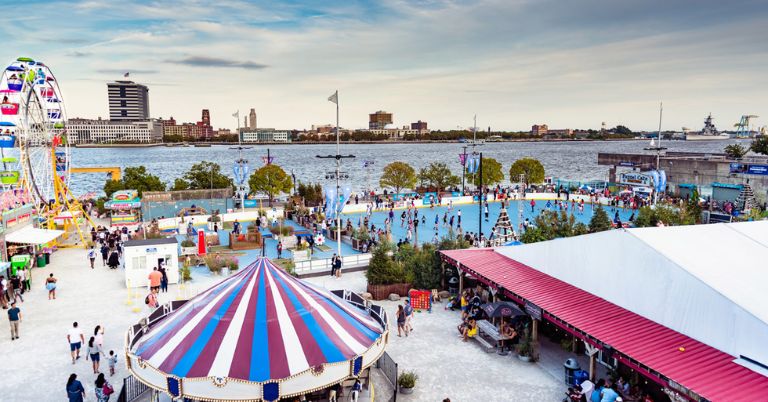 Another one of the family things to do in Philadelphia this weekend is to do some skating in the Blue Cross RiverRink. You can skate with your family and have a great weekend. You won't have to worry about the time of year to visit the RiverRink skate park, as it offers roller skating during the summer and ice skating during the winter.
Admission fees and skating rentals are separate as the park also offers food, beverages, and other amusements. This is a great place for your family to spend time here, and even if one of your family members doesn't like to skate, there are many other activities.
16. Treetop Quest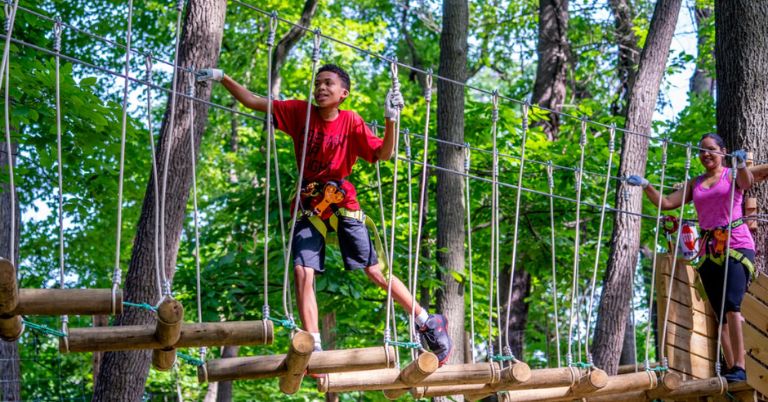 Book a ticket to the tree top quest in Philadelphia, and prices differ for different ages. They also have a birthday event, so if you plan to celebrate your kid's birthday in Philadelphia, you can submit a booking request on their website. It is also essential to know that online reservations must be made at least 10 hours in advance. Any minor under 18 is required to have constant supervision of an adult, whether the adult is participating or not.
They provide different course levels for different ages. Kids from age four to six can do the Chick Pea course. At age seven and up, they can do levels one to three, while people who are aged 12 and above can try the level four-course, which is the most challenging course.
17. Citizens Bank Park
Watch a ball game for the weekend in Philadelphia at the Citizens Bank Park. Even when there isn't any game, you can check out the yard, which is a family-friendly play area. Buy your tickets at the stadium's website, which offers single game tickets, seasonal tickets, and many other exciting offers. They also provide schedules on the website if you want to check whether any games will be held when you stop by during the weekend.
Watching the game with your family is the best way to spend your weekend in Philadelphia. If you have kids, then you can let them play in the yard as well for your kids to practice their pitch, test their skills, and have some fun. The yard will open when the ballpark opens, so check the schedule first.
18. Walnut Street Theatre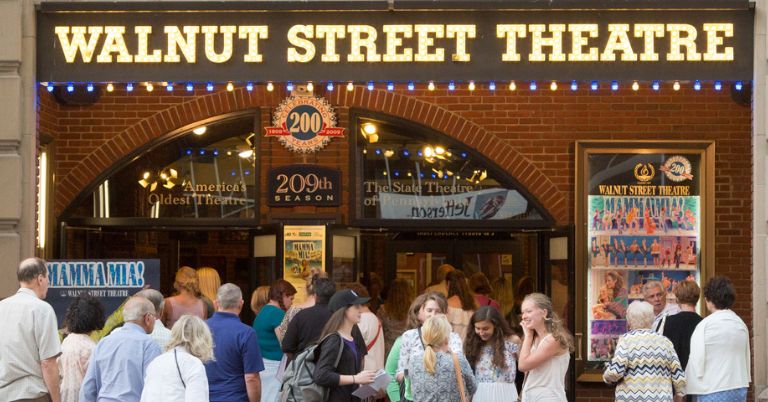 Watch a theater with your family during your visit to Philadelphia this weekend. The Walnut Street Theatre is one of America's oldest and prolific theaters. The theater has seasonal shows, which are mentioned on their website along with the names and dates of the plays. They offer group tickets, premium tickets, and even a luxury box for the best view of the play.
The theater also offers backstage tours. You will see how they put their shows together using the best talent from Philadelphia, New York, and beyond. As for the special events, check their website to see what special events they will be hosting during your visit to Philadelphia during the weekend.
19. The Fillmore Philly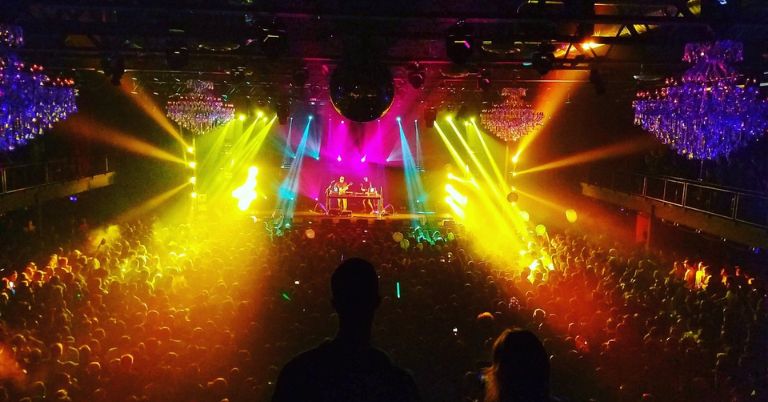 If you are looking for a concert in Philadelphia to spend time with your family, check out the Fillmore Philly. Their website offers information on upcoming events and tickets to the events. Check out their website to see what events will be hosted during your visit to Philadelphia this weekend. Bring your family to the Fillmore and enjoy a concert with them.
The Fillmore was the focal point for the psychedelic music we hear today and was even responsible for launching careers of acts such as Led Zeppelin, Santana, The Doorz, and many more. It offers an opportunity to listen to great live music and participate in a cultural and history-making music event shared between artists and fans.
20. Museum of Illusion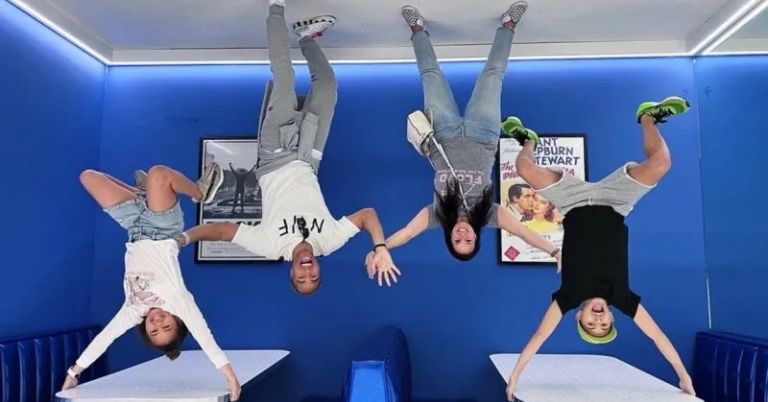 The Museum of Illusion is a trippy place to visit. It makes your mind spin around and gives you an exciting time with your family. They have several board games, educational toys, and brain teasers to keep you and your family entertained and your minds sharp. They have more than ten exhibits that will blow your mind each time you visit the next exhibit. It's a great place to spend time with your family.
Purchase your tickets from the museum's website. However, you need to be quick as they only provide a limited number of tickets for each day, so if the tickets for the day are sold out, you need to buy a ticket for another day that's still available. The ticket you buy will give you full access to all the exhibits.
How do I spend a weekend in Philadelphia?
The most popular thing to do for the weekend in Philadelphia is to visit the museums, do a food tour, and learn about American history, as Philadelphia is rich in America's history, from the fight for independence to the African-American's role in shaping the nation it is today.
How can I spend a day in Philadelphia?
You can randomly tour inside museums that don't require a reservation. It's even better if you find a museum with no admission fee. The city is also filled with restaurants and parks where you can spend some time enjoying the food and hanging out when you've got some time to kill.
How much money do you need to visit Philadelphia?
According to some sources, it is expected that you will spend around $151 per day, which is the average daily price based on the expenses of other visitors. Past travelers have spent, on average, $39 on meals for one day and $22 on local transportation.
Is Philly worth visiting?
If you enjoy visiting museums, art, learning about America's history, and food tours, then Philly is definitely worth visiting as it offers all the things stated. You will have a great time in Philly with your families, artistic landmarks, touring museums, and enjoying the food.
Latest posts by William Niocolas
(see all)