Atlanta may not receive as much attention as other family vacation locations, but this bustling metropolis can compete with the best of them and is packed with family-friendly activities. There are so many enjoyable things to do in Atlanta with kids, from a flourishing arts scene and stunning outdoor parks to rich Southern history and culture.
Atlanta is home to the world's busiest airport and an excellent public transportation system, making it simple to get here and get around once you're here. With a pleasant climate all year, any season is an excellent time to visit Atlanta. Whatever your family's interests are, it's a fantastic location to explore and have fun. If you're wondering what to do in Atlanta with the kids, we've compiled a list of the 20 Best Things to Do in Atlanta with Kids.
1. Playing at Stone Mountain Park
This sprawling park of over 3,200 acres is one of Atlanta's most popular attractions. You can spend the day with kids by hiking to the top of the mountain to take in the breathtaking scenery or taking a classic Swiss gondola or leisurely train ride up to the top. Stone Mountain Park has something for kids, with a variety of outdoor attractions. Take one of several group tours, play a round of golf, or swing through the treetops on one of the country's most significant outdoor adventure courses.
Stone Mountain Park's calendar is jam-packed with festivals and events for kids to enjoy, so take a look and see what fun you await. This park is ideal for both a day trip and an extended stay; with campsites and resorts on-site, your kids can make a long weekend out of it and enjoy more of the park's exciting activities!
2. Playing at Piedmont Park
Atlanta's Piedmont Park, also known as "Atlanta's Central Park," is one of the city's most beloved urban parks. You and your kids can explore many park paths, a family-friendly pool area, a giant splash pad for youngsters, and two playgrounds to keep the kids entertained. Bring a picnic and spend the entire day at this classic park with stunning views of the city skyline.
Piedmont hosts fun festivals and events throughout the year, including guided tours and bird walks. If your kids go on a Saturday in the summer, make sure to stop by the Green Market, one of Atlanta's best farmers' markets. Kids can get all their favorite artisan goods here, enjoy live music and demonstrations, and enjoy a special kids' activity area.
3. Visit Centennial Olympic Park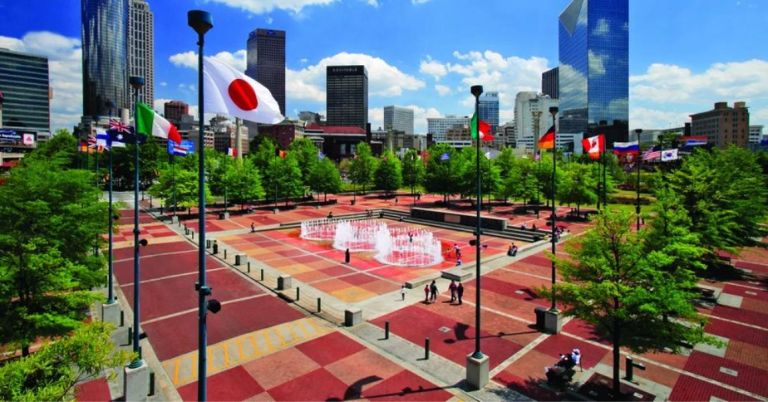 Centennial Olympic Park, designed for the 1996 Atlanta Summer Games, was redesigned for long-term public use shortly after the games. This top tourist destination is right in the city's heart and offers plenty for parents and kids. You can explore the park's monuments, Olympic memorials, and the visitors' center for information about the 1996 games and how this area was used during the Olympic activities.
Don't miss the park's Fountain of Rings; the kids will love splashing around here or watching the show that plays four times a day and syncs the fountain jets to music. The Skyview Ferris Wheel is another must-see attraction at the park. At the top of this 200-foot-tall Ferris wheel, kids can ride in a climate-controlled gondola and look out over the city.
4. Learn in the World of Coca-Cola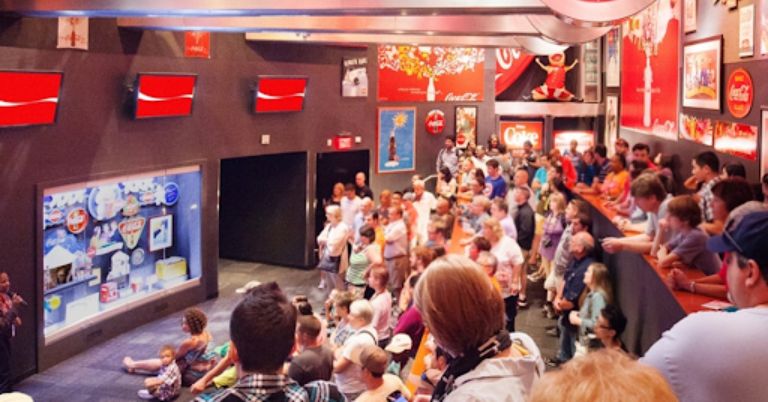 Atlanta is the birthplace and headquarters of the world-famous beverage brand Coca-Cola. You and your kids can learn about the company's history at this interactive museum and meet the famous Coca-Cola Polar Bear. In the World of Coca-Cola tasting room, kids can try every beverage the company has ever made and get a sugar rush. They can also try old favorites, regional flavors, or something new.
This fun museum features a 4D movie and thousands of Coke-related artifacts. You can visit the vault to learn more about this popular soda's closely guarded secret formula and bottling process. This well-known Atlanta landmark has activities for both teens and kids.
5. Ride the Six Flags Over Georgia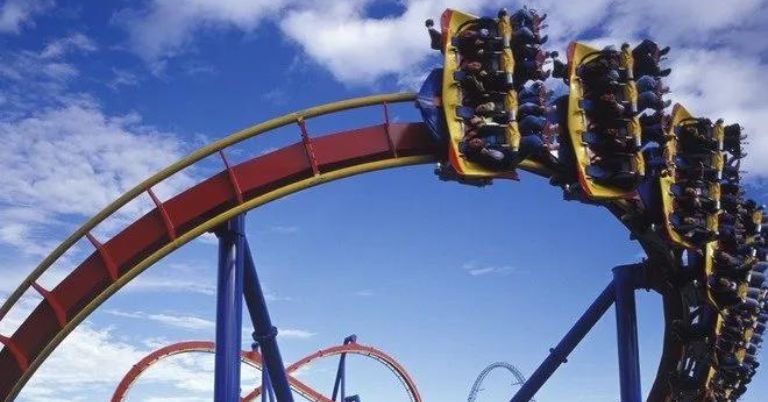 Six Flags Over Georgia is the place to go for thrilling rides and other amusement park fun. Kids of all ages will appreciate this historic amusement park, which has everything from kiddie rides to more intense thrill attractions. Kids might see Bugs Bunny and his friends while strolling through the park, which is ideal for photo opportunities with their favorite characters. Or, several times every day, kids can join these characters in a festive dance party with some of the finest dance music from all eras.
Bring your swimsuits to Hurricane Harbor, Six Flags' on-site water park. This fun attraction, which includes waterslides, a wave pool, and many other fun things to explore, is included in the Six Flags admission price. If you rent your cabana for the day, your kids will have a place to rest and relax between splashing and sliding.
6. LEGOLAND Discovery Center Atlanta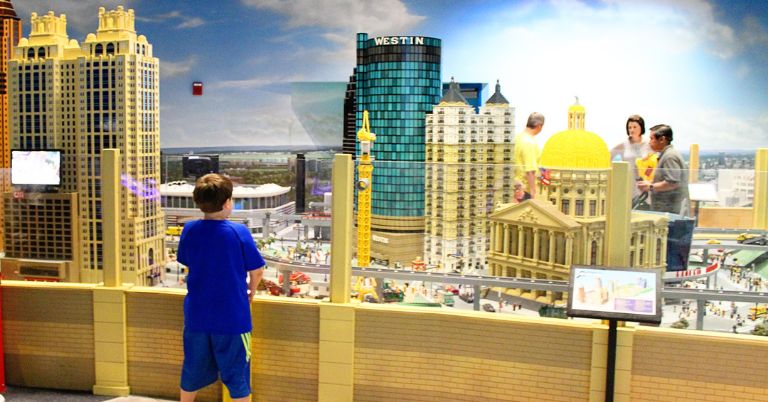 The LEGOLAND Discovery Center Atlanta is a fantastic spot to spend the day for LEGO builders of all ages. Explore the LEGO-themed exhibits, which include replicas of many familiar Atlanta landmarks made of LEGO bricks! This attraction also has two exciting coasters, a 4D movie theater, and many hands-on play areas where kids and teens may construct to their hearts' delight. For smaller kids, there is also a DUPLO construction area.
Kids will meet their favorite LEGO characters before taking a factory tour to learn how the famous bricks are made. They can also build and race their LEGO vehicles in the Build & Test zone or construct a structure with the whole family and test its strength on the seismic tables. At this one-of-a-kind attraction, there's brightly colored LEGO fun to keep the whole family entertained for the entire day.
7. Visit Atlanta Botanical Garden
Since 1976, families have visited the Atlanta Botanical Garden to look at its beautiful plants, gardens, and displays. You can visit the Botanical Garden with kids, which is one of the best ways to get some fresh air in the city, and there's something for everyone here. Walk through the more than 30 acres of beautiful plants and flowers to immerse yourself in nature and enjoy the beautiful scenery.
Visit the Botanical Garden with your kids and the Lou Glenn Children's Garden. Cross the Flower Bridge into the garden to discover the numerous amusing and instructive displays, especially for kids. Kids can find out about edible vegetable gardens, look at venus fly traps and other plants that eat insects, and play on the playground and splash pad. The Atlanta Botanical Garden is a beautiful place to spend the day as a family, with the cityscape nearby and a magnificent mix of trees, flowers, and topiaries.
8. Finish Your Day At Catch 12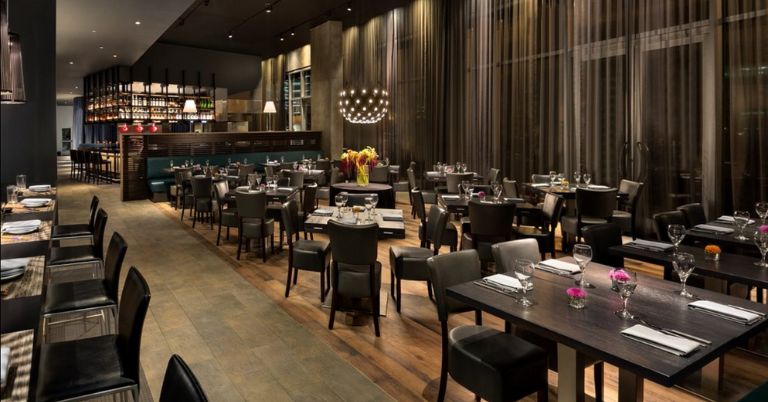 Whatever activities you plan for the day with your kids, why not cap it off with a friendly, elegant meal? With our contemporary American menu and excellent service, Catch 12 can introduce your kids to the art of fine dining. You can join us for supper in the private dining room or on the terrace. After a day of seeing the city's unique sights, you can relax with handcrafted drinks and award-winning, creative food like sushi or traditional steakhouse food.
Alternatively, if the kids are exhausted from a long day of sightseeing and you have a sitter, you can enjoy an adults-only date night at Catch 12. Local ingredients and chef-driven dishes on our menu will tempt your taste buds while you relax in our modern, upscale space and sip creative cocktails or glasses of wine. After a fun day with your family exploring Atlanta, treat yourself to this great and tasty spot.
9. Having fun at Georgia Aquarium
The Georgia Aquarium is an incredible and engaging experience for kids of all ages! The aquarium, which is located in downtown Atlanta, is separated into five sections: Ocean Voyager, Tropical Diver, River Scout, Coldwater Quest, and North American Waters. Kids can see freshwater fish, coral reefs, penguins, and beluga whales, among other things. Kids will enjoy looking for "Nemo," seahorses, and other colorful creatures in the Tropical Diver section.
They'll especially enjoy the Dolphin Show and Sea Lion Presentation, where resident performers demonstrate their abilities! Or, in SHARKS, kids can see the ocean's apex predators! An exhibit called Predators of the Deep. Unsurprisingly, this is one of the top things to do with kids in Atlanta! You and your kids will have a great time watching the thousands of creatures that call this massive Atlanta attraction home. Highlights include sea otters, manta rays, big-bellied seahorses, and beluga whales. This aquarium is suitable for children of all ages
10. Treetop Quest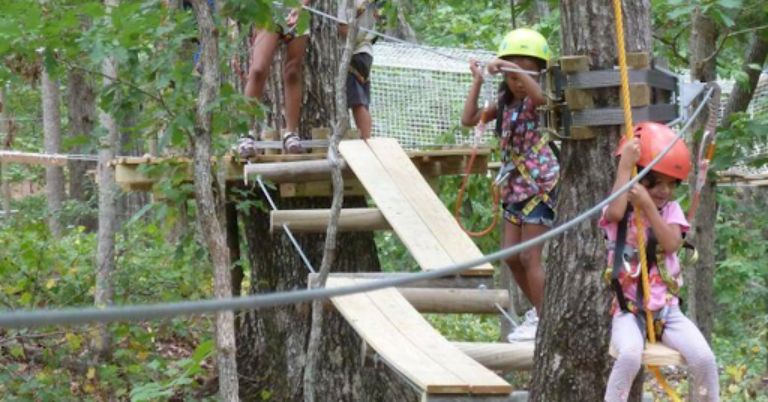 Look no further than Treetop Quest for kids who want adventure. This adrenaline-pumping activity is a short drive from Atlanta and allows you and your kids to get past the challenges on the aerial playground. There are many stages for visitors to conquer, so everyone in the family, even your smallest adrenaline addicts, presuming they're at least seven years old, may participate.
A self-contained aerial obstacle course and a thrilling zip track with 36 tree-to-tree obstacles such as a zip line, rope bridge, moving logs, and various other challenges await kids. Kids may go on an adventure in which they will train physically and cognitively as they navigate three treetop routes of increasing heights and difficulty levels. This is a customizable activity in which kids can explore the route as many times as they desire during the allocated 2-hour treetop adventure time block after being outfitted and trained on how to utilize the equipment.
---
---
11. Learning at Fernbank Museum of Natural History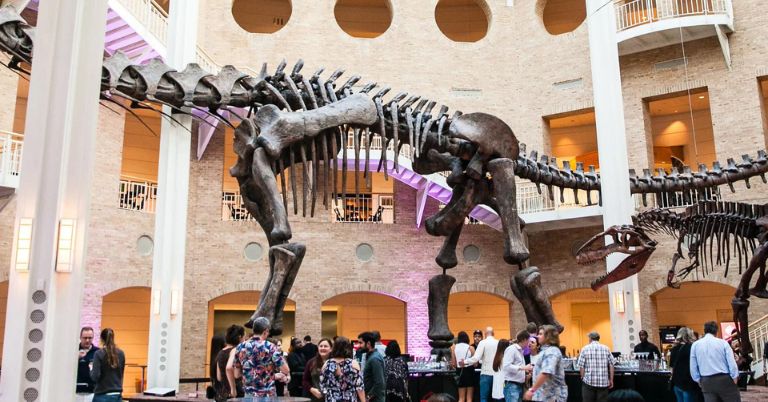 This is the museum for your family if your kids enjoy dinosaurs. The Fernbank Museum of Natural History houses some of the world's most enormous dinosaurs. Aside from dinosaurs, this museum includes many interactive scientific displays that kids will love. Kids can learn about Georgia's natural heritage, including historical recreations of the Okefenokee Swamp's vegetation and creatures.
There are also additional hands-on displays on the natural world, culture, and history, an extensive, colorful collection of seashells, and an all-new STEM exhibit on natural forces. A day with kids at the Fernbank can also include 3D and IMAX movies, recreation, and exploration in their Outdoor Adventures section, which provides for treehouses and nature walks.
12. Playing Adventure Air Sports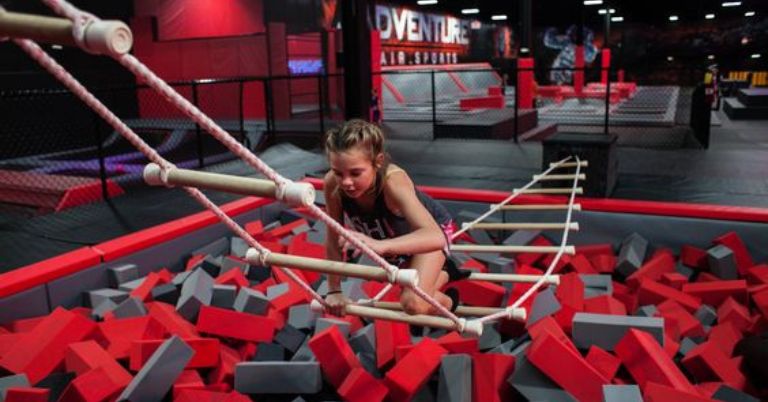 Adventure Air Sports is the place to go for tremendous thrills and a large open indoor playroom for your child's next birthday! There's plenty for kids, with over 15 activities available for all party packages, ranging from ziplines and Ninja courses to dodgeball. Each package includes pizza, beverages, and silverware, as well as a certified party host who handles the practicalities while parents relax.
Adventure Air Sports is a PE class that has been pushed to the next level. Extreme dodgeball and ninja courses are popular among kids, while foam pits and flying trapezes appeal to those with springs in their feet. Consider this a glorified kind of rest that your kids won't want to stop.
13. Going to the Children's Museum of Atlanta
This fully remodeled and interactive museum is popular with children aged 4 to 8. The kids will like this museum specifically developed for them, from painting in the hands-on art studio to launching rockets and playing in a fantasy castle. Kids may learn about the continents while climbing through the earth's strata at the Children's Museum of Atlanta, or they can trace our food's journey from farm to table in brand-new displays that make learning enjoyable.
The museum hosts daily storytimes and enjoyable, interactive activities promoting art, music, science, and other interests. All of these fantastic programs are included in the entrance fee. Playtime may help your kids' imaginations and foster learning. Your kids will want to visit this tremendous Atlanta family attraction the entire day.
14. Playing at Martin Luther King, Jr. National Historical Park
The Martin Luther King Jr. National Historical Park is the cradle of America's Civil Rights Movement. The park covers over 35 acres and has many buildings depicting MLK Jr.'s life, including his boyhood home. Because there is so much history in this one spot, visiting here with kids will be both humbling and enlightening. Examine photographs of US presidents and other historical personalities in the D.R.E.A.M Gallery.
Free tours are provided at various times throughout the day. Your kids should bring a water bottle to remain hydrated as they'll be walking a lot. The park also hosts hands-on activities, seminars, arts and crafts, and other seasonal events to keep kids occupied. This is one of the best things to do with your family in Atlanta, especially if your kids go to homeschool or an international school.
15. Playing at Chastain Park Playground
The Chastain Park Playground is one of Atlanta's giants! It offers breathtaking views of the city and is a lovely area for kids to hang out and play. It has two different-sized play areas with tons of equipment, including slides, swings, and climbing frames. Some are designed specifically for toddlers, so kids will not feel left out.
You can go to the Japanese Garden with kids to pick a wonderful brook to sit by or a shaded seat to rest while the kids play on the playground. On hot days, kids may cool down in the splash zone. There are many free things here, like tennis courts, golf courses, and a swimming pool. Indeed, this is one of the most incredible free things to do in Atlanta with kids.
16. Enjoy a Sweet Treat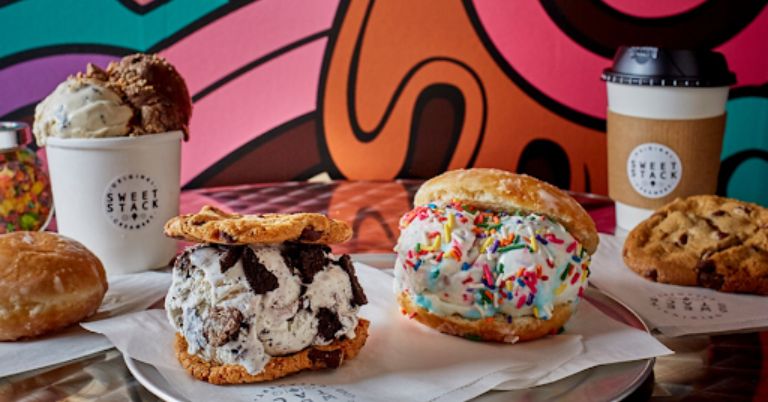 What better way to conclude your day in Atlanta than with a sweet treat? Fortunately, Atlanta has a plethora of kid-friendly dessert establishments! Fans of ice cream will love how Sweet-Stack Creamery makes its flavors by hand and offers unique toppings like fruity pebbles, cookies, and so much more.
Or, kids can get bubble tea, savory sandwiches, cake, and a variety of freshly made pastries at Sweet Hut Bakery & Cafe. Speaking of cheesecake, cheesecake fans can pay a visit to Cheesecake, which offers a variety of exciting flavors, cheesecake-flavored cupcakes, and other treats. The Yard Milkshake Bar's melt-in kids' mouth milkshakes are also a must-try! Indulging in a sweet treat is one of Atlanta's most acceptable family activities, no matter where the kids go.
17. Ride the Atlanta BeltLine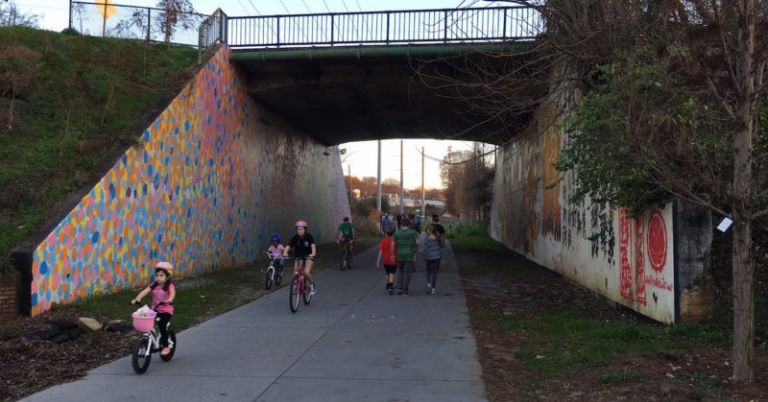 The Atlanta BeltLine allows your kids to get some exercise while also exploring the city's nicest neighborhoods. This outdoor attraction connects historic rail lines across Atlanta with nearly 22 miles of beautiful paths, but it isn't done.
You can walk, but we recommend renting a bike from the Atlanta Bike Barn to explore the BeltLine further. Your kids will see unique paintings and attractions like the Ponce City Market. The Westside Trail runs through Atlanta's oldest neighborhoods, from Washington Park to University Avenue. When completed, the Atlanta BeltLine will connect 45 Atlanta neighborhoods with public parks, schools, and public art, making it one of the most incredible things to do in Atlanta with kids.
18. Attend a Show at the Center for Puppetry Arts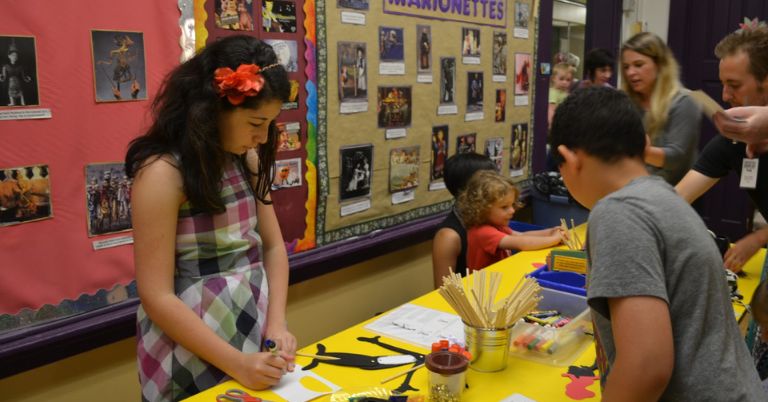 The Center for Puppetry Arts, located in the heart of Atlanta, is a must-see for families with kids. You may be astonished to learn that this is one of the world's largest puppet theaters! It's well worth the trip, with shows, educational activities, and even a museum where kids can learn more about the art of puppetry.
Families can look at the museum's extensive permanent collection of puppets in The World of Puppetry exhibit, which has instruments from all over the world and throughout history. Who knows, kids might even be able to catch a puppet performance during their stay. Kids will also appreciate the different seminars on puppet manufacturing, puppeteering, and other topics.
19. Having fun at Atlanta Zoo
Spend an afternoon with your kids at Zoo Atlanta. This zoological park, located in the historic Grant Park in downtown Atlanta, has over 1,000 species in realistic habitats, ranging from orangutans to giant pandas, zebras, and African lions. Your kids will like shows like Dr. Dolittle's Wild Adventures and Jungle World, which try to recreate Asia and Africa's hot, tropical climates.
Kids who want a challenge will enjoy the Treetops Trail, a ropes course with thrilling zip lines, Tarzan swings, bridges, and more. Taking a guided tour, visiting the playground, or feeding the giraffes are all fun ways to spend time with kids at the zoo. Your kids may also engage with the animals in the petting zoo.
20. Ride the world's longest freestanding escalator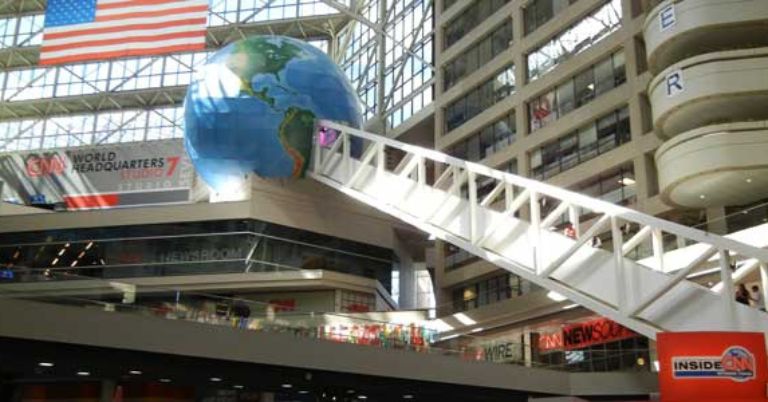 The CNN Center is an excellent family attraction in Atlanta, and it's well worth a visit because it's conveniently located near Centennial Olympic Park activities. Commencing a tour on the world's most significant freestanding escalator, 196 feet (60 meters) long and eight stories high is the actual highlight of things to do in Atlanta with kids.
If you have small children, simply walking into this massive structure, taking in all the international flags and giant globe, and stopping by the amusing businesses, such as a Cartoon Network store and an Atlanta Braves store, will be enough. You may eat at any of the food court options and use the vast, clean restrooms. You should attend the Inside CNN Studio Tour if you have school-aged children.
---
Latest Posts:
---
Do 13-year-olds need friends?
Some entertaining activities for a 13-year-old include: watching a movie marathon. They sometimes go hiking, camping, and rock climbing. Visiting an amusement park, performing community service, going on a road trip, taking a photo hunt, and playing games can also be fun things to do in Atlanta with kids.
What is there to do in Atlanta after 12?
Some suggestions for things to do in Atlanta after noon: karaoke, watch a movie at the Plaza Theater, or another theater. Visit a strip club. Play a Game at Upscale Bowling (old school and new), Topgolf Drive-Around, and Desta Ethiopian Kitchen serves Ethiopian cuisine. At the Georgia Aquarium, you may sleep under the water. They are taking a couple of shots in the Midtown Bowl and meeting for dessert at Cafe Intermezzo. Choose Snap Fitness 24 hours a day, seven days a week.
What should 13-year-olds do with friends?
There are several activities that 13-year-olds can undertake with their pals, such as online chat with friends and family (have a spa night with a friend using an app that allows you to see each other; play games with your grandparents using Zoom). Improve your fashion sense (putting together cute outfits is excellent because you will feel cute every day of the quarantine; online shopping; trying different hairstyles; trying a new makeup look). Watch a movie. It's good to kick back, relax with some popcorn, and watch a movie now and then.
Do 13-year-olds need friends?
Thirteen-year-olds are frequently friendlier away from home than at home and may be pretty severe and grumpy. Some thirteen-year-olds retreat and are less interested in friends. Rather than perceiving their friends as a "group," the thirteen-year-old now sees each friend as a human being who could or may not be part of a group and wonders if that person could be a close friend outside the group.
Latest posts by William Niocolas
(see all)