A healthy relationship between you and your daughter should always be maintained under whatever circumstances, including during the rapid growth phase of adolescence. You should note that a teenager is going through a lot of changes, physically, mentally, and psychologically. Don't be frustrated handling and connecting with them. While it is not always easy to bond with them, there is always a way.
If you have just come to NYC or are a New Yorker, consider yourself fortunate, as the city offers a range of things to do for you to bond and have quality time with your teenage daughter. Refer to our list down below and feel free to check our list of fun things to do in NYC with teenage daughter.
1. Window Shopping to Get to Know Her Signature Style
As she gets older, she knows how to voice her choice, including her fashion and style preferences, mostly to express her personality and identity. Learn about her style, appreciate it, and give style advice only when she asks. If she is into high-end, timeless, chic, elegant style, escort her to the city's fashion scene of the SoHo (South of Houston) district, the Madison for elegant choices, or in the glamorous neighborhood of the Meatpacking District.
If your teenage daughter wants to avoid fast fashion and lead a sustainable lifestyle, she may prefer vintage or one-of-a-kind gems to mass-produced items. For that reason, let her take her time exploring and window shopping on the Lower East Side, NoLIta (North of Little Italy), or Bushwick.
2. Beat the Beast
Can you recall the last time you had fun on an extreme ride? Either way, you should give The Beast a go! Sit still and buckle up, because as the tagline says, 'it's like a rollercoaster on the water', yes, it is. Be prepared to get a little wet since it's not going to be a smooth sail, but we can guarantee that the trip you take from Pier 8 to the Statue of Liberty via the Hudson River has never been this fun!
The Beast speedboat is equipped with two ZF 3000 marine gears that can race through the river at up to 45mph, might as well you expect some sharp turns here and there. Since it's considered extreme, do not risk taking one if you or your teenage daughter have certain heart conditions or are pregnant. We highly recommend you pick your available slots and book your tickets in advance.
3. It's Always a Pizza Party in NYC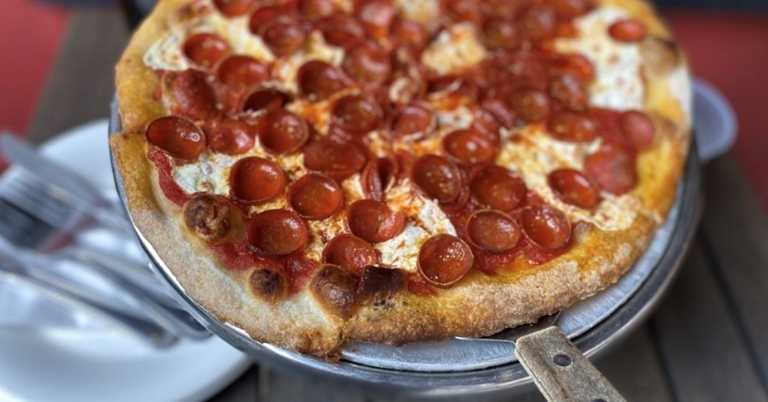 Sometimes the key to having fun with your teenage daughter is to pay attention to some small thing—because that alone would make for a thoughtful gift—and be creative enough to turn it into something more special. For instance, if both of you are pizza lovers, instead of debating which pizzeria serves the best slice, try to go on a pizza foodventure and have a pizza party for a day!
Our recommendation includes Ops which is also perfect for wine and dine, Lucali which is oftentimes atop NYC's best pizza lists, the historic John's on Bleecker Street or widely known as John's Pizzeria which is famous for its authentic coal-fired pizza, and don't forget to share some bites at the country's first pizzeria which also develops New York style pizza, Lombardi's.
4. NYC's Epic Instagrammable Spots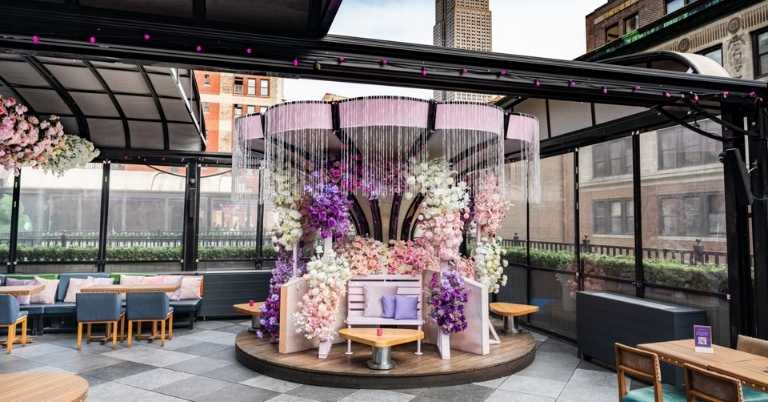 Being a local yourself, you've probably never struck a pose or two in front of famous spots in NYC. But since you are going with your beloved teenager who is most likely loves to post her photos on social media, level up her social media game by taking her to NYC's instagrammable spots, because our list of fun things to do in NYC with a teenage daughter wouldn't be complete without Instagram-worthy photos.
Starting from the eateries category, we have Ph.D. whose mixed drinks and burgers are to die for, Magic Hour Rooftop Bar and Longue to live your childhood imagination being in the beautiful rose garden, and Pietro Nolita for your Italian healthy cuisine selections. If you are limited on time, you can swing by NYC's staples such as Top of the Rock, Times Square, or Central Park.
5. A Spa Break to Relax, Unwind, and Recharge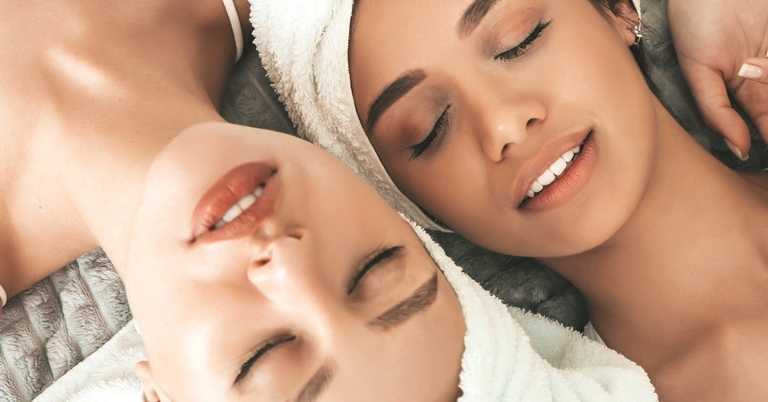 No matter what your and your teenage daughter's interests are, it always feels good to take a spa break now and then to relax, unwind, recharge, and be ready for the week ahead. However, it's a bit tricky to find spa places that welcome kids and teenagers alike. Based on our findings thus far, Allure Day Spa and Hair Design and ZZ Day Spa offer teen packages.
Depending on which package you book for your teenage daughter, each spa place we listed above ensures a true spa party that your teenage daughter and her friends can enjoy. But if you come along with your spouse too, they even have more various couple packages to choose from.
6. One Colorful Day at Color Me Mine
Even though it's true that the time you enjoy wasting is not wasted, one productive day creating your creative masterpiece is even better. Release your teenage daughter's inner Picasso and realize your handmade ceramics at Color Me Mine which will let you explore your preferred ceramic pieces, and color shades according to your liking, and let the magic begin.
Color Me Mine welcomes guests with little-or-no painting experience because there is no right or wrong. It's more of setting free your creative side. Moreover, Color Me Mine has projects and techniques pages that will guide you to find your painting style. For those who want to attend in-store painting sessions, we suggest you book your slots in advance.
7. The Art of Archery for Your Little Katniss
When done properly, you can turn household chores into a workout. Yet, it is always easier to book a session at family-friendly archeries. While it improves your core, strength, balance, and coordination; what matters most is the time you spend with your teenage daughter.
Type 'the best archery ranges in NYC' on your search engine and you will find Gotham Archery is always listed at least in the top three. Even though this facility sounds more like Batman to The Hunger Games, Gotham Archery is ready to train your teenage daughter to become the next Katniss through its beginner-friendly environment and highly trained instructors. If your adventurous Katniss wants to feel like a part of the real Everdeen family, choose an outdoor range of Floyd Bennett Field Archery Range where you can also camp and hike nearby. How cool!
8. A Family Getaway to Mohonk Mountain House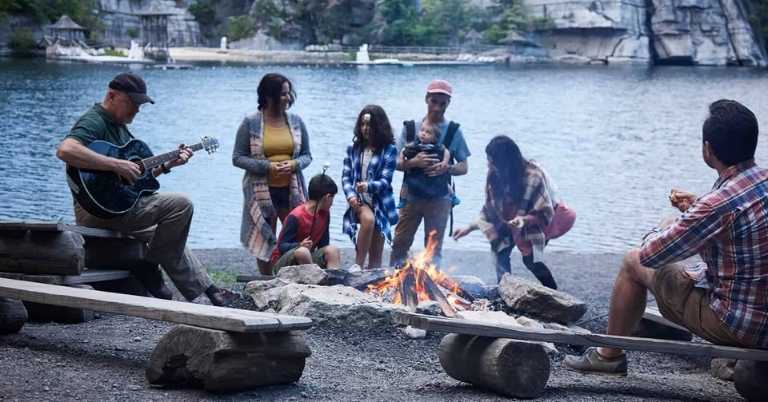 NYC surely has a wide array of things to do, but a weekend getaway is always on the list of fun things in NYC with a teenage daughter. If the spa break we recommended before is not enough for her, maybe you should consider changing the view or environment—and a longer session, please?
There is always a little princess in your teenage daughter. So, taking them to a castle resort of Mohonk Mountain House to let them feel like in a fairytale setting during the weekend will be a good idea, not to mention the resort also takes the wellness experiences to another level through its infamous spa services and yoga sessions that you and your teenage daughter must try!
9. Tour de Art Museums
NYC is the perfect place to learn and unlearn. Blessed with plenty of museums to check out, art museums should be on our list of fun things to do in NYC with a teenage daughter. Not only can she learn about art history and the unique perspectives of some prominent artists, but visiting art museums will also allow her to experience emotions that are expressed in many forms of art styles and mediums.
The Metropolitan Museum of Art or simply known as the Met can be your one-stop solution as it houses more than 490,000 artworks from all periods of history around the world, a stunning bar that offers spectacular views of NYC namely Cantor Roof Garden, and some teenager-friendly programs. For a more comprehensive collection, head to the Museum of Modern Art (MoMA) or immerse yourself in the beautiful architecture of Solomon R. Guggenheim Museum. But if you're specifically looking for a unique museum that showcases medieval European art and architecture, head to our less touristy option of The Cloisters Museum and Gardens which is part of The Met.
10. Create Your Milk Bar Treats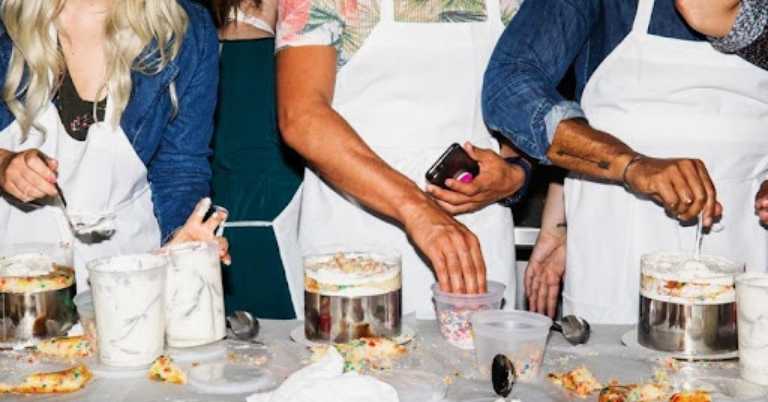 Calling all sweet tooths out there! Why not take a private class at Milk Bar to satisfy your teenage daughter's cravings and at the same time boost her creativity in an enjoyable activity? Once she manages to make one, the sense of achievement would encourage her to do more yummy creations.
We personally love Milk Bar and the pastry chef, Christina Tosi, for some reasons. First, you can tell that Tosi has a lot of love and passion for baking just by looking at the Milk Bar's menu—it keeps innovating. Second, we can join the Build-A-Cookie or Build-A-Cake session to get introductory steps in building your preferred cookie or cake. We are sure you and your teenage daughter will love having classes at Milk Bar.
---
---
11. Candle Making Experience with Your Favorite Scent
What if your signature scent is crystallized in a form of a candle? A scented candle, it is. But how about creating your version of a scented candle with your teenage daughter? Make it possible by joining a candle-making class or workshop that you will find therapeutic. Surprisingly, it is not an easy task for us to find NYC's best candle-making places. Book a session for two, and they will get you covered!
The Candle Fusion Studio hosts an hour candle creation session but notes that any wax materials need around 2.5 hours to set. Pay a visit to Lanterne Candle Bar if you happen to be in the vibrant neighborhood of Chinatown. Finally, a candle store that Wick and Pour will let its candle-making experience participants add a touch of flower ornament on top of the candle.
12. Special Family Day at Your Hair Salon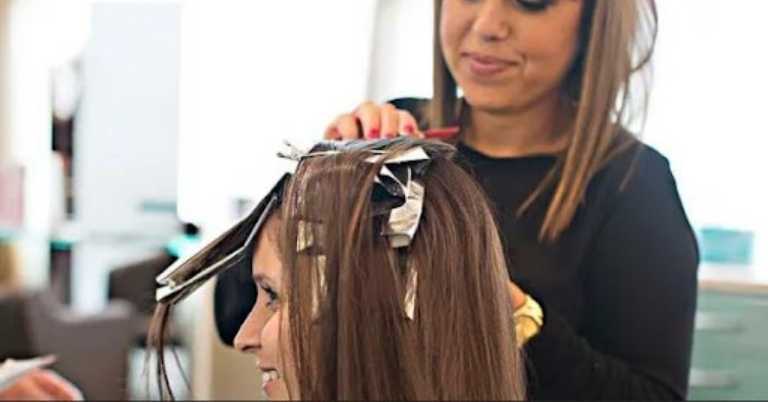 Can you name one place where you can feel like a new person once you leave it? If you think about a hair salon, your guess is right! Plan a family day at your favorite hair salon. Your teenage daughter can try a stylish new haircut or have manicure and pedicure sessions, while both of you can consider having hair treatment you've never done before, such as scalp care, smoothing treatment, or simply blowouts.
Top-notch hair salons are everywhere in NYC, but our favorites are The Executive Longue Salon, especially their anti-aging hair products that you can get too, and Marie Robinson which is Anne Hathaway's, Emma Stone's, and Jennifer Lawrence's go-to salon, to name a few. If you want to add some shades to your hair, never skip Rita Hazan Salon whose hair coloring techniques are known to highlight your best features.
13. Learn about Beauty and Makeup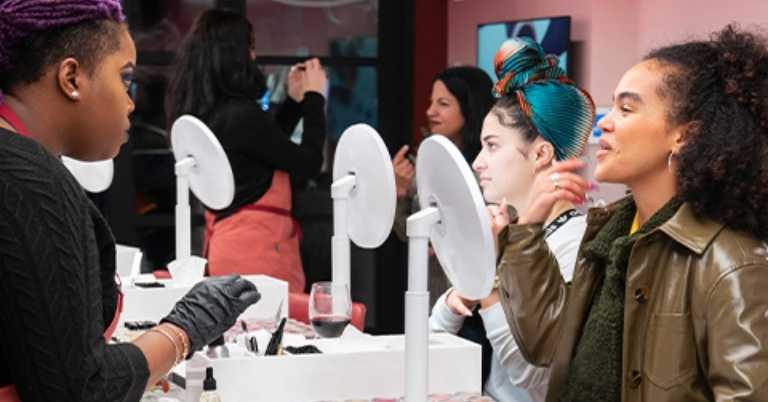 Nothing excites a girl more than all things beauty. While your teenage daughter's skincare routine is yet to be discovered, take her to the world of colors and tools where she can learn about makeup, techniques, complexion, and many more. By learning about makeup, your teenage daughter can explore her creativity, get to know herself better, improve her confidence, and build her style.
Before signing your teenage daughter up for a complete makeup class she doesn't think she needs one, for now, your best bet is to choose makeup stores that offer beauty services such as BITE Beauty which allows visitors to firsthand make their customized lip products, Benefit Cosmetics with its professional brow services, and Sephora that is known for its diverse beauty activities your teen will enjoy. That way, your teenage daughter can choose and discover her favorite beauty products and learn about makeup one step at a time.
14. Family Bonding at the Dinner Table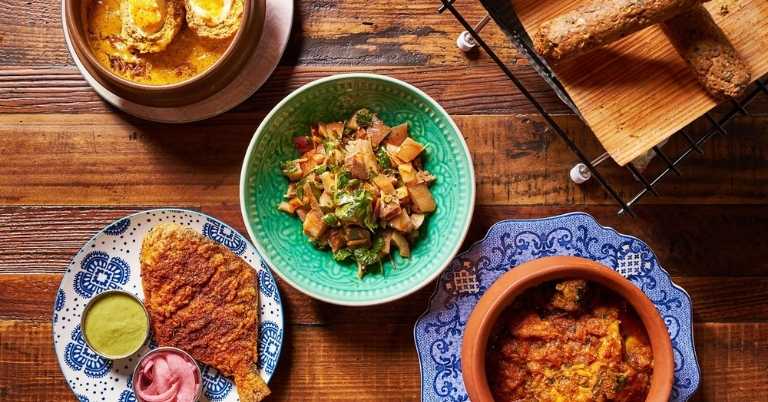 As you may know before, researchers and family therapists alike, teenagers who regularly dine with their parents perform better communication and at some point, avoid them to engage in risky behaviors such as drinking, using drugs, and committing suicide. While we strongly believe you have put your best to strengthen family bonds at the dinner table and beyond, eating out in some restaurants is always a good idea.
Introduce your teenage daughter to the richness and spiciness of amazing selections of Indian food other than the regular Biryani or Tandoori by taking her to Dhamaka where your teenage daughter can savor the forgotten side of India like Tabaak Maz and Bharela Marcha, type of Indian dishes you rarely see written on other Indian restaurants in NYC. Other options we would recommend are plant-based Cadence to celebrate the Southern soul that not only prioritizes taste but also health and sustainability and Elias Corner which is a perfect spot for a seafood lover family.
15. Have Fun with Your Introverted Teenage Daughter
It is a bit tricky when you want to do outdoor social activities with your introverted teenage daughter. But since our list of fun things to do in NYC with a teenage daughter should work for everyone, here come our brilliant ideas. Do you realize that a movie date can strengthen the parents-daughter bond? Watching movies together allows time for you to be with your introverted daughter without it feeling like she must chat with you all the time. Book your Movies with a View slots for your teenage daughter to be involved in outdoor social activities and the stunning views of the Manhattan skyline can be a perfect break for you.
For a more socially sporty choice, Space Billiards is the place not to be missed. Clear the pool table area in front of you to indicate a safe space for your introverted teenage daughter to absorb the moment and have a good time with you without having to interact with other people and passersby, not to mention the vibrant neon lamps at Space can light up your mood. It's intimate and sociable at the same time.
16. Lincoln Center, Beyond the Beauty of Arts
If ballet, opera, dance, philharmonic, or any other performing arts is your teenage daughter's forte, then look at no other than Lincoln Center for special events and activities. Beyond NYC's performance space, Lincoln Center is a community that houses numerous resident art organizations. Deep dive into their series and programs, which present valuable lessons for your teenage daughter beyond what she learned at school in the forms of arts as Lincoln Center at large actively responds to pressing social issues facing the communities.
17. Madame Tussauds is a Must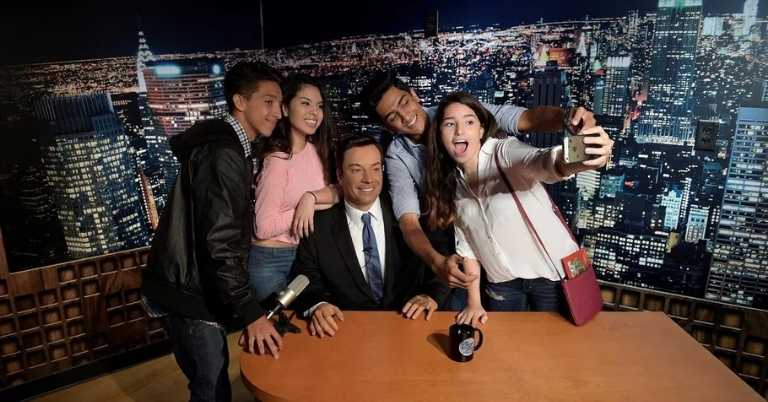 No matter how many times you are being told that they are made of wax, it still feels delightful to set your foot in Madame Tussauds to see the lifelike waxworks of famous people being displayed. Your teenage daughter would have all the time in the world to stare at and get up close with her favorite celebrities. Not only can your teenage daughter get to see the sculptures of famous personalities such as Ed Sheeran or Taylor Swift at Madame Tussauds New York, but she also can meet some fictional characters like Hulk, Captain America, Spiderman, and many more.
18. It's Time for Tea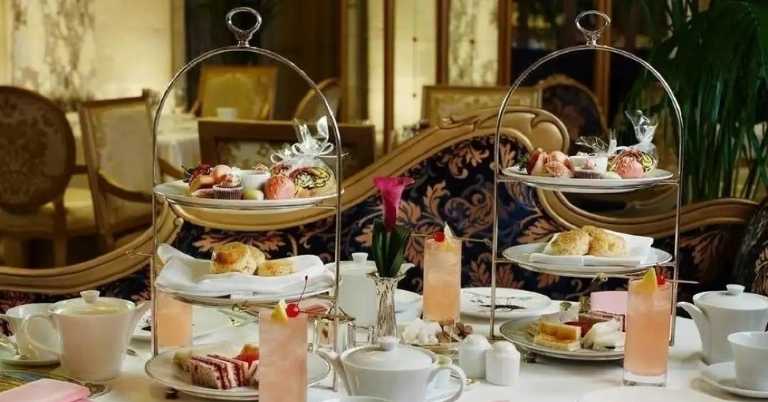 Calling all tea lovers who want to share quality moments and chat with teenage daughters over cups of tea and pastries, macaroons, and other delicacies. If you are like us, you would want to have posh teatime experiences. For luxurious options, you can try the iconic The Palm Court at The Plaza NYC which has been a prime afternoon tea destination in NYC for over 100 years, or The Russian Tea Room with its diverse menu from classic to gluten-free.
Having a precious teatime doesn't necessarily mean you have always to be in a luxurious and grande setting. If you prefer a more casual ambiance, head to Alice's Tea Cup which will instantly remind you of the infamous whimsical tale of Alice in Wonderland, or the humble and warm British restaurant Tea & Sympathy that offers authentic British comfort.
19. Give it a Second Chance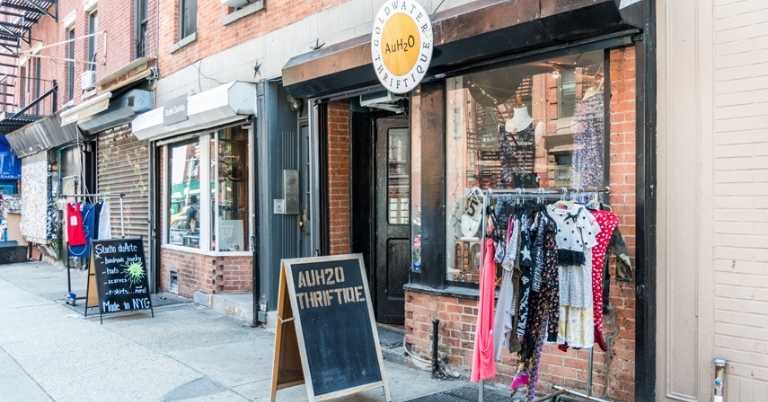 As much as you love taking your teenage daughter to Fifth Avenue, educate her to express the same joyful spirit when you go thrift shopping. She will learn that finding hidden treasures doesn't always cost her a fortune. Instead, she will gain a deeper understanding of appreciating and valuing stuff beyond the price tag.
A good start for you is to find the right neighborhoods for thrift shopping. For this, we can't stop thinking about East Village and Williamsburg being it-places you won't miss. East Village's AuH2O features one-of-a-kind clothing and accessories, Buffalo Exchange is the epitome of an American thrift store with diverse vintage styles to choose from, and streetwear collectors would love to visit Williamsburg's Grand Street Local and Wonders of Walter.
20. Invite Her Friends Over for a Slumber Party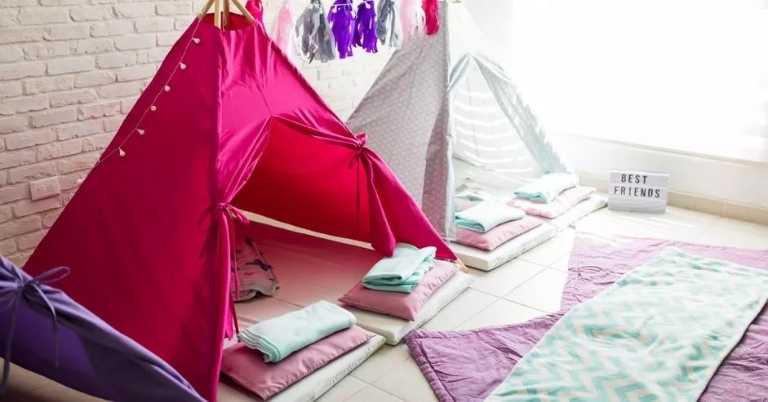 Here comes the easiest way to bond with your teenage daughter at the comfiest place on earth, your home. Let her decide whether she wants to invite her friends over or this will be a family-only slumber party. A plus point, you can get to know her friends better and the types of conversations your teenage daughter can enjoy. Either way, plan the slumber party by preparing some movie night care packages you can get from Canterberry Gifts or Chelsea Market Basket. Refer to this article for sleepover games ideas.
---
Latest Posts :
---
What do teens do in NYC at night?
On the weekend nights, they love to stroll and hang out in the city's nicest spots, such as eateries, museums, and stores.
Where do teenagers hang out in New York?
Parks, libraries, stores, or in the middle of the hippest concerts or events in the city. It is quite hard to pinpoint the precise locations as NYC has a lot to offer—that's why this list exists.
How do I bond with my teenage daughter?
Accompany her in doing her favorite pastime. Another option will be having quality time at the beauty salon or window shopping.
What do teens do in NYC at night?
Any kind of activities they can do with friends. At this age, healthy friendships are among the important elements for them to feel accepted and appreciated by the society they live in.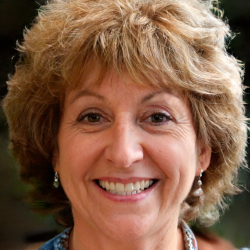 Latest posts by Suzy Prichard
(see all)