The spring break season is a time for students to take a break from their studies and enjoy some much-needed fun. If you're a teen looking for the best places to go for spring break in the United States, there are plenty of amazing options to choose from. Whether you're looking for a beach party or an outdoor adventure, there are plenty of amazing places to explore and memories to be made. Let's take a look at some of the best places to go for spring break in the USA in the article below.
If you're a teenager looking for the best spring break destination in the USA, you've come to the right place. From sun-soaked beaches to bustling cities, we've compiled plenty of incredible places to explore. Let's get started!
What is spring break famous for?
Spring break is an exciting and highly anticipated time of the year for college students and those in high school. Many flock to popular beach destinations such as Florida, California, and Mexico to soak up the sun, enjoy some rest and relaxation, and celebrate the start of the spring season.
Spring break is famous for its wild, carefree atmosphere. People from all over the world come together to party, go on exciting adventures, and make memories to last a lifetime. There are countless activities available for those looking for an opportunity to let loose and have a good time. From beach volleyball to late night parties, there's something for everyone to enjoy.
In addition to its social aspect, spring break is also known for its educational opportunities. Many students take advantage of the break to travel, explore new cultures, and learn about different ways of life. From cultural tours to service projects, spring break provides an ideal opportunity to explore the world and expand one's knowledge.
Which state is prettiest in spring?
The answer to this question is subjective, as beauty is in the eye of the beholder. However, some of the most beautiful states in the springtime are California and Colorado. Teens will surely enjoy spending spring break there.
California is a favorite for many, as its mild climate and colorful wildflowers make it a beautiful place to be in the springtime. From the rolling hills of wine country to the stunning beaches of Southern California, the state is full of breathtaking landscapes. The state also offers a variety of outdoor activities, such as hiking, biking and kayaking, that make it a great spring destination.
Meanwhile, Colorado is another state that is well known for its beauty. From the Rocky Mountains to the vast plains of the east, the landscape of Colorado is stunning in the springtime. The state is also home to some of the most colorful wildflowers in the country.
Where do most college students go for spring break?
Spring break is a well-earned respite for college students, and the destinations they choose vary widely. The most popular spring break destinations are beach spots like Florida, South Padre Island in Texas, and the Caribbean, with their warm temperatures and laid back vibes. These locations offer students a chance to relax, take in the sunshine, swim in the ocean, and party with friends.
In addition to beach locations, college students also flock to other warm spots like Arizona and Nevada for hiking, desert camping, and nightlife. Ski trips to Colorado, Utah, and other mountain states are also popular for those looking for a change of scenery. For students looking to explore a new city, spring breakers often flock to destinations like New York City, Chicago, and Los Angeles to take in the sights, sounds, and culture of these larger cities.
What is the most popular beach for spring break?
The most popular beach destination for spring break is Panama City Beach, Florida. The area offers a wide variety of activities, including its famous nightlife, which offers something for every type of traveler. The activities range from water sports such as surfing and parasailing, to shopping and nightlife. The 27 miles of sugar-white sand beaches and emerald-green waters are perfect for soaking up the sun and relaxing with friends. It is also home to some of the best restaurants and bars in the area, making it the perfect place for a fun-filled vacation.
Panama City Beach is also known for its vibrant nightlife, with a variety of clubs and bars that stay open until the early hours of the morning. There are also plenty of activities for day-time fun, such as deep-sea fishing, jet skiing, and a variety of water parks.
Best Spring Break Destinations for Teens In USA
Are you looking for the best spring break destinations for teens in the USA? Whether you want to explore a new city, hit the beach, or take in some culture, there are plenty of options that will make your vacation unforgettable. From big cities to small towns, outdoor adventures to indoor entertainment, there's something for every teen. So, get ready to relax, explore, and have some fun!
1. Gulf Shores and Orange Beach, Alabama
If you are going to spend spring break with family as well, you can go to Gulf Shores and Orange Beach, Alabama. Although Florida may draw the largest spring break people, Alabama's sugar-white sand beaches are among the most stunning in the nation.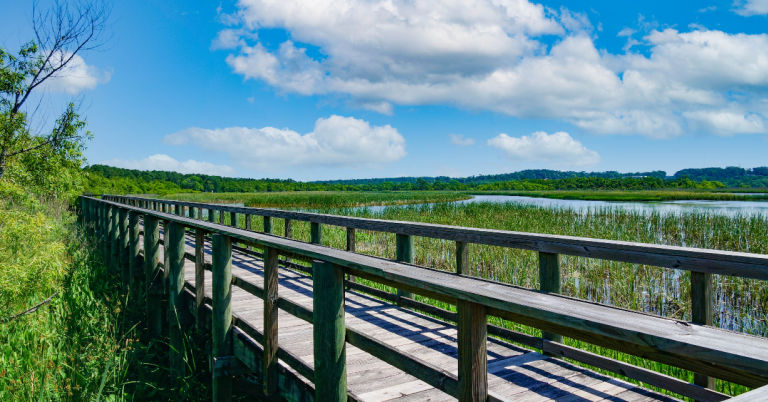 You can learn the "correct" method to build a sand castle by taking a morning session at Sand Castle University with your pals. Afterward, you can take the family biking around the 28 miles of paved paths at Gulf State Park. For those adventurous teens, consider renting a gyroplane to get a bird's-eye perspective of the shoreline.
2. Gatlinburg, Tennessee
Gatlinburg is among the top trending destinations for spring travel. As the entrance to the Great Smoky Mountains National Park, it has a lot to offer with teenagers. You can hike to Clingmans Dome inside the park for vistas from Tennessee's highest point, then cycle the 11-mile Cades Cove Loop.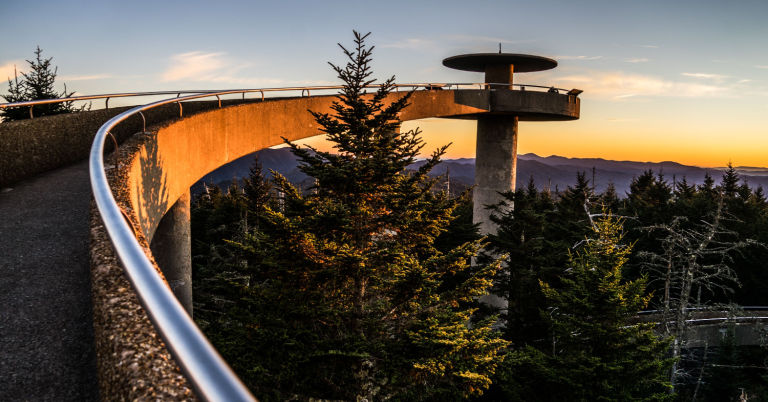 Moreover, get a rush at Anakeesta, a brand-new on-mountain adventure that includes a canopy walk, zip lines, and a mountain coaster, which is located outside the park. Don't forget to ride the roller coasters at Dollywood in nearby Pigeon Forge before you leave.
3. San Luis Obispo County, California
San Luis Obispo County, also known as "SLO CAL," is a terrific choice whether your spring break plans call for relaxing days at the beach while trying adrenaline-fueled experiences. You can consider paragliding down the coast or trekking on Pismo Preserve, thanks to its 315 days of sunlight and 80 miles of unspoiled coastline.
Moreover, Oceano Dunes is the only California State Park that permits motor vehicles on the beach, perfect for teens dune buggying there. Another must-do activity for teens in the Shell Beach region is kayaking through the Dinosaur Caves. You can also try enjoyable family-friendly activities, like Skee-ball and shuffleboard, as well as life-sized versions of Lite Brite and Scrabble at the brand-new Kinney SLO.
4. Santa Fe, New Mexico
There is a ton to do for energetic teens in this beautiful desert setting in addition to Santa Fe's rich history and culture. You can spend the whole day playing scavenger hunts, whitewater rafting, and horseback riding at Santa Fe Mountain Adventures. Moreover, their exhilarating 4×4 all-terrain military vehicle "Pinzie" tours to Diablo Canyon are particularly well-liked, perfect for a group of friends.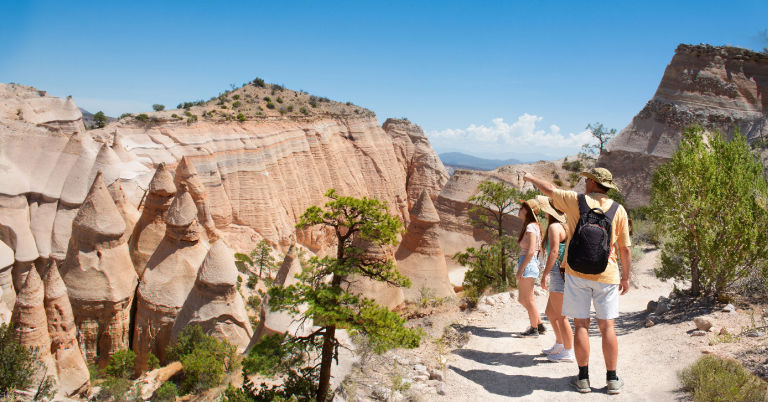 If you go with families, consider reserving a stay at the Four Seasons Resort Rancho Encantado. It will provide you access to Canyon Road's lively art scene, a dedicated Adventure Center for guided biking and hiking tours, and more. Don't forget to make time to visit the Santa Fe Farmers' Market on Saturdays, one of the biggest and oldest in the nation.
5. Clearwater, Florida
When it comes to one of the top-rated beaches in the country, consider a spring vacation lounging on Clearwater Beach in Florida. You can go with your family and friends, since it offers various activities for everyone. This is the best site to watch gorgeous sunsets and a weekly festival with stilt walkers, local craftspeople, magicians, and live music is at Pier 60 in the evening.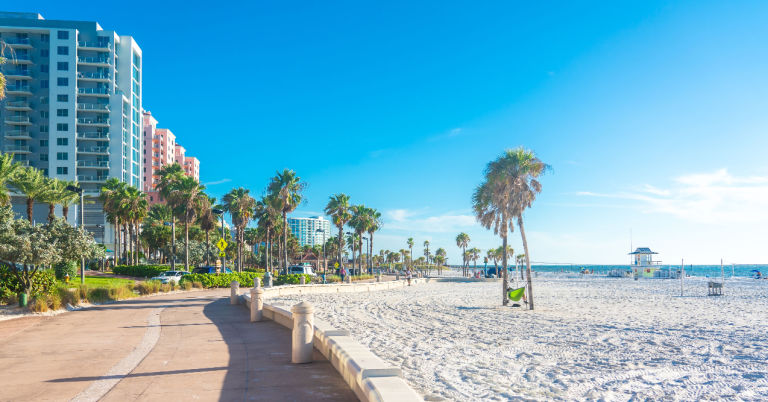 Moreover, you can take a dolphin-watching trip with Dream Catcher Explorations or go snorkeling at 3 Rooker Bar. It takes only 45 minutes to get to Busch Gardens Tampa by automobile. You can reserve a room at the Wyndham Grand Clearwater Beach with a marine motif close to the Clearwater Marine Aquarium.
6. Scottsdale, Arizona
For teens who love the outdoors, we highly recommend you to go to Scottsdale in the spring! Challenge yourself with families and friends to single track mountain bike trails at Pemberton Loop and trekking to the top of famous Camelback Mountain. At the foot of Camelback Mountain, at Mountain Shadows, you can take in breathtaking desert vistas.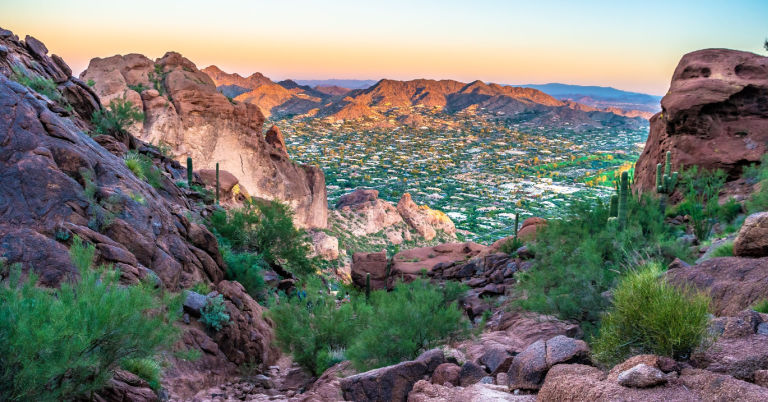 Moreover, you can climb the enormous natural rock structure at Papago Park, then ride an ATV through the desert with Green Zebra Adventures. Don't forget to visit the Desert Botanical Garden in the evening for a sound and light show that makes the cactuses appear to dance!
7. Southern Utah
Avoid the summer crowds and visit Utah's parks in the spring when there is more space for movement and exploration. Due to the abundance of magnificent state and national parks, including Kodachrome Basin State Park and Zion National Park, Southern Utah has become a magnet for active teens.
Southern Utah is one of the best spring vacation ideas for nature enthusiasts. In Sand Hollow State Park, go kayaking with your friends, or visit Coral Pink Sand Dunes State Park to ride ATVs. Moreover, spend a few hours in Kanab at Best Friends Animal Sanctuary tending to the needs of stray animals.
8. Texas Hill Country
Texas may get quite hot in the summer, so spring is the best season to visit the Texas Hill Country. The picturesque environment is teeming with vibrant wildflowers, including Indian paintbrush and Texas bluebonnets. At Wildseed Farms, the largest operating wildflower farm in the nation, teenagers will enjoy making their own colorful bouquets.
Moreover, you can take on Enchanted Rock, a pink granite peak with breathtaking views of the area from the summit, but don't forget your hiking boots. You can also add stargazing at this International Dark Sky Park to your agenda for an evening experience.
9. Carlsbad, California
Even while Carlsbad is less well-known than its southern neighbor San Diego, it still has a lot to offer teens and families outside of LEGOLAND California. Visit one of the five sandy, white beaches in Carlsbad, such as Carlsbad State Beach. Go with your families and friends to Tamarack State Beach's Carlsbad Seawall to enjoy an Instagram-worthy sunset.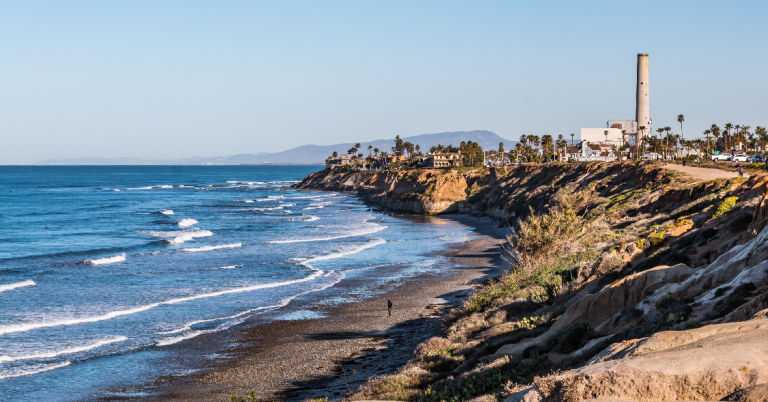 In addition, the Flower Fields at Carlsbad Ranch are in full bloom in the spring, covering 50 acres with vibrant color. You can also visit museums that you would not be able to discover elsewhere, such as the Museum of Making Music!
10. Florida's Space Coast
The influx of spring breakers from colleges onto Daytona Beach may be what makes Florida's Space Coast famous. However, Cocoa Beach, 90 minutes south, will be a blast for teenagers with your families. This surf capital on the east coast is where you can learn to ride the waves because it is home to the original Ron Jon Surf Shop. You can enroll in classes at School of Surf!
Moreover, take a guided kayak tour of the Nyami Nyami River at the Brevard Zoo and paddle by giraffes and rhinos. Settle in at the Westgate Cocoa Beach Resort, which just unveiled a brand-new waterpark with a tropical theme.
---
---
11. South Padre Island, Texas
If you are looking for a fun spring break destination for couples, you can't go wrong with South Padre Island. Rockstar Beach at the Isla Grand Beach Resort is a well-known location in this area. It is a true destination for partygoers and is jam-packed with dancing competitions. The most well-known of which is the Coca-Cola Dance Contest. Enjoy concerts, sizable freebies, and fierce parties.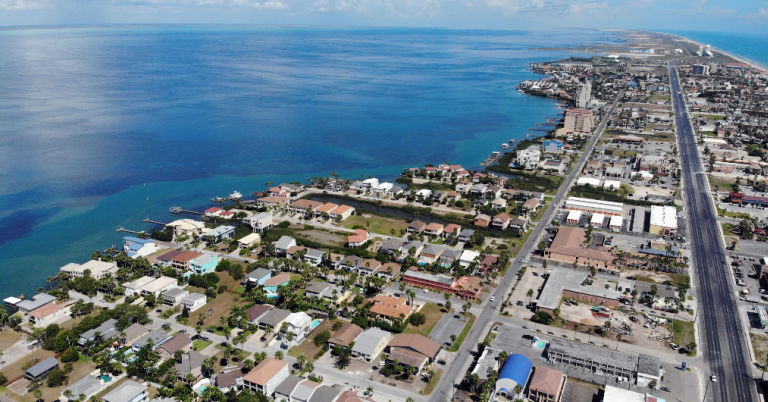 Moreover, it holds the Beach Bash Music Fest, the most popular spring break concert and festival, which features artists like Wiz Khalifa, Lil Uzi Vert, 21 Savage, Steve Aoki, and others. You can also try jet skis, banana boat excursions, parasailing, snorkeling, and other activities for rent.
12. San Diego, California
San Diego is well known for its countless top-notch attractions, including museums, breathtaking coastlines, and a variety of outdoor places and activities. If you love water activities, you can begin your trip by participating in water sports on San Diego Bay or Mission Bay. After that, take in the nightlife in the Gaslamp Quarter, or watch the most beautiful sunsets at La Jolla Cove. You may meet sea lions here!
You can also get a boat tour or go kayaking if you enjoy seeing animals in their natural settings, particularly aquatic animals like whales. We guarantee that you'll have plenty to brag to your friends and family about from the California coast trips!
13. Miami Beach
Miami is unquestionably one of the best destinations for a genuinely amazing spring break for teenagers with its wild parties, gorgeous beaches, and distinctive art deco structures. Or, you can take a walk along the iconic South Beach, explore the shops and restaurants, and soak up the atmosphere.
Even if you're not into partying, Miami has a lot to offer! If you want to experience Miami from a unique perspective, make sure to schedule a jet ski trip! Or, enjoy the views of Miami Beach with a boat tour around the city.
14. Outer Banks, North Carolina
The Outer Banks, which offer some sunny beach days, is the ideal location for a stress-free spring break. Consider taking a walk or a bike ride along Bay Drive or the South Virginia Dare Trail in Kill Devil Hills to decompress. Foodies should not miss the "Taste of the Beach," a 4-day feast packed with cuisine and drinks, which is an easy day trip from Raleigh and many other coastal locations of North Carolina.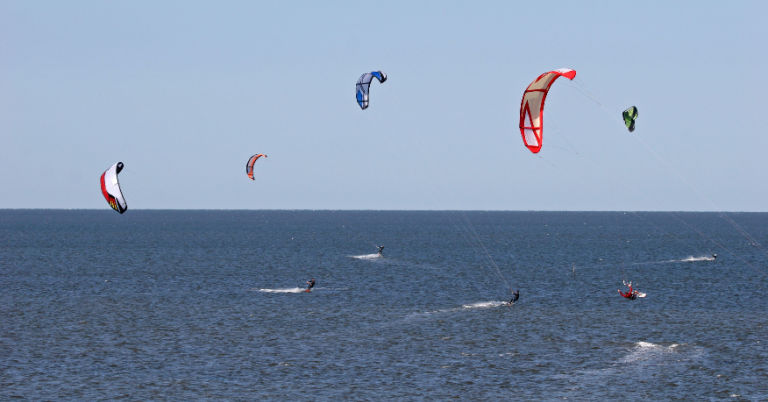 Moreover, the fishing piers, which open up during spring break, will be appreciated by anglers. If you want to try new things, you could set a goal to master kiteboarding at Outer Banks Kiting in Avon. Don't forget to set aside some time to explore the magnificent Elizabethan Gardens or spend a fun day at the First Flight Adventure Park.
15. Savannah, Georgia
If you're considering visiting Savannah over spring break, you don't need to worry about the weather because it actually has the greatest conditions in Georgia's First City. The pleasant spring weather is ideal for taking a stroll along the trails, exploring the historic district of Savannah, or visiting the Savannah National Wildlife Refuge, a sanctuary for some of the state's most cherished animals.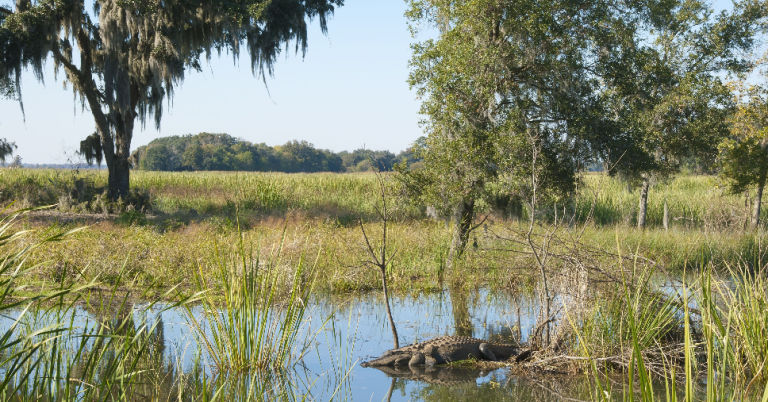 If you feel the desire to visit the beach this spring, go to Tybee Island, where you may unwind for the day, take a dolphin tour, or reserve a charter fishing trip. The city of Savannah, which holds the distinction of one of the most haunted towns, offers ghost tours for those who enjoy terror and horror!
16. Orlando, Florida
Orlando is regarded as one of the greatest spots in Florida to spend spring break for teens due to its abundance of amusement parks and well-known attractions. Spend a day of amusement at the enchanted Walt Disney World Resort with friends or family to create some enduring memories. As an alternative, you might go to Universal Studios, where you could learn about the history of filmmaking, stroll through the sizable theme park, and take part in an endless number of rides and live performances.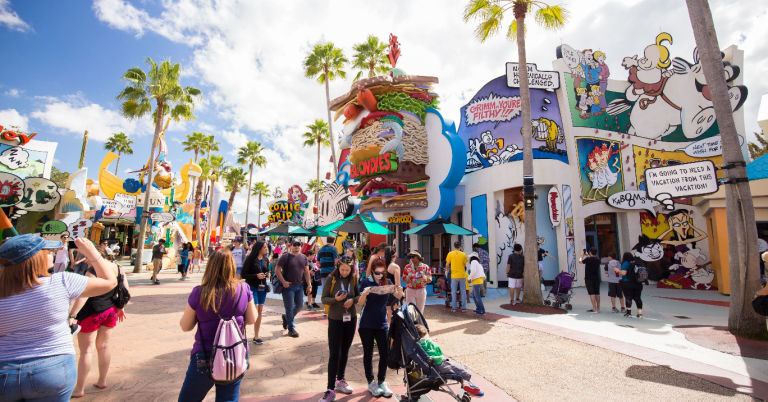 The Seven Seas Food Festival in Orlando, which has more than 200 delectable delicacies, will undoubtedly satisfy foodies as well. In Orlando, you may arrange trips to incredible water parks, go on boat tours through canals and lakes, and much more!
17. Boulder, Colorado
Boulder provides spring breakers recreational activities and stunning views of the city and mountains. If you go during the spring, you may also check out the 150 miles of hiking and bicycling trails that feature wildflower hikes. You can also spend the weekend in Denver or take a day excursion to Rocky Mountain National Park!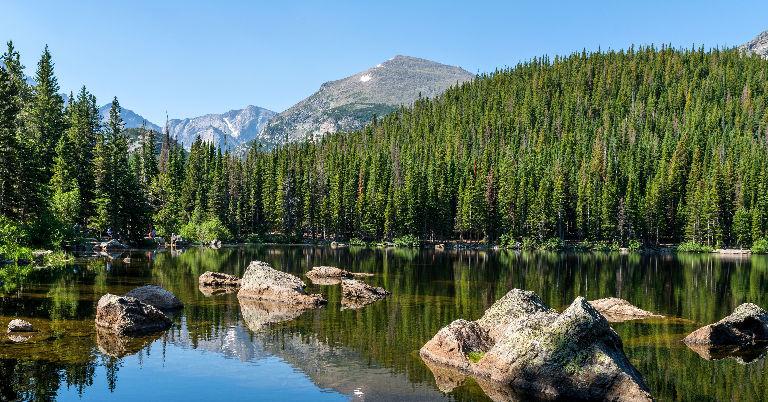 In Boulder, you have a fantastic opportunity to try an e-bike tour if you haven't before. Also, you can go on a day trip to Nederland from Boulder that is full with beautiful scenery, fishing holes, fantastic restaurants, and stores.
18. Charleston, South Carolina
Charleston is one of the top destinations in South Carolina for spring break because of its beautiful beaches. Visit the adjacent beaches at Charleston Harbor, Isle of Palms, and Sullivan's Island, which is one of the pieces of advice that is most frequently given. You can also attend the annual Festival of Houses & Gardens, North Charleston Arts Fest, and the Safe Sounds at Firefly Spring Concert Series, which includes live music, food, and more during spring break.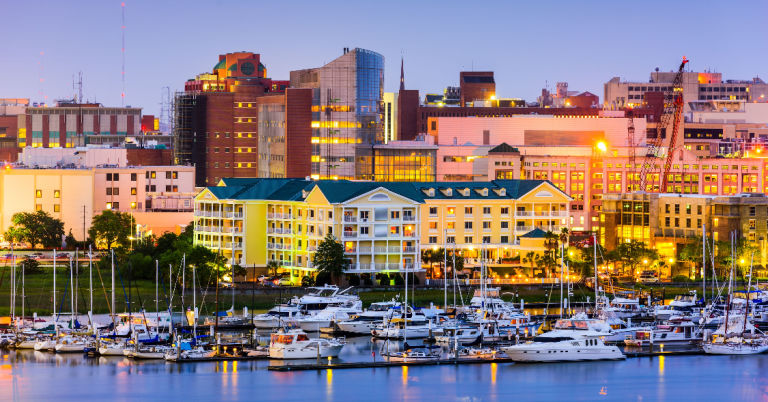 Moreover, Charleston makes an excellent starting point for day trips and visits to some of the state's top waterfalls. Some of the most popular waterfalls to visit from Charleston include Raven Cliff Falls in the Mountain Bridge Wilderness Area, Rainbow Falls in the Jones Gap State Park, and King Creek Falls in the Sumter National Forest. All are excellent choices for youngsters who want to unwind and revitalize.
19. New Orleans, Louisiana
For people of all ages and tastes, spring break in New Orleans is convenient. If you're fortunate, you might be able to go during Mardi Gras, which is the most vibrant and fun holiday filled with jazz music and street parades. Other well-known festivals include the Spring Fiesta, the French Quarter Festival, and others.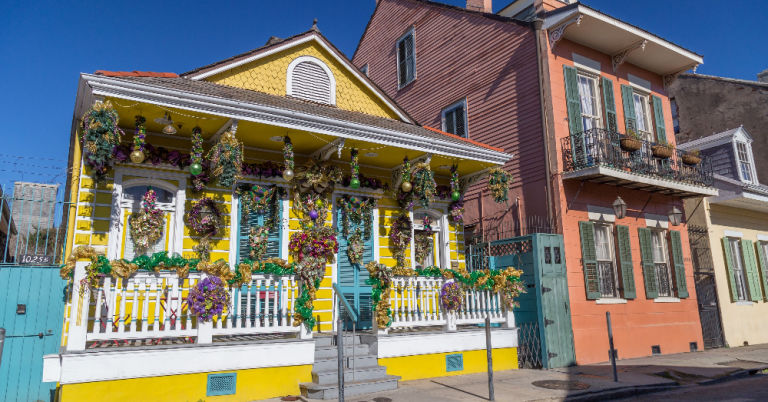 Most likely, the weather will be agreeable enough to arrange a pleasant picnic in a city park. You can reserve a supper at one of the area's top eateries, such Muriel's or K- Paul's, to experience more of New Orleans' spirit. A day might also be set out for touring art galleries and antique stores. Royal Street is the primary location for art galleries.
20. Maui, Hawaii
Spring break gives ideal weather for fully enjoying Maui. Notably, there aren't many people around right now, and families make up the majority of the visitors. More than 30 miles of black, crimson, and white beaches may be found in Maui. You can take part in a whale watching excursion, a snorkeling tour at Molokini, or other boat tours while visiting Maui.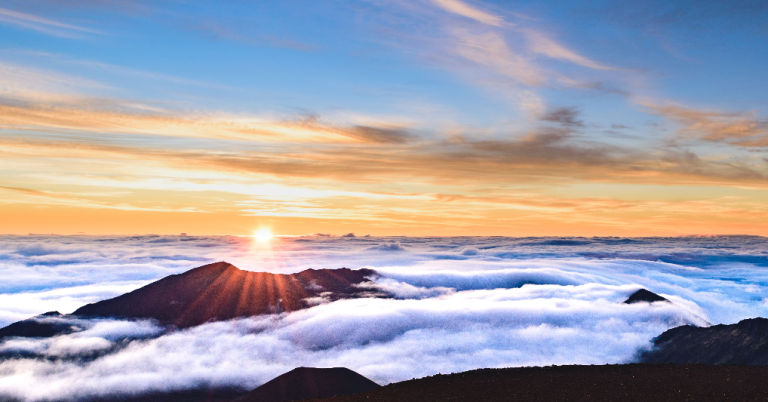 Besides, ziplining is an activity that should be tried here. The alternatives accessible range from little lines to some larger ziplines on the west side above Lahaina and Kapalua. Moreover, don't miss out incredible views of the sunrise and sunset and is located at an elevation of 10,000 feet at Haleakala National Park's Haleakala Crater.
Conclusion
No matter where you choose to go for your spring break, the key is to have fun and make lasting memories! There is no right or wrong answer when it comes to picking the best spring break destination for teens in the USA. However, with the vast array of options in this article, you are sure to find the perfect spot for you and your friends.
---
Latest Post:
---
FAQ (Frequently Asked Question)
Where should I go for spring break in USA?
Spring break is the ideal time to explore the USA, as the weather is generally mild and sunny. Some of the best places to visit in the USA for spring break include Miami, Florida; San Diego, California; and New York City. If you are looking for the best places for teens to go during spring break in the USA, you can read the article above.
Where is the cheapest place for spring break?
The cheapest place for spring break is likely to be somewhere in the US, since domestic travel tends to be more affordable than international travel. Some of the cheapest places to visit include Florida's Gulf Coast, the Smoky Mountains, and the Grand Canyon. These places offer a variety of affordable activities and attractions that can be enjoyed without having to spend a lot of money.
Which state is best to visit in spring?
The best state to visit in the spring is likely to be dependent on personal preferences, but some popular choices include California, Florida, Hawaii, Colorado, and Washington. Each of these states offer unique attractions and activities that can be enjoyed in the springtime.
Which state is the best to visit in USA?
That depends on your individual preferences. Some popular destinations include California for its beaches, theme parks, and cosmopolitan cities; Florida for its warm climate and beaches; New York for its vibrant cities and culture; Hawaii for its tropical climate and beautiful beaches; and Alaska for its rugged landscapes, national parks, and wildlife.
Latest posts by William Niocolas
(see all)