Teenagers usually love to look stunning and fabulous. Looking pretty from head to toe is a must, including the nails. Although it seems petty, having cute and pretty nails for teenagers will boost their confidence. Moreover, applying nail polish can be self-healing and reduce stress, especially on weekends after hectic weekdays. The nail art ideas also help youth reveal their creativity through their nails.
Make sure your appearance is not too much to go to school, and your fingers still look safe and sound for writing the task. We have curated 19 pretty nail ideas for teenagers they can wear daily, even if they wear them to school! Check them out!
1. Butterfly and glitter
In case you wish to have pretty nails for daily occasions, always go with a soft color! It is a safe option if you like to have fantastic nails but not too striking. Like one of these amazing nail ideas for teenagers, you can try featuring butterflies to adorn the transparent nails.
Also, adding glitter above pastel blue gives a different look to your nails. In addition, you can adjust the length of the nails. This style fits short nails, too, and makes an exquisite pair for your casual outfits.
2. Moonchild ombre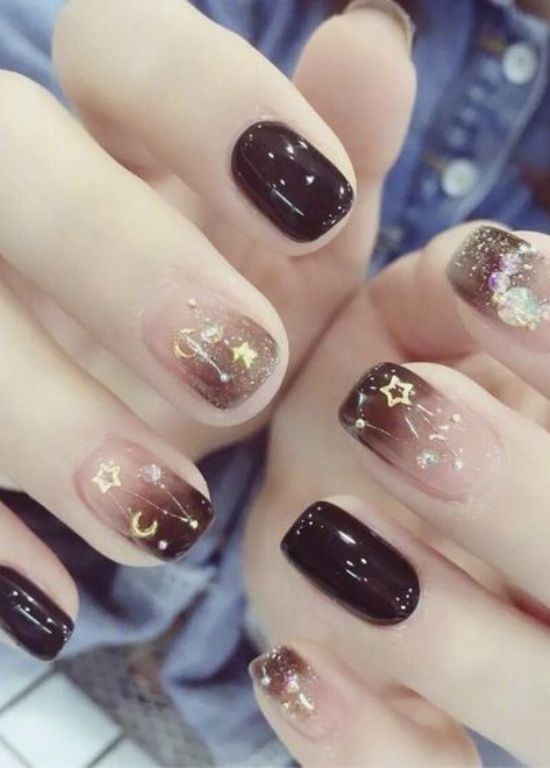 As the moon child, this nail idea is a must-have! Look at the ombre color. It seems magical with stars, moon, and the shines that will sparkle when the lights spot them.
You can ask your mom to help you put the element on your nails if you like to DIY nails at home. Or you can go to the nearest nail shop and ask a professional for this adorable look. If you don't want a bold look, opt for pastel colors.
3. Flower power
Welcoming spring with this pretty and fresh nail idea will boost your mood to go to school. Suitable for short nails, so it doesn't bother you for writing or even exercising at school.
If you think drawing roses on your nails is too difficult, why don't you go for fake nails that fit for spring like this? So you can still have a stunning look without having difficulty doing it. Moreover, you can have the same one as your bestie. Isn't it cool?
4. Modern art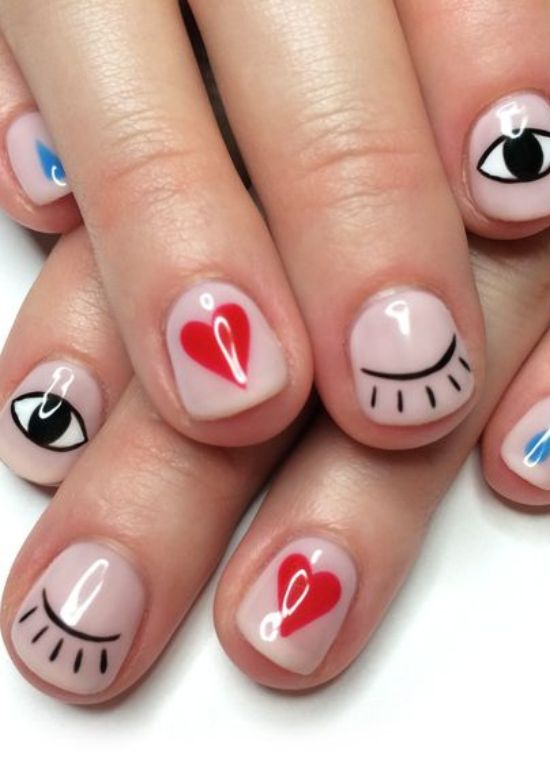 It is hard to resist this preppy nail art idea, right? Simple and modern design. No need to have long nails and the color are soft. This style is trendy among pop and current art enthusiasts.
No wonder teens like you will love it too. Also, for the parents, you can help your daughter to get this look! We recommend combining three colors (like black, red, and yellow or blue) to make a stunning contrast. This is surely one of the best nail ideas for teenagers to steal attention from your friend at school. 
5. Colorfully melted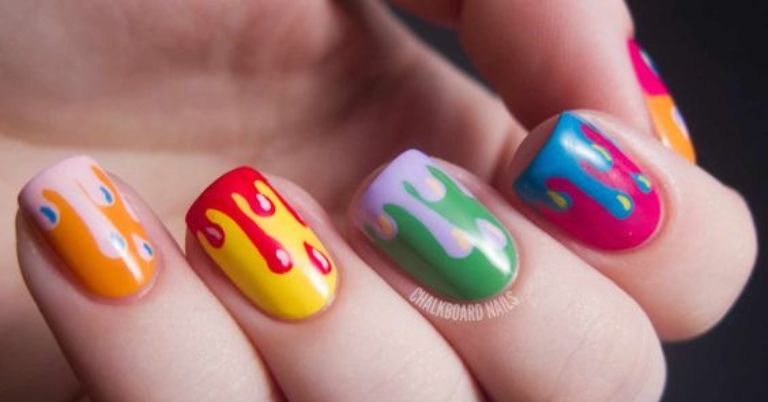 It is like melted ice cream that you can get on your nails. The idea has various bright colors but is still suitable to be worn on any occasion. You can wear it to welcome summer since the paint is fresh and playful.
Moreover, you can do it with your best friend or your mother to have this look. Make sure to combine two vibrant tones into one to make the combo pop! The key to this nail art idea is not to be afraid to play with color and use our creativity to create the melted look we want. 
6. Oval wavy colors: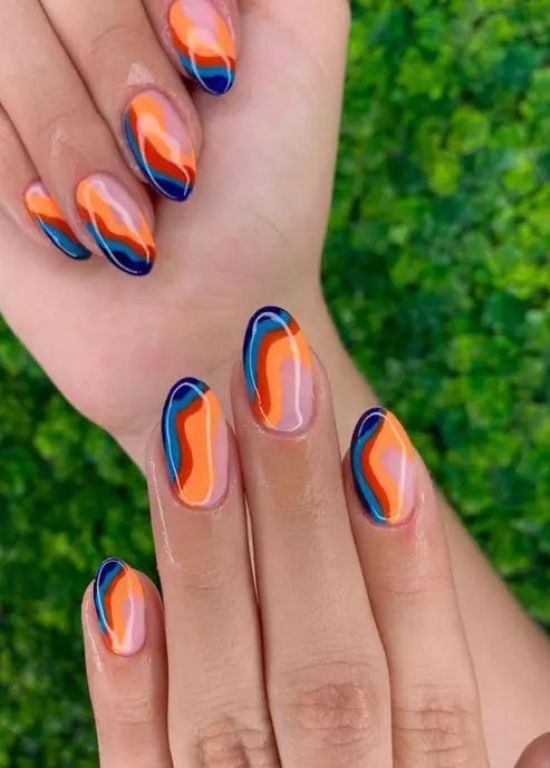 It is very adorable, elegant, and suitable for your daily looks and casual weekend parties. These acrylic nails come in four-tone colors. The wavy style fits your oval nail type.
To make a glossy finish, we recommend adding a top coat to it. Not only it works to make the nails shiny, but the coat serves as protection to ensure the look will last for a longer time.
7. Matte colorful nails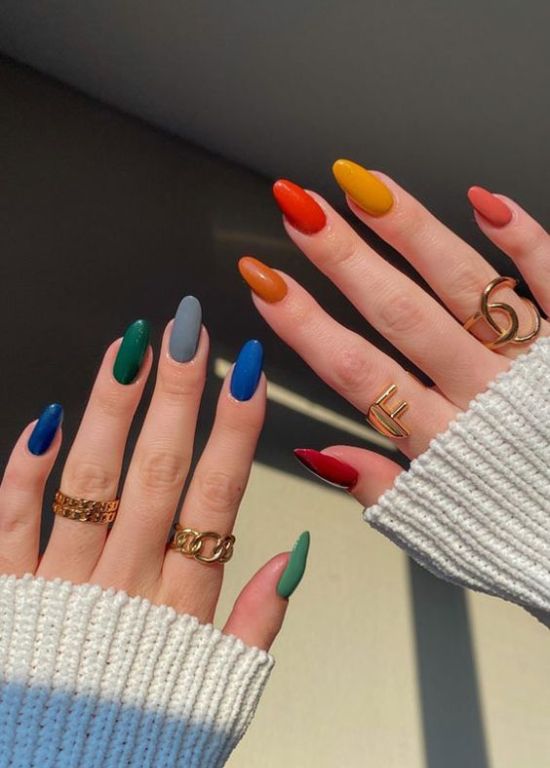 This one is a timeless nail idea for teenagers. If you are not into artsy or complicated designs, you can go with these matte colors. Apply some beautiful colors, and never be afraid to play with the colors since there is nothing wrong with it.
Choosing matte colors will be great because it makes your nails look bold and vivid. In addition, the nail idea is more suitable for long nails. However, you can opt for the colors for your short nails though you will need extra effort to make sure they won't spill in your cuticula.
8. Play with marble colors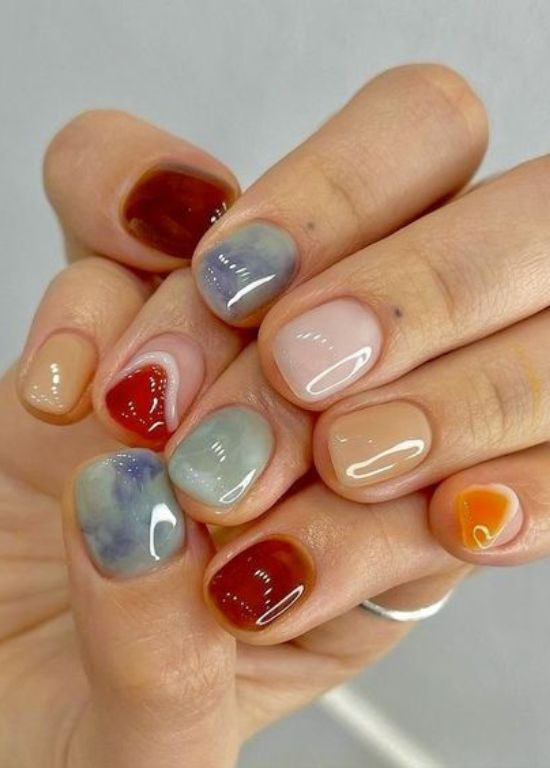 Ah, marble colors are always a good idea! This style is pretty much happening nowadays. The look is not that preppy, yet teens will love it since the finished look is very adorable to look at.
Furthermore, you can unleash your creativity by mixing the marble colors on your nails. Choose a blend of red and white to make a pink tone. Also, try to mix purple and grey to create a stunning marble-like finish. Set the schedule to do it with your bestie during weekends. Then on the weekdays, you are ready to face the new days with new looks for your nails. 
9. Strawberry summer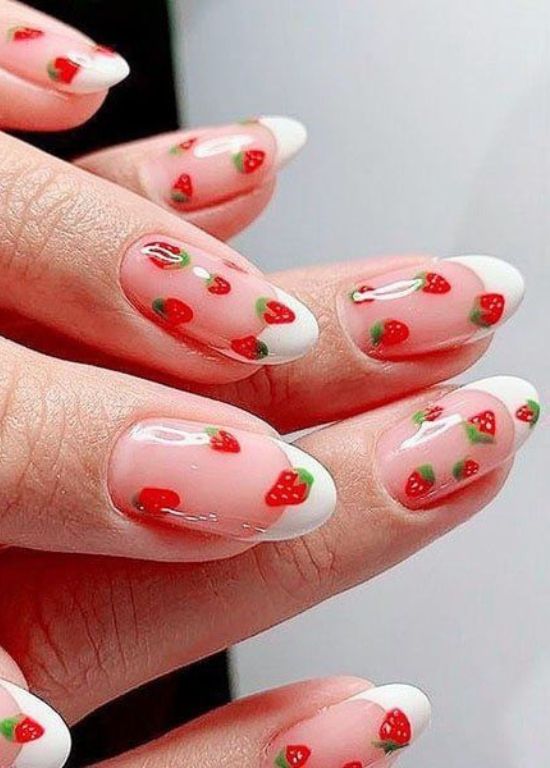 Strawberries and summer are inseparable. Welcoming your next summer vacation by changing your nails' look is an excellent idea! As for teens, you can go with this strawberry nail sticker if you are not able to draw strawberries using nail polish.
First, manicure your nails and smooth the surfaces. Next, add the stickers you want and coat them with a shiny nail coat. It saves you time and value for money. You can also change it whenever you feel bored with its look. But still, don't forget to take care of your nails, too, even if your nails are covered with stickers. 
10. Pastel sky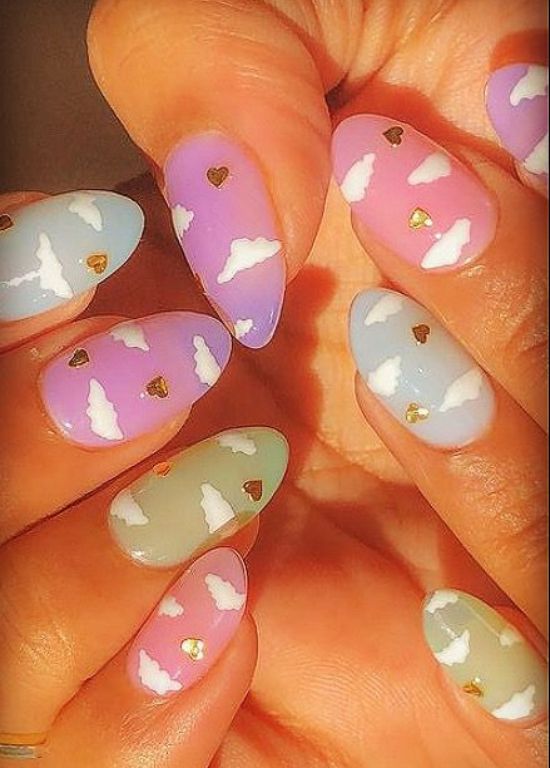 What cute and beautiful acrylic nail art for teens! For sky lovers, this look can be yours easily. Because you just have to stick the fake acrylic nails without having to wear any nail polish and stick the element on it.
In addition to the stickers, you can introduce pastel colors to make the this one of the best nail ideas for teenagers even more captivating. Going to school or to your bestie's parties, and this one can rock your look. 
---
---
11. Soft color meets modern art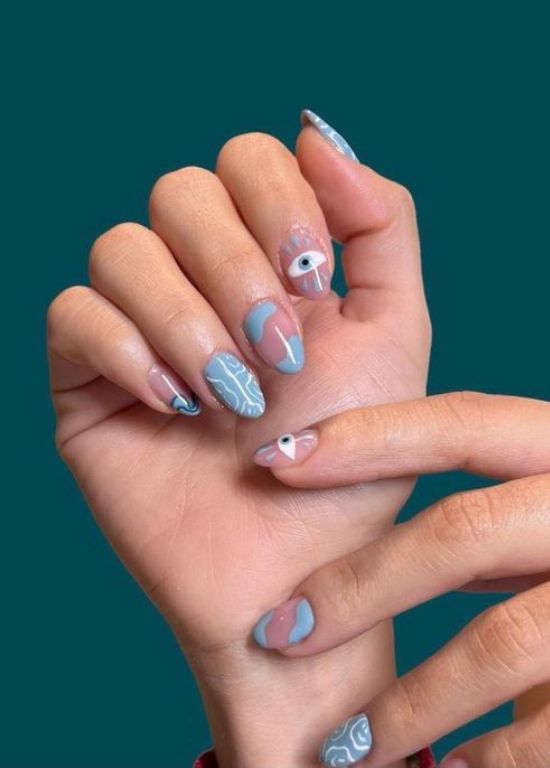 The color tone is soft, not childish, but not too old for teens. The art is pretty simple, pops and hype nowadays. It is called "artsy" for the youth. Actually, there are no rules to get this look.
You can just play with your imagination to create cute art, such as eyes, hearts, smile icons, sad icons, and many more. Even just going with stripes or wavy will look fab. 
12. Daisies in the Blue Sky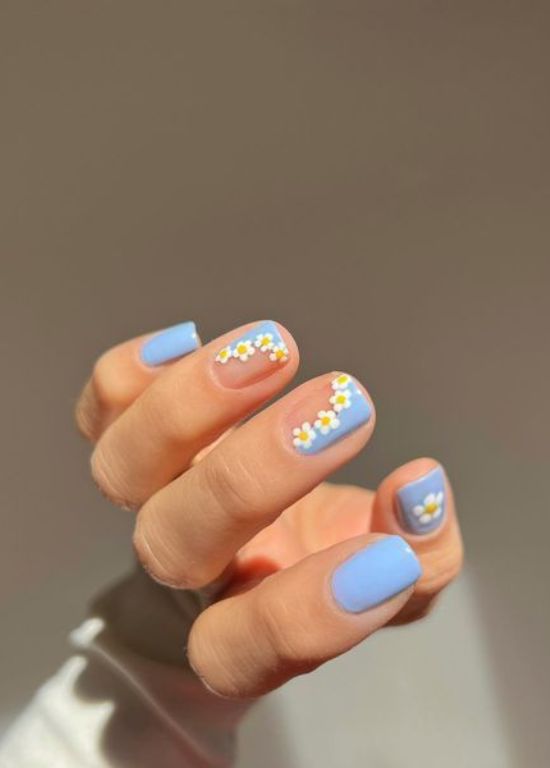 Sweet and adorable nail idea for you that is suitable for all seasons, we guess. Daisy on your nails describes that you love something simple, while soft blue explains that you are calm. Drawing daisies or any flowers on nails is generally relatively easy, especially if you are into nail art.
Of course, you already have the tools to draw it, right? But if you don't, try to look for daisy stickers and coat your nails with shiny nail polish. This attractive idea can be done in your leisure time during the weekend to greet your weekdays. You can decide by yourself to have a glossy or matte finish. 
13. Ombre with cute shells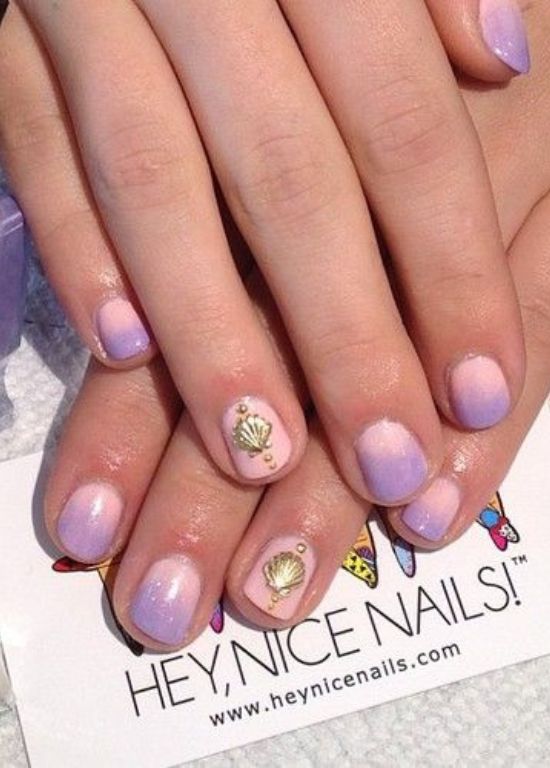 When you want a sea theme but are not into blue colors, you can steal this one of the pretties nail ideas for teenagers. Have an ombre color of soft purple and pink, draw the shells, or you can stick 3D nail art decoration if you run out of time.
This look will give off a cute mermaid vibe. So, you can still have a sea theme without having to choose blue colors because this idea is the best option you can choose. 
14. Colorful acrylic nails
Already getting bored with the old nail art? Then, it is time to change the look! But you can go with these fake acrylic nails if you don't have time due to your busy schedule between school, tasks, homework, and many more.
In addition, you can try adding stickers that resemble the blooms or characters you want. The design is too cute to deny. Also, it can improve your look and boost your mood instantly. Although the nails have various colors, they don't look childish. 
15. Short peachy
Peachy color will freshen your days if you have a terrible day currently. The color is soft yet sharp. If you plan to have another art for your nails, you can create it now with a peach color base like this, one of the pretties nail ideas for teenagers.
Adding a gel manicure will be a perfect idea to improve your look. Also, try to introduce patterns like dots using a white base and black tone to combine. Beautify your days and mood now by changing your nail art! 
16. Gingham nails
The gingham style is never out of date. You will choose the color that fits your gingham nail idea. This pale green is a great one since not all people choose this pale green color for their nail polish – although it is pretty elegant at a glance.
For the gingham color, you can go with white and transparent. So, you must add a top coat to give your nails a shiny and healthy look. The coat also works awesome to make the design last longer.
17. Adorable nails for shorts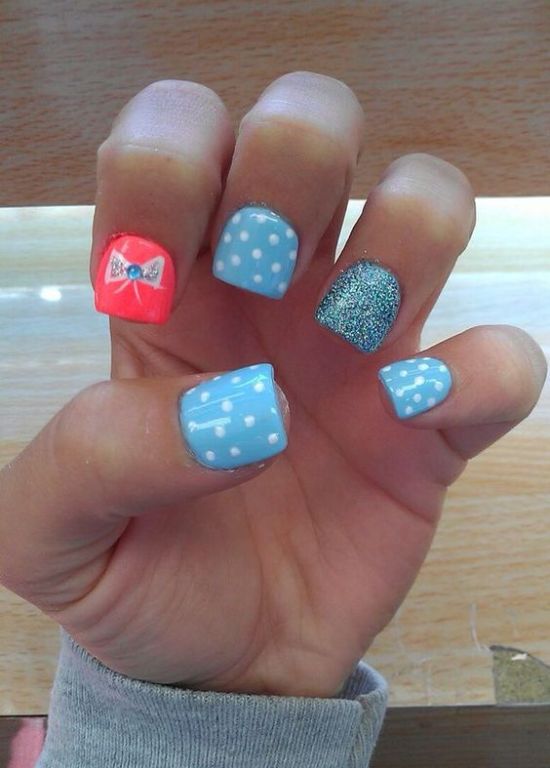 Sometimes, if your nails are short, you need clarification about the nail art that fits you. Say no more with this one of the most stunning nail ideas for teenagers. Adorable and simple nail art that you can make yourself.
Always choose soft or pastel colors because they fit any occasion, including school. Soft colors always match with your school outfit, and don't steal the show in a way you don't want to. You can play by adding the polka dots, stripes, bows, and many more. 
18. Go for a nautical theme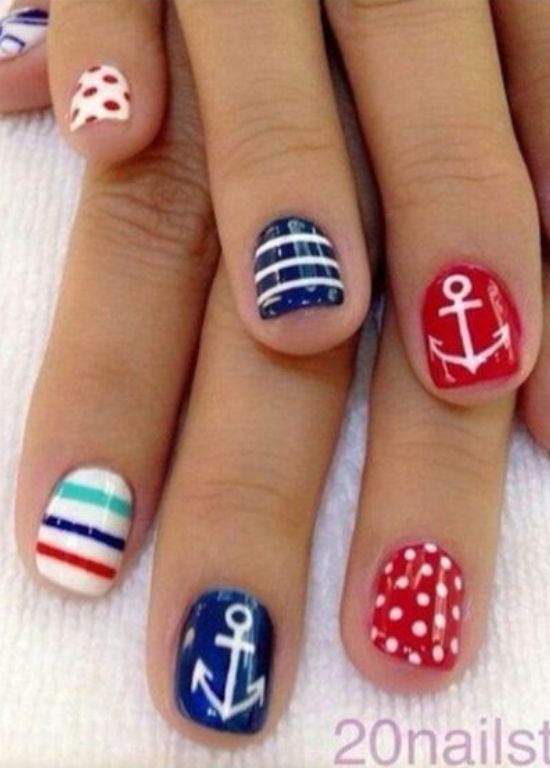 Ready to go sailing next summer? Don't forget to get a perfect look from head to toe. You can have this nautical theme to welcome your vacation next summer.
The color is bold and solid, and it is easy for you to draw the anchor, polka dots, and stripes. Just play with the color tone, and voila! You have this stunning look. But make sure to choose different color combo to make a distinct contrast.
19. Time for back to school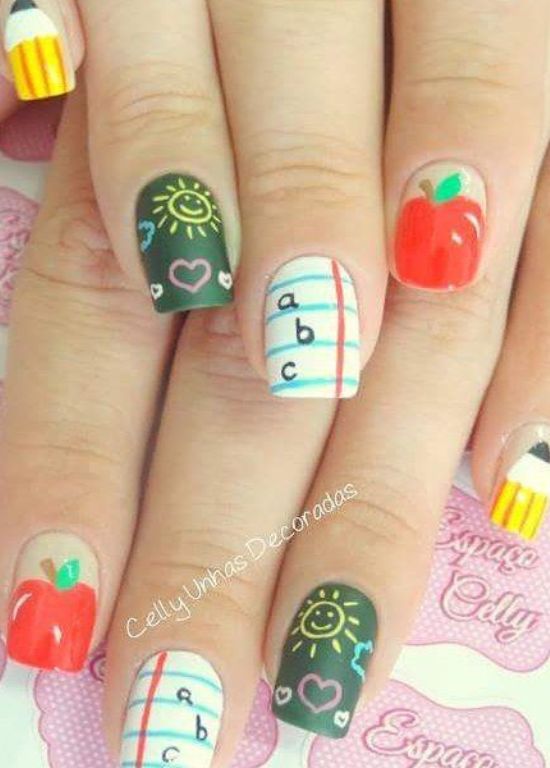 Isn't it cute to welcome your school days? This back-to-school theme for your nails will encourage your spirit to go to school. This idea is not that hard because you can go with the fake nail art that comes with this theme.
Also, you can simply remove it when you think it is time to go with a new look. One thing to remember is that if you often wear fake nails, you still have to maintain the health of your nails. 
---
Latest Post:
---
Conclusion
So, you already have the answer to what nail ideas are suitable for fabulous teens like you, right? All of them are pretty, amazing, and ready to catch everyone's attention wherever you go. The important note in applying nail art or nail polish is never to be afraid to play with the color. Then, you can find the right tone color on your own. Moreover, you need to consider your styles and what occasions you want to wear your nails. For casual outfits, those nail ideas for teenagers with pastel colors may be the best bet. But for the ball, sparkling ones are stunning!
What nails are trendy now?
Marble nails and pastels are quite trendy nowadays. Marble nails can go for casual or semi-formal occasions. Also, you don't have to add 3D decoration above the nails since the style of marble itself is already stunning. While pastel colors will be the safest option because its soft tone color fits everyone. 
What is a gel manicure for natural nails?
Gel manicures are gel-based nail polishes. Some experts claim it is more durable than the regular one. You also can add this gel manicure for natural nails or on your fake nails to make your nail arts look more shiny and healthy.
What shape nails are on trend?
Short nails have become on trend currently. So, if you have short nails, you can start applying nail art to your nails and be pretty from head to toe. As for the long nail owner, no worries because the coffin shape is still on top!
What nail shape makes fingers look skinnier?
The oval shape will make your fingers look skinnier. If your nails are not in this shape, no worries, because you can have oval-shaped fake nails for your daily looks. Don't forget to adjust the length to make it more natural.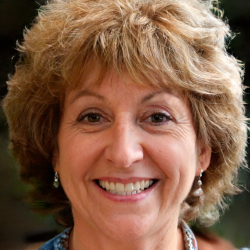 Latest posts by Suzy Prichard
(see all)