New York City is famous for its quote, "The city that never sleeps." However, if you plan to have your next holiday here, you absolutely still need a place to sleep. While choosing the destinations can be a tough job, you will find that deciding where to stay in New York City with teenagers is just as challenging. You may wonder, where to stay in New York City with your teenager. And if you are reading this now, you are in a good hand for we have compiled a list of 20 best places to stay in New York City for you and your family.
Before we go into the details of the hotels, you should know that New York City has five boroughs that are distinctive from each other. Generally speaking, Midtown Manhattan is the place where tourists head for its famous attractions. However, we have also included some options for those who want to experience New York in a different way. Now let's check out these 20 hotels you can stay in New York City with your teenagers.
Midtown Manhattan
Midtown Manhattan is filled with the best parts of New York for the first-timers. They have the most well-known attractions, such as The Empire State Building, Central Park, and Rockefeller Center. In the city's center, you will easily find restaurants and shops catering to your needs. As you know this situation, you might want to prepare for a crowded place.
1. A fancy evening: "The Manhattan Club" (4-star hotel)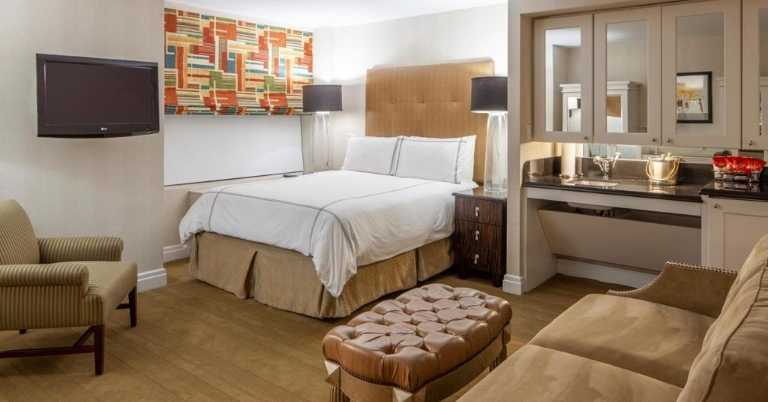 If your teenagers would like to have some lavishness to match the "Big Apple" vibes, The Manhattan Club is the right place to stay. They have nine suites that you can choose from depending on your need and budget. Since it is located in the heart of the main tourist objects of New York City, places like Central Park and Times Square are within walking distance. So, you and your teens can stroll around the city with no hassle.
Although surrounded by the hustle and bustle of New York City, you can expect a quiet room when staying in The Manhattan Club. Make sure that you book a suite with a city view to maximize your experience.
2. Surrounded by Broadway Theaters: "Riu Plaza" (4-star hotel)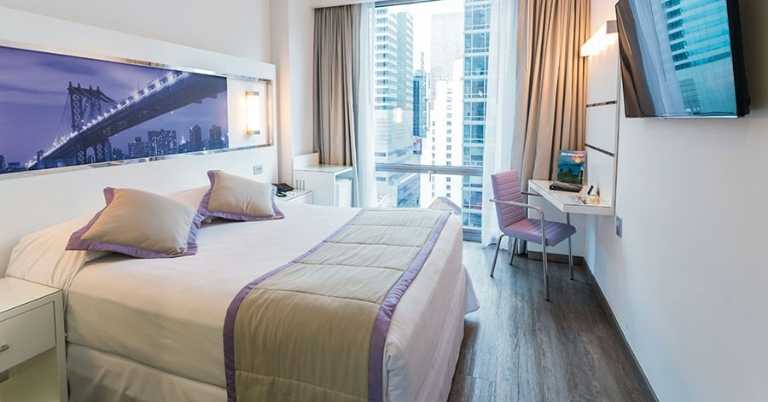 If you or your teenagers are avid lovers of Broadway theatre, then staying in Riu Plaza is the best choice. Brook Atkinson Theatre, Beetlejuice, and Hamilton Theatre are only three examples of theatres you can reach by walking.
And if you don't have the moods to stroll around the city, you can simply go to the food and drink area, like a hotel restaurant, to add to your culinary experience. We also recommend coming to the bar if you wish to grab some wines and sit back. You can also try their fitness center in case you want to have sweats indoors.
There are 12 elegant rooms provided by Riu Plaza to suit your preferences. In case you come with a family of four, you can book a deluxe double room. It will provide you with two double beds for your teens and your partner. On the other hand, a deluxe king or queen room is perfect for those coming only with their teenager.
3. Modern and colorful in a room: "CitizenM" (4-star hotel)
This hotel has been a trend for the past few years. They introduce a new way to book and check in to your hotel with their app that you can download to your smartphone. This hotel is perfect for teenagers who would like some privacy. In CitizenM, they only have one type of room with two adults max. Therefore, your teenagers, you, and your spouse can have more private time, and everyone's happy! Another thing the teenagers will like here is their aesthetic designs.
There are a lot of spots you can take a picture and upload it to social media. Then, when you have enough pictures, you can go out to visit Times Square, where this hotel is built. Yes, CitizenM, like The Manhattan Club, is located near New York City's main attractions. Highly recommended for you and your teenagers.
4. All about coziness: "Arlo Midtown" (4-star hotel)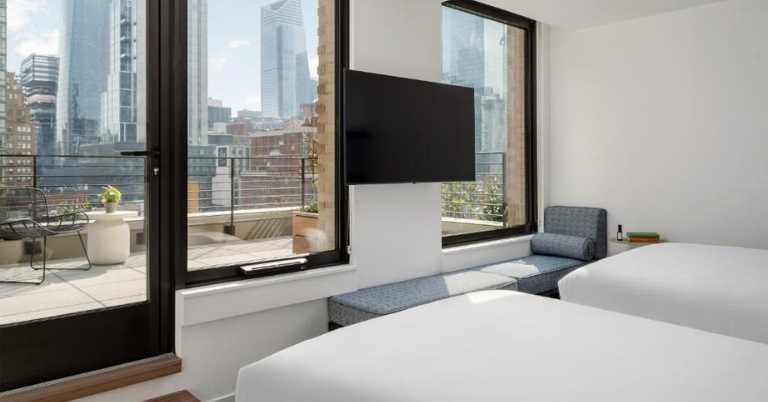 Wondering where to stay in New York City with a teenager? Consider this hotel! While CitizenM is full of color in its design, Arlo Midtown offers calmer tones in its 489 rooms. They have 12 different types of rooms that will accommodate your and your teenagers' style.
Still located in Midtown Manhattan, there are several attractions that you can reach by foot from this hotel, like the famous wax museum Madame Tussauds, Times Square, Central Park, and many more. Hence, you shouldn't be worried that your teenagers will get bored. Instead, they will have a blast!
As for the room, you can choose one that has a city view and balcony, but that will cost you extra money. Alternatively, we recommend booking a king urban or king city room to save money. Then, go sightseeing around the hotel and try the facilities the hotel offers, such as a restaurant, bar, and terrace.
5. Another hotel in the middle of the busy city: "Fairfield Inn & Suites by Marriott New York Manhattan/Chelsea" (4-star hotel)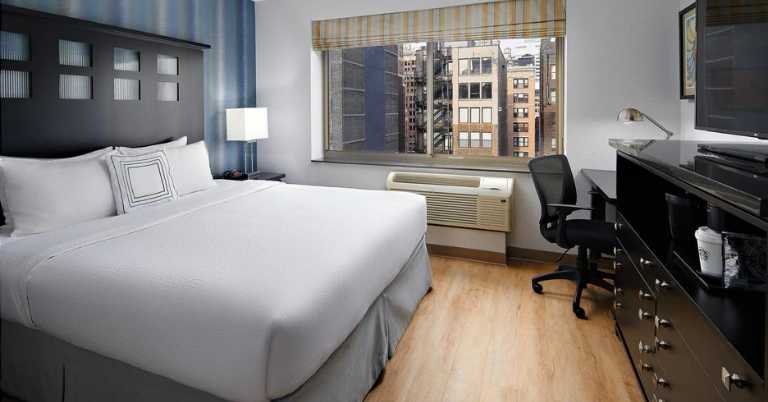 This hotel is one of the Fairfield Inn hotels located near one of the coolest Manhattan neighborhoods, Chelsea. Upon your and your teenagers' arrival, you will be greeted by the friendly staff and modern and minimalist architecture. Before reaching the building, you will be walking through greeneries sold by florists, which will add to your experience while exploring the many sides of New York City.
If you want to try to enjoy city views from a different point of view, consider booking a king room with a view. It may indeed make you spend more money, but it will be worth it! The size is also perfect for two people, in case you're just visiting NYC with your teenager. In addition to the excellent room pick, we recommend trying the various facilities provided by the hotel. One you must include in your list is the Sky Room Lounge which is located on the rooftop. You can enjoy the best cocktail while inhaling the scenery in front of you.
6. A more affordable offer: "Yotel New York Times Square" (4-star hotel)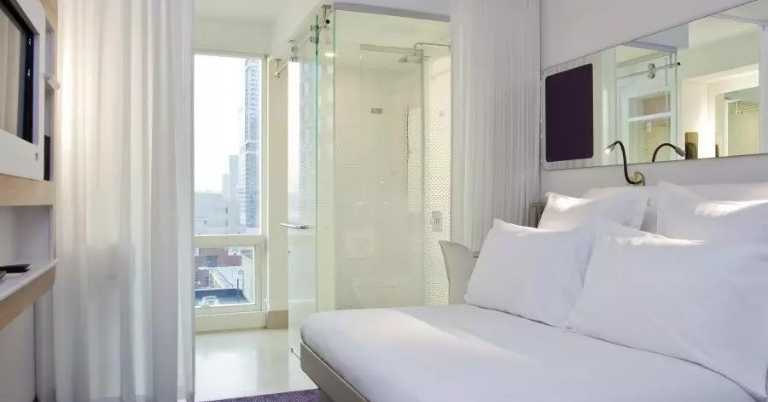 Don't let your budget waive your plan to stay in the heart of New York City. Book a room at Yotel New York Times Square at an affordable price and you and your teenagers can experience the main attractions in New York. The rooms might be a little bit smaller, but it has anything you need. Also, the design is quite futuristic and surely your teenagers will be fond of it. 
Besides its affordable price, this hotel is also located in the heart of New York Times Square and close to Hudson's yard. You can also experience culinary hunting by visiting several restaurants around the hotel, such as Hell's Kitchen. And if you love theaters, nothing can beat the Broadway show, which is also not too far from Yotel New York Times Square. With these tourist attractions, you don't need to worry about feeling bored while staying at this hotel.
7. Is it a library? A hotel? Why not both: "Library Hotel" (4-star hotel)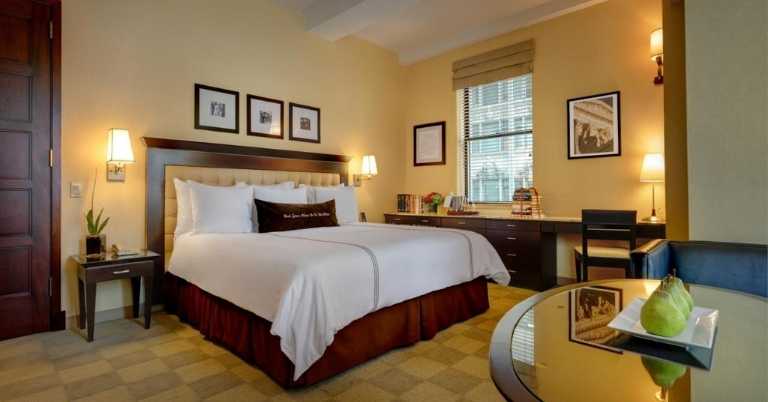 Make your vacation stay feels like heaven for your book-addict teens. As the name suggests, they have a unique concept for naming their floors based on the ten categories of the Dewey Decimal Classification. You will also find 50-150 books and artworks related to each category in each room. You can enjoy your evening reading books after enjoying a full-day stroll around Midtown Manhattan because that is where Library Hotel is located. 
And amazingly, you can enjoy treats, such as fresh fruits, for 24 hours in the hotel reading room while reading your books. Apart from that, clubs and dines are also available in this hotel. We recommend you try the hotel's signature dishes in case you are not in the mood for strolling around the city or perhaps the weather is bad.
8. Free your mind, free your hand: "Freehand new york" (4-star hotel)
Another paradise to awaken your teenagers' artistic spirit: Freehand New York. If your teenagers have been contemplating art college, Freehand New York is a perfect getaway. They will have a chance to study the works of art by Bard College students and alumni that are displayed throughout the hotel. Not to mention that it is located near one of the most historical buildings in New York, the Flatiron Building.
Upper East Side
You will find some of the wealthiest residences in this neighborhood. So, if you want to take your teenagers for a little designer brand shopping, take them here. When you're done shopping, there are plenty of museums that you can visit after. There are also fancy dinings that you can explore while staying on the Upper East Side.
9. Luxurious neighborhood: "The Gardens ES Suites New York"
The Gardens ES Suites New York is located on the Upper East Side, where grandiose buildings and neighborhoods reside. They have 15 types of suites that you can choose from. Their rooms are specially designed to accommodate those who want to feel both luxurious and homey ambiance at the same time. The distance to the main attractions might be a little bit further, but it is still easily reachable by using public transportation. Your teenagers can still enjoy shopping at the designer shops or eating in a fancy restaurant around the hotel.
Upper West Side
The Upper West Side is one of the quietest neighborhoods in New York City. So, it is ideal for you who would like to have a less hurried pace for a holiday. By staying on the Upper West Side, you have both the alternative to spend your day either in a busy city or in a laid-back environment. Unfortunately, there aren't as many options for dining as in the other neighborhoods.
10. Rich in history: "Hotel Beacon" (4-star hotel)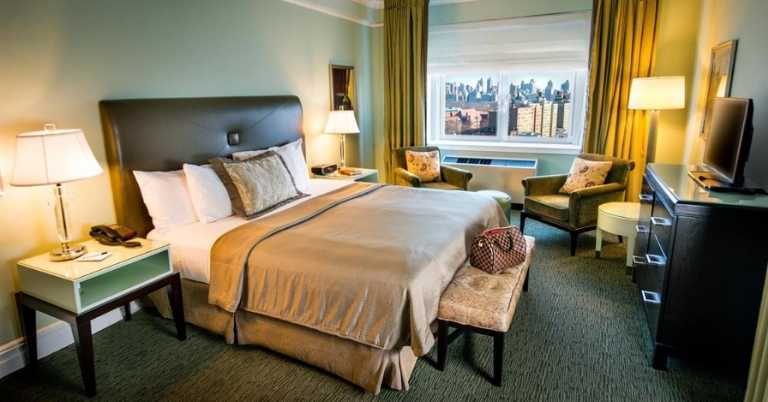 One of the oldest hotels on the Upper West Side, Beacon Hotel carries a historical value with its airway beacon on its roof, hence the name. This is the perfect place for your teenagers who appreciate the importance of history. You can also visit some museums such as the American Museum of Natural History, Guggenheim Museum, and Metropolitan Museum of Art.
Chelsea & Greenwich
These neighborhoods are packed with an artistic atmosphere. It is a recommended destination for those who wish to enjoy New York City from a different perspective. Your teenagers can explore the authentic architecture of New York City and engage more in social life. When choosing a hotel, make sure that the property has little to no zero complaints regarding the noise because the neighborhoods can get pretty loud during the night.
---
---
11. A humble, yet valuable stay: "Leo House: (3-star hotel)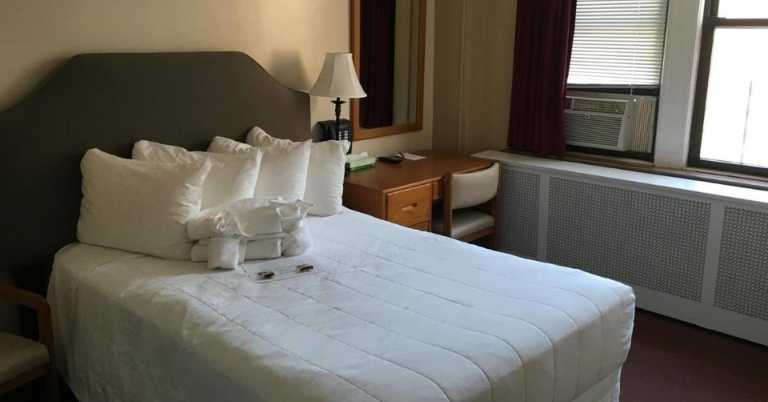 Most people will agree that finding accommodation in New York within an affordable budget is hard. And if you do find one, you can't expect too much of it. Sometimes, though, you can find a hidden gem among them. Leo House is one of that hidden gems. It is an ideal place to stay with your teenagers, mostly because it is located in one of the safest places in New York City, Chelsea.
Despite being a Catholic guesthouse, Leo House welcomes all people from different religions. Thus, they provide space for people who want to pray or meditate. Those who are looking for a quiet place within accessible distance to the famous attractions in New York City must surely stay in this hotel. 
12. Sailing on land: "The Maritime Hotel" (4-star hotel)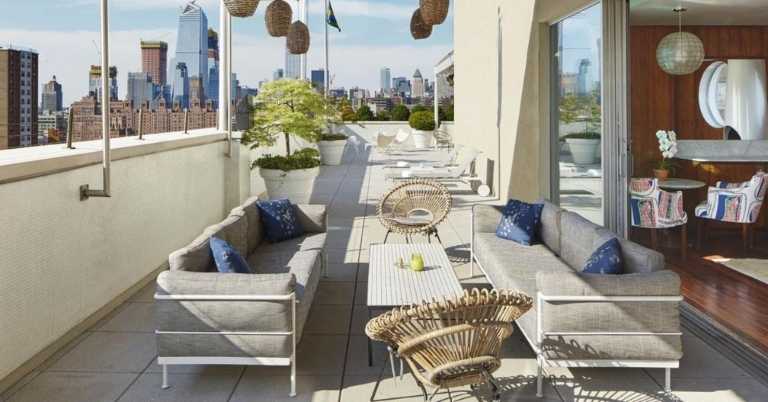 As the name suggests, this hotel is made for both marine enthusiasts and people who are into staying in a uniquely designed hotel. Your teenagers will appreciate the modern yet full of the historical value of both The Maritime Hotel and the place where it resides, the Meatpacking District.
This area is quite far from the main attractions, but you and your teenagers can still enjoy the nearby amusements such as the Highline or the Hudson River Park. You can enjoy various facilities from the hotel. If you want to sit back and relax, try the spa and wellness center's spa services. In addition, try the bar to taste the signature cocktails and other beverages. And in case your teenager wants to have sweats, the hotel provides a fitness center to keep his body fit while traveling.
13. The time machine: "The Jane Hotel" – (2-stars hotel)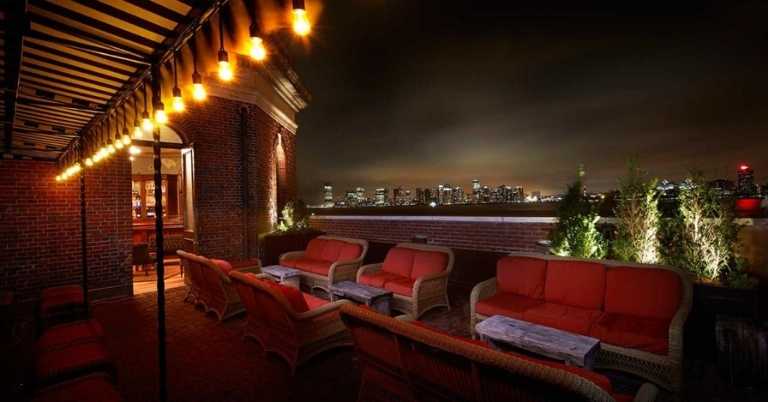 Just when you think you've seen everything in New York, there is always that one place in the corner to surprise you. The Jane Hotel provides another original concept for their lodging. Decorated by velvety sofas, wooden walls, and glamorous chandeliers, you will feel as if you are walking right into the exquisite '80s.
It is time to introduce to your teenagers that the old-time can be exciting too. Unlike other hotels, you can lower your expectations for a spacious room. This hotel is more like a small one which has the charm of its furniture and building design. It's no wonder that many young travelers stay in this hotel to experience unusual, historical vibes. Because of its vintage theme, the hotel doesn't provide advanced facilities. But you can enjoy the best services with friendly staff who can speak multiple languages. So, no more Google Translate!
14. Surrounded by Zen: "The Greenwich Hotel" (5-star hotel)
When talking about luxury, most people tend to imagine the interior design, the service, or the location of the hotel. While The Greenwich Hotel has accommodated all of that, they also add one more important thing. The quality of your family's sleep. This plays the most important thing for your body, especially your teenagers, since they are undergoing major changes in their bodies. From the moment you enter the hotel's building, it is guaranteed that you can feel nothing but a sense of tranquility. 
SoHo
We are moving further along from the main city into a more residential neighborhood. Soho is well-known for its once cast-iron architecture now turned into a fashionable district. You can introduce your teenagers to a lot of valuable history while visiting New York City and staying in one of these recommended hotels.
15. Closer to nature: "Crossby Street Hotel" (5-star hotel)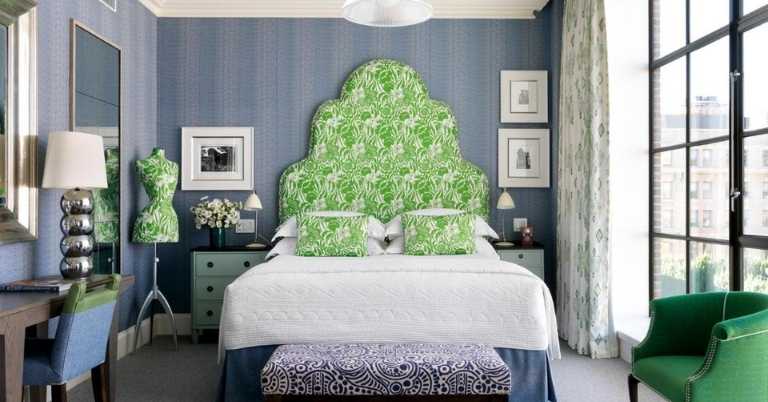 Crossby Street Hotel is where concrete meets nature. The designer of this hotel absolutely managed to create a refreshing atmosphere in each part of the hotel. The paint is not the only natural color palette you can see because, on the 12th-floor rooftop, you and your teenagers can see the garden where they supply some of the ingredients used in the kitchen. Just imagine a garden in the middle of the concrete jungle!
As for the facilities, you will enjoy afternoon tea, pastries and sandwiches every day to accompany your free time. You can also try sitting back by the fireplace while chatting with other guests and your teenager. And like other hotels, a gym center is available to make you sweat.
16. Feels like home: "The Broome" (4-star hotel)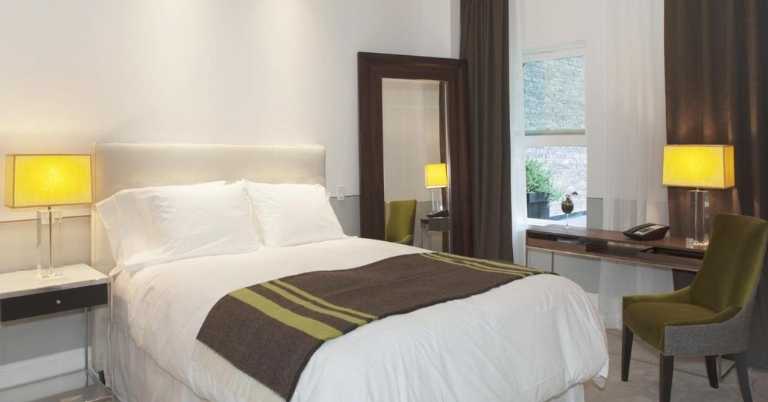 This small, private, comfy hotel provides a cool and quiet getaway in the Soho district for you and your teenagers. Their humble yet charming design is what makes this hotel lovable. Furthermore, their staff is always helpful and doing their best to make you feel like you are home.
The Broome has soundproof rooms that allow you to have a peaceful moment after experiencing the hustle and bustle of the "Big Apple." To get to popular attractions such as times square or the empire state building, you need to get on public transportation. But they also have some nearby attractions you can reach by foot, such as the Soho shopping district. 
17. An exclusive stay: "The Dominick Hotel" (5-star hotel)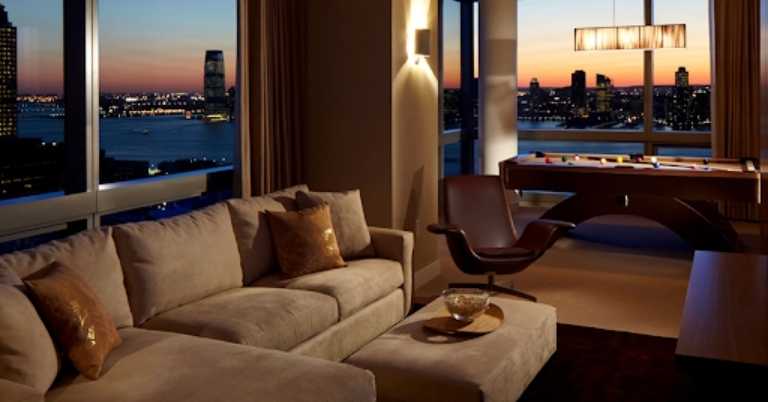 Experience an exclusive stay in the only independent Five-Diamond hotel, The Dominick Hotel. Located in the most trendy and fashionable streets in Soho Neighborhood, your teens will be fascinated by its historical background while shopping at their antique boutiques.
In addition to SoHo street, you can also sweep Manhattan scenery and walk around the Hudson River. The hotel also offers Terrace On 7, a place to sightsee the views of Manhattan. And to maintain your health while traveling, The Dominick Hotel provides Sisley Spa and Fitness Center where you can unwind and relax.
18. Contemporary mixed with traditional: "Solita Soho Hotel" (3-star hotel)
Need another option to stay around Soho's main attractions? We got it. This one hotel is just as exceptional. In contrast with the cast-iron architecture famous in the district, Solita has a more contemporary design with a complete set of amenities. They are fully equipped to accommodate your journey in New York City.
Financial District
There are just as many historical stories in the Financial District as in other parts of New York City. You can take your teenagers to pay respect to the victims of the 9/11 tragedy by visiting the September 11 Memorial & Museum.
19. Riverside hotel: "Conrad New York Downtown" (5-star hotel)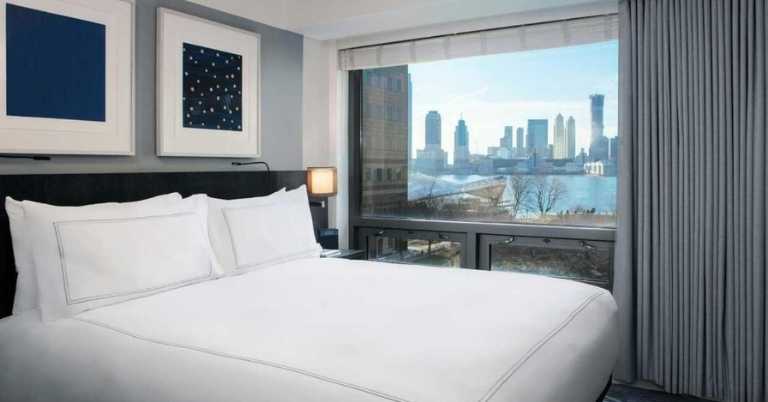 Moving on to a less crowded place, Conrad New York Downtown offers a luxurious design in the lower part of Manhattan. Situated near the Hudson river, you can request a suite that allows you to view the spectacular scenery of the said river.
This can be a great way for your teenagers to get inspired because they also have an art gallery with more than 2000 artwork pieces. When staying in this hotel, you can visit one world trade center, which only takes 5 minutes on foot. In addition, you can bring your pets here, thanks to the pet-friendly amenity. And if you want to enjoy meals in the hotel, the on-site restaurant with tasty meals is available.  
20. More than meets the eye: "The Wall Street Hotel New York City" (5-star hotel)
The Wall Street Hotel is where the phrase "more than meets the eyes" can be appropriately applied. Behind this spacious and stylish building, lies a long history of more than 300 years. The hotel itself is just as important as the street it is situated on. Staying here will absolutely give you and your teenagers a memorable stay, along with the sightseeing around the city, of course.
Those are the top 20 hotel recommendations to stay in New York City with your teenagers. While the places are all safe to walk in the daytime, we still advise you to be more cautious when taking a stroll at night, especially in the areas where there are not many people. With this list of 20 best hotels to stay in, we hope you don't have to worry about where to stay in New York City with your teenagers anymore and you can have a pleasant holiday in New York City with your family!
---
Latest Posts:
---
What part of NYC is best to stay?
Midtown Manhattan is a perfect place to go when traveling as a first-timer in the Big Apple. It has everything you need to see and it is relatively easy to navigate from one attraction to the other. There are also countless options to shop, dine, and rooms that meet your budget.
Where should you not stay in NYC?
The answer depends on what kind of travel style you have. But if you want to have a quiet evening, we would suggest avoiding the Chelsea neighborhood because it is made for people who enjoy the nightlife.
Where can a 17-year-old stay in NYC?
Midtown Manhattan is a great option for a robust experience because your 17-year-old can enjoy almost everything New York has to offer. However, if your teens are in search of a more personal experience, we would suggest visiting the less crowded places around Chelsea, Greenwich, and Soho neighborhoods.
How many days do you need in NYC?
Spend at least 3-5 days in New York City in order to get the full experience. The Big Apple has many kinds of places you need to visit and those places are located in different areas around Manhattan and its neighborhood.
Latest posts by William Niocolas
(see all)