Seattle is a great city to explore year-round, but wintertime brings a special set of activities for teenagers to enjoy. From skiing to snowboarding, there are plenty of fun and exciting ways to stay active and enjoy the winter months. From a solo adventure to fun things you can do with friends, these Seattle winter activities for teenagers will keep you entertained and give you a chance to experience the city in a unique way.
As winter begins to set in, you can look forward to a host of exciting activities to get you through the season. Therefore, we will give you some of the best ideas to enjoy winter months in the Emerald City. Whether you're looking for a cozy night in or an adrenaline rush, here are some of the best winter activities for Seattle teens!
1. Enjoy Breathtaking View at Space Needle
If you are looking for the best place to see a fantastic Seattle winter view, Space Needle would be the best. A visit to the Space Needle is a must on every vacation to Seattle! In winter, the Space Needle offers a breathtaking view of the snow-covered city, making it a great place to take pictures and enjoy the atmosphere. It not only dominates the city's skyline but also offers some of the best views of the city's core, Puget Sound, and the snow-capped summits of Mount Rainier and the Olympic Mountains.
Teenagers can explore the observation deck of the Space Needle to get a 360-degree view of the city. Besides, you can also explore the interactive exhibits and experience virtual reality. Don't forget to enjoy the food and drinks offered at the SkyCity restaurant on the top of the Space Needle.
2. Spend a Day Skiing and Snowboarding
In the winter, snowboarding and skiing are among the most well-liked activities for teenagers in Seattle, so get there early to secure a parking space before it fills up. To make it simpler, you'll also want to know what to pack for a ski trip before you leave. This should be included in your three-day Seattle schedule if you are traveling from out of town.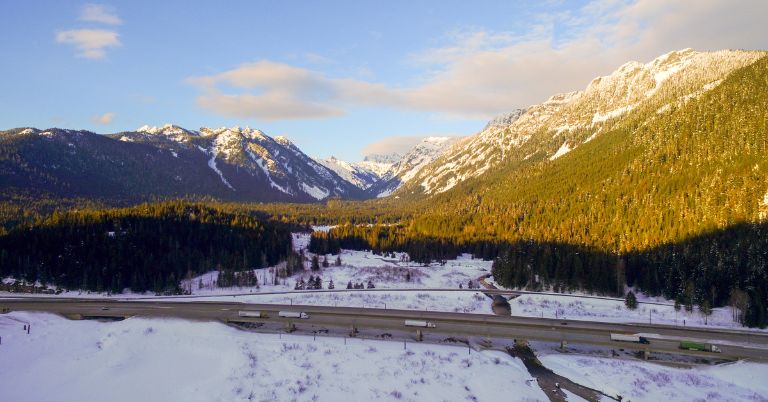 There are many sites to visit in Washington State, but one of the best winter activities in Seattle is going up Snoqualmie Pass. One of the most well-liked Pacific Northwest activities at this time of year is approximately 45 minutes east of the city and offers a ton of things to do. Other possibilities are Crystal Mountain, which is about 2.5 hours to the southeast of Seattle and Stevens Pass, which is located around two hours northeast of Seattle.
3. Taste Pike Place Market Food Tour
During the cold months, teenagers will look for delicious food to warm them up. Therefore, why don't you take a food tour at the Pike Place Market? There is no better place to chow down on delectable fare than the city's go-to destination for local and fresh food, the famous Pike Place Market. Get the inside scoop on the Market's more than 100-year history as well as meet the neighborhood that keeps it alive and thriving. Don't forget to try some of the winter-specific dishes, such as clam chowder and crab bisque.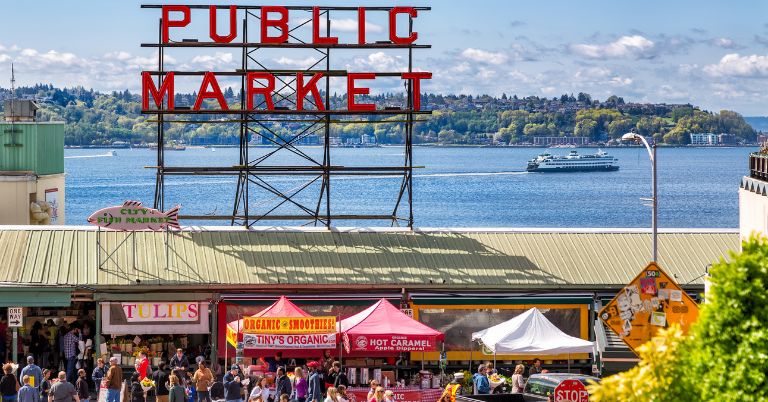 Experience Seattle's vibrant food culture while staying warm at the Market. You can also take part in seasonal activities such as the Market's Hot Chocolate Crawl, which is a self-guided tour of hot chocolate stands in the Market. Purchase fresh produce and ingredients to create your own winter dishes at home.
4. Watch Woodland Park Zoo Lights Festival
North of Seattle, next to Green Lake, is where the Woodland Park Zoo is situated. The zoo is the home to a large number of animals and the focus of numerous conservation initiatives during regular zoo hours. Moreover, the zoo decorates its locations with artistic holiday lighting in November and December that every teen should visit. Although the zoo is often closed at night and many of the animals are asleep, it opens for its amazing light festival in November and December.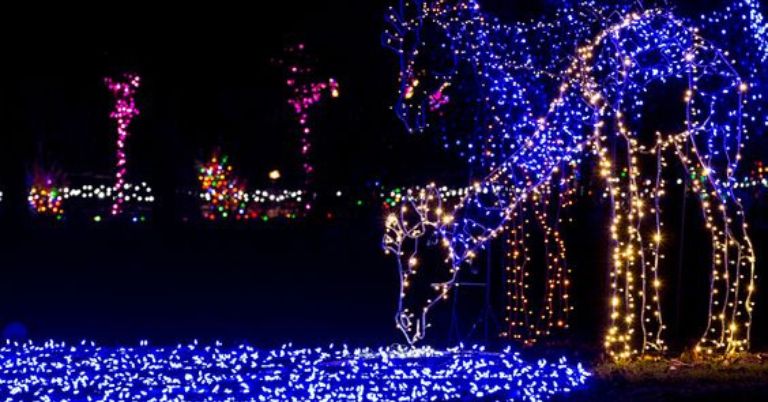 You can roam around the zoo grounds enjoying the lights fashioned to resemble the many animals in the zoo while attending the Zoo Lights Festival. Both are fantastic evening activities, especially as it grows darker. Don't forget to take pictures with Santa and explore the illuminated trails. Experience the beauty of the season and the holiday spirit in the zoo.
5. Discover Pacific Science Center
The Pacific Science Center is an excellent place for teens to explore science and technology during the winter months. Moreover, the center has a wide range of interactive exhibits that allow teens to experience science firsthand. A tropical butterfly house, a planetarium, and other interactive scientific exhibits are just a few of the things that will keep the whole family occupied.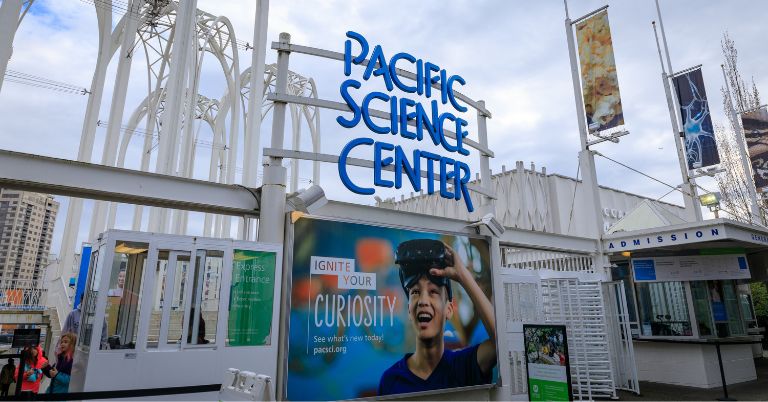 Besides, one of the biggest Laser Dome theaters in the world offers hours of fun at night you should try. Don't miss the opportunity to watch a movie on one of the biggest IMAX screens while you're there, either!
6. Take a Ride on The Ferry
Winter is an ideal time to experience the ferry as the crowds are usually smaller, making it easier to find a spot to relax and take in the scenery. Additionally, the ferry is a great way to get around the city and explore, as it is an affordable and convenient way to travel for teens. One recognizable aspect of Seattle is the Washington State Ferry system. Locals utilize the ferry boats for transportation the most frequently, but as tourists, you can enjoy a great outing on your own.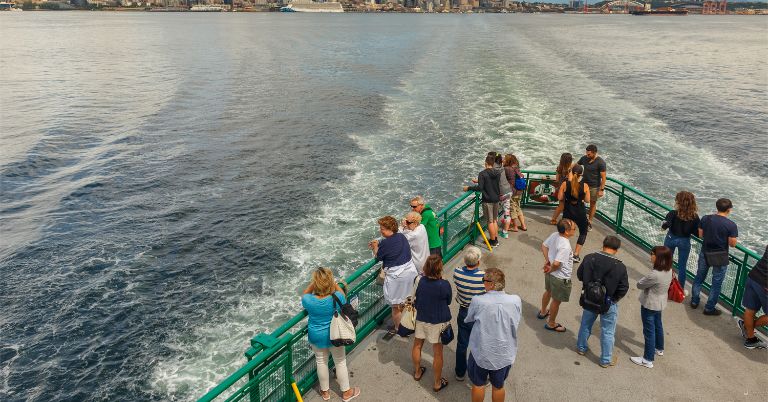 If it's a rainy day, you have the option of staying inside the cabin from the passenger deck or going outside onto the viewing platform. Both locations should be used to keep an eye out for marine species. Keep an eye out because resident orca whales descend into central Puget Sound throughout the winter. Additionally, passengers frequently see porpoises, California sea lions, and harbor seals while riding the ferry.
7. Learn Various Exhibits at Museum of Pop Culture
If you want to learn about Seattle pop culture, we highly recommend you to visit the Museum of Pop Culture (MoPOP)! Additionally, the Museum of Pop Culture Seattle often hosts special events throughout the winter season that are tailored for teenagers, such as movie screenings, workshops, and performances. Enjoy an afternoon of interactive displays covering topics like Jimi Hendrix, sci-fi filmmaking, and a tribute to horror movies.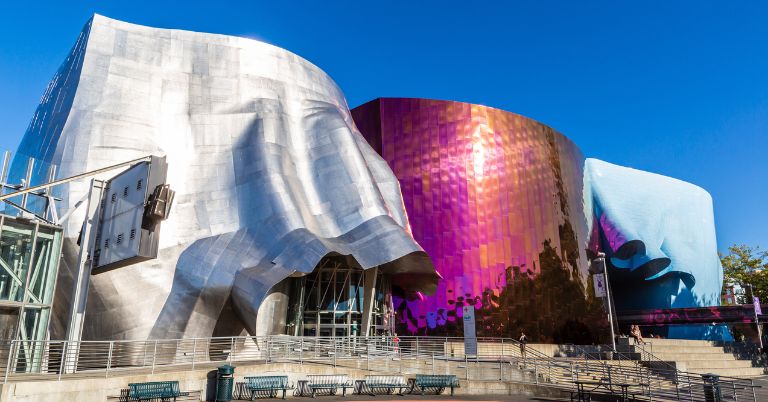 Besides, this location offers various instagrammable spots, perfect for teenagers. Take a minute to admire the building's design, a vibrant work of visionary architect Frank Gehry, before going inside. Don't forget to capture the wonderful design and upload it on your social media account.
8. Meet Sea Creatures at Seattle Aquarium
Although you can't meet a lot of animals in winter, Seattle Aquarium offers various sea creatures you may like! The Seattle Aquarium has a wealth of information on the amazing animals of Puget Sound. Visit their 400,000 gallon Underwater Dome to stroll around immersive underwater displays, or reach into the touch tank to feel a sea urchin's spikey back!
Teenagers can also learn about local marine life through the aquarium's educational programs, touch tanks, and interpretive displays. Another great way for teenagers to spend time at the Seattle Aquarium is to volunteer. Volunteering provides an opportunity for you to meet new people, gain knowledge of the ocean, and help protect the marine environment.
9. Explore the Seattle Neighborhoods
If you don't have any plan or specific location to visit in winter, why don't you just explore the Seattle neighborhoods? Seattle is full of hidden gems just waiting to be discovered. From the city's various coffee shops, like Lighthouse Roasters in the neighborhood of Woodland Park, to regional distilleries, like OOLA Distillery on Capitol Hill. Moreover, you can also try mouthwatering ramen at Wallingford's Yoroshiku.
Seattle's winter months bring a unique atmosphere to the city with its mild temperatures, which makes it a great place for teens to explore and enjoy the winter season. You can use a neighborhood shopping guide to plan your route while you explore the city and take care of some holiday shopping.
10. Visit Seattle Public Library
Who says visiting a library is boring? Let us prove it wrong by visiting the Seattle Public Library. Even if you are not book lovers, the wonderful building design may amaze you. It's difficult to overlook the Seattle Public Library's geometric, futuristic style while strolling down 4th Avenue in downtown Seattle. Inside, where vibrant hallways and escalators enhance the sensory experience, is where the true delight is.
The library also has a wide range of books and other materials to explore, including the latest in digital media. Additionally, the library offers a variety of computer classes and other computer-related resources that teenagers can take advantage of. By attending these events and taking advantage of the library's resources, teenagers can stay intellectually engaged during the winter months.
---
---
11. Attend Northwest Flower & Garden Festival
By the end of winter in Seattle, we recommend you to attend The Northwest Flower & Garden Festival. This event has served as a sign of the arrival of spring as gardening aficionados from all across the Northwest converge on this yearly celebration of flowers and leaves for years. Your ticket also grants you entry to a gourmet market of handcrafted foods and beverages, educational seminars, and a vintage garden market!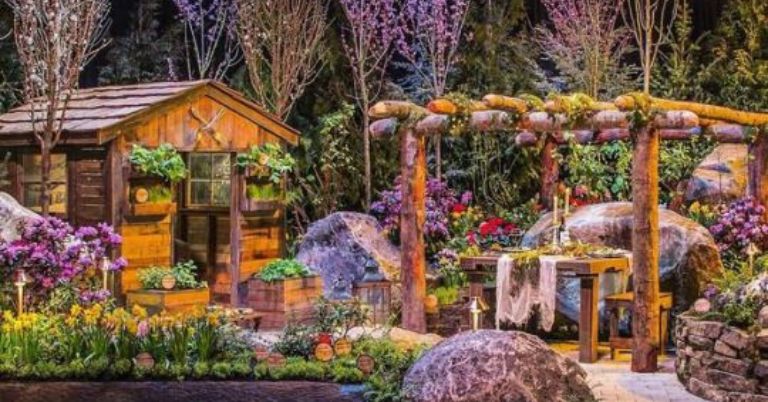 Don't forget to attend workshops on gardening, taking part in hands-on activities, and viewing the beautiful displays of plants and gardens. Moreover, you can also learn more about plants and the environment, while also having fun and exploring the city, perfect for teenagers.
12. Discover Volunteer Park Conservatory
Do you want to enjoy the warmth in winter? Warm temperatures of 75 degrees Fahrenheit can seem like a distant dream on a freezing winter day. Fortunately, the Volunteer Park Conservatory in the city offers a hot haven. The 3,426 pieces of glass that make up the 100-year-old greenhouse. This is definitely a perfect location in Seattle to get warmth on the chilly days.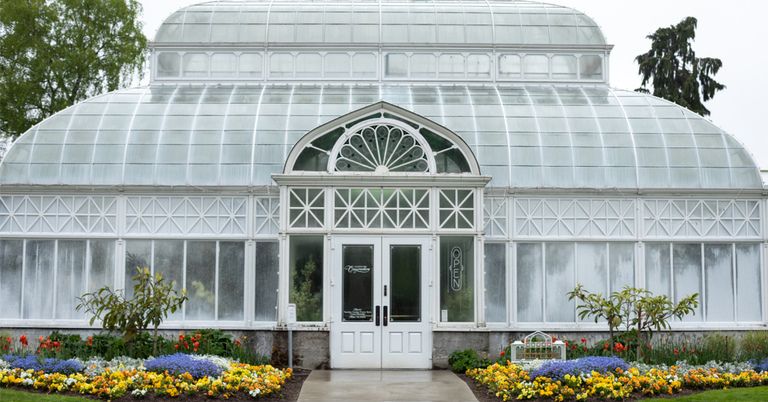 The balmy air inside will carry you to a tropical paradise bursting with a top-notch botanical collection of cacti and unusual succulents from all over the world, some of which are as ancient as the structure itself! Moreover, this park is free admission the first Thursday of every month, making it an ideal destination for teenagers.
13. Enjoy Arts at Teatro ZinZanni Dinner & Show
Another great way to spend winter in Seattle for teenagers is learning arts. Therefore, we suggest you visit the Teatro ZinZanni Dinner & Show Seattle. Teatro ZinZanni is a three-hour tornado of worldwide cirque, comedy, and cabaret artists served up with a multi-course feast and ample libations. You can enjoy a unique and entertaining evening of comedy, cirque and music.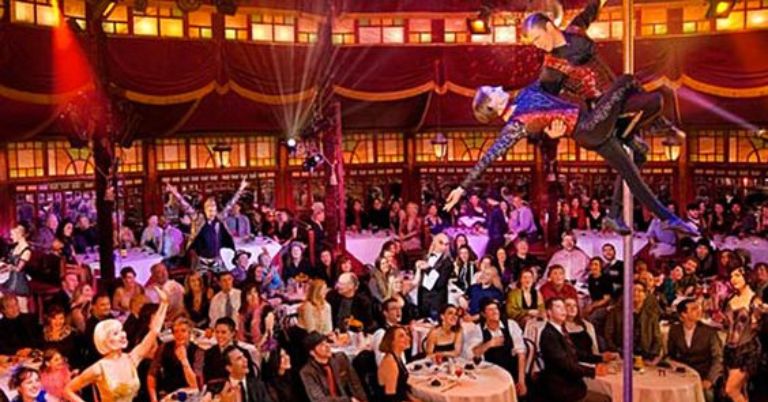 Moreover, experience a delightful meal, a show full of talented acrobats, musicians and comedians, and a night of laughter and fun. It also provides an opportunity for teens to learn about different cultures and appreciate the performing arts.
14. Dig Some Crates at Easy Street Records and Cafe
For those teens with an old soul, we've got you a perfect place in Seattle to delight you during cold months. Finding a rare gem among a stale stack of albums is incredibly satisfying, and fortunately Seattle is awash with record stores. Easy Street Records & Cafe is a must-visit if you love music. This place occasionally hosts events and concerts within the store.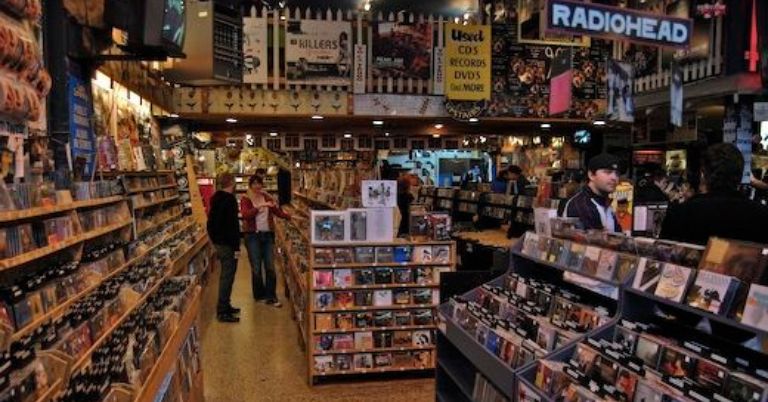 Easy Street Records & Cafe is also a great place for teenagers to hang out in the winter. You can listen to new music, browse for new movies and books, and enjoy a warm drink or snack. It's also a perfect place to meet up with friends and have a conversation in a cozy atmosphere.
15. Join Theo Chocolate Factory Tour
What can be better for teens than chocolate in winter? You can smell the wonderful chocolate aroma calling you into Theo Chocolate's Fremont plant, Seattle's favorite fair-trade chocolatier. A factory tour will teach you how chocolate is made from bean to bar, and you'll also get a sample of the fresh product! You'll have a chance to walk through the factory, a tasting of Theo's delicious products, and an opportunity to purchase some of their tasty treats.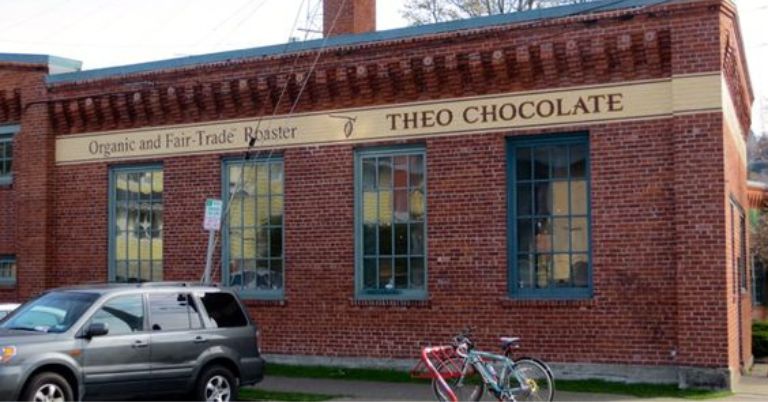 Use this chance to learn about the chocolate-making process, as well as to get an inside look at one of the most famous chocolate factories in the world. It's also a great way to learn new things in the winter, when outdoor activities can be limited.
16. Feel Wings Over Washington Experience
Create an unforgettable experience in winter with Wings Over Washington. Especially for teens who love adrenaline rush, ride in the cutting-edge "flying theater" at Wings Over Washington and let it take you on an aerial experience over Washington. Flying over the state's most picturesque locations is a realistic and lifelike experience made possible with 5K Cameras and Mushroom VR.
You can take your family and friends to feel this amazing experience together. Tickets cost $17 for adults (12–64), $13 for children (11–17), and $15 for seniors (65 & up) for 15 minutes experience. Prior to your ride, you can purchase tickets online, with the exception of seniors.
17. Get Inspired at Gates Foundation Discovery Center
If you are fans of Bill Gates and happen to visit Seattle in winter, then you should visit the Gates Foundation Discovery Center. The center provides a great opportunity for teens to become more informed and engaged citizens. Learn about the operations of the largest private philanthropy in the world in Seattle and around the world by spending an afternoon at the Bill & Melinda Gates Foundation Discovery Center.
Moreover, you can explore and learn about the various global issues the Gates Foundation is working to address. Discover interactive exhibits, take part in hands-on activities, and attend workshops and talks about global health and economic issues. You could even feel motivated to make a difference in the world yourself after a visit!
18. Catch a Show from Local Artists at Belltown's Crocodile
Even though Seattle's grunge era may be dead, the city continues to pioneer new musical genres. If you want to hear great live music during winter months, you may go to Belltown's Crocodile. At Belltown's Crocodile, you can catch performances by both regional and international performers. Moreover, enjoy live music performances, art events, and special themed parties, which is ideal for teens to have fun.
The Crocodile also offers an array of food and drinks, making it a great place to spend an evening out with friends. Additionally, the venue is conveniently located in the heart of Belltown, giving teenagers easy access to the city's many attractions.
19. Become a Pinball Wizard
The Emerald City is something of a pinball haven thanks to the Northwest Pinball and Arcade Show, which is the largest weekly pinball tournament at Add-a-Ball in Fremont. If you are looking for a fun winter activity in Seattle for teenagers, you discover The Seattle Pinball Museum. The Seattle Pinball Museum, located in the center of Chinatown, will undoubtedly bring back childhood memories for you. It will transport you back to the arcades, lights, and flippers of your youth.
Moreover, learn about the history of pinball machines from the 1930s to the present day, and also play some of the classic machines from the past. Plus, the museum has a variety of other activities that teens can enjoy, such as a game room, pool tables, and a bar. The museum also hosts special events and tournaments throughout the year, so you can stay entertained for hours.
20. Watch Ballet Performance at Pacific Northwest Ballet
We would say that this is one of the must-attend events of the Christmas season for teens. Kicking off on November 25, the Pacific Northwest Ballet is presenting The Nutcracker, with choreography by George Balanchine. This beloved Christmas tradition features the PNB Orchestra performing Tchaikovsky's beloved music live, as well as stunning sets and costumes designed by renowned author and cartoonist Ian Falconer.
The performance also provides a wonderful opportunity for teenagers to learn about the various roles in the ballet world, from dancers to choreographers and stage directors. In addition, watching a performance at Pacific Northwest Ballet Seattle can provide a unique and unforgettable experience you can enjoy and share with friends.
Conclusion
Seattle offers a variety of fun and exciting winter activities for teenagers. From snowshoeing and skiing and snowboarding to museum and factory tours, there is something for everyone. After all, choose the best Seattle winter activities for teenagers that suit your style. With its variety of winter activities, Seattle is the perfect place for teenagers to make new memories and enjoy the winter season.
---
Latest Post:
---
Frequently Asked Questions (FAQ)
What is Seattle like in the winter?
In the winter, Seattle can be quite rainy, with temperatures averaging in the mid-40s (Fahrenheit). Snowfall is rare, but not unheard of, especially in the mountains. Winter can be a great time to visit Seattle, as it's usually less crowded and there are lots of holiday events and activities to enjoy. If you are looking for Seattle winter activities for teenagers, please read the article above.
What is there to do in Seattle on a cold day?
On a cold day in Seattle, there are plenty of activities to enjoy! Many locals and visitors alike love to explore Seattle's unique coffee shops, visit the iconic Pike Place Market, and stroll around the city's many parks and gardens. Seattle is also home to a number of museums and art galleries, providing plenty of indoor entertainment. You can also find plenty of cozy restaurants, bars, and cafes to warm up in. Seattle's waterfront is also a great spot to explore, with views of the Olympic Mountains, Puget Sound and the Seattle skyline.
How do you get through Seattle in the winter?
The best way to get through Seattle in the winter is to dress in layers, wear a warm coat and waterproof shoes, and bring an umbrella. The weather in Seattle during the winter can be unpredictable and can consist of wet and cold conditions, so dressing appropriately and being prepared is key. It is also important to be aware of any weather-related road closures or delays that could affect your commute. For more Seattle winter activities for teenagers, please check the article above.
Is Seattle depressing in winter?
No, Seattle is not depressing in winter. Its mild winters make it a great place to be during the season. The mild temperatures, lack of snow, and abundance of green spaces help create a pleasant atmosphere. Additionally, Seattle is known for its vibrant culture, lively music scene, and diverse range of activities and attractions, which help keep the winter months entertaining. If you are looking for Seattle winter activities for teenagers, you can check the article above.
Latest posts by William Niocolas
(see all)