Charleston, SC, provides an ideal mix of small-town charm and big-city bustle. The city, also known as the Holy City, offers world-class culinary menus, lively events, and a rich history. Of course, all the offerings guarantee a great experience for your teens. What to do with a teenager in Charleston, SC, during summer? There are more than 50 ways to have quality time with your teens.
If you like getting out, discover outdoor adventures like outdoor activities, visiting beaches, taking water tours, exploring gardens and plantations, and more. You can also stroll into King Street to have the best dining experience. What to do with a teenager in Charleston, SC, during summer? Here are the top fun things to do with teens.
1. Go kayak fishing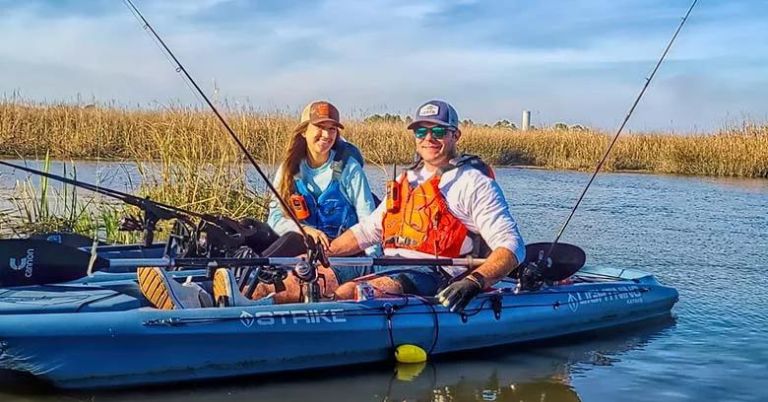 If you are interested in fishing and kayaking, call your teens to enjoy kayak fishing hosted by Charleston Outdoor Adventure. One of the fun things to do in Charleston, SC, during summer. Compared to other anglers, kayak fishermen have more advantages. You can fish while thrilling to the beautiful saltwater from the flat boats. Located at Folly Beach, you can access the fishing areas with a well-experienced local guide.
Get ready to bait an array of local fishes, such as sheepshead, shark, black drum, black sea bass, spotted sea trout, spottail bass, redfish, and more. Be sure to own the fishing license for saltwater. Furthermore, the provider prepares a fishing kayak, paddle, anchor, personal floating device, and more. Bring your snacks and drinks while baiting the fish.
2. Hang out at Carolina Gamerz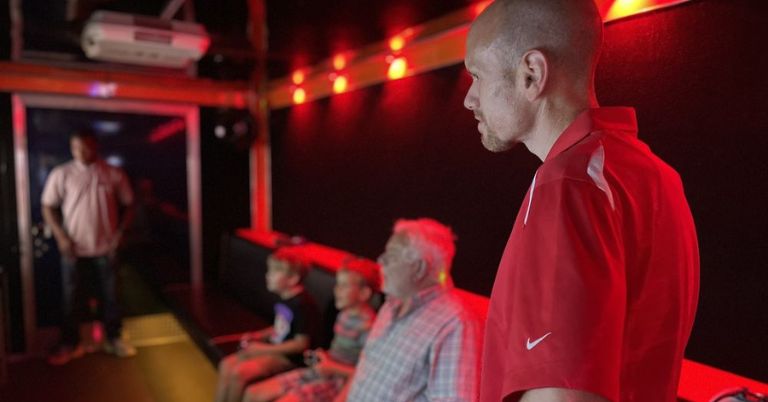 What to do with a teenager in Charleston, SC, during summer? Come enjoy the most exciting and latest mobile entertainment at Carolina Gamerz. It is the city's most significant entertainment provider, offering luxurious, high-tech video game trucks. With its online gaming, virtual reality gaming, and inside and outside gaming, the venue is perfect for creating excitement during the summer.
You can also invite your teens to other entertainment parties, including bowling, go-kart races, laser tag, battle ball, archery, pizza parties, and more. Whether you play the game by yourself or in a group, get ready to enjoy the most incredible party in Charleston. The game coaches are also ready, willing, and able to thrill all guests with the latest video games.
3. Thrill to Dolphin Boat Tour
Charleston Water is home to more than 300 wild Atlantic bottlenose dolphins. Behind Folly Beach, you can delve deep into calm creeks, marshes, and inlets. The city's healthy saltwater is ideal for dolphins. Throughout the boat tour, get ready to have an eye-on-eye look at the charismatic animals. The tour passes the hotspot where the intelligent inhabitants feed, mate, play, sleep, and have other activities.
The well-trained captain is also ready to explain the cultural and ecological heritages. While enjoying the tour, the captain shows the outstanding dolphin exhibit, strand feeding. It is an extraordinary hunting technique that you will never forget it. Connect your teens to water adventure by experiencing the dolphin eco-tour.
4. Catch your best pose at Selfie Addict Studio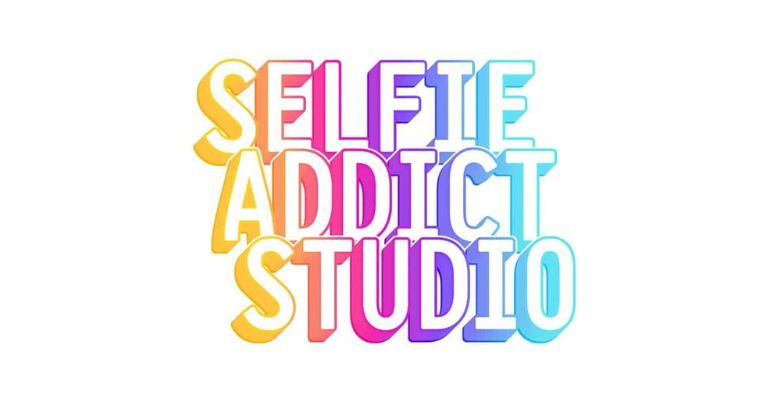 Your teens may love taking selfie photos. No worry! Let your loved ones celebrate their selfie expressions at Selfie Addict Studio. The selfie museum provides a combination of entertainment and culture. Taking the photo will be able to foster joy, human connection, imagination, and creativity. Get a taste of interactive and immersive photo-taking sophistication.
The museum also offers outstanding exhibits in beautiful settings. Whether you catch your best pose or capture videos, the museum allows all guests to create an engaging, fun story and scene. The aesthetic photo-taking installations are available for all occasions, including media productions, photo shoots, events, private parties, and more.
5. Take a Speedboat adventure Tour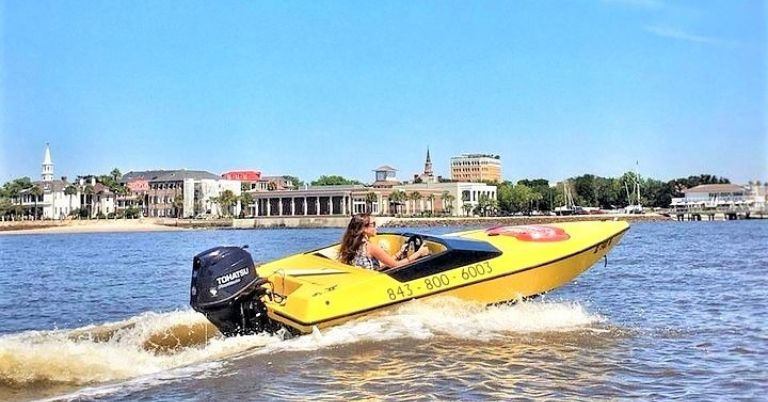 Taking a speedboat is a perfect way to explore the sounds and sights of the Charleston area. By following the speedboat adventure tour, your teens have an opportunity to enjoy the calm water around Folly Beach. Through a 2-hour water adventure tour, get ready to encounter beautiful marine creatures such as dolphins, turtles, oysters, wading birds, and more.
All you need is ready to take joy; let the provider gives you everything to get an adventure. Feel free to speed up and have fun in the calm ocean. You can encourage your teens to explore the fantastic wildlife views while catching the iconic landmarks, including the Arthur Ravenel Jr. Bridge, the USS Yorktown Aircraft Carrier, and the Battery. The attraction is accessible to visitors of all ages and experiences.
6. Enjoy Charleston Comedy Club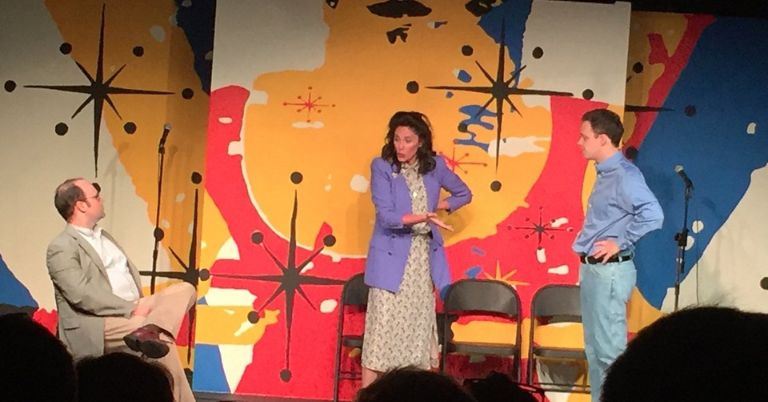 If you are into comedy improv, head to Threatre 99. It is a great venue, presenting hilarious and the most creative comedy theater for both locals and visitors. The Charleston Comedy Center includes the preservation and recognition of comedy. You can enjoy the comedy shows performed by notable local comedians through live performances, educational outreach, and special events.
The venue has a great reputation for bringing excellent live shows to your life. Whether you love exploring stand-up comedy, situational comedy, or comedy improv, the venue is successful in hosting the city's most outstanding comedy stages. All of the comedy shows is open to visitors of all ages and backgrounds. Plan your visit to the best comedy venue and let's laugh together.
7. Come Fly with Charleston Parasailing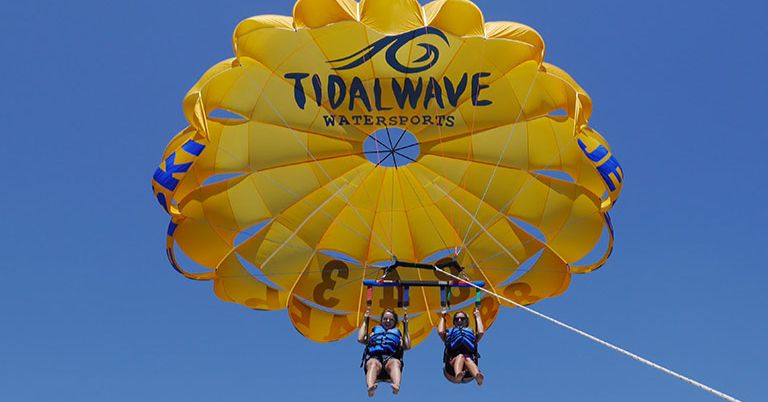 What to do with a teenager in Charleston, SC, during summer? We highly recommend coming fly with Charleston parasailing. It is a great opportunity to have the enjoyment of soaring high that you haven't felt before. By taking parasailing, you can have the scenic sea while challenging your adrenaline of floating above the ocean. Of course, it belongs to unforgettable memory lasting a lifetime.
Each parasailing excursion can serve up to 12 passengers. You can invite your teens and the whole family to experience the flying-high sensation. How about safety? It is a top-priority. The provider guarantees all visitors fly safely without compromising. The parasailing flights depend on the weather. The summertime is ideal for getting high on flights. Are you brave enough to fly high? Plan your visit to Tidal Wave Water Sport.
8. Discover Sullivan's Island with Lightning Bugz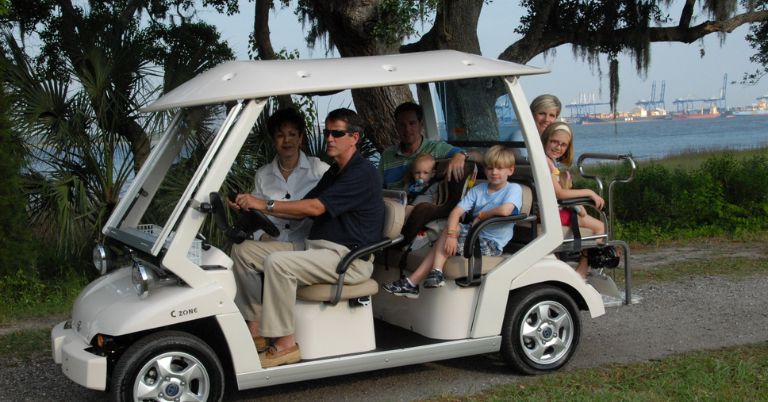 Explore Sullivan's Island by renting a low-speed vehicle, the Lightning Bugz. Instead of cars, you can call your teens to explore the beautiful island by riding an electric, eco-friendly vehicle. You are able to see everything, including all the attractions and history of Sullivan's Island. Whether you enjoy the attraction day or night, the vehicle is a great option to rent, unlike a common golf vehicle rental.
The electric vehicle can accommodate four to eight passengers. With comfortable seats, you can get out and around the beach. Whether you cruise around to the area attraction, grocery, or the beach, renting the low-speed vehicle leaves a great experience that will be long-lasting. While cruising, be sure to use your seatbelt and follow the local driving laws.
9. Revel in America's Oldest Landscaped Gardens
One of the most popular attractions in Charleston for teens is Middleton Place. It is well-known as the country's oldest landscaped garden. Most visitors claim that Middleton Place is the most exciting and outstanding garden in the United States. With a 65-acre park nearby, you can have fun with your family during the summer. Get ready to spend your summer on the vibrant plantation and garden.
The landscaped garden also offers terraced lawns, floral allees, ornamental lakes, and more. You can also see the history of Middleton by visiting the House Museum. The other attractions are also accessible for visitors, like working stableyards, heritage breed animals, an inn, Eliza's house, an organic farm, and others. After exploring the garden, don't sleep on savoring the best restaurant menus.
10. Watch firework festivals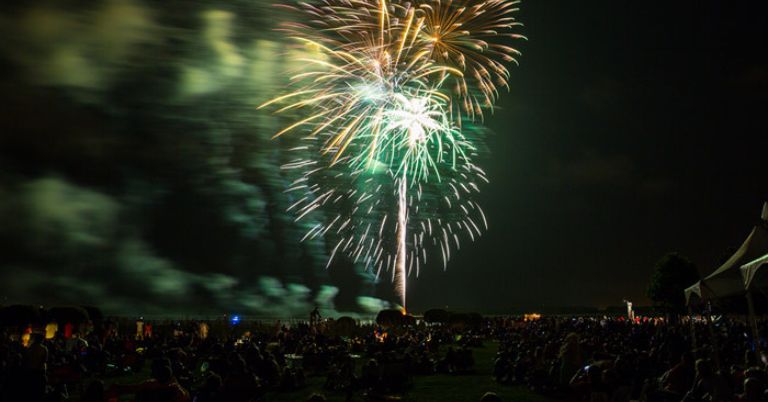 Summertime is ideal for catching fireworks. Charleston, SC, offers some perfect places to watch the fireworks. One of them is North Charleston, Riverfront Park. Come and enjoy it with your teens while enjoying the nightlife on the riverfront. The special event also features live musical shows, activities for the family, food trucks, and other activities.
Get involved at the largest fireworks show in the Lowcountry. The festival is open to the public, including both residents and visitors. To make your experience more comfortable, you are encouraged to bring blankets or lawn chairs. An array of fun things to do are available to spend your summer night. Whether you play games, have a giant sandbox, get jumping castles, or enjoy a water fountain, the festival offers many great activities.
---
---
11. Explore the City through Horse-drawn Carriage Tour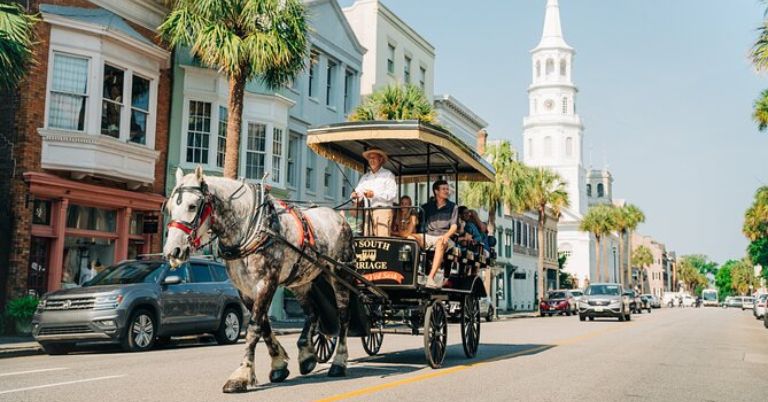 Take your teens to experience the city's beauty and history through a guided carriage tour. You can explore Charleston's iconic landmarks and buildings, including gardens, churches, mansions, and more. During the tour, discover the scenic views of Charleston's bustling streets and the hidden gems while enjoying the historic districts.
The well-experienced tour leaders thoroughly guide the tour. You will be invited to see points of considerable historical significance and interest. While exploring the city's significant offerings, the tour leader delivers in-depth narration about the city's most bloody civil war history. Get an opportunity to gain a detailed history of Charleston, including grand antebellum homes. Bring your best camera to catch every moment during your horse-drawn carriage tour.
12. Get Close to One-Spot Entertainment Hub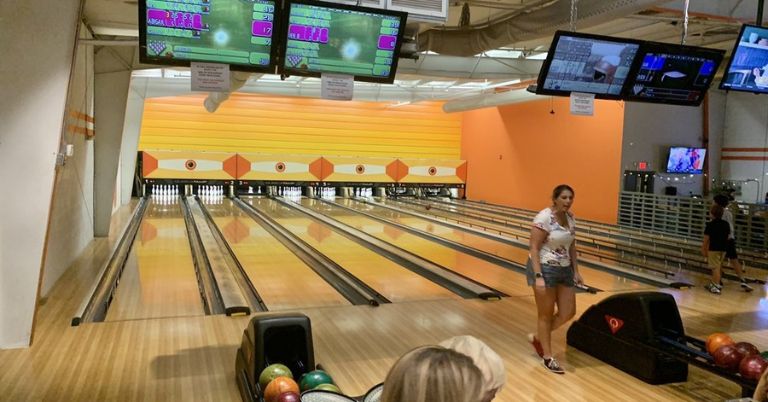 Summertime is ideal for leveling up a family bond through entertainment. One of the entertainment hubs in Charleston is The Alley. It is home to some enjoyment, especially the bowling arena. Whether you want to go bowling with your teens, eat special foods, or sip crafted drinks, the entertainment spots provide an excellent experience for them.
The Alley features three bars, eight bowling lanes, retro arcade games, classic games, and two giant projection screens. Challenge your teens to play bowling. Of course, it makes them excited. You can compete with your teens to be the best. You can easily have fun and improve your family bond under one roof. After enjoying the entertainment offerings, get a taste of the special menus at the restaurant and bars.
13. Experience Zip-lining outdoor adventures
Are you looking for a family-friendly adventure park? Let's take a zip-lining outdoor adventure at Charleston Zip-line adventures. The park offers the best opportunity to challenge your physical and mental abilities while maneuvering from tree to tree. With more than dozens of obstacles and complete zip lines, the adventure park leaves an unrivaled experience.
The host guarantees the guests high-quality and safe equipment. The outdoor adventure brings excitement to your life. Get a taste of the genuine adrenaline rush when climbing, zipping, and swinging from tree to tree. Featuring three swinging bridges, three towers, and seven zip line cables, you can have a thrilling adventure. Don't sleep on the other attractions, like climbing walls and outdoor camps.
14. Catch a live music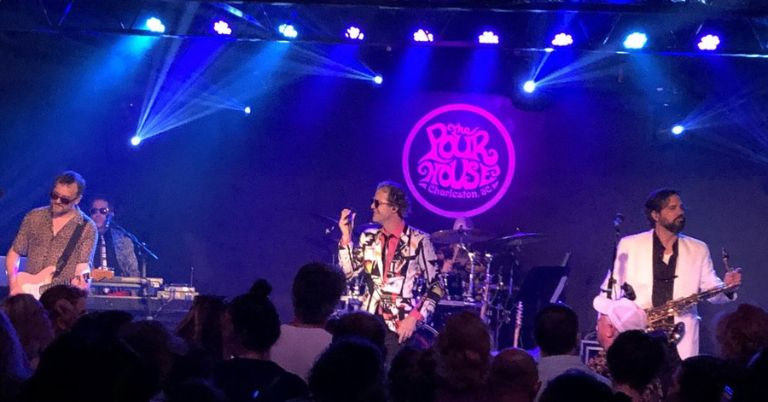 The Holy City is home to outstanding live music concerts. An array of top-notch local artists are on hand to perform their best shows. Whether you love listening to pop, R&B, rock, progressive, or jazz, you can stroll into the best live music venues around Charleston, SC. Most of them are open to teens. Let your teens sing along with the artists.
One of the best venues with live music shows is Pour House Charleston. Whatever the music genre, you can easily catch the live performances featured with the vibrant atmosphere, high-quality lighting, and clarity of the sound system. Keep an eye on the schedule. While enjoying the live shows, savor the irresistible food and drink. The venue is ideal for spending the night with your teens in Charleston during summer.
15. Experience Summer Hiking
Charleston offers an extensive selection of hiking trails. From short to long trail distances, you can invite your teens to explore nature and enjoy the fresh air. Connect your teens to the beautiful nature featured with a wonderful waterfall, hardwood forest, unique standing stones, and more. Summer is ideal for outdoor excursions. A wide range of family-friendly hiking trails are free to explore.
Start your adventurous journey by picking West Ashley Greenway. It is one of the city's most accessible hiking trails, which you can explore with your teens. With its 10-mile distance, you can finish the journey relatively easily. It is the most recommended trail for beginners. If you want to meet the beautiful birds while hiking, go to the Caw Caw Interpretive Trail. The 6-mile trail is a family-friendly hiking trail you can explore.
16. Enjoy Rooftop Bars
Call your teens to spend the summer enjoying rooftop bars. The Holy City comes with lively rooftop bars offering delicious menus and inviting settings. You can drink from your hand while refreshing the open air and looking out at the panoramic landscape of the city. Most bars provide a mix of foods, drinks, ambiance, and views in one place.
One of the most fantastic rooftop bars in Charleston is the Pavilion Bar. Located at the Market Street Pavilion hotel, get ready to enjoy the beautiful views of Market Street and Charleston Harbor. Fulfilled with a gorgeous pool, illuminated umbrellas, great table set-up, you can take an opportunity to drink in and catch the sunset.
17. Stroll into Charleston Steakhouses
When it comes to steak, the Holy City offers thrilling culinary scenes. Bring your teens to stroll into the best steakhouses in the city. Get a taste of the finest cut of beef served with Low country traditional foods and local seafood. Whether you like eating rare, medium, or well-done steaks, you can satisfy your appetite by savoring the best steaks. There are some great steakhouses in Charleston; one is the Oak Steakhouse.
Located in downtown Charleston, the charming steak restaurant features soaring ceilings, original pine floors, and fireplaces. Draw your teens to taste the delicious steaks served with tasteful sauces and great items, including scallop Oscar, lobster tail, grilled asparagus, jalapeno cornbread, and more. Besides Oak Steakhouses, taste the other best steakhouses like Grill 225, Cowboy Brazilian Steakhouse, Peninsula Grill, and more.
18. Revel in Charleston Waterfront Dining
When you are in Charleston, take your teens to enjoy the mix of the outdoor environment and delicious menus with local ingredients. The Lowcountry offers the best experience of dining near the beach. Whether seated on a large outdoor deck or indoors, the waterfront dining restaurants guarantee visitors mouthwatering dishes and a breathtaking view of the waterfront.
One of most favorite waterfront restaurants is Charleston Crab House. The eatery offers an array of seafood cuisines, especially crab-inspired foods. Get a taste of the delicious crab dishes, including crab cake sandwiches, crab stuffed mushrooms, and fried blue crabs. Take the opportunity to savor the tasty seafood dishes in the other restaurants, such as Fleet Landing Restaurant & Bar, Saltwater Cowboys, Bowens Island, and more.
19. Get a Cup of Tasty Coffee
Charleston offers a wide range of coffee shops. From freshly brewed coffee to mixed coffee, you can taste the intoxicating aroma of authentic coffee. Whether you love sipping cappuccinos, standard espressos, exclusive local coffee, or others, feel free to stroll into the best coffee shops in the Holy City. The city provides an excellent option for your needs. Start your shopping journey by heading to Kudu Coffee and Craft Beer.
The coffee shop offers a mix of tasty coffee, comfortable seating, and a lively ambiance. With its polished indoor setting, courtyard patio style, and warm atmosphere, you can get both hot and cold coffee. The signature coffee is served by professional brewers who bring gourmet coffee. You can also explore the other excellent coffee shops, such as Second State Coffee, The Harbinger, The Rise of Coffee Bar and more
---
Latest Post:
---
How do I keep my teenager occupied in the summer?
Encourage your teens to learn new skills and experiences, such as by following summer camps, joining art programs, or taking outdoor adventures. You can also encourage your teens to volunteer in the community. Besides keeping occupied, your teens also improve their compassion, empathy, and understanding.
What can broke teenagers do for fun?
They can join free-admission attractions and programs around Charleston, including Middleton Place, fireworks shows, summer camps, and more. Both non-profit organizations and the government offer free programs for visitors of all ages and backgrounds.
How can I have fun with my teenager?
You have a lot of fun things to do with your teens, including taking outdoor excursions, getting water adventures, exploring museums, and others. Enhance a family bond by having dinner together, watching the latest best-rated movies, or catching live music concerts.
Latest posts by William Niocolas
(see all)