Las Vegas, situated in the Mojave Desert and commonly referred to as Vegas is the most populous city in Nevada.
Despite the city being most famously known for its world-class entertainment scene, casinos, and shotgun weddings, did you know Vegas has a wide range of exciting and enjoyable things for families to do?
In fact, it's easily one of the best places to take a teenager, especially if you want to give them the opportunity to experience new things.
To give you a good idea of what you can do with a teenager in Vegas, we've compiled a list of the best things for you. We'll look at each one and tell you what you and your teen can expect.
If you want your teenager to have an awesome experience when you visit Vegas, make sure you stick around!
1. Watch A Blue Man Group Production
First up, we have the Blue Man Group. Blue Man Group is a wonderful theater company that prides itself on providing visitors with thrilling stage acts.
While the company performs in several U.S cities, their Vegas shows are the prime location for catching one of their awesome productions.
Combining special effects with music, art, and dance, every show is exciting, engaging, and enjoyable for anyone, especially your teen that wants to see something different. Tickets might be quite pricey, but the one-of-a-kind experience is well worth it.
2. Ride The New York-New York Roller Coaster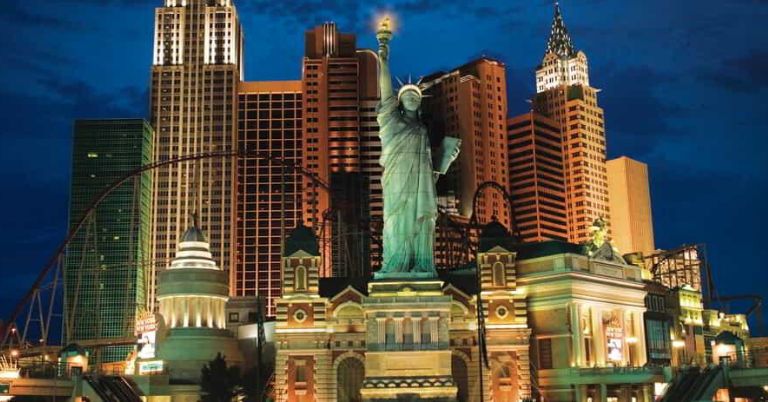 Teenagers who consider themselves adrenaline junkies will love the experience on offer at the New York-New York Hotel, in particular their Big Apple Coaster.
Themed around New York's taxi cabs, this exhilarating roller coaster is sure to get your teen's blood pumping.
Featuring a 180° "heartline" dive maneuver and twist which drops the riders over 200 feet at impressive speeds, the coaster isn't for the faint-hearted.
Also featuring a loop, it might be a good idea to take your teenager here before you eat your dinner. The only restriction the ride has is a 54-inch height requirement.
3. Visit The Bellagio Fountains
One of the more iconic sites in Las Vegas is the Bellagio Fountains. Located at the Bellagio resort, the Bellagio Fountains put on a magnificent water display every day.
This show features over 1,000 fountains that sit in front of the resort splashing spouts of water up to nearly 500 feet high.
Covering 9 acres of lake, lights are then shone on the water to create a visual masterpiece and a free show millions of people enjoy every year.
As the water display begins, so does loud music. You'll hear famous artists such as Bruno Mars, Lady Gaga, and Elvis Presley as you watch. Shows run every 30 minutes from 3 pm to 8 pm.
4. Hike At Red Rock Canyon
Teenagers who love the great outdoors and seek an escape from the hustle and bustle of the city will love the stunning natural formations and scenery on offer at Red Rock Canyon.
Admittedly, the canyon, which looks very much like Mars, sits just outside the city, but if you want to explore the natural landscape around Vegas, this area is a must.
Boasting several impressive hikes that take walkers around the most iconic rock formations and offer an abundance of spectacular views, the canyon is also the prime location in Vegas for rock climbing.
5. Ride One Of The Stratospheres Thrill Rides
The Stratosphere, also known as Strat Tower or The Strat Hotel is the perfect place to take your teen if the New York-New York roller coaster wasn't scary enough for them.
The tower has a 1,149-foot observation tower that not only gives visitors unparalleled views of the city but also features several thrilling experiences. The most terrifying of these experiences are The Big Shot, Scream, Insanity, and the Sky Jump.
While The Big Shot, Scream, and Insanity are all extreme rides, the sky jump has to be the most adrenaline-pumping activity. This essentially involves bungee jumping off the observation tower. Maybe leave this one to your teenager!
---
---
6. Find Secret Pizza
Every teenager loves food, right? If your teenager does, why not take them on an adventure to find Las Vegas' secret pizzeria.
The reason this pizzeria is called Secret Pizza is that it is just that. It is a secret pizzeria found at Cosmopolitan.
In the process of finding the pizzeria, the whole family will build a big appetite, preparing them for a beautiful slice of Vegas' best pizza.
You'll be pleased to know that the pizzeria is also very affordable which is a rarity for something so popular in Vegas.
7. Take The Perfect Instagram Shot At The Las Vegas Sign
In a world heavily reliant on social media, Las Vegas also offers teenagers the perfect opportunities to take those Instagram-worthy shots.
Of all the spots around the city, the best one to visit is the "Welcome to Fabulous Las Vegas" sign.
Easily the most iconic photo spot in the city and one that has been used in many films and photographs over the years, this spot can get very busy. With that in mind, we recommend arriving nice and early to beat the queues.
8. Climb The Eiffel Tower
Did you know Las Vegas has its very own Eiffel Tower? If not, you do now. Sitting alongside the Bellagio Fountains on Las Vegas Strip, this replica Eiffel Tower will give your teenager wonderful views of the city and arguably the best view of the Bellagio Fountains display. This is another spot that gets pretty busy, so you might have to be patient when visiting.
Final Thoughts
That concludes our list of things you can do in Las Vegas with a teenager. As you can see from our list, there is a wide range of exciting, interesting, and new things you can do with your teenager when visiting this bustling city.
Whether your teenager enjoys exploring the city, hiking in the desert, or riding coasters, it doesn't matter, there's something for everyone on our list.
Now you have this list at your fingertips, why don't you see what your teenager wants to do. The only difficulty you'll have is deciding what awesome activity to do first!
---
Latest Posts:
---
If you enjoyed this post, you might enjoy our article on 'What Problems Do Teenagers Face?'.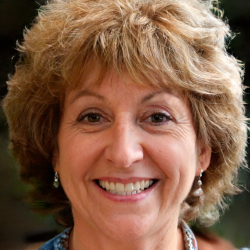 Latest posts by Suzy Prichard
(see all)