Graduation day is such a memorable moment that should be captured. It is one of the biggest days in everyone's life. Therefore, you have to celebrate it with your loved ones. Either it is with your family, friends or your squad.
We've covered 20 best graduation photo ideas that can inspire you to steal the pose. All of them mostly are effortless yet still have a deep meaning and are worth trying. Also, you can showcase the photo proudly in your house.
Only for Yourself
Having a photo only for yourself alone is such a good idea. This pose fits for you who want to take a graduation photo alone even if you come with your family. The session of having your photo alone cannot be missed. 20 Graduation Photo Ideas. Effortlessly Meaningful To Remember Your Best Day
1. The silhouette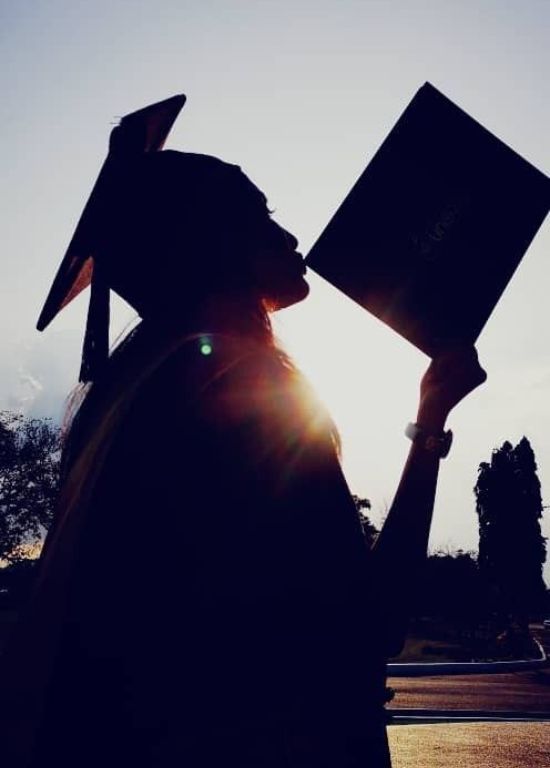 Simple yet deep graduation photo. Through the silhouette effect, people can see how beautiful and meaningful this photo is for you and your family. Also, you don't need many properties for your graduation photo because as long as the lighting is good and supported, then you are good to go.
2. Simple photo studio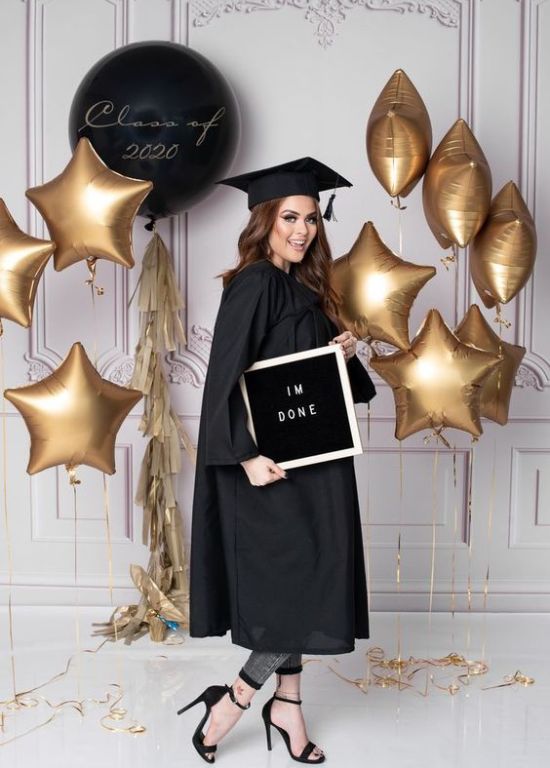 Celebrate your graduation day by going to the photo studio, in order to capture your best moment will be the best idea. Moreover, you can choose the property based on your wants. Usually, they can provide it even if you come without an appointment. Don't forget to give your best pose for one of your best moments in life.
3. You and your childhood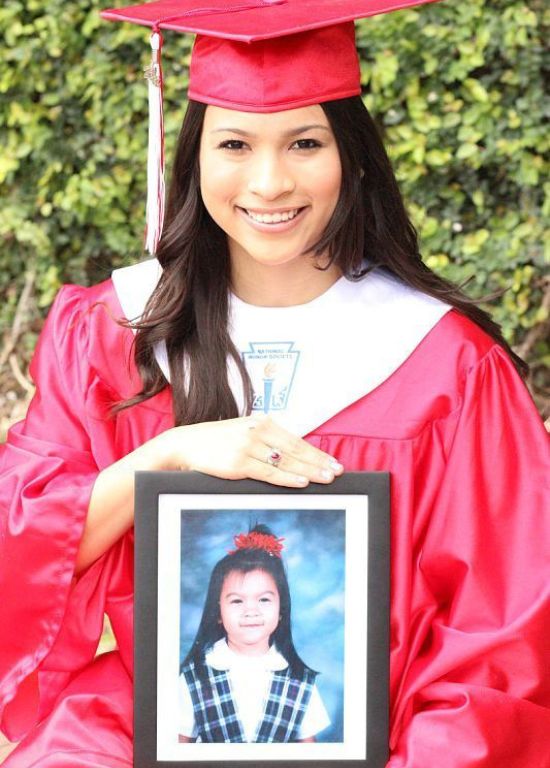 Such a unique yet cute graduation photo idea that you can take. Bring your childhood photo to throw back your first experience studying at kindergarten. It will give you a goosebump remembering how long your journey to graduate is. Pretty meaningful without too many properties.
4. Pretty confetti
Celebrating a beautiful moment without confetti seems empty. Therefore, you can take a graduation photo with confetti as the property. Give your happiest smile since this is your big day to enter a new chapter in your life. You can do this photo session outdoors to get the best lighting and contrast.
5. Balloons never fail you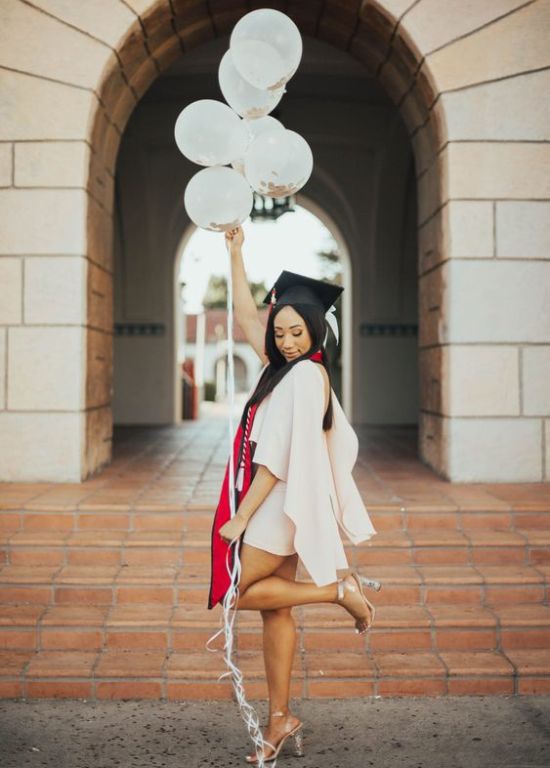 Posing with balloons is also a good idea for your graduation photo. You can match the color of the balloons with your dress to get the right tone color. Do this graduation photo in front of your school building or class to make you remember how memorable your studying experience is.
6. Colorful flare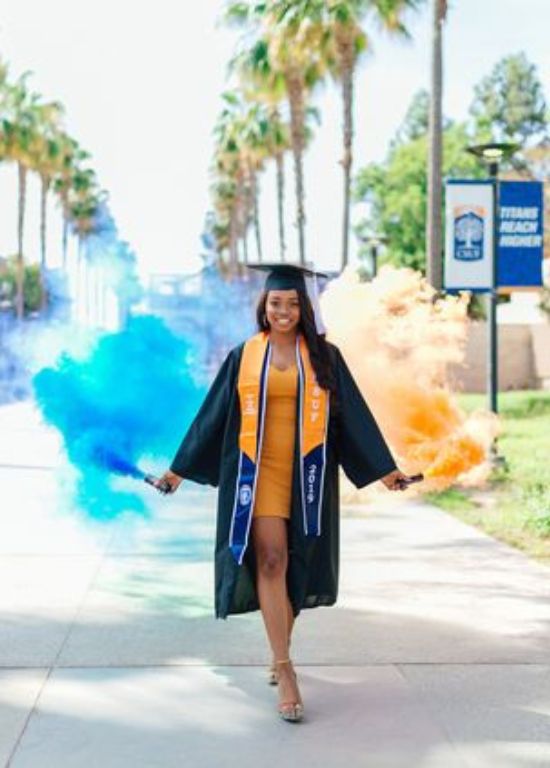 Using flare as your graduation photo is one of a kind and unique too. If you are not afraid to hold the flare, you can use this as your property. Take your best day outdoors, smile and see how beautiful the result is. Make sure you hang it in your living room.
7. Have fun at library
As a bookworm, you have to take your graduation photo at the library. It gives you a little throwback as well when you struggle finishing your task in your last year at school.Since the library requires you to quiet, you can take an impromptu graduation photo there. It fits for you who doesn't want to join the noisy moment in celebrating your own graduation.
With your family
Of course having a family portrait on your big day is something you must do. When having a serious or formal photo is boring, then you can see our recommended photo ideas below.
8. Start and finish
This is a pretty funny graduation photo idea. You can share your photo with your sibling and see the contrast and age gap between you and him/her. Although your face cannot be seen, the meaning and story of this photo is cute and meaningful. Also, it is easy to do as long as your sibling wants to join in.
9. Make your dad proud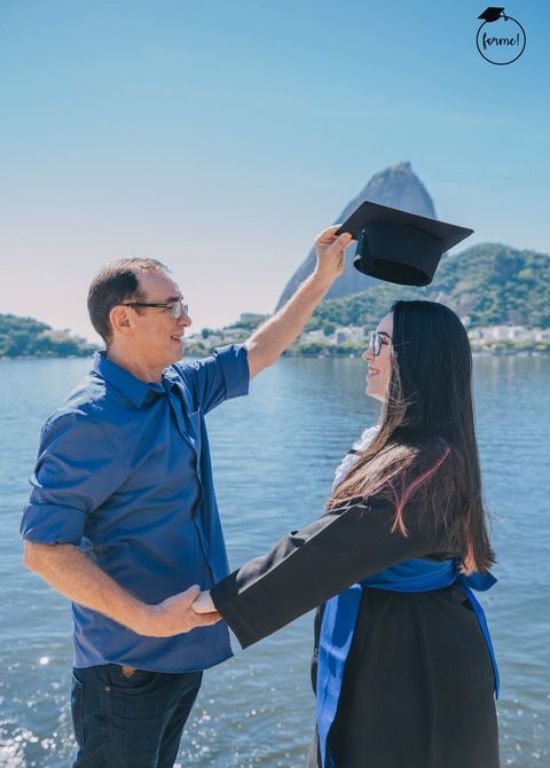 As a daddy's little girl, this moment is very teary yet warm for you and your dad, right? So, you have to take the best pose in your graduation photo with your dad. This pose idea can be your inspiration if you are confused about how to do it. We are sure your dad must be excited to do it together.
10. Show it to your mom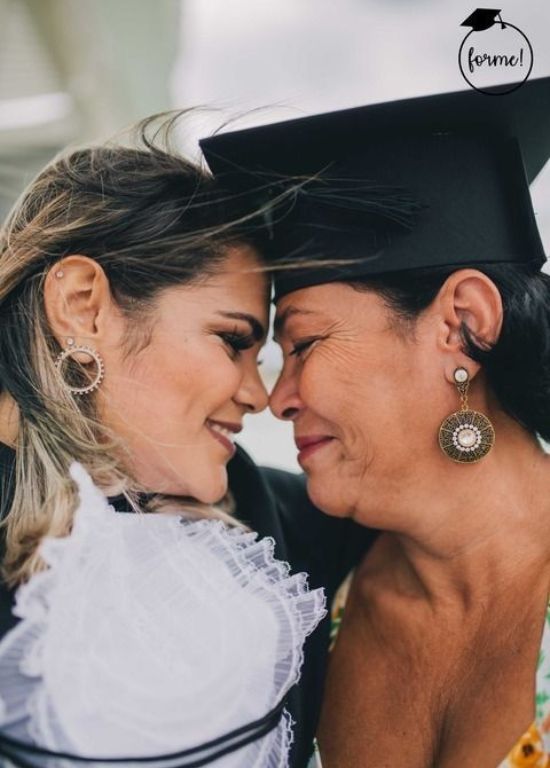 A mother must be in happy tears when seeing her child grow well. It proves by witnessing your graduation day. So, to get this memorable and best moment with your mother, you can have this graduation photo idea. You don't have to take a complicated or one of a kind pose since this pose has a deep meaning between mother and daughter. Her expression describes her feelings pretty well.
---
---
11. A kiss from your momma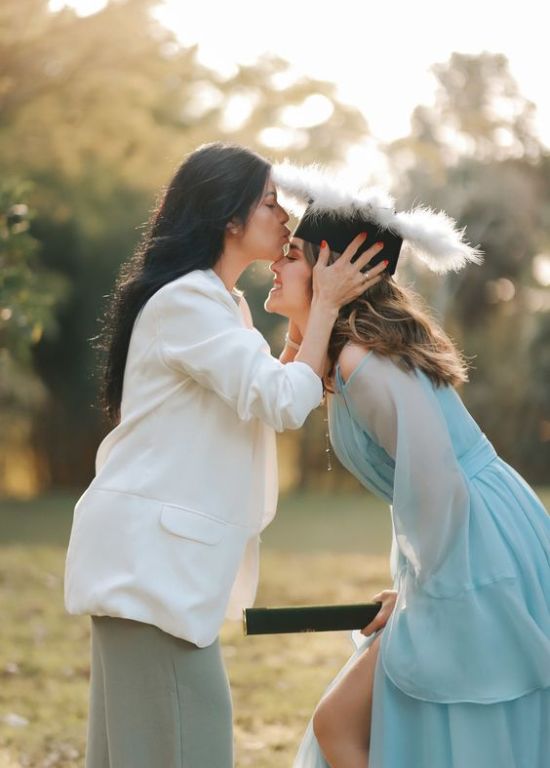 A kiss from momma is always the best kiss ever. You should capture this moment in your big day because you can feel how proud she is seeing you graduating. It will be her favorite photo that should be shown in the living room.
12. With your parents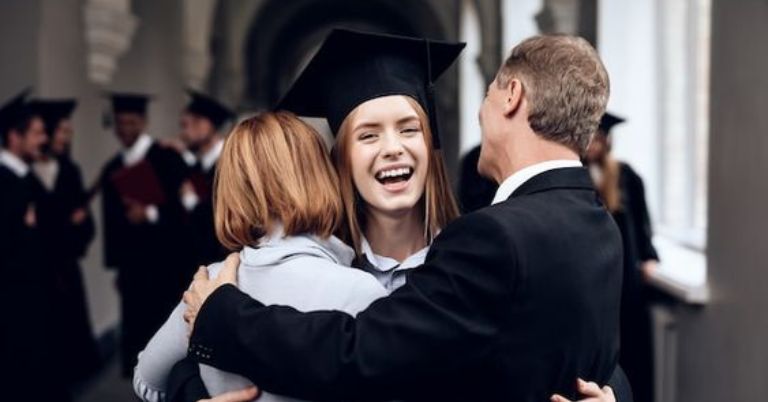 Hugging your parents right after the graduation ceremony is over is the best feeling ever. Therefore, you should capture this pose as this is one of the best days in your life and so do your parents. As long as you see this photo when you grow old, you still can feel how that day went by. Also, you can show it to your kids in the future.
13. Lovely kiss from the parents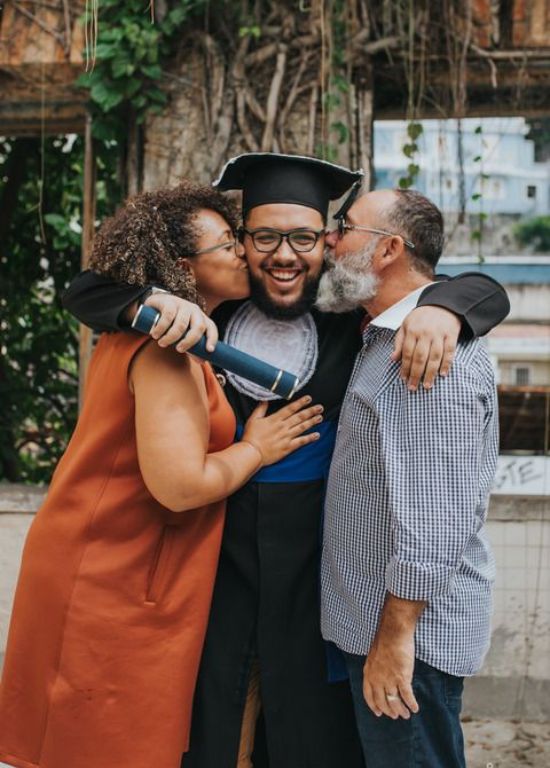 A simple, effortless, but has a deep meaning photo for you, mom, and dad. On your big day, let them show how proud they are having you as a child. They want to show you that they finally succeeded in raising you until your graduation day. Therefore, taking this photo on your graduation day is such a good idea.
With your best friends
It is a moment when you can show your best feeling ever with the one that always accompanies you at school or uni. Yes, they are your best friends. Therefore, taking a graduation photo together with them should be done properly.
14. Half close up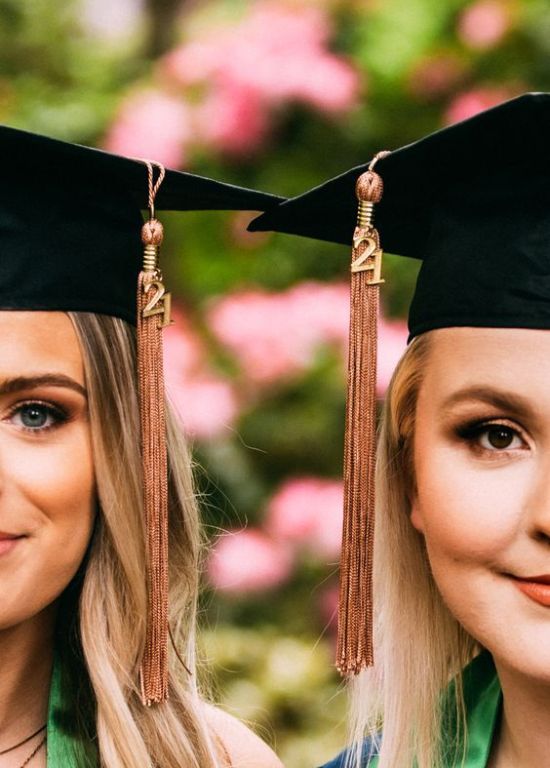 Although there is no property, no striking pose, this graduation photo idea is still the best one to do with your bestie. Both of your eyes and lips describe how happy you are graduating together. You can do this pose, print it in a color effect like this or make it in black and white.
15. Hiding your face gratefully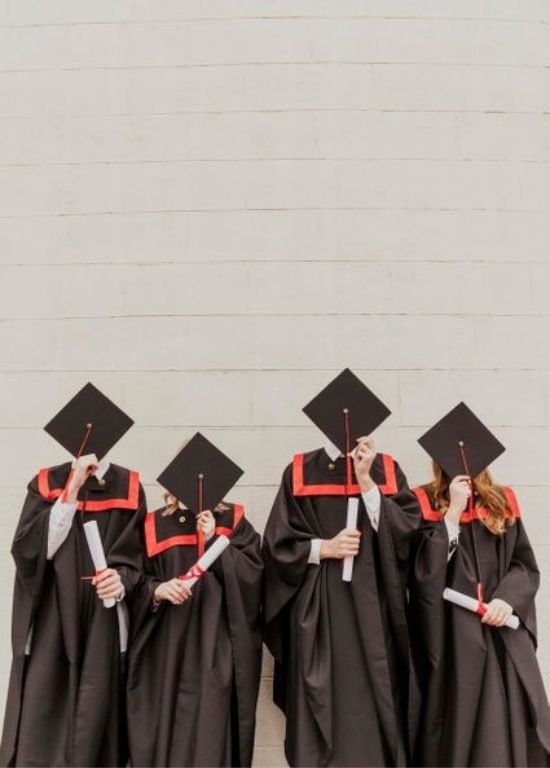 This pose fits for the introverted ones or for you and the squad that don't like to expose their face or don't know what to do in front of the camera. You and your friends only need to cover your face with the caps. Although it is boring for some people, it is meaningful for you.
16. Walking with your squad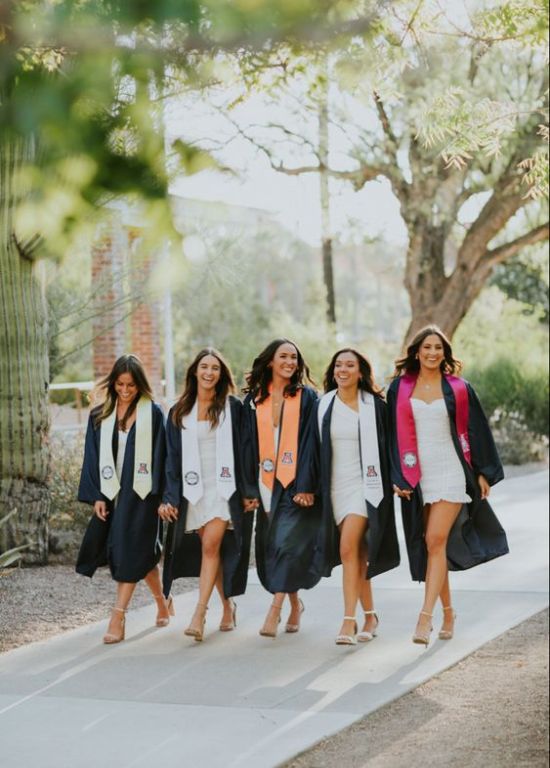 Proudly walking together with your besties after graduation is worth capturing. You can do it in your school, no need to see the camera but make sure you give the happiest expression ever. Since you enter the school together, it is your time to graduate from the school together as well. Have the same dress color is pretty idea to match the tone color.
17. Lay down together
This is effortlessly cute for taking a graduation photo with your squad. Because you only need to go to the field and lay down together. Your eyes can see the camera or not based on your preference. The most important thing is, never forget to smile widely since this is your big day with your besties at school.
18. Switch the cap
If you run out of ideas about posing for your graduation photo with your bestie, you can steal this idea. You can switch the cap and put it on your bestie. Choose a memorable background that you and your bestie often spend together. This photo will be the best one to be remembered.
19. Black and white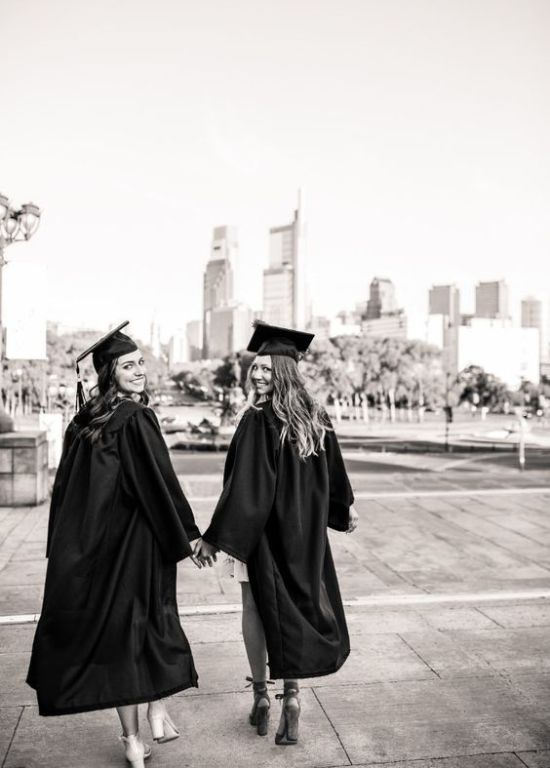 Giving a black and white effect for your graduation photo is an effortless yet gorgeous idea. Because your photo will turn into something more meaningful and less boring to see. Also, black and white effect will give a timeless vibe for your best moment.
20. Piggy back your bestie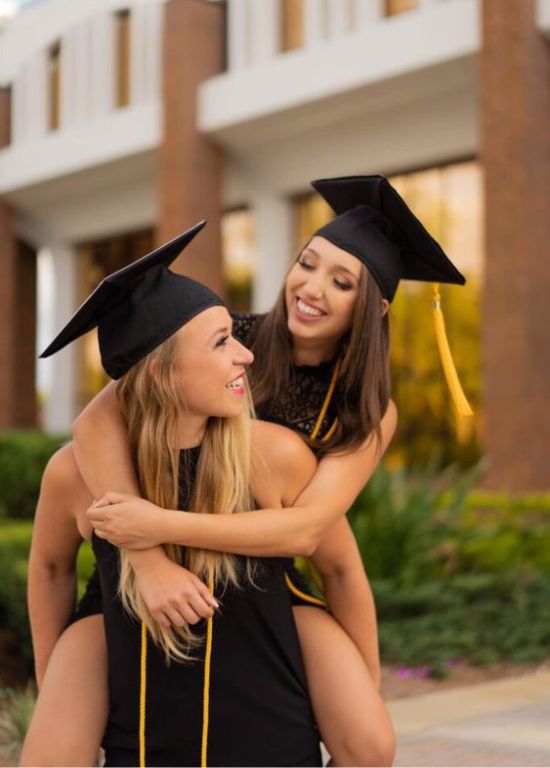 To show how happy you and your best friend are on your graduation day, you can do this pose. Piggy back your bestie is such a fun thing to do for your graduation photo. Never be afraid to show your laughter in order to show the world that both of you are happy graduating together.
Conclusion
On your best day, taking a graduation photo cannot be skipped. If you are too confused about the pose, then you can see our recommended pose above. It is easy and you can fit your preference.
---
Latest Post:
---
FAQ (Frequently Asked Question)
How should I pose for a graduation photo?
You can pose based on your favorite one, such as jumping to show that finally you pass it. Throw the cap also the classic pose ever. The thing is don't forget to smile. Smile widely and proud that you pass the final year.
Is a graduation photo a professional photo?
No, graduation photos are not professional photos. Because there are many informal pose that you can take for your graduation photo.
How do you take professional looking pictures for graduation?
You can go to the photo studio. Professional looking picture usually requires you to stand and smile but not much pose ever. You can ask the photographer the aim you take the graduation photo as your professional picture.
How do you smile in a graduation picture?
You can smile widely and generously since it is the moment you can show your feelings ever after passing the school session. Never afraid to show how happy you are by smiling on your graduation picture. Everyone deserves to be happy on this moment.
Latest posts by William Niocolas
(see all)