Having a theme for your daily outfit is fun! Just like a 90s day outfit, at least you try it once. Whether you want to go to school, to the party, or just hanging out with your friends, you can try it all. Nothing's wrong with your option as long as you know how to mix and match it and based on your own style.
But, if you are not confident enough to steal the look of 90s day, you can see our recommended 90s day outfit ideas below. It is simple, not too much for a daily look and fits for girls and boys too!
Girls rock 90s day
For teenage girls, who are often confused about what to wear everyday, have these ideas below. Whether you want to wear pants, overall, skirts, you can see our recommendation of the looks here!
1. Tuck in the sweatshirt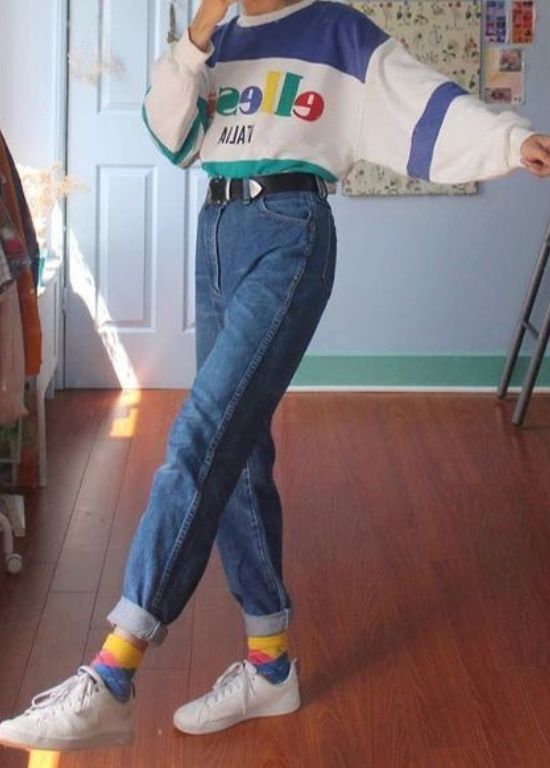 90s day won't be complete if you don't wear a vintage sweatshirt that you tuck in under your blue jeans. Oversize sweatshirts with colorful fonts like this one are pretty cool. You can roll up the jeans too, so your socks and sneakers can be seen clearly. Oh, since you tuck your sweater in, you can add a belt on your jeans.
2. Graphic tee, choker, and round sunnies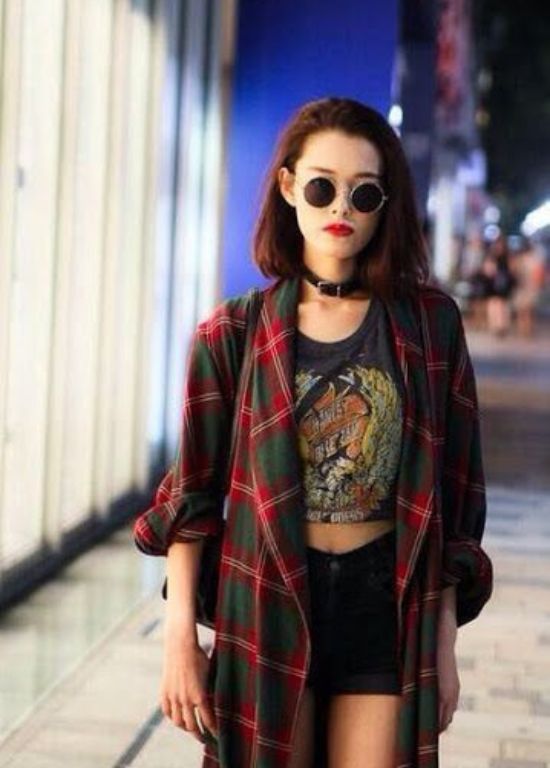 A cool outfit idea for you for the 90s theme of your outfit. Black graphic tee and pair it with tartan outer or oversize flannel shirts, short pants with the same color as your tee, choker, and round sunnies. 90s fashion style is identical with grunge and dark tone color. So, this one can be your inspiration to steal attention from people around.
3. Colorful sweatshirt over high waist denim
A sporty look can be achieved easily by wearing your mom's vintage sweatshirts. Look at the half zipper. It really describes how vintage the item is. Yes, during the 90s era, sweatshirts often come with a half zipper. For the bottom, you can wear high waist denim. So, your 90s sporty outfit can be done with ease. Don't forget to curl up your hair and try to play with your roller skates after wearing this costume.
4. Cropped jacket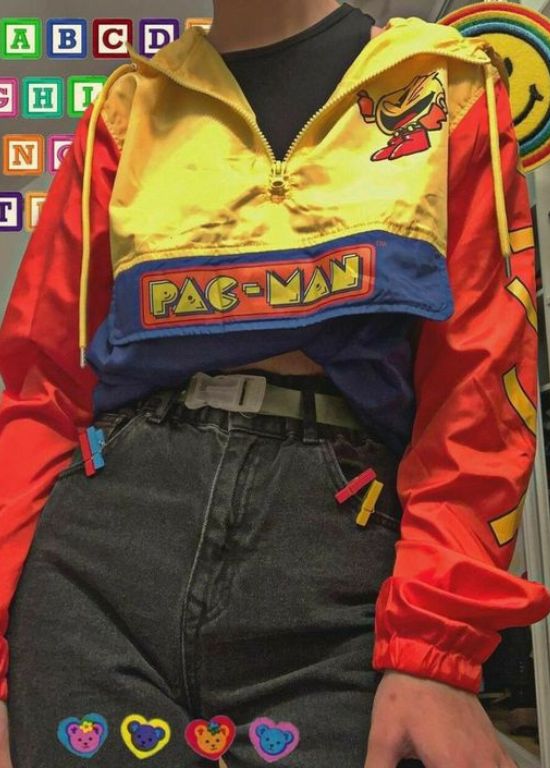 You can have a 90s day look only by adding one fashion item on your outfit. This cute cropped jacket with Pac-Man design is undeniable. The material is parachute and the color describes the 90s era when this game was happening back then. If currently, you are so into Pac-Man, you can get this look for your vintage theme outfit idea.
5. Preppy look from head to toe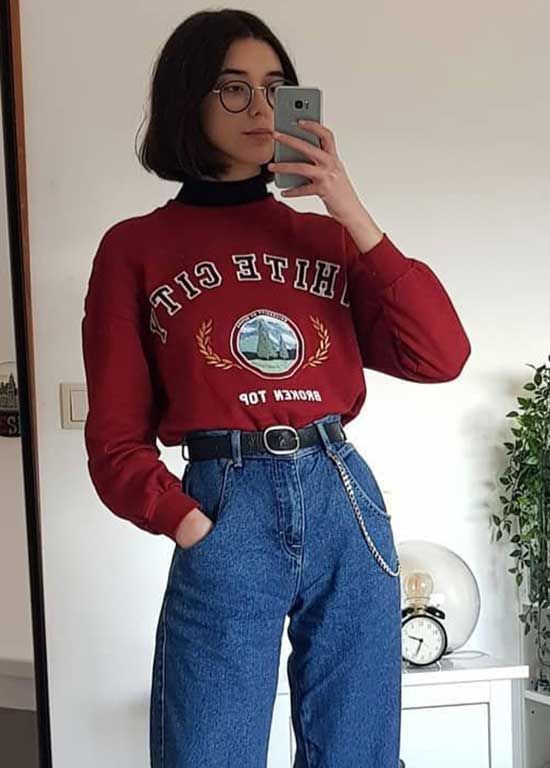 Usually, having a preppy look makes people think that you are that nerd. But now, having a preppy look means you are fashionable! This preppy look idea fits for your 90s day outfit. Pair your light turtleneck as the inner with sweatshirts. Then, wear your denim pants, roll up and you can wear your hi-sneakers. To make it more vintage, add chains on your belt. As for preppy enthusiasts, you can try this idea!
6. Aesthetically sporty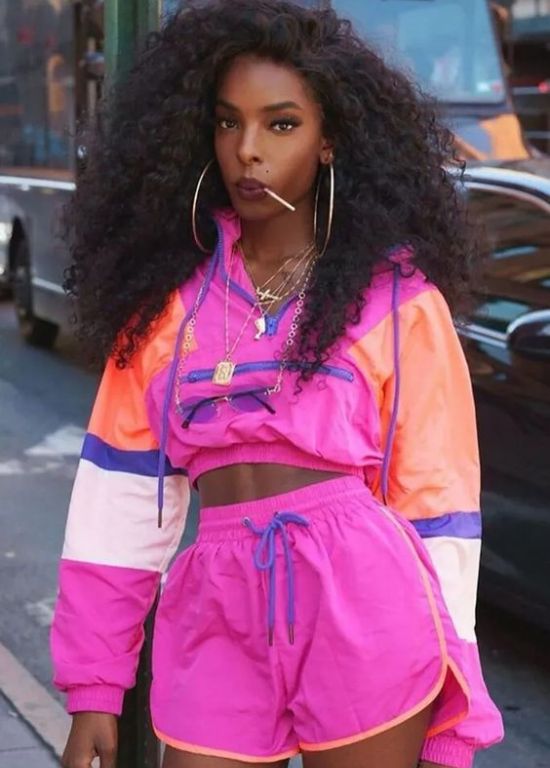 We highly recommended his 90s day outfit idea for you. Look at those beautiful color combinations! Cropped sporty jackets with bright colors, such as pink, orange, blue and white, also the sporty pants with the same tone color. This idea really fits what you are looking for about 90s day. Don't forget to wear your sneakers and curl your hair. Oh, for the accessories, bring your round sunnies.
7. Colorful pants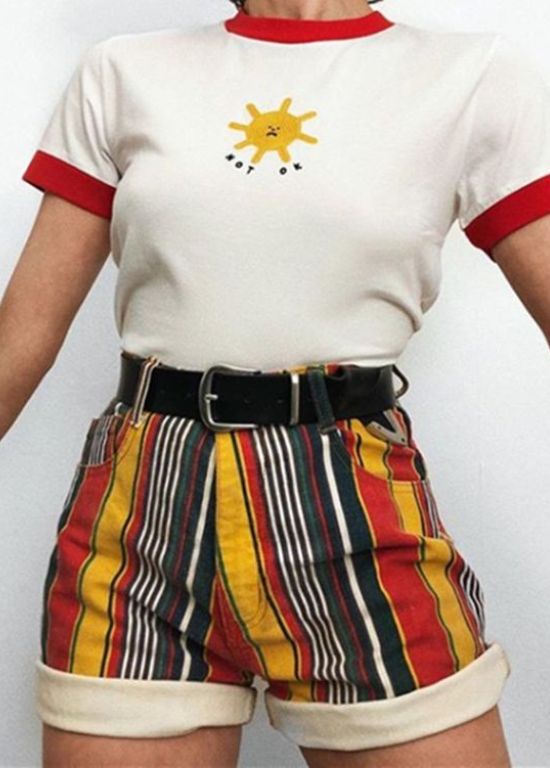 A simple tee with different colors on the sleeve and collar is so classic. Also, colorful pants, especially short pants can complete your 90s look. Never forget to wear a belt too. This outfit idea can be your last minute outfit if you run out of ideas or get up late. Bring your backpack if you need a lot of stuff on that day.
8. Adding the headband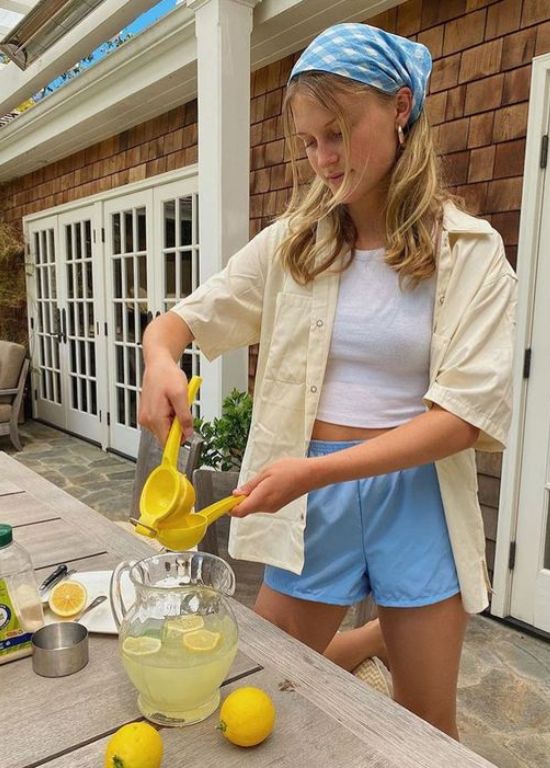 Do you realize the coolest fashion statement during the 90s era? Yes, headband from the scarf or handkerchief. It is very famous yet classic to be paired with your outfit. A perfect look for summer vacation as well. A tee, button shirt as the outer, short pants, and headband from the small scarf. Wear your plain earrings to complete the look.
9. Denim over denim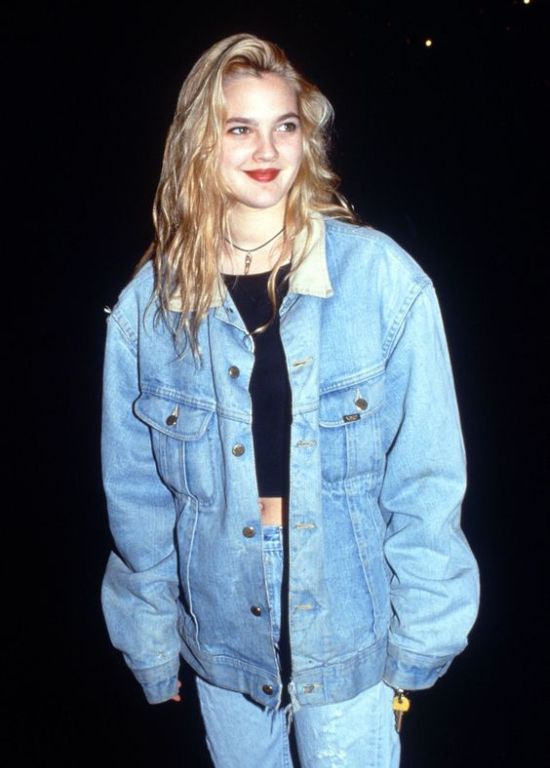 Nothing can beat denim over denim for 90s day outfit ideas. This look is very hype and denim or blue jeans was such a must have item back then. So, for those who love denim, you can simply wear it to unlock your 90s daily look. If you are still afraid of looking slouchy, wear the cropped version!
10. Oh, So Grunge!
Rock your style with this look. Nothing can beat this idea. Very cool style that all of your friends may ask about the leather jacket, pants, and even the choker you wear. Don't forget to wear dark tone lipstick as well to match your outfit.
---
---
BOYS in 90s era
The 90s era is not for the girls only, but also for the boys! For the boys, stealing the look inspired by the 90s is simple because there are too many references that can be matched with your personality and own daily style. You can have a boyband look, actor, or model on that day. But, if you are really confused, you can check our recommended ideas below.
11. Tartan flannel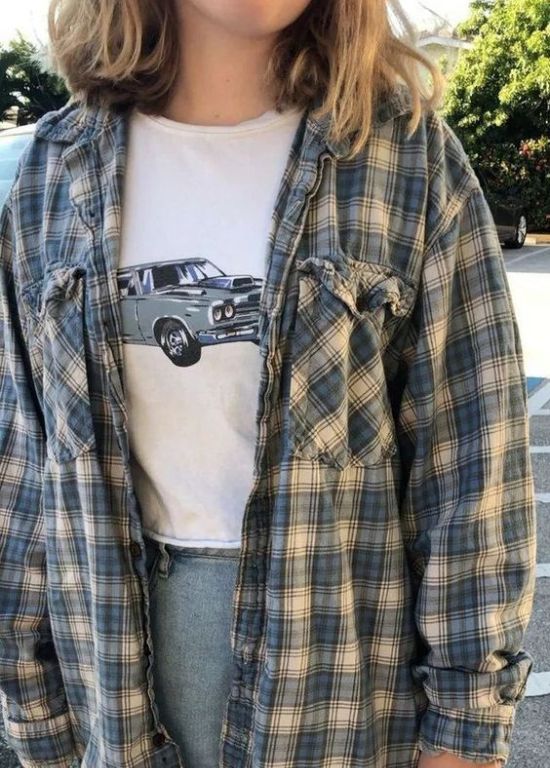 The key to have an effortless 90s look is by wearing this tartan flannel. The oversize or slim fit one, you choose. You can roll your sleeves if you like it. Then, pair it with your graphic tee and jeans. If you have medium hair, it can be a plus point!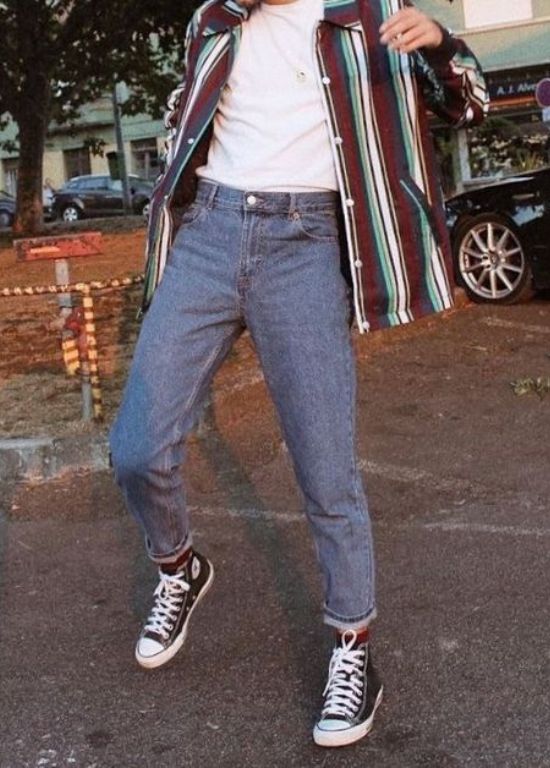 Yes, another idea that you can wear your button shirt as the outers because it is what people in the 90s era did. No matter the pattern of your shirt, stripes will win the look. For the inner, you can have a plain tee, whether it is white or black one. Since the pattern is not tartan, you don't have to roll the sleeves.
13. Ankle pants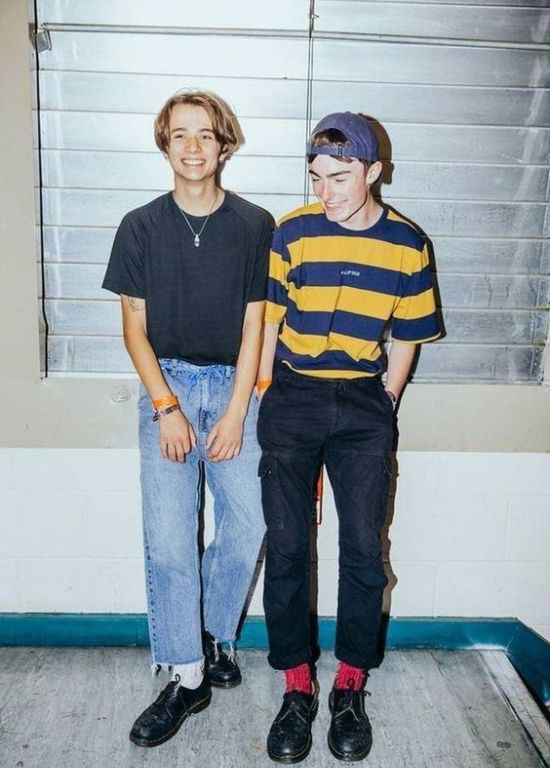 Ankle pants are back in the fashion world nowadays. Actually, this is what also happened in the 90s. If you have a pair or more, you can wear it to complete the theme. Tuck in your shirt and wear your oxford shoes. A simple yet still fit it in the vintage vibe.
14. Colorful jacket
Whatever jacket that you have, as long as the sleeves are puffy and it has a colorful one, you can wear it as the outerwear for 90s day outfit ideas. Usually, they come in a bomber style jacket or parka. Wear it with your plain tee, trousers, and don't forget the belt. Also, if you like chain necklace, you can take it too.
15. V-Neck Sweatshirt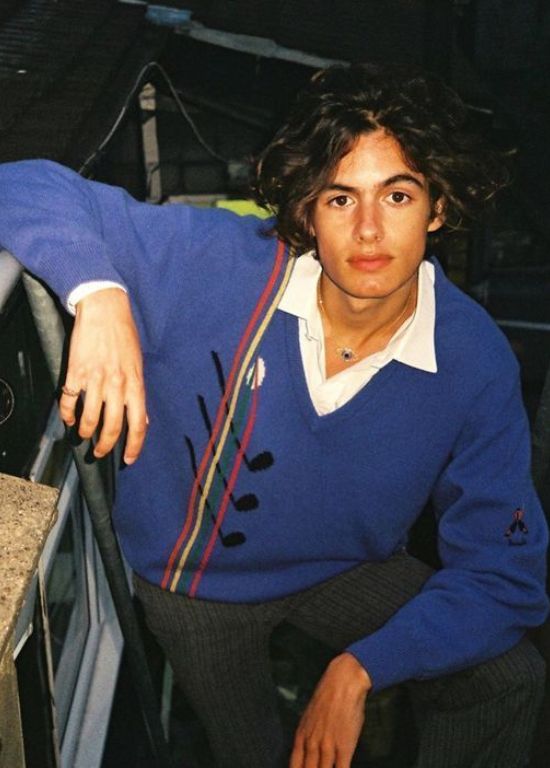 V-Neck is not that bad tho'. For the boys who like nerdy and preppy looks, you can try this idea. Wear your button shirt and then v-neck sweatshirt for a daily look. For the hair, you can have this messy and wavy one if it fits yours too. A solid color of the sweatshirt will complete your whole look.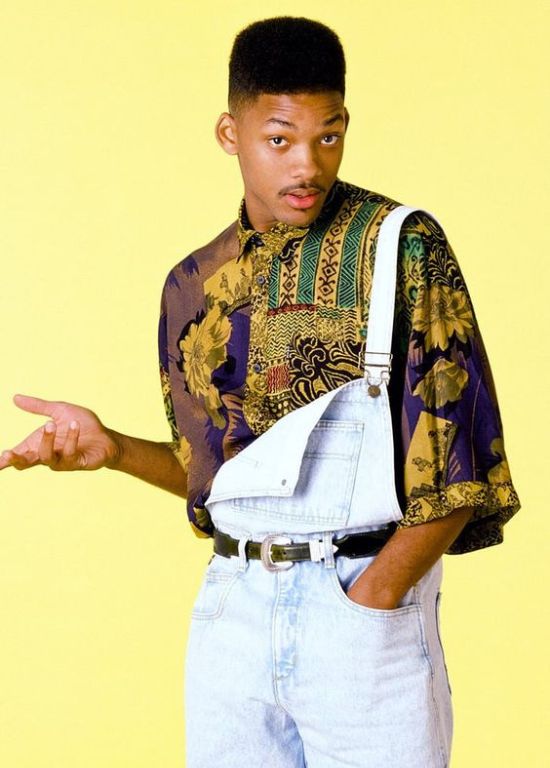 Steal this Will Smith's look back in the 90s for a total vintage vibe. A shirt with pattern and pair it with overall denim. You realize it is very classic that your friends will look at you instantly when you wear this idea. If your friend asks you the reason for wearing it, then you can mimic this Will Smith's expression and answer 'Why Not?'.
17. Be like a Pitt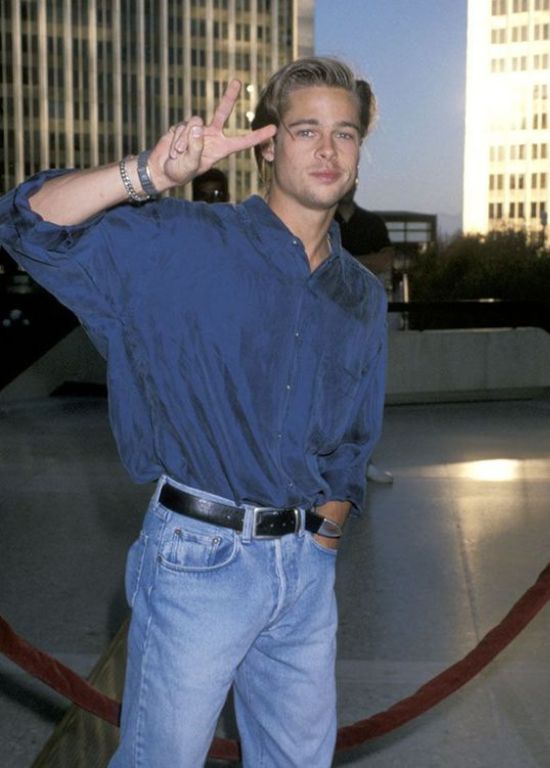 Brad Pitt is very iconic for the boy's look in the 90s. Not only for his popularity, but also his fashion statements. Not too much wearing accessories with a classic hairstyle. You can get inspired with his look especially if you have the same hair color as him. Button shirt inside the blue jeans, Belt is always on and roll up the sleeves.
18. Stripe shirt over the baggy pants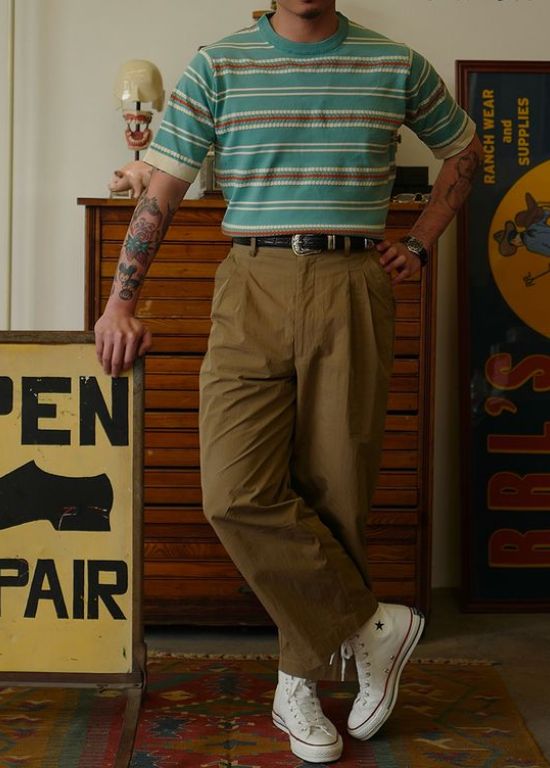 Baggy pants are very comfortable to wear for boys and girls. A straight cut from the waist to toe will give you a freedom to move in your high mobility. Mix and match with a stripe tee like this one to complete the look of your vintage theme. A pair of hi-sneakers is an excellent idea too.
19. Beanie and sweatshirt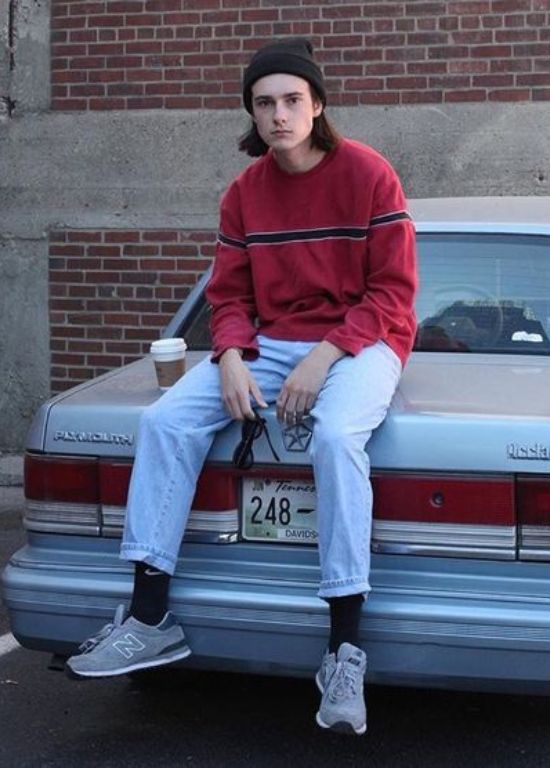 Wearing a beanie is pretty identical with skaters in the 90s. But this look fits for fall or early winter too. A simple and go to outfit that you can wear daily without feel too worry that you are being too classic.
20. Di Caprio for your role model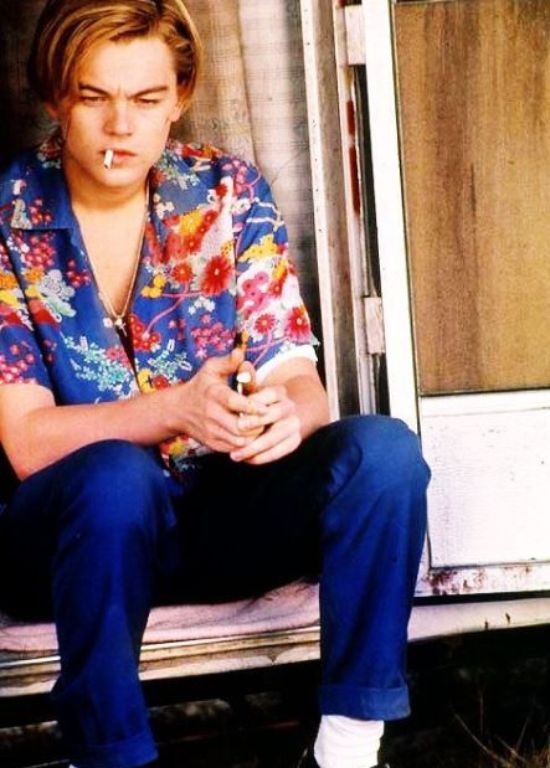 Who doesn't love Leo? After his act in Romeo and Juliet, his popularity is unbeatable. Steal his look by wearing patterned button shirts like Hawaii shirts, blue jeans, and an iconic hair style of his. Plain sneakers will be a good idea to complete your look. 
Conclusion
Stealing the look from the 90s is cool. You can explore your creativity to mix and match your outfit based on that era. The grunge, preppy, casual or cute one, you can choose. As for the boys, there are many references that you can have too!
---
Latest Post:
---
FAQ (Frequently Asked Question)
How do you dress for a 90s day?
By wearing one or two pieces that describe the 90s day very well. For instance, choker, colorful cropped jacket, or baggy pants. If you are really comfortable with this vintage theme, you can go all out from head to toe as well.
What should I wear to a 90s themed party?
A choker, tartan mini skirts, leather jacket, and boots will be great to complete your look for a 90s themed party. As for the girls, wearing dark lipstick is a good choice too. And for the boys, you can style your hair wet like Brad Pitt or Leonardo Di Caprio.
How do you dress like a 90s kid?
By wearing something loose is enough to dress like a 90s kid. Also, choose a colorful outfit with a solid color. Color blocking is a key for 90s themes. Pairing inner and outer is happening back then.
What clothes did you wear in the 90s?
Tees, jackets, loose pants are typical clothes that were worn in the 90s. A playful one or grunge, you can choose based on your personality. No need to press yourself to fit in something you are not into.
Latest posts by William Niocolas
(see all)