As a generation who loves to do new things, teenagers often find that coloring their hair is another healing method to reduce their anxiety and forget the problem. And, of course, ready to face a new phase in their life. Sometimes, they look for inspiration by seeking hair color ideas for teens, knowing having a new hair color seems like changing their identity. 
Also, since teens still have to go to school, it is better if you ask permission or ask for some recommendations from your parents about the color that you want to apply to your hair. Therefore, you can have more confidence yet never go out of style. For those who decide to change the color of their hair but are still confused about the best suit color for your new look, we sum up 25 new hair color ideas for teens. The color combination is not only for the girls but also for the boys. Check these out! 
1. Electric blue and black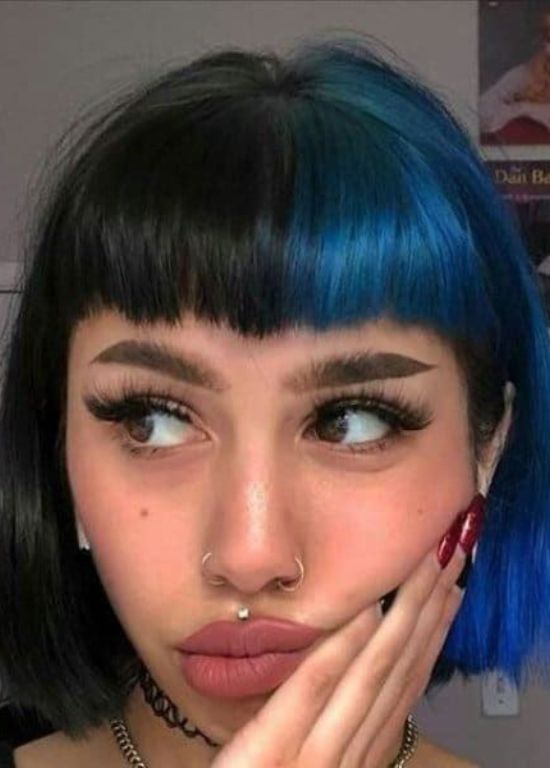 Currently, splitting hair color into two parts is pretty much happening, just like this is one of the most stunning hair color ideas for teens. This black and electric blue is cute and edgy at the same time.
If your natural hair color is black, then you just have to bleach half of your hair and color it with electric blue color. This color combo will steal the attention of your friends once you enter the class. This style also makes a perfect match for your bold makeup.
2. Soft orange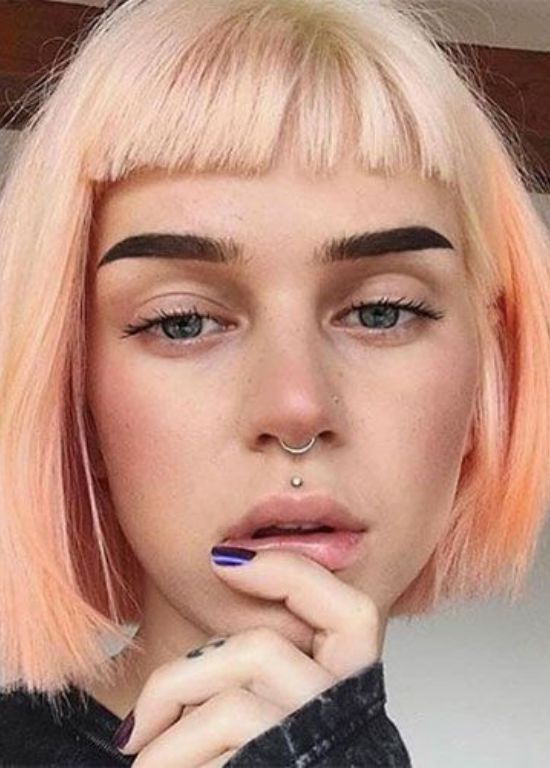 This one is perfectly fit for blonde hair. The soft orange color will give a delicate gradient to your original hair color. Also, pastel color is suitable for teens, as they need to go to school with no striking appearance.
In addition, your soft personality will be well described instantly through your hair color. It is suitable for long hair as well. You can also pair the look with soft makeup for daily occasions.
3. Orange hair color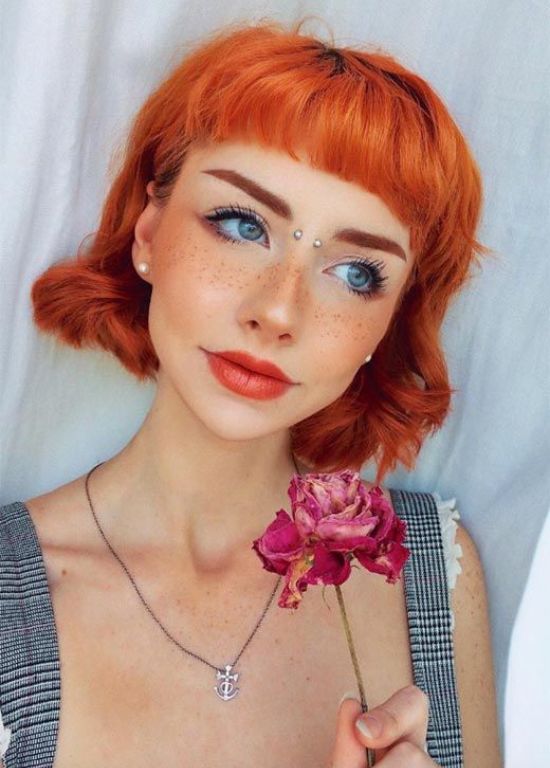 If you like something bold and your parents already give permission to color your hair, then this bright orange can be your next hair color. The color is sharp and gives you a classic vibe too.
So, for those who love to do a vintage look, this is one of the best hair color ideas for teenagers with classic personalities. We recommend cutting the hair to the shoulder and curl it a bit to match the vintage theme.
4. Mushroom brown blonde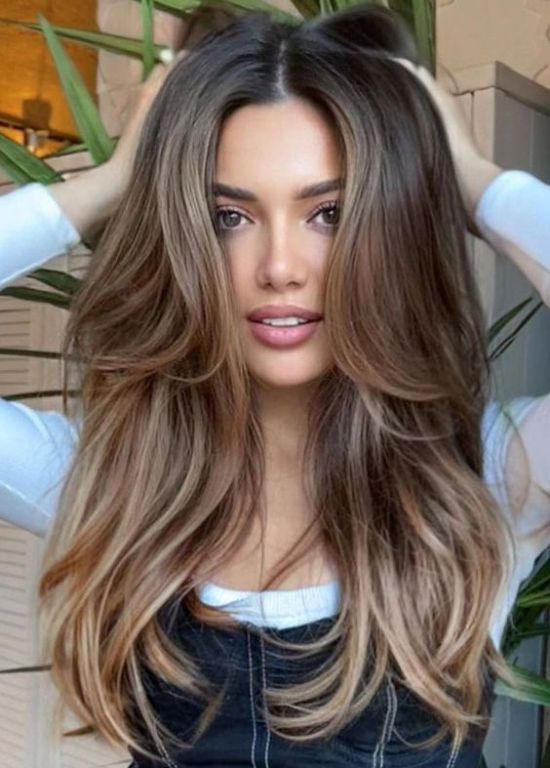 When you just want to refresh your look without making too many changes in your appearance, this hair color idea is the right answer. A mushroom brown-blonde color is a perfect one for your long hair.
We recommend adding side bangs that will enhance your look into a more mature yet still suitable for teens. You can also consider cutting your hair into butterfly style to spice up your appeal.
5. Ash black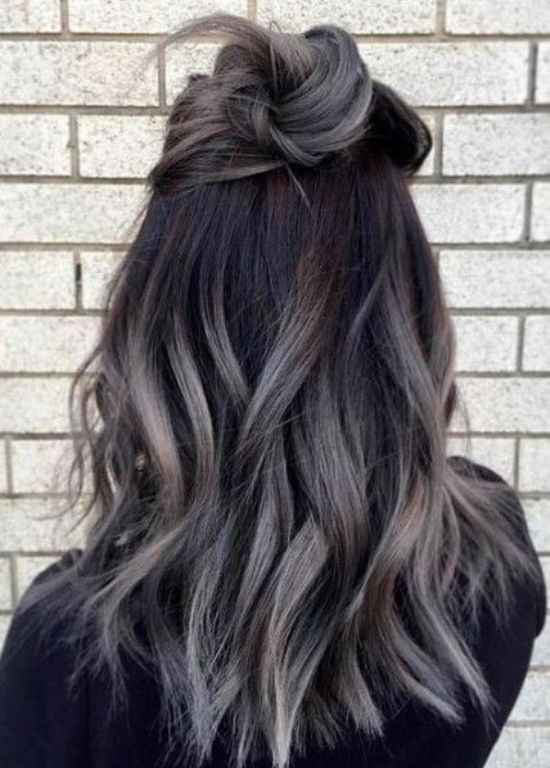 Ash black hair color is the solution for the first-timer. As teens who love to explore new things, changing hair color might be a challenging yet exciting thing to do.
For the safest choice, having ash black like this will give you a comfortable feeling since the changes are not that significant. You can also have this style to go to school with no worries.
6. Lavender hair color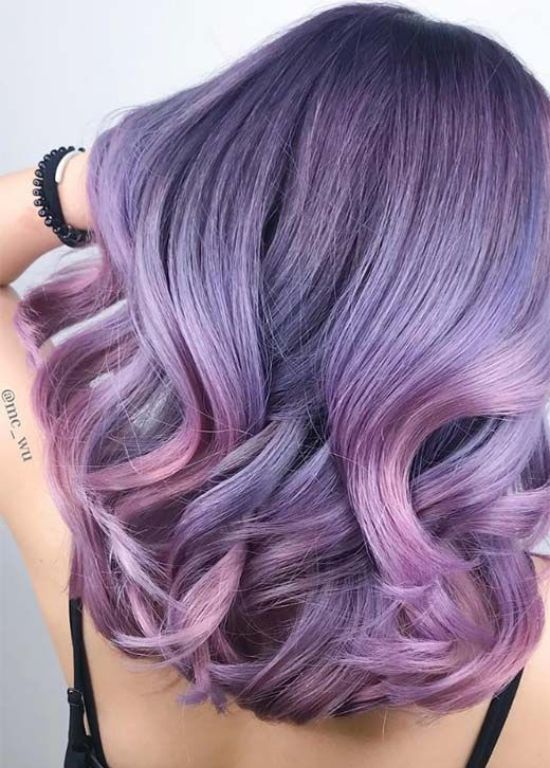 A sweet hair color that reminds everyone of cotton candy. For sweet teenagers who love to be different and cute at the same time, this hair color idea is what you are looking for.
Pretty and adorable, we guess your parents will love it too. While the tone may be great for white skin tone, darker one will also make an awesome look. Just make sure to have bold make up to create a striking appeal.
7. Black and pink for half bang
Calling the e-girl enthusiast with this hair color idea. Too lazy to color your hair but insist on changing the look? Why don't you try coloring your half-bangs? This baby pink color is cute.
Moreover, you don't need to wait for a long time to get the result since the only colorized part is on half of your bangs. Consider pairing your peachy makeup to highlight the bang!
8. White-blonde and light brown bangs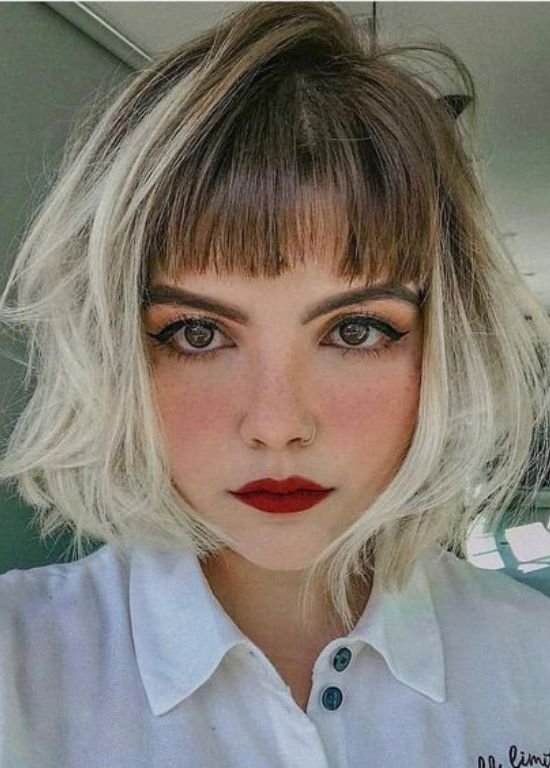 The white blonde never fails to give a fresh look to your face. If you are not into something colorful, even for the pastel one, white blonde can be your best option.
Furthermore, you can add another color of brown for the bangs to give a new layer to your hair. You can also do ombre with blonde and brown colors if you think all-blonde is too pale for your skin tone.
9. Blonde Naturally
There is nothing wrong with naturally blonde hair color. The key is you just have to adjust the haircut to make you look stunning and different in a good way.
This haircut, natural blonde, fits best for you who love simplicity. Easy to take care of and chic. If you wish to dye your long hair blonde, we recommend blowdrying your hair to add volumes.
10. Deep brown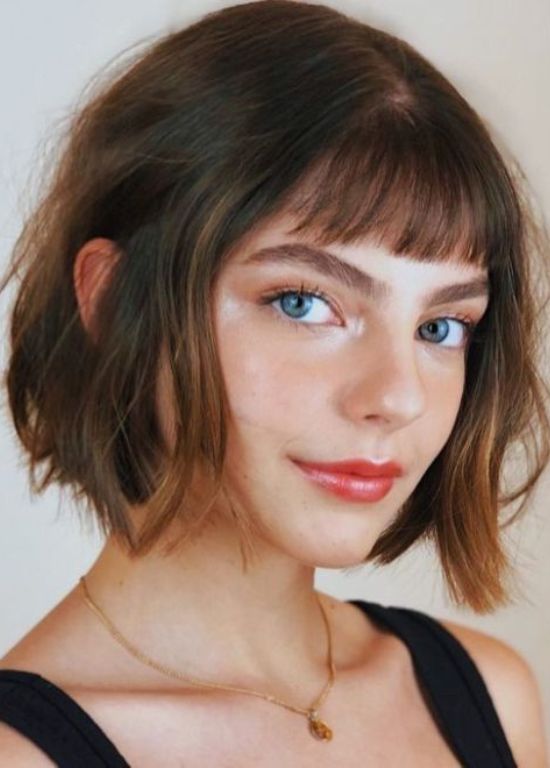 Deep brown is also the safest choice of hair color ideas for teens. As you want to change the look yet are too afraid to play with the color, this is the greatest option for your hair.
Not too mature, not too playful or childish when you ask permission from your parents to change the look. A balayage of deep brown also works for a fresh daily look.
---
---
11. Baby blue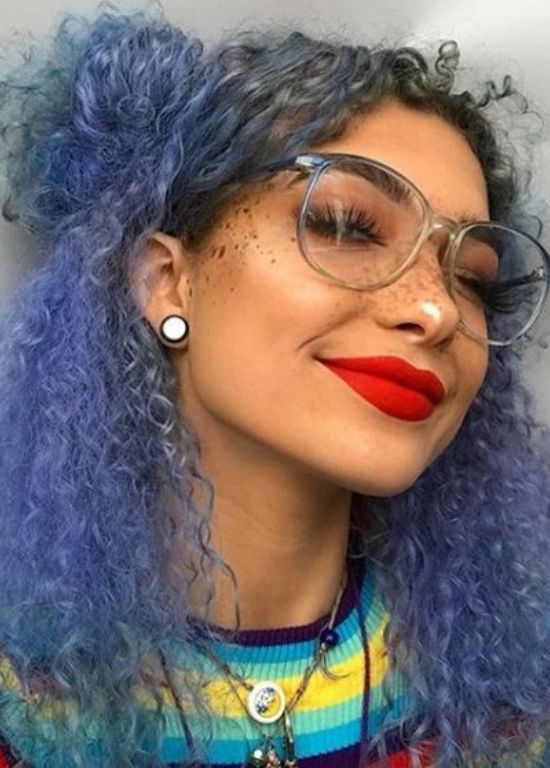 Cute and cheerful appearance only by changing the hair color. This hair color for teens idea is very adorable and inspiring. No matter what your hair type is, whether it is straight, wavy, or curly, you can still have fun with your favorite color. 
Try to dye your hair with this baby blue tone whenever you go to the music festivals, like Coachella, to match your festive look. In addition, we encourage you to match the hair with bold makeup to add vibrant vibes.
12. Blonde with green ombre
Ombre is still in style currently. Teenagers still love to do ombre methods for their hair. You can steal the look to get this cute and pretty look—light green, just like Billie Eilish's.
The blonde will give a natural vibe to your face, while the green color will play a different accent in your hair. Try to go out of your comfort zone with this look to welcome the summer holiday!
13. White blonde and ash gray
For having this amazing hair color idea, you need to ask your parents first and let them accompany you to the salon. Because it is pretty difficult to do it by yourself, but the result won't make you regret it at all.
This color combination is pretty different from any other hair color idea. The color combination makes a wonderful contrast but not too overwhelming. Hence, you can confidently style your hair with your casual outfits.
14. Lilac
This Pantone color for your hair is very, very cute and a must-have! Lilac won't fail your look, for sure. A super soft color but still eye-catching to look at.
It makes your hair look like cotton candy but not dry. Also, you are free to get this hair color for long or short hair. While the style looks tempting, the color may not be suitable for your daily occasions, like school. So, you better dye your hair when you have a summer break to avoid unnecessary attention.
15. Salmon pink and lilac touch
One pastel color is cute, but how about two? Your look will be a double cutie. This lilac and light salmon pink is very cute to take your hair to the next level.
Thanks to the pastel tones, the combo creates a soft contrast that makes a great pair for your daily outfits. Also, this kind of dyed hair is very happening lately. Hence, you don't have to think twice to get this idea to be yours. 
16. Fire hair color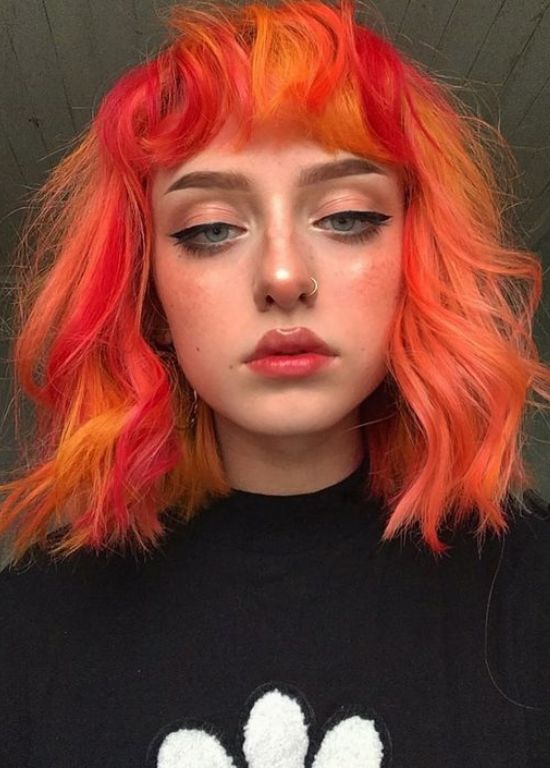 Your hair color is like a fire and describes that you are full of spirit. Actually, there are three colors that you need to create this look. It is orange, salmon pink, and red.
Knowing the combo is a bit tricky, you may need a professional assistant to dye. If you are eager to have this hairstyle, you better match the hair with darker outfits to highlight your hair color.
17. Pale blue gradient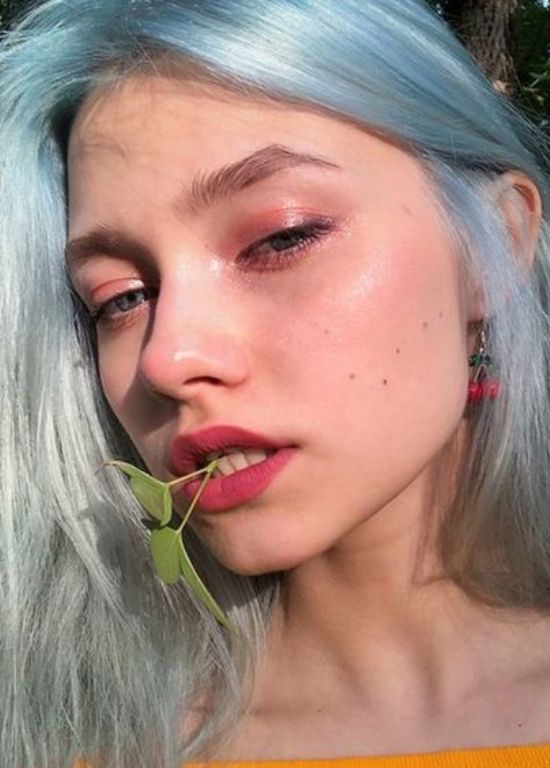 Another cotton candy hair. It is super adorable and fits for spring to summer. A pale blue gradient will radiate under the sunlight, so your hair will shine beautifully.
If you want to look your hair thinner due to your thick hair, this color can be your solution as well because it makes your hair look light and not that heavy. Wear your peachy or soft makeup to have the best look!
18. Rose Gold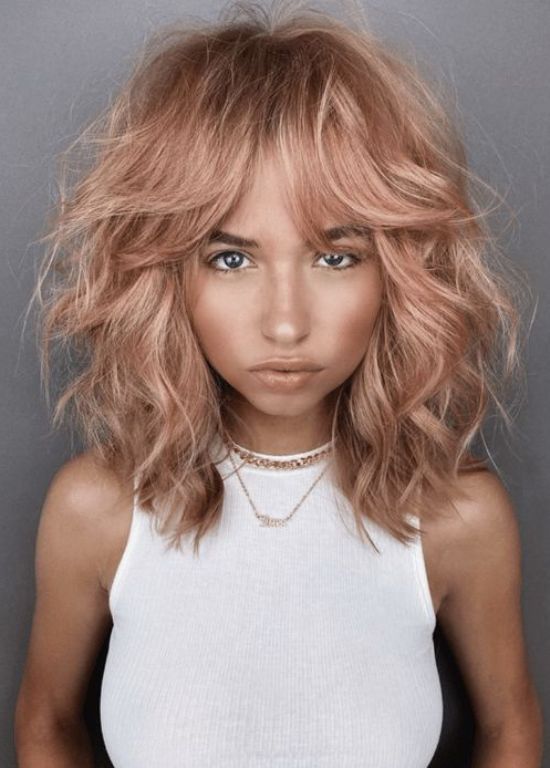 Probably rose gold is not a happening color for dying your hair, but this color is a cool choice due to not many people choosing this one. It works well in tan skin tones with short, medium, or long hair.
In addition, you can make it more volumizing by making it wavy for your daily look. Just blow the hair or curl it up a bit. We also recommend having a butterfly hairstyle to have the most outstanding look.
19. Blonde and copper
This hair tone is not too contrast with each other, so your appearance will not look that too much as well—blonde and copper work well in splitting your hair.
You still have an e-girl vibe, yet in a calmer one. Having a copper and blonde color combo, those with brown or hazel eyes will make the best fit for this look.
20. Cute watermelon combo
Cute watermelon color for your new hair! Pink and baby green. No one can resist saying that this is the cutest! The baby green color can be done as the ombre for your pink hair.
It gives a new volume to your straight hair. Another thing is this color combo fits for medium to long hair. In addition, such a hair color mix will effortlessly match those with vibrant personalities.
---
Latest Post:
---
21. Bright orange for the boys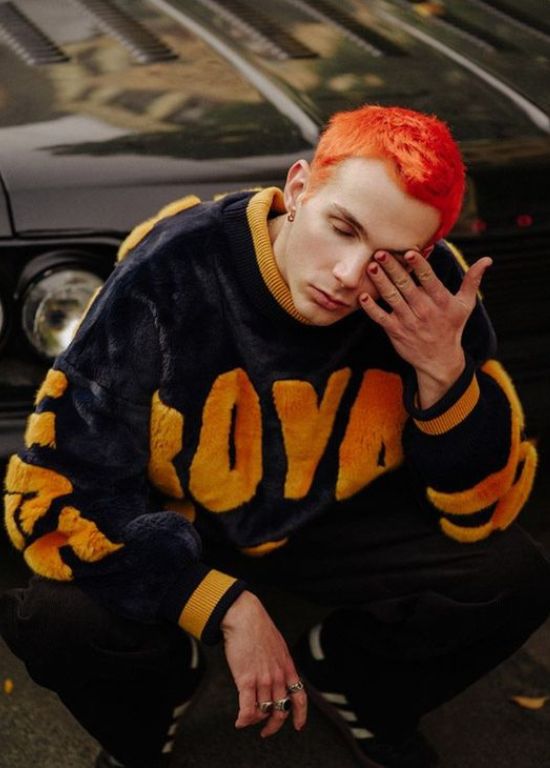 When you think that boys cannot go with bright hair color, then you are wrong. You can explore a bright color for your new look, like this bright orange.
The key is confidence. You have to be confident about your new hair color. So people can see that your look is very cool, different, and fresh! Try to wear dark-colored outfits, like coat or sweat shirts, to pop the hair color.
22. Red balayage and brown
A cool and sharp color for balayage your hair. This red tone is suitable for a daily look. Moreover, your natural hair color is still there because you just dyed the top part. It fits if your hair is not that short.
So, the wavy layer of the color can be seen clearly. It will be hard if your hair is too short, not only for you to see the result but also for the barbers who dye your hair. 
23. Baby Pink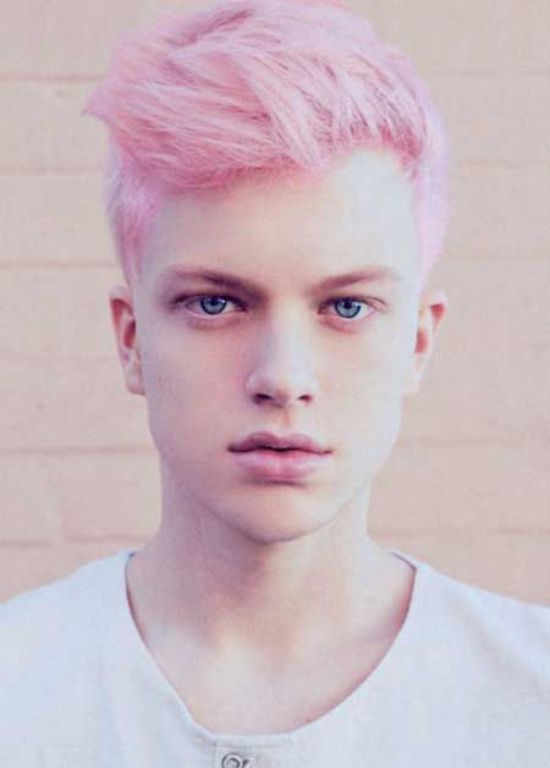 There are many male celebrities who dye their hair pink. You can say Justin Bieber, Zayn Malik, Jaden Smith, and many more. This sweet color still makes you look dope, tho.
If you are not feeling confident at once, you can try to balayage for the first time. Given the light color option, this one of the stunning hair color ideas for teens will suit those with grey or blue eyes the most!
24. Deep blue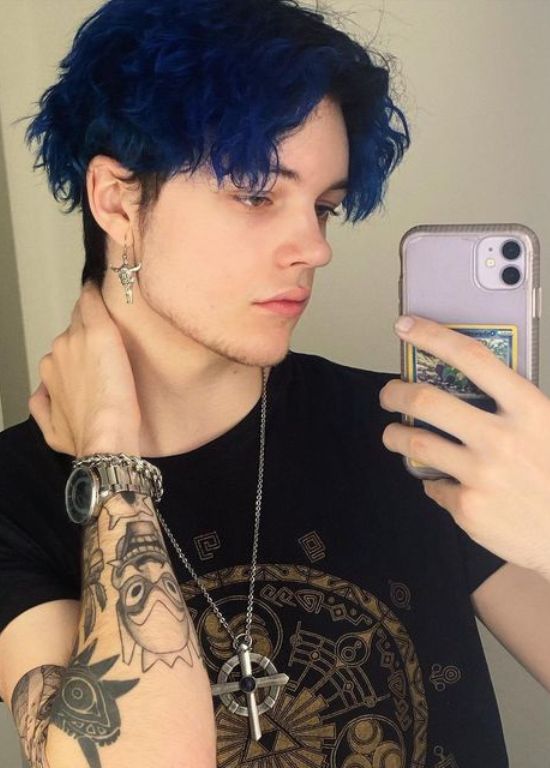 As teenage boys, experimenting with hair color is not a mistake. If you like blue and want to get this deep blue color, then go on! This hair color idea for teenagers is fresh, cool, and not too much for you.
Moreover, if your natural hair color is black, it will create a perfect combo for the final appearance. Nonetheless, it will be better to bleach the hair if you want the blue hue pops. 
25. Blonde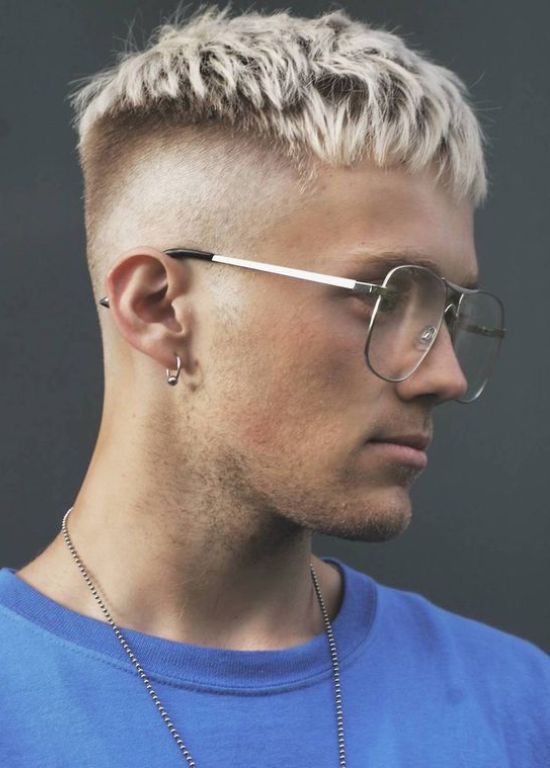 Blonde for boys always works well. So, this one of the most awesome hair color ideas for teens fits best for you. It is easy to do this because you just have to go to the barbershop and let them know this hair color.
Instead of letting all the hair goes blonde, we recommend introducing ash color to create a gorgeous blend. Be ready to get an effortlessly cool look ever after this one!
---
Latest Post:
---
Conclusion
Changing hair color for teens is always exciting, especially during holidays, because usually, they want to have something different at school. As parents, you can let them choose what they want but still monitor them, especially their looks and appearance at school. It will be better to choose soft colors among our hair color ideas for teens above as they won't look striking in the crowd. Changing hair color means changing their identity, so guide your teens to choose wisely.
What is the most popular hair color?
Black hair is the most popular hair color. There is research that explains that 85% of people in the world have a shade of black hair. So, for the natural hair color, black hair is the most popular in this world.
What color hair makes you look younger?
You can go for copper, gold or even strawberry color in order to make you look younger. The brightness shade through your hair color can radiate perfectly to your face. Therefore, this hair color will help you feel younger as well.
Which hair color is the best for teenage girls?
Ombre with soft colors or balayage with deep brown color is best for teenage girls. Ombre describes playfulness and happiness during the youth era. Also, it gives you the freedom to express your personality through the hair color. Balayage describes a stable or solid personality for you who doesn't like an instant change.
Latest posts by William Niocolas
(see all)