Changing hair color is such a therapeutic activity for some people especially women and young ladies. Dying hair will give a whole new look instantly, whether it makes your appearance look fresher, younger, and more glowing as long as you choose the right color for the hair. But sometimes, as you love to have short hair, you think it is pretty tricky to choose the right hair color ideas for short hair. Say no more since we've got you covered.
There are 20 undeniable hair color ideas for short hair. So, for those short hair enthusiasts, this article is truly made for you! Get the inspiration of your favorite hair color or even hairstyle here!
1. White blonde
Simple, iconic and effortless for you who want to have a new hair color idea for short hair. Yes, white blonde really fits for short hair such as pixie cut, bob, or even wolf cut. The color also makes your face look fresh and has a new signature.
2. Orange fire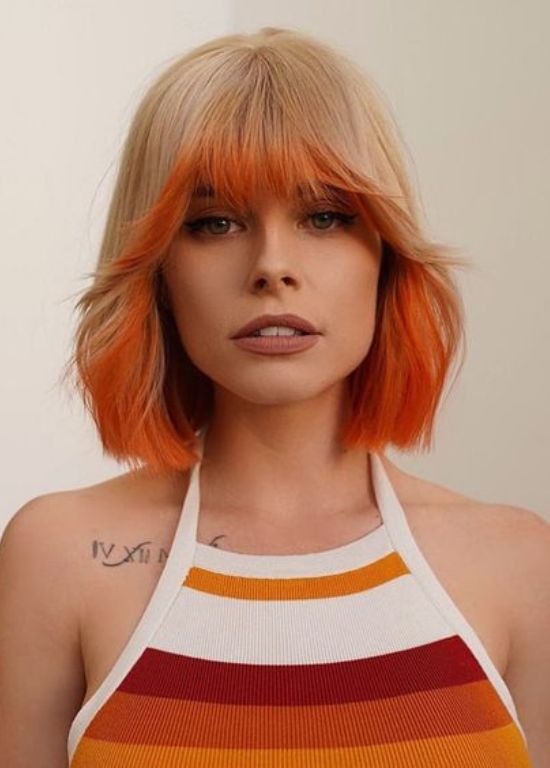 When you are so into orange and want to apply it for your short hair, then you can steal this look. A hidden orange fire for your hair under blonde color. It is very chic if you have a bang too. This hair cut also gives a new way to make your appearance more gorgeous.
3. Balayage ash purple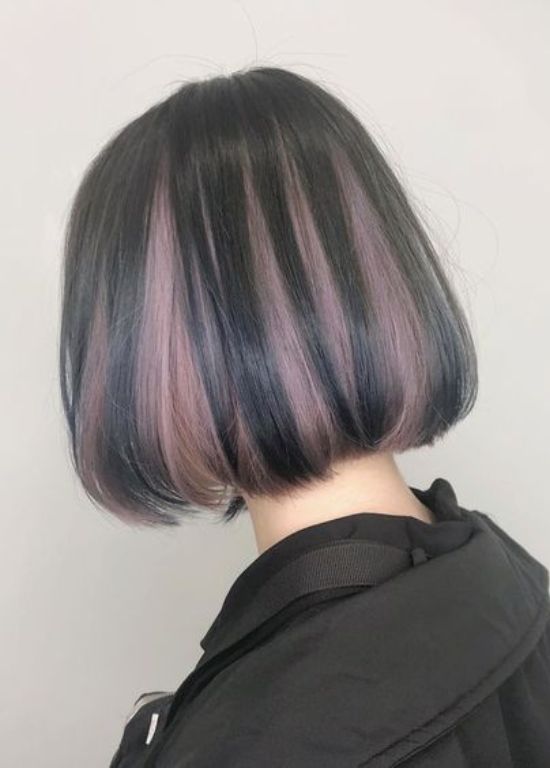 Ash purple and black is a new perfect combination. You can try balayage for this tone color plus give a new short hair cut because this hair color method fits for bob cut. If your hair is too long or medium, the layer of this tone color will not going extra to look at.
4. Blonde and brown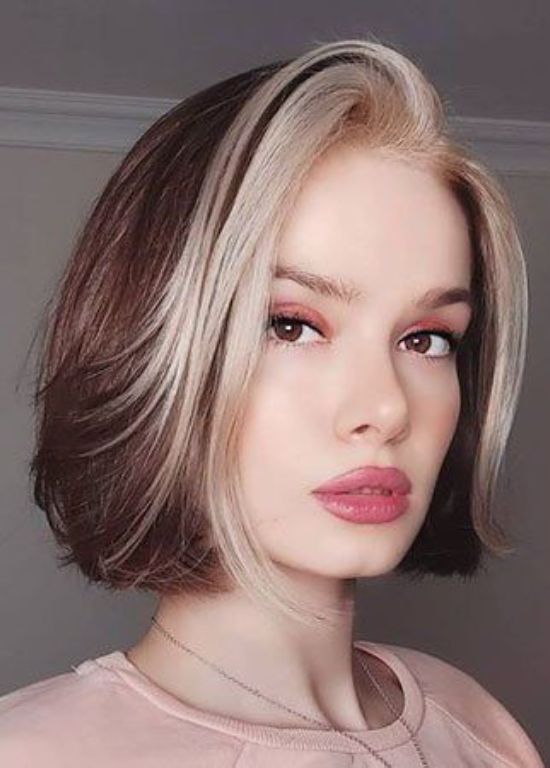 This hair color and method are very happening lately. You can have two hair colors even if your hair is short. The brown one is for the whole hair while the blonde is for the bang that actually the bang has the same length as your whole hair. Very fresh and chic for your new look.
5. Hidden electric blue
Some youths tend to make a surprise for their appearance, including in coloring their hair. If you prefer hiding the hair color to showing it, this method of dying your hair fits you. You still can have two colors for your hair and no one can see it unless you choose to see it by tying your hair in half. This electric blue is very bold and describes your brave personality.
6. Purple ombre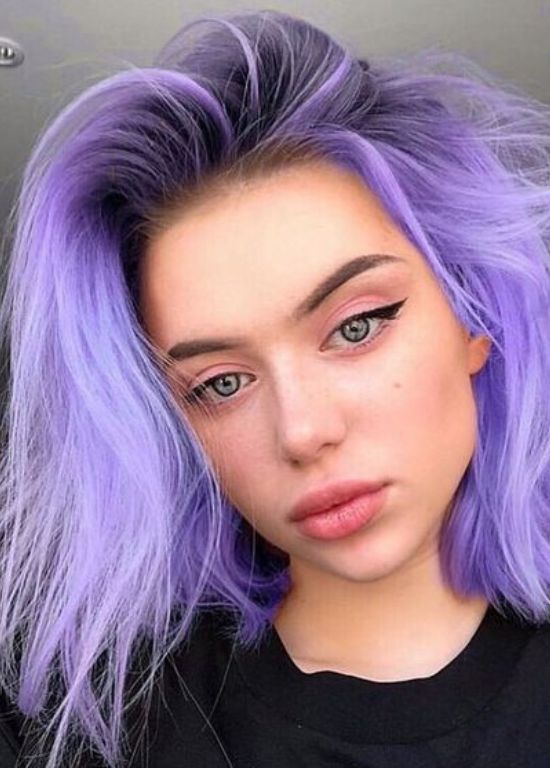 Purple color will make your short hair look playful. Also, the choice of smooth purple and make it ombre is happening. It not only gives a new look but also a new identity for yourself as a cheerful youth.
7. Gray ombre
Gray ombre is a solution for you who want to dye your hair yet don't want a bold color. It is also safe for you who still go to the school because the gradient of gray ombre is still neutral for your whole look. For short hair, guess it is the best option ever.
8. Electric green
As a brave, bold and love something electric, this tone of green can be your next hair color. Especially if you have short hair, you don't need to be afraid that it doesn't fit you because this electric green is suitable for short hair and will make you look classy.
9. Highlight blue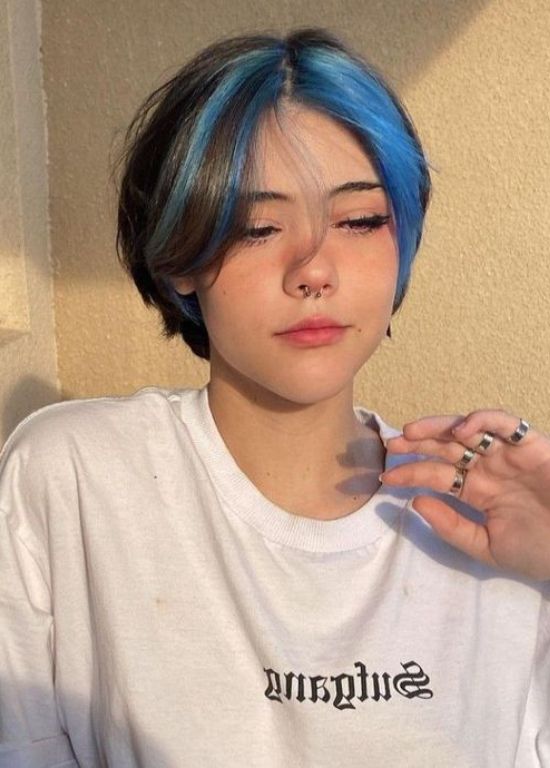 Cute yet cool at the same time. If you want to have a new hair color but are too lazy to dye all of your hair, it can be a solution for you. You can color the bang only because it gives a new highlight for the whole look.
10. Night sky ombre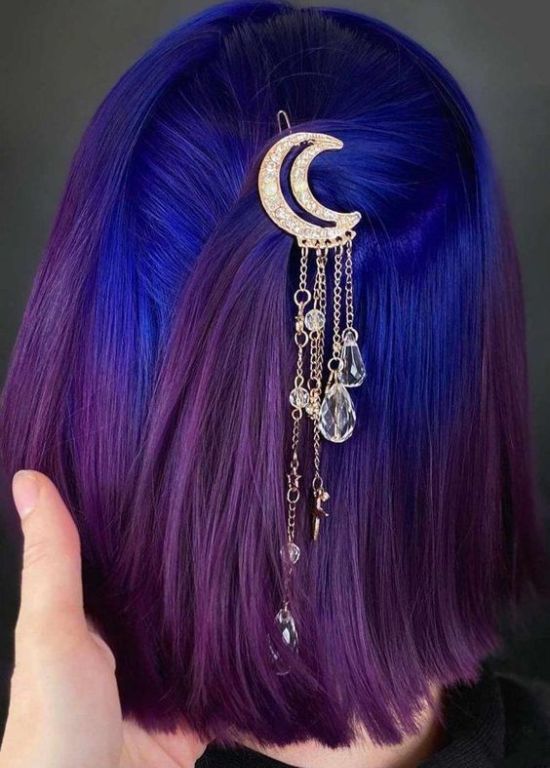 Beautiful hair tone that reminds you of the night sky. This ombre of blue and purple is definitely what you are looking for to get a fresh and totally whole look. Especially for short hair. For this hair color combo, you can play with the hair accessories too to make it prettier and more gorgeous.
---
---
11. Three colors of gradient
Your hair is like a canvas with this hair tone color. It is pretty tricky because you need to do various colors for the hair. Therefore, you can go ask professional help to do it and you can do it with short hair because it fits best with the short one.
12. Red ombre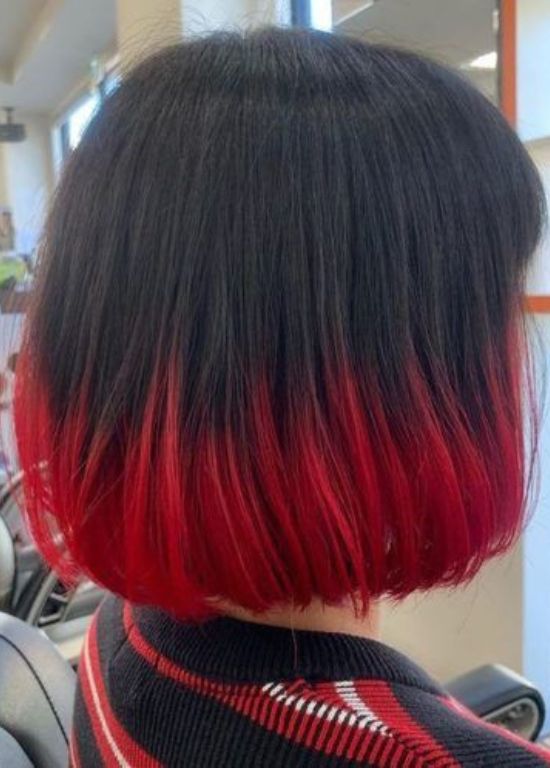 Red ombre makes your look on fire, brave and strengthens your personality. This kind of red is pretty hot but not too bright. It is because the other color is black, so the red one is still not too shiny to see. Ombre and short hair is a perfect fit.
13. Smooth green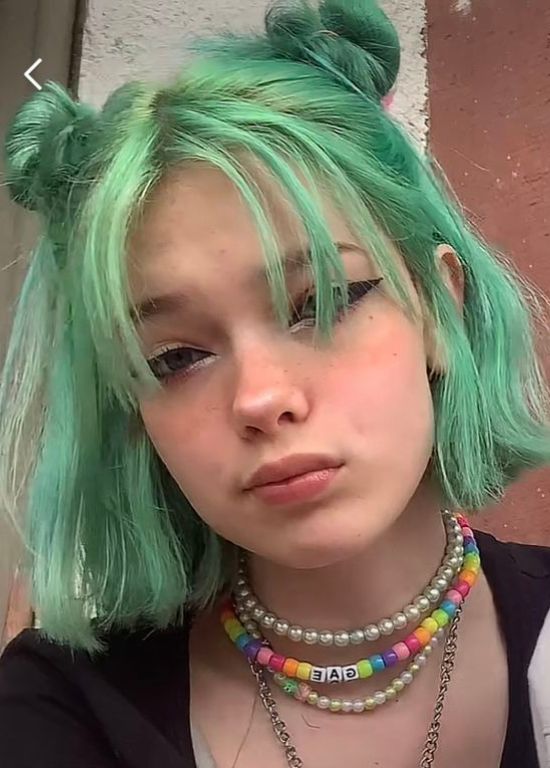 Fresh, beautiful and simple hair color for short hair. Green is never out of style because it fits for any kind of personality. Whether you want to make it ombre, highlight or do it for your whole hair, the green color is always right. It can give you an e-girl look or simply just being you with this hair color.
14. Pink on Hot Pink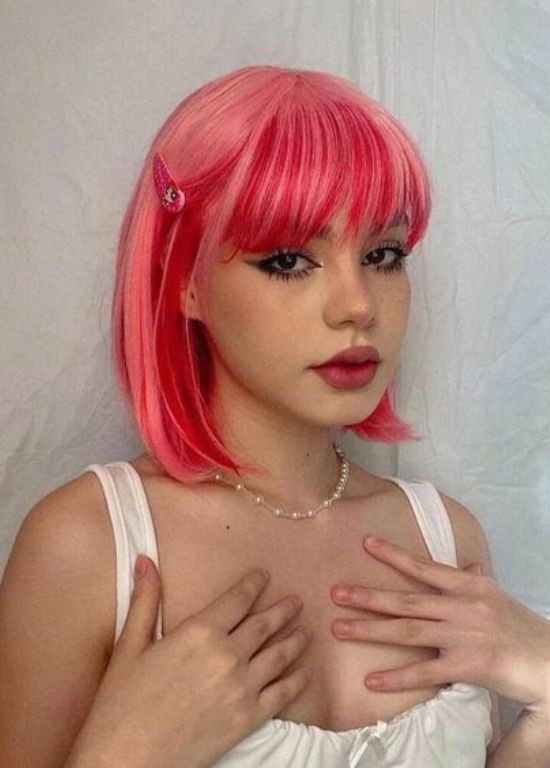 Pink on hot pink? Why not? You can get this hair color combination for your bob cut. Pretty cute because your hair is similar to candy. For the sweet personality like you, this hair color idea for short hair cannot be missed.
15. Half purple and half black
Half on half hair color is very hype for teenagers nowadays. You can explore the color combo for your hair and turn your look into something new and fresh. Purple and black like this one are good and match. All of them are not too bright yet still vivid to look at.
16. Mustard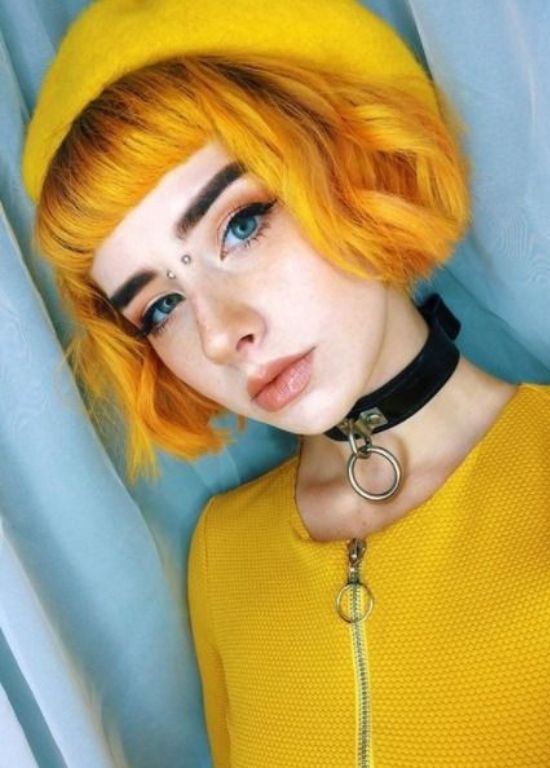 It is one of a kind hair color idea because not many people choose mustard to be their hair color. In fact, this mustard hair color is mesmerizing for young people. You can appear differently but still look chic.
17. Blonde and hot pink
It looks like strawberry milk candy in a good way. This hair color idea for short hair is worth trying if you want to layer the color on your hair. By adding one color to your hair color, your look will be totally different. Young people should try it.
18. Hidden orange
Usually, this orange color is used for ombre, but you can use it in different methods by making it hidden. So, your look won't be different, but you still have another personality through your hair color. It is perfect for young people that are not into showing something off to the world and like to keep everything for themselves.
19. Pink and blue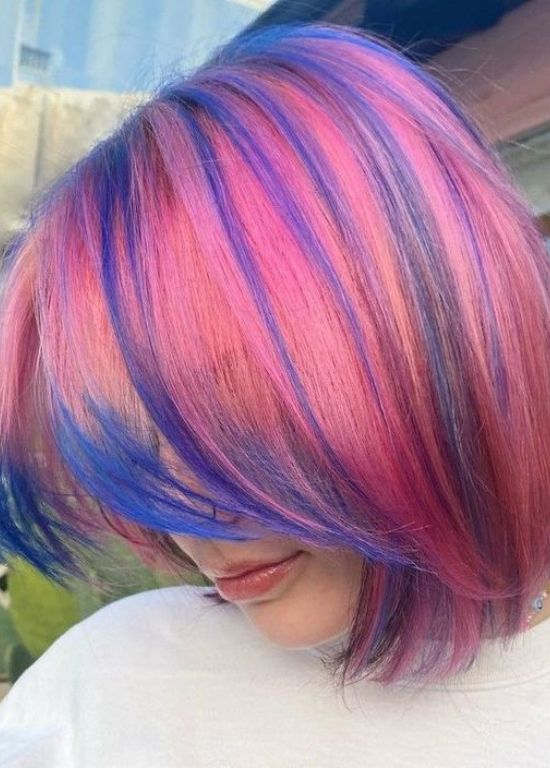 Super cute and adorable at the same time. This pink and blue is as sweet as your whole look. Also, this candy theme hair idea fits for short hair no matter how you cut your hair. To those who doesn't like to separate the hair and dye it one by one, you can go to the salon and ask expert to do this hair color idea for you.
20. Purple gradients on bang
The gradient is undeniable. Although your base hair color is brown, the gradient of purple, blue and magenta is irresistible. Your bang will emphasize the whole look with this gradient. Also it takes less time than doing it for all of your hair.
Final Thought
No more worries or confusion if you want to dye your short hair. Your hair can be fresh and beautiful by following our recommended hair color ideas above you can try at home or you can go to your favorite salon to do it. Nothing's wrong by dying your hair because it is based on your favorite color and match your personality.
---
Latest Post:
---
FAQ (Frequently Asked Questions)
Which hair color is the best for short hair?
Actually, all colors are best for short hair as long as it fits your skin color. But, if you want to have a different look, you can try bold and playful colors such as green, pink or blonde. It works well for short hair and makes your appearance bold and cool.
How do I know which hair color suits me?
You can check your tone color whether you have warm, cool or neutral tone color. Check your skin color too to fit your hair color. For instance, if you have brown or warm skin color, it will be good to have a smooth or neutral color for your hair. Playing with bold is allowed but it will be better to use a highlight method.
How can I style my short hair?
You can style by applying cute and extraordinary hair pins on your hair. Also, you can make a pair of small buns of your half that looks like ears. It will make you look cute and gorgeous. Braid the bang also works for styling short hair.
Can you highlight very short hair?
Yes, you can highlight even if your hair is very short. A pixie cut is considered very short hair but you still use a highlight method to dye your hair. For common people, it might be tricky, so go to the professional place or salon might help you to get the best result of highlight for your very short hair.
Latest posts by William Niocolas
(see all)