Wearing a casual outfit for a daily look is never out of date because casual ones can go for a hangout, school or just stroll around alone. As a teenage girl, we understand that you often feel run out of clothes and the idea of having an effortlessly chic casual outfit. You always feel stuck to mix and match although you have enough top and bottom to be paired.
We understand that feeling, therefore, we want to help you by giving top 20 casual outfit ideas for teenage girls! The looks will improve your appearance, steal the attention without too much effort, and one thing for sure, you can find every piece inside your wardrobe. So, no need to buy a new item only for copying those ideas.
All about pants
Wearing pants is not for boys or having a boyish look only. If you feel more comfortable wearing pants, rather than skirts, then go on for pants. We sum up how to wear pants and mix and match it with the items that are available in your closet.
1. Oversize tee and loose pants
A go-to casual outfit for teens that you can copy easily! Loose pants and oversize tees never go wrong for your daily look. You can pair it with sneakers like in the picture, flats or even platform shoes. Don't forget to tuck in the tee to your pants, so your whole look will always be neat and not that slouchy.
2. Fresh monochromatic outfit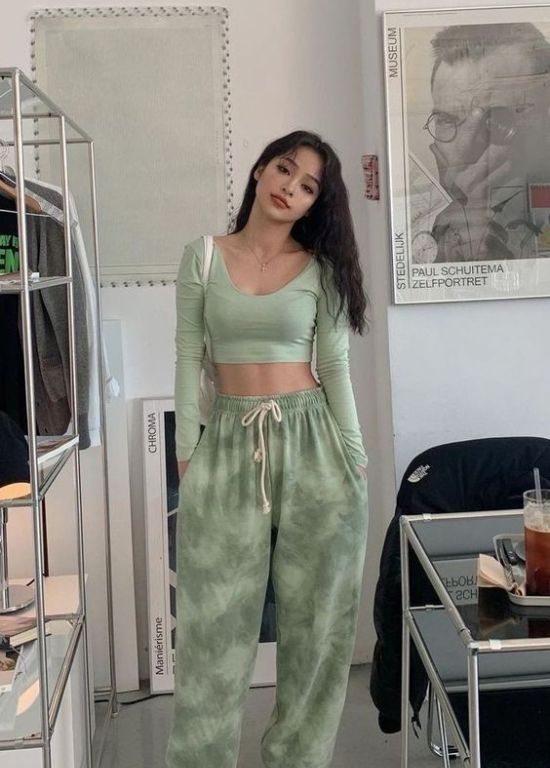 Oh, crop is always a good idea especially for summer. You can have this sporty look only by wearing sweatpants and crop with the same tone color. Mint is an excellent one to refresh your daily outfit. Casual sneakers will complete the look too. And for the bag, go for the simple one, not the big one.
3. Overall jeans for all over style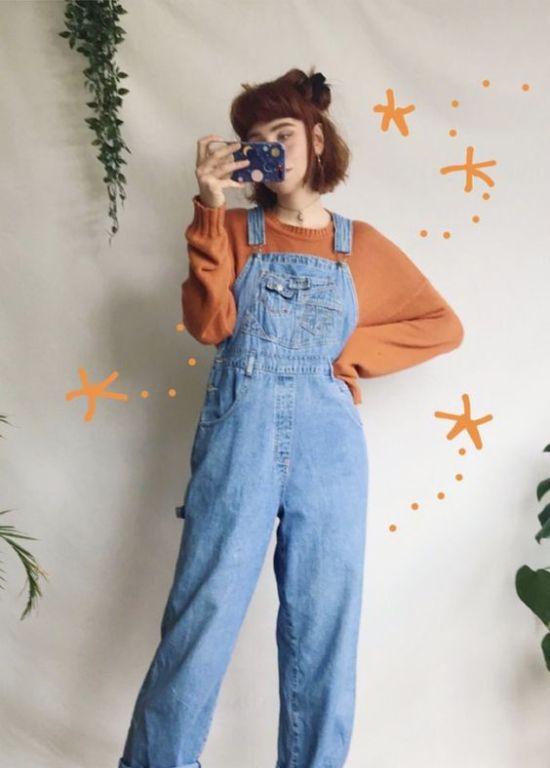 Cute cute cute! You can't miss this casual outfit look for sure, right? A kind of e-girl and vintage at the same time. Pair your sweatshirt under your overall jeans. Roll up the overall to show up your ankle and sneakers. For the accessories, you can have a simple and adorable necklace to complete your outfit of the day.
4. Ripped jeans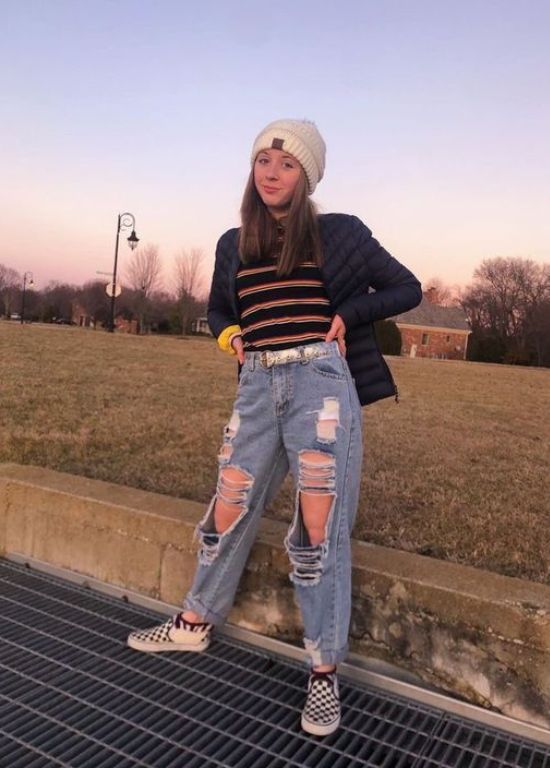 People often think that ripped jeans are difficult to mix and match. In fact, you can pair it with a simple tee and cardigan or jacket. For the fall season look, roll up your jeans because you want your slip-on shoes to be seen and wear a beanie to protect your hair from the fall breeze.
5. Cartoon tee and smiley pants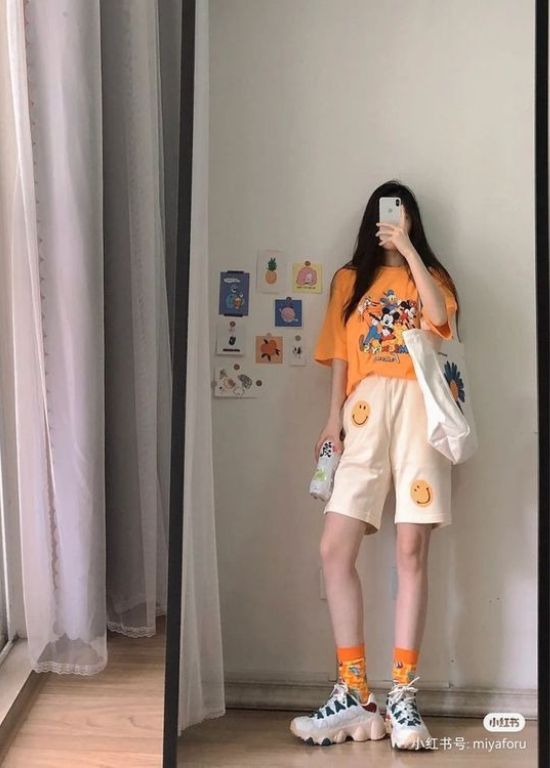 Definitely a summer outfit that is really casual and insanely cute at the same time. A fresh orange cartoon tee, a smiley short pants sneakers and orange socks, then a tote. This casual look fits your schedule to go to the park, stroll around or go out for lunch!
6. A touch of knit vest and baggy pants
Baggy pants will give you a classic vibe instantly. You can steal this look for your casual weekend or even go to school! A tee and knit vest are a good combo for a perfect look. Then, to complete your whole appearance, you can wear sneakers!
7. Stripe tee and shorts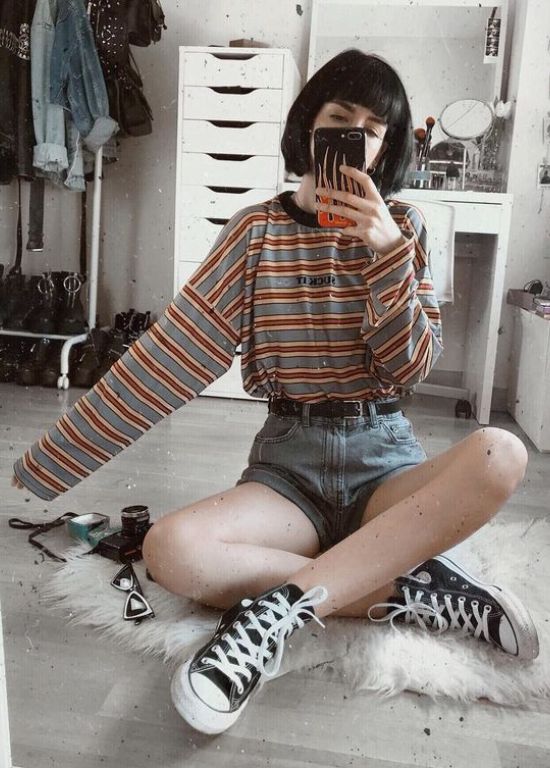 Stripes will always be a good idea. Stripes tee, shorts pants and a pair of hi-sneakers are ready for you to stroll around the city. Your look is simple yet classy. Don't forget to wear sunnies because this outfit is suitable for your summer.
8. Artsy and comfy
When you want to express your artsy side, then go on! This casual outfit describes you the most. A vintage jacket, knit turtleneck, short overall, pair it with beret hat to show up who you are. If you like, you can wear transparent tights or leggings with cute patterns as well.
9. Grunge yet adorable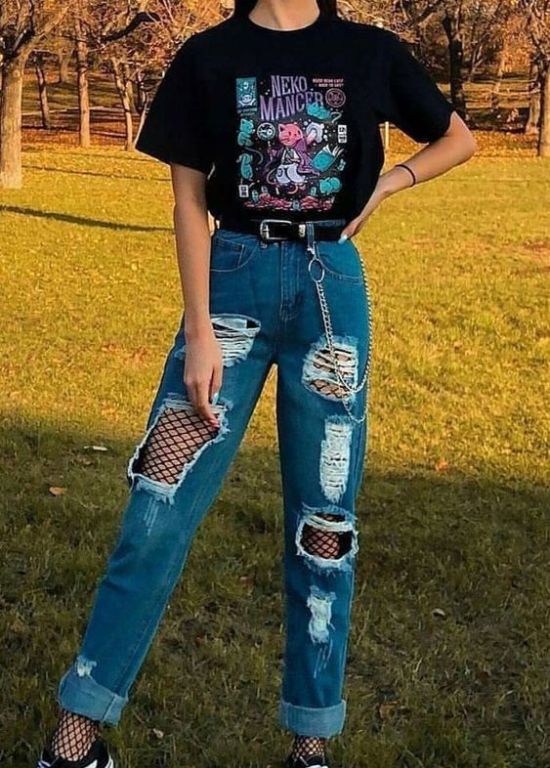 Some people might think that you are into grunge look. It is okay because you still have a cute side too. Ripped jeans and dark color tee makes people know who you are, especially with the chain all over the pants. Make it cute by wearing tights inside your ripped jeans and wear a good slip-on too.
10. So loose and comfy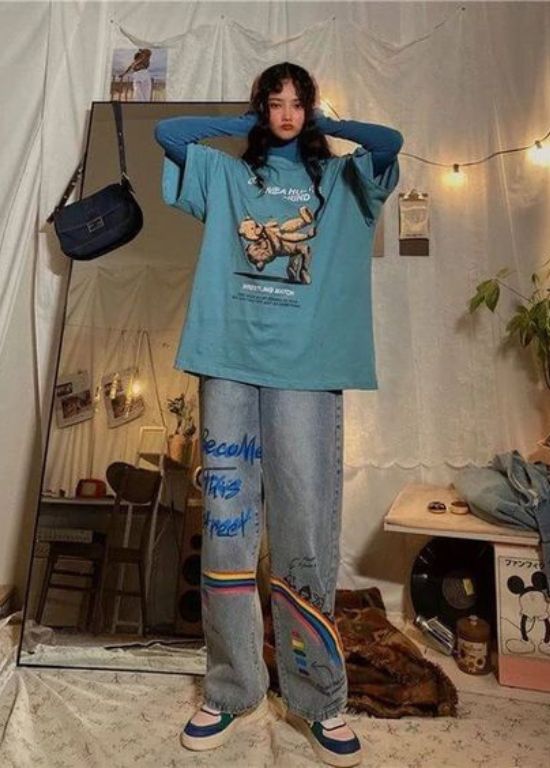 This outfit idea is very, very casual because the whole look is loose yet comfortable. Oversize tee over oversize pants for some people is a big no, but you can try it at least once before you are in love with this idea. To balance the look, you can have an inner tee especially if the season is getting cooler.
11. Oversize Graphic Tee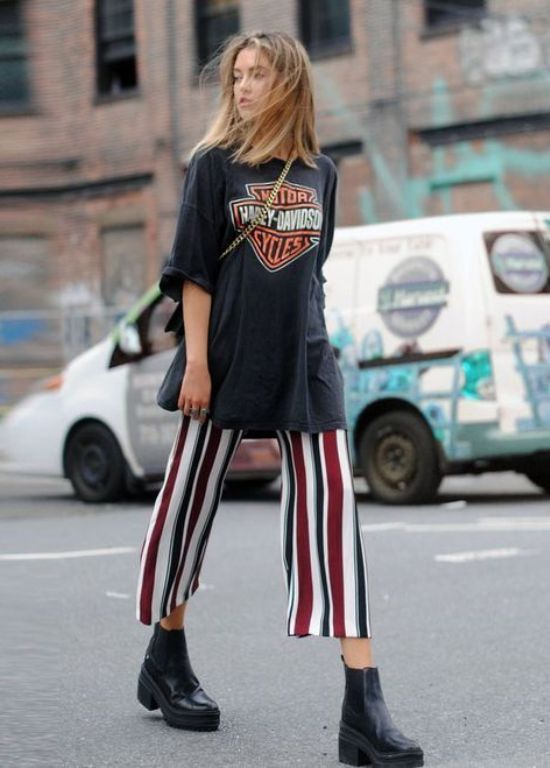 Graphic tees often come in a big size. This becomes people's favorite but for the teenage girls, they are still confused about how to pair it without having a feeling that the shirt is too big. Here, a casual outfit idea for teens by wearing a graphic tee that you can steal. Pair it with loose and light ankle pants or you can have skinny jeans for the bottom. Don't forget to wear simple boots or sneakers to complete the outfit.
---
---
Skirts or dress, you choose
Of course wearing a skirt will increase your cuteness level. Or sometimes it makes you look cooler too! Here, we provide the looks for you who crave for adorable daily outfit!
12. Cute overload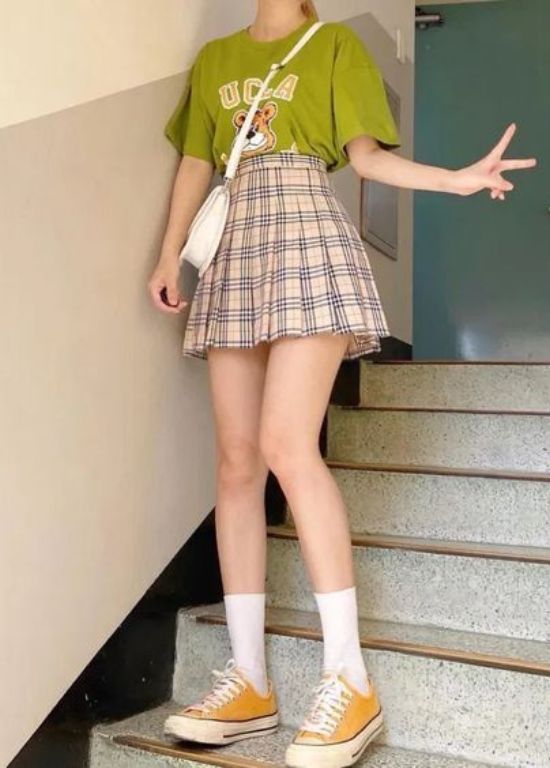 Undeniably cute look for your daily outfit. Tuck in your shirt over the mini skirt. Then wear your sneakers! Also, bring your sling bag since a sling bag is a key for the whole cutie appearance. So, are you ready to go to the park for a picnic?
13. Tartan dress and sneakers
This casual outfit idea for teenage girls fits for a daily look or concert look. Yes, you can go to the concert or festival with this outfit. Tartan dress, tee, a tote and sneakers. Although it seems classic, you still can rock your look! Don't miss your necklace and cute bangle too.
14. Sweatshirts over the skirt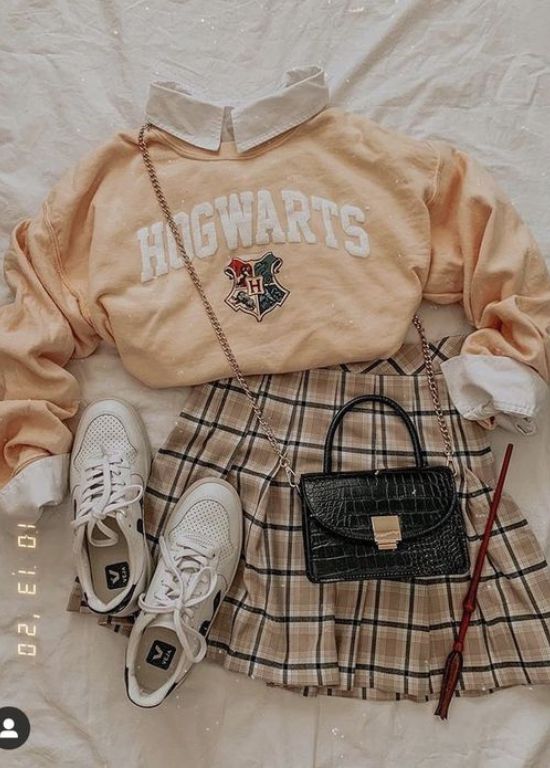 Sweatshirt and mini skirt will give you a fashionably cute look. You can mix the plain mini skirts or tartan patterns like this one. To make it a bit sporty, wearing sneakers can be done or if you are looking for the cutest one, pair your outfit with flats. Sling bag is a must for hanging out or for going to school, don't forget to bring your cute backpack as well.
15. Pastel color from head to toe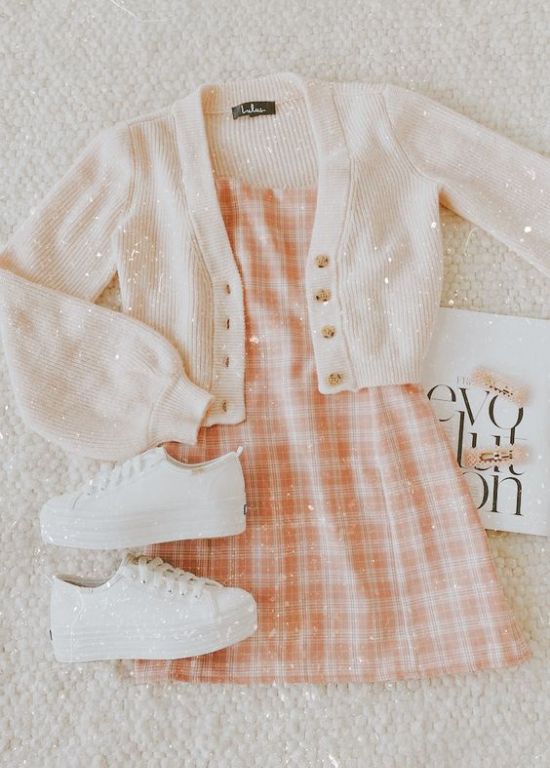 Pastel color dress and cardigan successfully bring you to the cutest teenage girl in the world. Although it is incredibly cute, this is still considered as the casual outfit idea for teenage girls as well. So, if you have a plan to go to the cinema for your first date or family time, this outfit never fail you, ever.
16. Vintage tee and midi skirt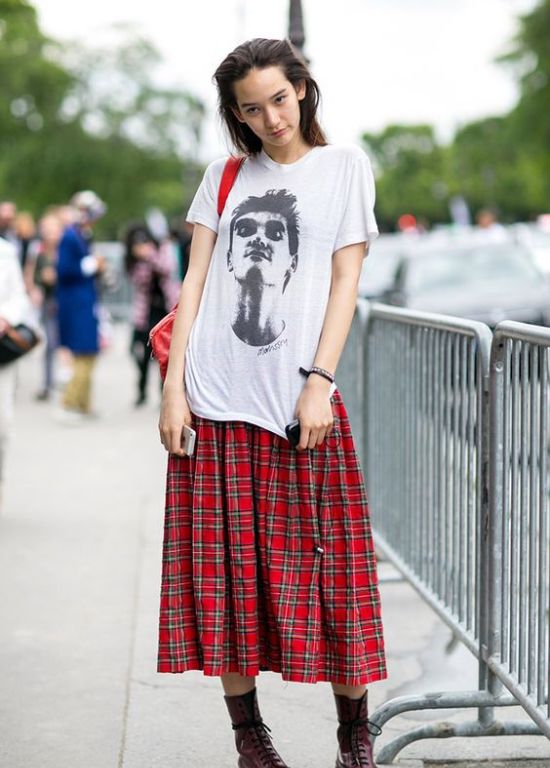 Want to go to the concert wearing a skirt? Go with this idea! A graphic tee, midi skirt, and boots will rock your look. The idea is simple for a casual one but not many girls think about this one. So, you can have this look only for you to start from now!
17. Knit sweatshirt rocks the looks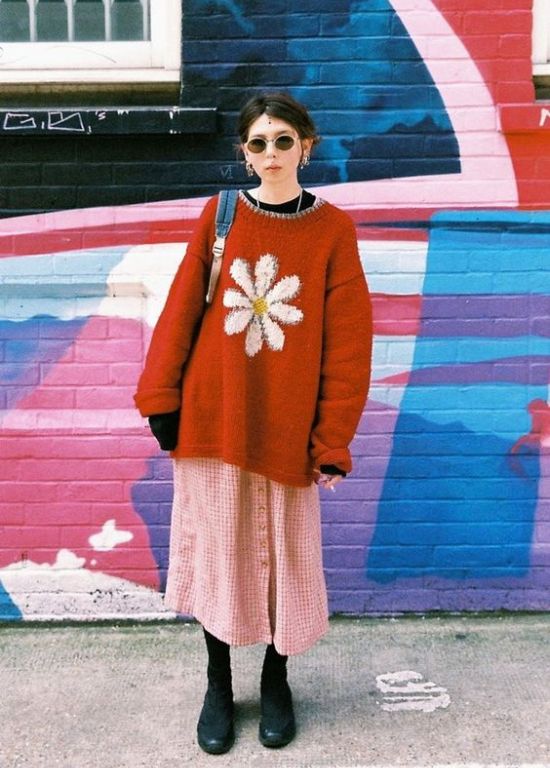 Knit sweaters are sometimes not comfortable to wear outside because it is heavy and you feel like a kid again by wearing it. But through this look, no more kids vibe! Rock your casual outfit by pairing your dress in the same tone color of your knit sweatshirt. Roll up the sleeves of your sweatshirt, then wear your boots since the temperature is getting colder.
18. Undeniable vintage sweaters
Wearing a classic sweatshirt is always a favorite. But sometimes, you will think it is too childish. Say no more with this idea! Midi pleated skirt is a good pair for your classic sweatshirt and it will bring you to the casual appearance. Also, wear your sneakers and backpack to ease your mobility.
19. Polka dot dress
Polka dot dresses and sneakers will make your look different in a good way. Since usually you pair the dress with flats or heels, now you can go with sneakers! To make it more casual, wear your tote bag as well with the same tone color to avoid too much color in your whole look.
20. Denim dress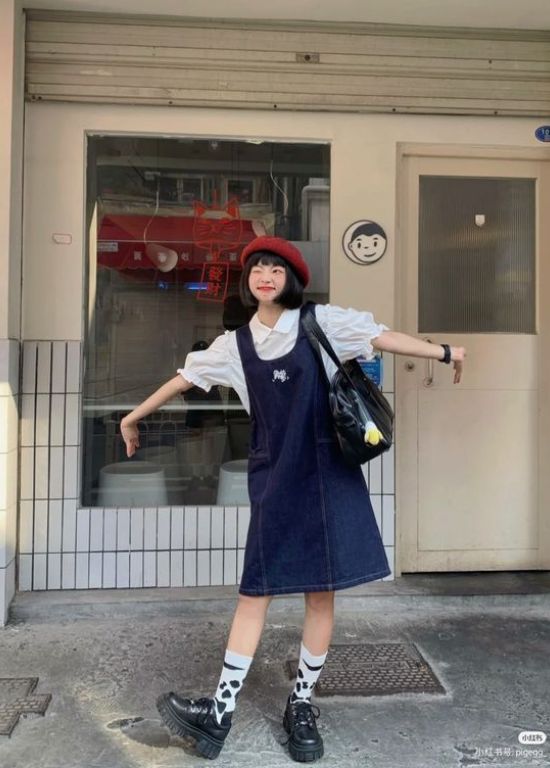 A vintage look turns into your casual outfit as if you live in the 80s or 90s. Denim dress, puffy shirts, beret hat, and platform shoes are a complete package for your daily outfit. If you need to bring a lot of stuff, you can have a big bag, if not, bring a sling bag to go out.
Conclusion
Mix and match casual outfits for teenage girls is not that difficult but tricky. If you are stuck about what to wear every morning before doing your activity, you can check our ideas above. Keep trying to mix and match based on your personality, then you can have the best casual outfit that really describes you. The key is confidence and comfort.
---
Latest Post:
---
FAQ (Frequently Asked Questions)
How can a teenage girl have a good style?
By finding out the reference about mix and match the outfit. Also, never be afraid to try something new as long as you are comfortable when wearing it. By always keeping trying, a teenage girl like you will have a good style with ease for your daily look.
How can a teenage girl look attractive?
By always thinking positive, feel comfortable and confident in what you wear. People can see how attractive you are if you know what you wear. No matter how pricey or expensive your outfit, if you are not comfortable when wearing it, people will see you differently. There is no positive aura that you can radiate to others.
What clothing styles are trending for teens?
Oversize sweatshirts, crop tee, and mini skirts are always trending for teens. Usually, those fashion items come in pastel colors or neutral ones. So, for you who want to have something that are always in style, keep investing in those items in your wardrobe.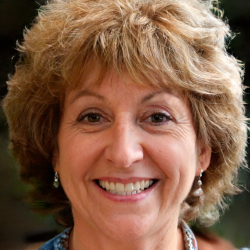 Latest posts by Suzy Prichard
(see all)