Since you're no longer a minor, you may notice some slight changes in your preferences and style. While this is completely normal, you can feel trapped in the activities you once liked. Partly because your age comes with additional rights you can enjoy, so you may want to try a lot of new things to do in New York for 18-year-olds.
However, although you can now get a body piercing and tattoo, work in various jobs, and enter a contract—among others, please do it responsibly. Our list below will let you explore new things to do in New York for 18-year-olds. We're sure these activities in NYC will not only contribute to your new definition of fun but also provide insightful ideas to make your steps into adulthood easier. 
1. Area 53 Allows you to be Playful All Day Long
Let's start this long list of things to do in New York for 18-year-olds with this one. Even though you're legally considered an adult, don't let your age fool you into becoming boring and forgetting to have fun! Area 53 NYC is here to fill your day with thrilling adventures, from laser tag and paintball to an indoor adventure park.
If you think the park is just a complementary recreational area, you are wrong. You'll feel like you need more than a day to explore the park's rope courses, arcade, rock climbing, and many more. 
Area 53 is located in a big warehouse-like space that will give you the impression of living in a video game setting. Not only that, Area 53 creates a different theme for each activity, making your experience feel more real. If you wish to have more than just games, put Area 53's DJ night on your list of things to do as well!
2. Grand and Glitzy Lips Drag Queen Show Palace Restaurant & Bar
If you are like us, you will agree that RuPaul's Drag Race is one of the best TV shows ever! Even if you are not, we still encourage you to come to Lips, a drag queen show restaurant and bar. Experience firsthand how drag is a creative performance that highlights strong self-expression. At Lips, you can enjoy a night full of laughter and delicious food and beverages.
Once we stepped into the room just minutes before the show, we knew we would experience something fabulous that night. What we love most about Lips is the glitzy atmosphere and the entertaining queens that make you feel like you are part of the show. Ssttt…the steak and fries are to die for!
3. Channel Your Inner Elvis at Shake Rattle & Roll Dueling Pianos
If this year you turn 18, we can ensure that you've never lived the good old rock-and-roll days. So, this is your chance to get to know Elvis Presley's best era (and beyond!) by heading to Shake, Rattle & Roll Dueling Pianos. Our pro tip, jot down your all-time favorite songs beforehand, as this would be a round of an all-request gig. The first time we came to the show, we expected to have an uneventful dinner, only to find out that we were wrong!
The show was unique and full of energy. We danced and sang along with other audiences to a broad range of songs in the rock and roll genre and beyond. You will be amazed by the musicianship, talent, and how entertaining they interact with the audience. This entertainment is off the chart, so please book here in advance to skip the line.
4. An Evening Full of Laughter at Gotham Comedy Club
There is never a dull moment at Gotham Comedy Club, especially when you get older, because you will understand a broader range of jokes, including adult jokes. What we love the most about this place is that each comedian's show is limited to approximately 20 minutes. Thus, this encourages comedians to deliver packed and enjoyable material for the audience.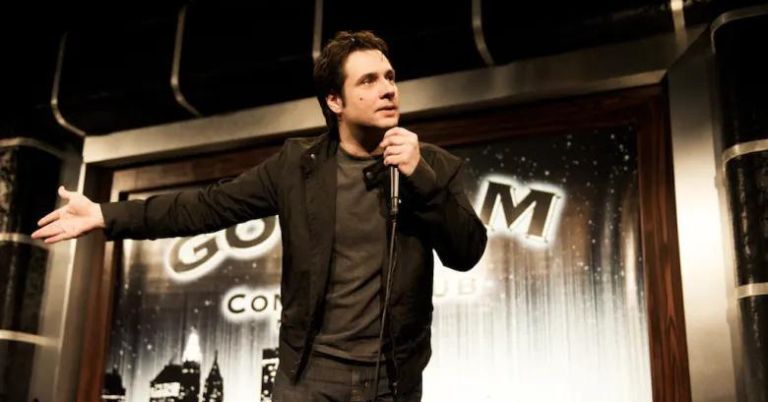 The venue has warm lighting and an intimate ambiance. These two components create a relaxed environment for you to enjoy a great lineup of comedians and delicious food. Sometimes some guest comedians stop by and do their performances there as well—a bonus if you're lucky enough.
5. Internship at the Met to Prepare Yourself as Industry Ready
Nothing beats doing an internship at one of your dream companies or places to prepare yourself for the job market in the future. Hence, we include it in our list of fun things to do in New York for 18-year-olds. Speaking of some cool places, you may want to consider being an intern at the Metropolitan Museum of Art. Step inside its beautiful building, and you will find that they perceive the museum as the cultural center of the city.
Internship programs at the Met are scheduled based on duration and period. For instance, summer internships, long-term internships, and fall and spring semester internships, to name a few. The programs do not only focus on the arts and object conservation but you are allowed to explore from the research side where science and arts intersect. 
6. Feel the Under-the-Radar Vibe at Secret Loft
We should admit that we're unsure if Secret Loft can be considered a hidden gem in the city—we mean, everyone knows how cool the show is! One thing is for sure; this is one of the best things to do in New York for 18-year-olds. Secret Loft's inclusive environment welcomes artists of all levels and forms. Therefore, creates its community.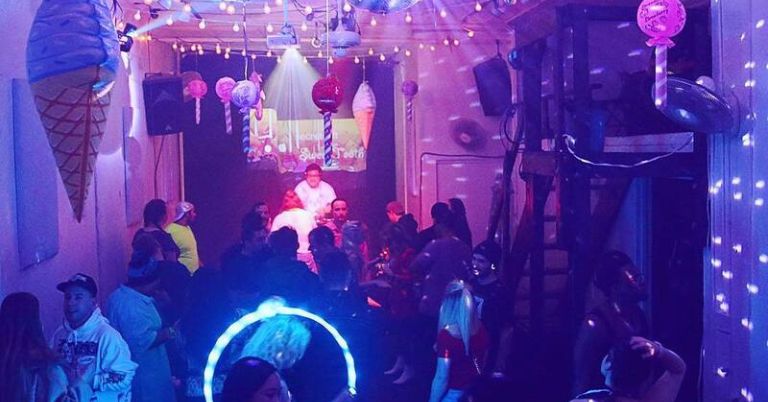 Learning their lineups and attending the various shows situated in a relaxed space, you will soon feel the eccentric nature of Secret Loft. Enjoy the DJ nights, dance parties, and even circus performances by both well-known and emerging artists, expressing their true selves. The authenticity stems from the fair-trade practices thanks to the hip and indie characters that have persisted over the years.
7. Peek Inside the City's Film Industry with NYC TV and Movie Bus Tour
Throughout your life, we believe you've explored many movies and TV series so that you can name some legendary titles. We would like you to join us in one of the most interesting things to do in New York for 18-year-olds. Instead of merely watching the movies and TV shows, go to NYC's best filming spots through the NYC TV and Movie Bus Tour.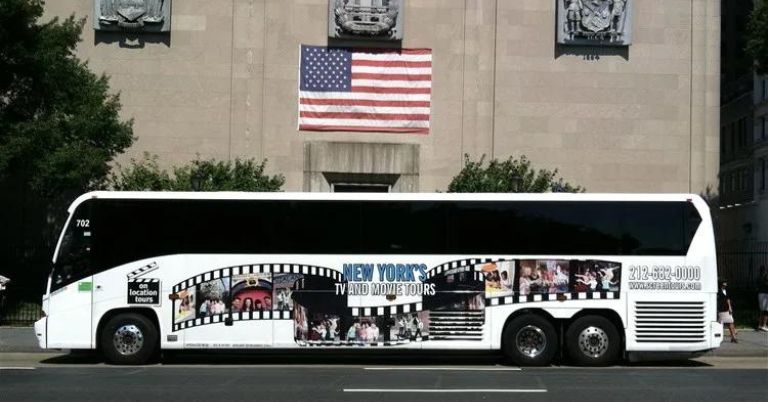 The tour itself doesn't only take you to places like Friends' iconic apartment or Modern Family's. More than that, you can peek inside the NYC film industry and get a complimentary tour of the neighborhoods of SoHo, Greenwich Village, and Tribeca, among others. You will also have the best comfort as the tour comes with a weather-adjusted bus.
8. Everyone Can Fly at NYC Paragliding
Celebrate yourself for no longer being a minor by doing activities you once weren't permitted to do, such as paragliding. Don't let your fear of heights get in the way and prevent you from having maximum fun. Train yourself by learning from the experts through NYC Paragliding which offers classes for various paragliding skills.
What we love most about NYC Paragliding are their gradual lessons that can cater to your needs and the highly skilled instructors with 70+ of experience. Unlike other providers who only focus on recreational purposes, NYC Paragliding does more than that. It puts forward its capabilities in pilot training, education, and recreation. 
9. Not Your Standard Bingo at the Standard Hotel
You've been told how to play conventional bingo, and maybe you've mastered the game before you turned 10. Now that you're 18 let us tell you how to play bingo on a whole different level, fun guaranteed! Some celebrities, such as Rihanna, Cameron Diaz, and Zac Efron, once came to play and had some karaoke rounds here. For us, this is one of the top things to do in New York for 18-year-olds. 
The bingo game we are talking about is not your standard bingo, although it is located at the Standard Hotel in Meatpacking District. Every Sunday night, people compete to get a slot at the hotel's Grill, where young adults will turn the dining room into an all-out wild party. You will play the games, create your own "balls" songs, sing, and dance the night away—all in a festive atmosphere. 
10. Explore the Deep Blue Sea with Pan Aqua Diving
Your age indeed comes with a broader choice of activities. However, sometimes you still have to earn a certificate to legally do certain activities in New York, and diving is one of them. Once you attain your certification at Pan Aqua Diving, diving will be one of your favorite things to do.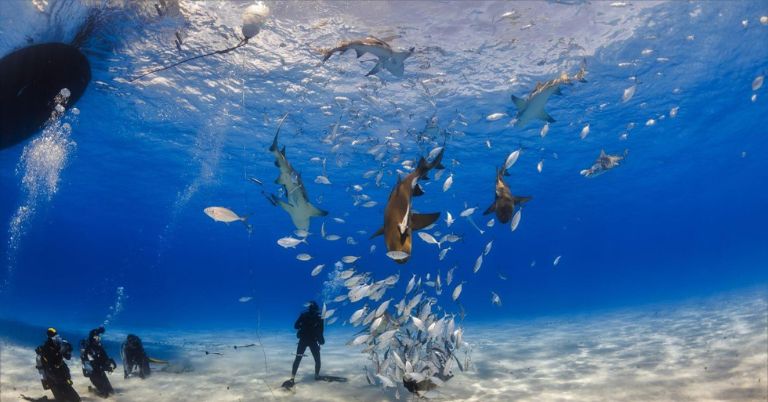 Pan Aqua Diving puts forward a comprehensive learning process. Therefore, they limit two scuba diving students per instructor. The Open Water Class and Pool take place in the luxury Manhattan Plaza Junior Olympic pool. We love how they carefully craft the gradual phases for each student to fulfill, from scuba knowledge development to underwater adventure. Pan Aqua also focuses on scuba travel and equipment. 
---
---
11. What's with Café Wha?
Have you ever wondered why this café is always atop the list of things to do in New York for 18-year-olds? You can choose to find your answers later, but let us give you some heads-ups. First, Café Wha?'s stage was where popular names like Bob Dylan and Jimi Hendrik got their start. Next, you can go here on your own without feeling lonely as the venue is lively, energetic, yet friendly at the same time.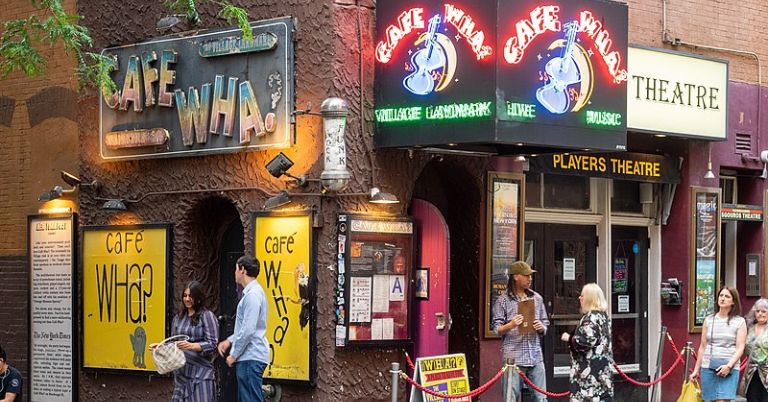 The fact that Café Wha? has been around since 1959 and has never lost its hype speaks volumes about why it deserves your attention. For us, it's hands down the best live music venue in the city, with warm and intimate seating arrangements and delicious food. Located in a corner of Greenwich Village, you'll love its eccentric façade, and the proximity to the stations makes it a convenient hangout spot. 
12. When Tattoo is no Longer Taboo
You have to be at least 18 years old to get a tattoo. We believe by the time we told you that you could now legally be tattooed without parental consent, you'd been searching for tattoo inspiration. While having a perfect tattoo design feels nice, finding an equally perfect tattoo shop is a whole different story. 
Our favorite tattoo shop in the city is Daredevil Tattoo, whose aura is magical and will leave you in awe thanks to its onsite museum. Yes, you read it right. The tattoo shop not only houses talented tattoo artists with various styles of tattooing. More than that, you can find vintage tattoo machines and tattoo memorabilia inside their museum. It's safe to say that Daredevil Tattoo stands between arts and history. 
13. NYC Hot Tub Boat Tour, the Unique Way to Experience the City
Of all the tour services offered in the city, which one is your favorite way to enjoy the city view? While a PM tour to Staten Island provides you with a romantic night view of the NYC skyline, we have a better option in our store. We swear that until this second, the NYC Hot Tub Boat Tour is the unique way to enjoy the city view.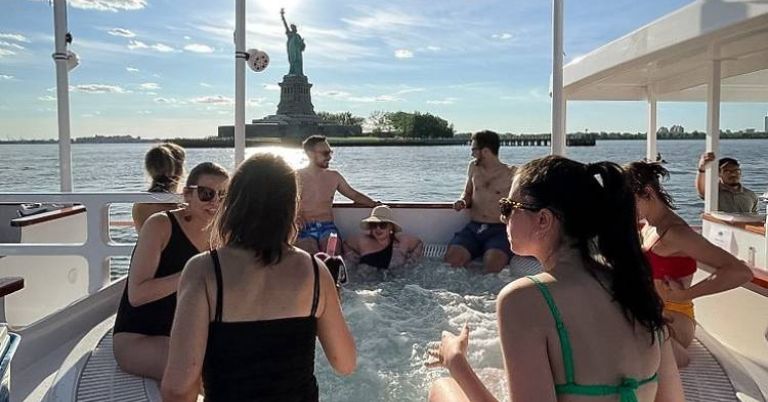 The 90-minute sightseeing cruise has two hot tubs on board for you and your friends to enjoy. As the only hot tub boat tour in NYC, we're blessed to have this service with complete amenities, ranging from a bathroom and changing room to a cooler for your drinks. Feel the breeze and warmth at the same time in a uniquely fun setting as your boat circles the Hudson River.
14. Volunteering through NYC Service
Other than doing internships, volunteering presents similar benefits for you to try to prepare yourself as an industry-ready individual. Moreover, volunteering at your age can also be a learning tool to increase socialization and build community. NYC Service aims to integrate volunteer and service programs in the city to maximize civic engagement through partnerships.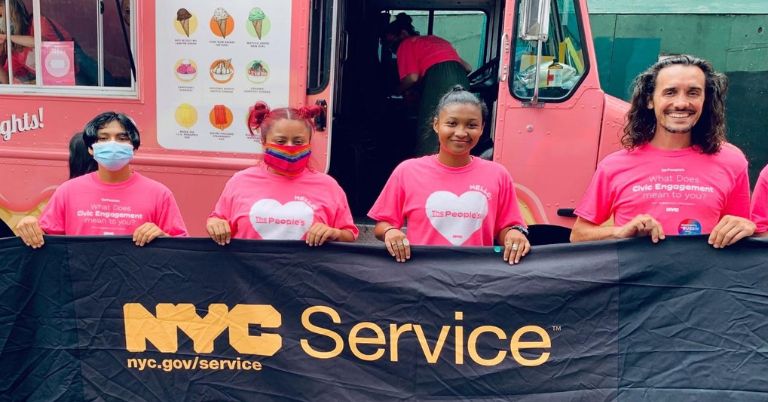 NYC Service also realizes the power of youth in addressing the city's needs. Thus, if you're interested in volunteering with their community organizations, simply browse their available opportunities here. NYC Service facilitates us in finding the right volunteering opportunity that suits our interests, borough, and skillset. If you want to learn about the organizations within their community, refer to the list here.
15. Experience the Most Fashionable Tour in NYC
Calling all fashionistas and fashion enthusiasts in NYC. Whether you plan to study fashion or are just curious about NYC's fashion industry, this one is not to be missed. WindowsWear's Fashion Window Walking Tour is one of the most charming things to do that will take you to the most fashionable spots. The tour makes us realize that there is more to fashion than just wearing clothes that match your personality.
The 2-hour fashion window walking tour doesn't stop at educative trips to Fifth Avenue, the Meatpacking District, and SoHo. More than that, you will have a chance to learn about manufacturing, sustainability, and marketing, as well as photography and social media. You can even learn from and discuss the industry with fashion experts.
16. Through the Unique Lens of The Ride
Name one experience that combines stage acts and adventures without considering The Ride! While we know you can't do that, we can guarantee that no experience can capture the NYC theatrical side as unique as The Ride. Wake up and feel like you are part of a Broadway show!
The Ride proves that the entire Midtown Manhattan can be transformed into a big stage where you can freely express yourself. The 75-minute entertainment involves surprising performances by talented artists, performers, and comedians along the trip. For full enjoyment during the tour, you'll be seated in a sophisticated bus with stadium-like seating, which presents a unique experience in itself. 
17. Pizza School NYC, A School for Pizza-Geeks
Any activities related to pizza are must-do things in New York for 18-year-olds. However, since you're 18 years old now, you should explore the food more than just merely consuming it. Pizza School will teach you how to make the perfect dough and, therefore, an amazing pizza. Bear in mind that cooking and food processing are two important basic survival skills you need to equip yourself with as you grow older.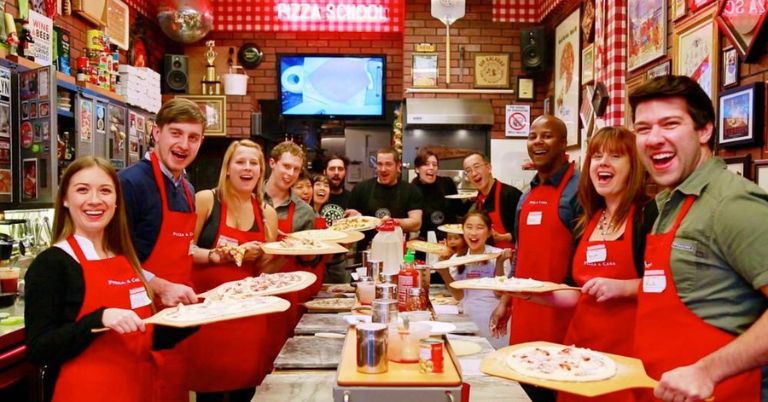 At Pizza School, you will learn how to make a delicious pizza from scratch. Every detail of what makes a good pizza—dough, sauce, crust, to name a few—is presented for you to learn. The instructors are very informative and make everyone feel included. We appreciate the hands-on class and the post-pizza class support that make us feel like a part of the community. Have we mentioned that we got to taste DiPalo's mozzarella?
18. Games of 1000 Boxes Ensure 1000% Fun
When you're younger, you might think Game of 1000 Boxes seems like attractive displays to take photos with. Not to mention the illuminating, colorful lights in a sophisticated setting that easily catch your eyes. Now that you're mature enough, you can use the live game show experience to appraise your teamwork and brainwork while letting nature take its course. 
The activity is called a "social gaming experience" for some reasons. First, the game emphasizes the interaction between the audience and the show. Your victory depends on your teamwork and collaboration in setting the winning strategies. The Game of 1000 Boxes also allows the high scorer access to check if they are still atop the leaderboard every week.
19. Sing and Sip at MS. KIM's Longue and Karaoke
For teens, karaoke is purely for fun. But as you get older, karaoke with friends can be a way to relieve stress and often ends with sharing playlists with your friends. When it comes to karaoke spots, we highly recommend MS. KIM's Longue & Private Karaoke for its hybrid nature. Once you enter the longue, you will get an upscale and friendly atmosphere at the same time. It features both Korean and Japanese styles with a modern touch.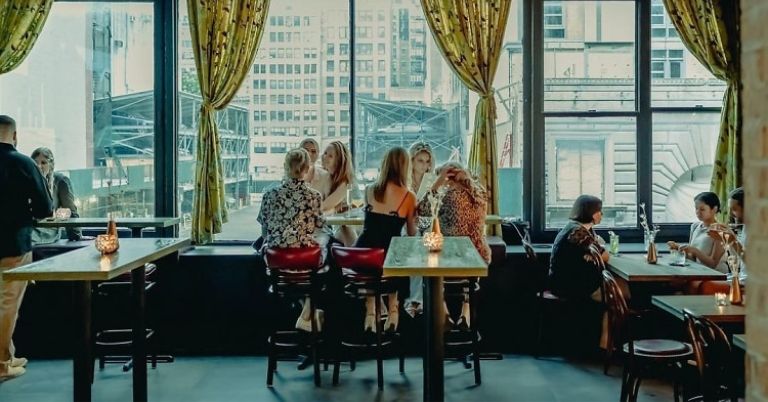 A fun night out in NYC would not be complete without MS. KIM's Longue & Private. Other reasons to add this to a list of must things to do in the city are the soundproof karaoke rooms and its Japanese and Korean delicacies. When you are not in the mood to sing, go enjoy the live jazz nights. 
20. Take a Few Hours to Honour the 9/11 Victims
For some people, the tragedy of 9/11 is too heartbreaking to recall. Yet at the same time, it is part of the world's history that contributed to reshaping the global order. Although you might be so young when the event occurred, the story and significance of 9/11 present learning resources for you to understand now. That's also part of the spirit the 9/11 Memorial and Museum would like to deliver; for you to learn, connect, and support.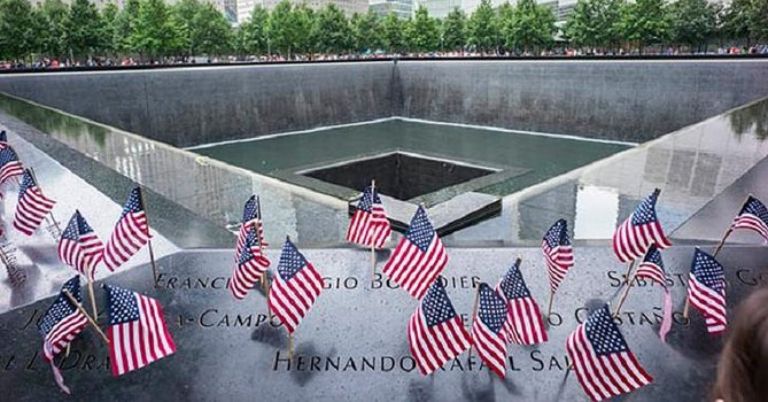 The 9/11 Memorial and Museum is very engaging and educative, making it easier for you to absorb the messages. We agree that this place radiates a contemplative aura, especially when you walk through some relics, despite the interactive displays. What's more moving is the pool where you can read a long list of the fallen names written on the stones, as it has a silencing effect.
---
Latest posts:
---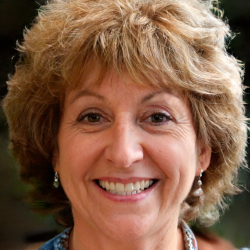 Latest posts by Suzy Prichard
(see all)