Isn't it lovely to have a family photo hanging on the wall in your living room? Especially if your teenagers can pose naturally based on the theme that you already planned before. Since usually, teenagers find it hard to join for family photos. They often try to have an excuse not to do it because they worry that the pose might be cliche and not that natural. Yet, say no more with our 25 natural and effortless family photo ideas with teenagers.
Our recommendation pose and theme will give a freedom to your teens to pose easily even by doing a one take only. Moreover, most of the photo ideas are taken outdoors, not in the studio with formal attire. They must be excited to do it!
1. Happily ever after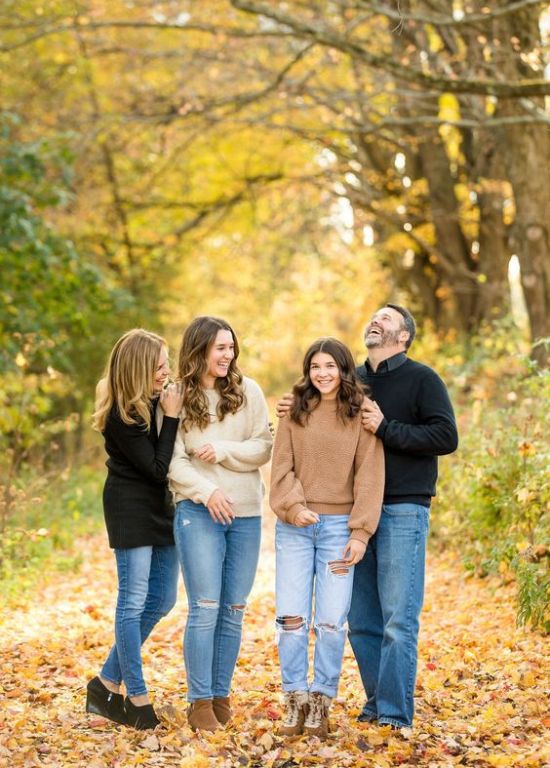 If your family loves walking outdoors or you decide to take a family photo when the season is in good condition, you can share this family photo idea with your teenagers. The fall weather is perfect for posing with your family members since the temperature is getting cooler after the summer and the fallen leaves are perfect for the natural properties of your family picture. Don't forget to laugh or smile naturally as if it is your happiest day ever! 
2. With all the boys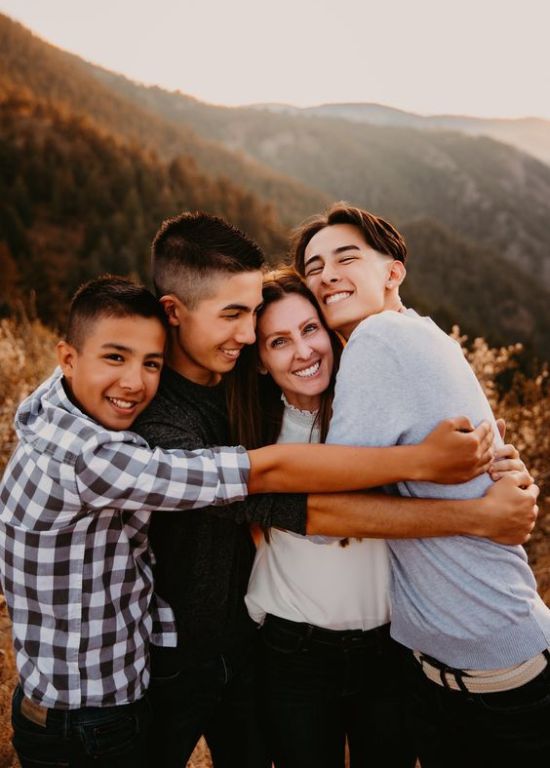 If you only live with the boys like the mom in this picture, why don't you ask them to take this fun family photo idea? Outdoor family photo while you are on vacation or hiking together, then hugging each other because your boys promise to protect their momma forever. This pose is sweet and indescribable for your guests who see it later.
3. Hugging each other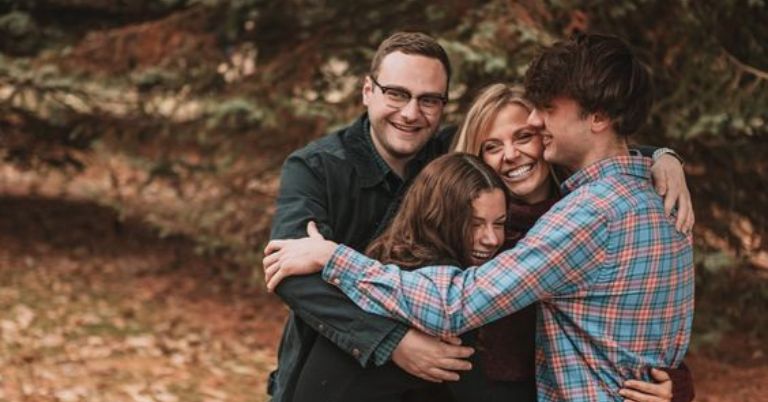 Hugging each other might be a timeless pose for family photo ideas with teenagers, but this one is never out of style. Ask your children to do this pose, prefer to go outdoors in order to get a natural background for your picture. Also, don't forget to smile to describe how you all love each other.
4. Vanity fair style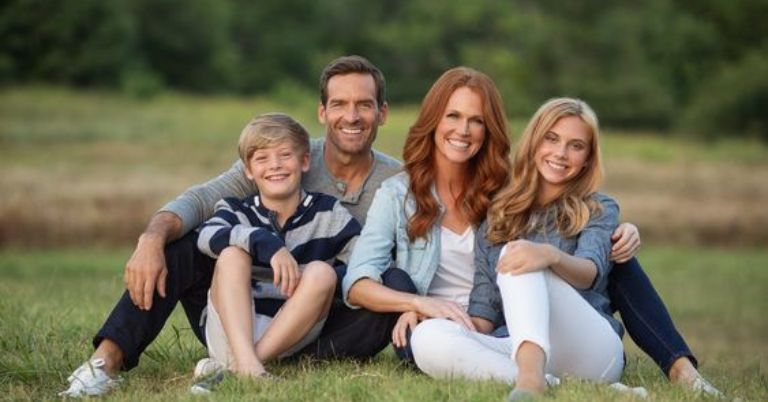 A chic, easy, yet still memorable family photo idea that you can have with your teenagers. You can dress up casually and take this picture in your spacious backyard by sitting down together. A cute smile from all of you will describe instantly how happy you are with your family. Also, this pose won't make your teens feel bored since it is very easy to do. 
5. Outdoor photo session
Enjoying nature by taking a photo together in the weed garden is a great idea. You just have to sit down together, look into the camera and smile. It fits a family with many members inside. Because taking photos outdoors will give you a spacious setting in which to take a picture together. 
6. Special for the boys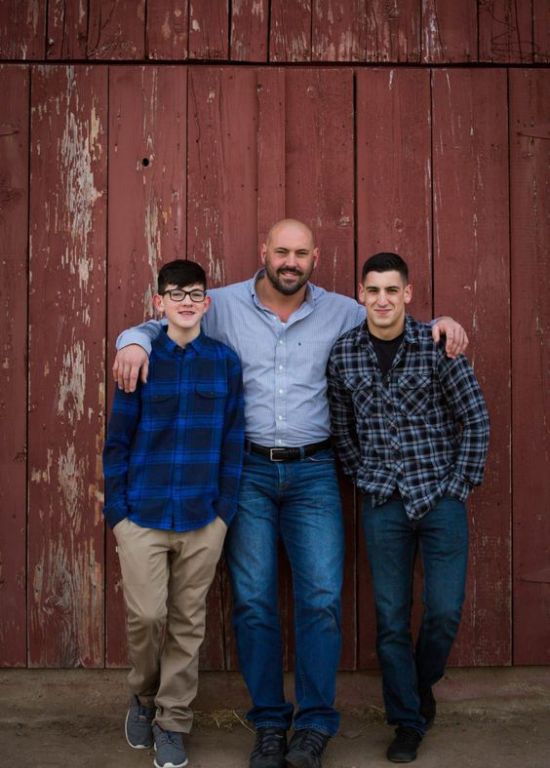 As for the boys, sometimes it is hard to take a photo together, especially for teens. But, you can do it quickly and easily by posing like this one. It doesn't take much effort to do this with the boys because you can take this picture in front of the house or when all of you hang out together. Let the boys pose naturally and make sure they put on a smile.
7. In front of the house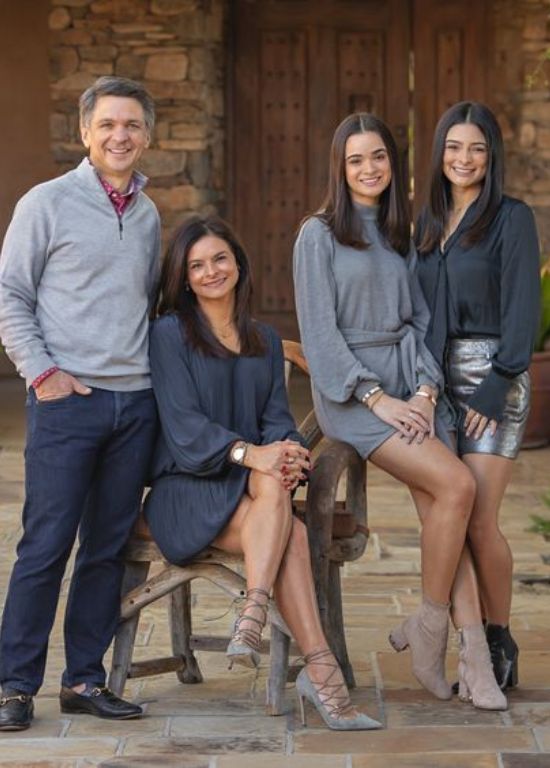 When you decide to take a family photo with your teenagers, never think to do it in a studio if they are busy because we guarantee they don't want to go to the photo studio. So, as the solution, you can take a picture properly in front of your house or patio, put a chair as the property and start posing like this one. You can dress up in the same color tone to make the photo look harmonious. 
8. Fall for family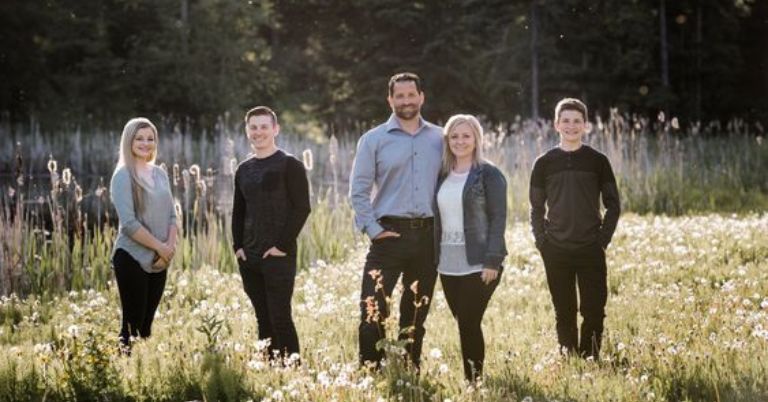 It is very simple and doesn't take much time to take this family photo. The composition of this family photo idea with teenagers is good and not that empty, although it is done outdoors. Also, you can steal this pose and smile naturally if your children are not into hugging poses. 
9. Casual
It fits to take this family photo after gathering because you already dress up cute and beautiful together with your teens. Dressing up with a pastel dress and shirt while the children wear all white is adorable to look at. Two or three poses will be enough for a family photo. 
10. Classic black and white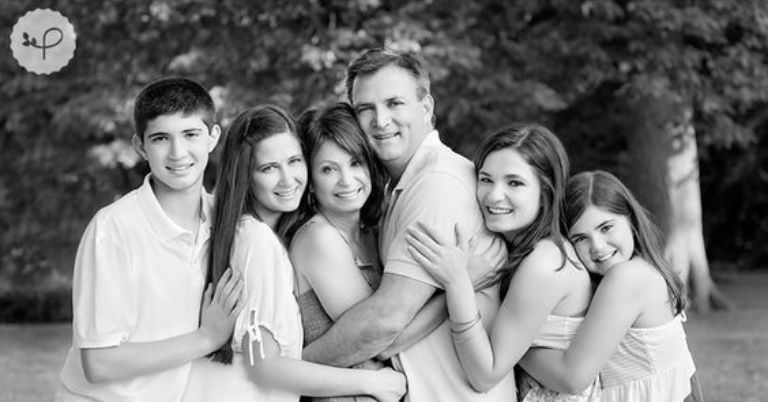 Stunning and classic black and white family photo ideas. Although the picture is not that old because you just took it together with your kids, the black-and-white effect gives it a different vibe, especially when you hang it on the wall. 
---
---
11. Lying down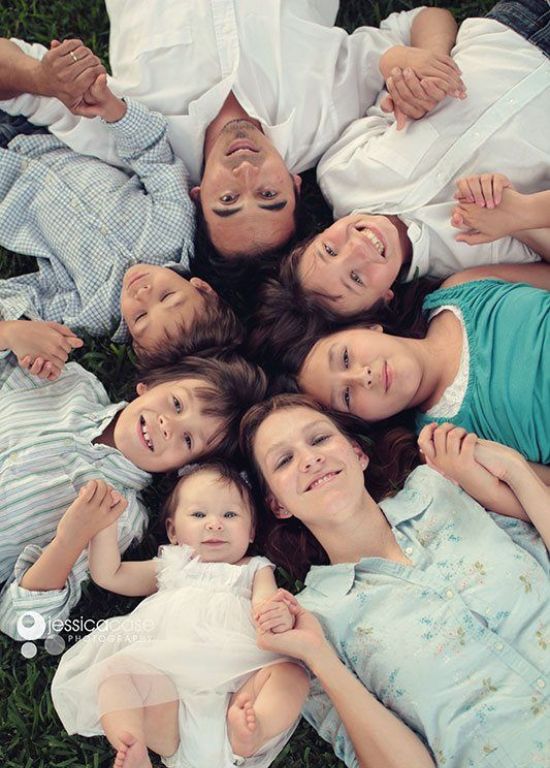 Thinking that taking a standing family photo is pretty boring? This is the reason you have to take a photo while lying down together. It is pretty useful if you have a baby too, because she/he can pose naturally. As for the teens, they also just have to look at the camera and smile. 
12. Holding tightly
When you are out of ideas for a free pose for a family photo, you can start asking your teens to hold hands and walk together happily. This moment can be captured perfectly, and your family photo with teenagers will not look boring anymore. 
13. Don't forget the dogs
Who said that family members are only parents and children? You can allow your dog to be part of your family photo too! It must be fun if your teens can have fun together with the dogs or any pets that you have during a photo session. 
14. Siblings
When it is for the children only to take photos, this pose is effortless and worth trying. You can let the teens sit down together and smile naturally. It is better to take this family photo outside during the fall, so they can dress up in earth tones. 
15. Formal photo session at studio
In love with formal family photos? It is your time to ask your family, including your girls, to do a fierce pose together. A luxurious feeling will give a new vibe to your living room while you hang the photo there. Also, your girls can have a pretty make up for this photo session, which they must like.
16. Many family members no problem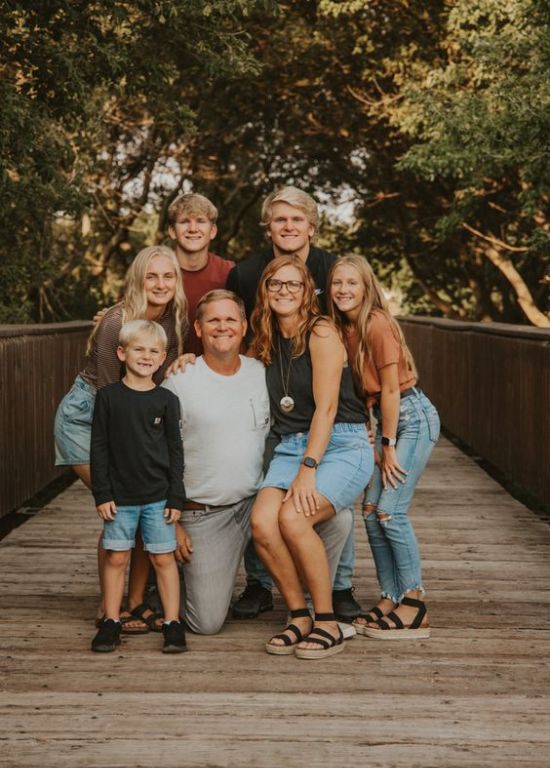 Have many family members and most of them are teens? Try this casual family photo idea with them outside. You can do it at the bridge while walking on vacation or near the house. Easy with earth tone color that fits for your favorite one.
17. Simple and adorable pose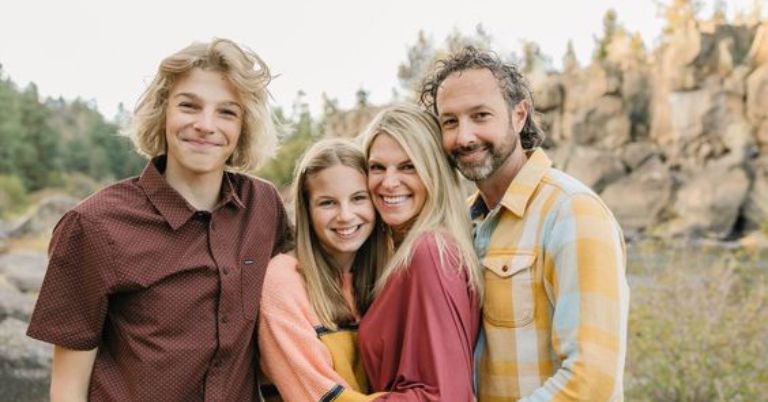 As a small family, having this adorable pose is memorable. Ask your teens to dress casually with button up shirts, then go outside to your favorite place in this photo. You can hug your daughter and let the boys stand beside you and your daughter to get a perfect composition. 
18. All black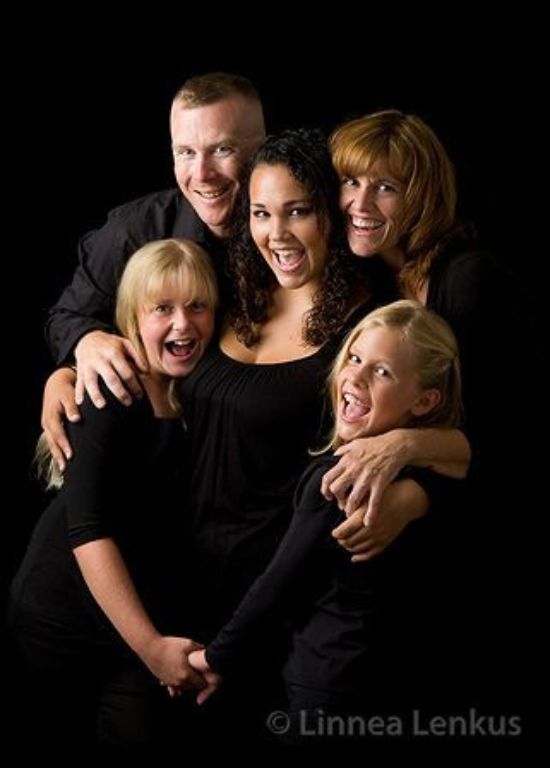 For those who love wearing all black, this family photo idea is gorgeous. You don't have to think much about the theme because wearing black itself is already a theme. Also, your teens must be excited because they don't have to be confused about the color of their dress that should be worn. Classic and elegant at the same time. 
19. Focus on the kids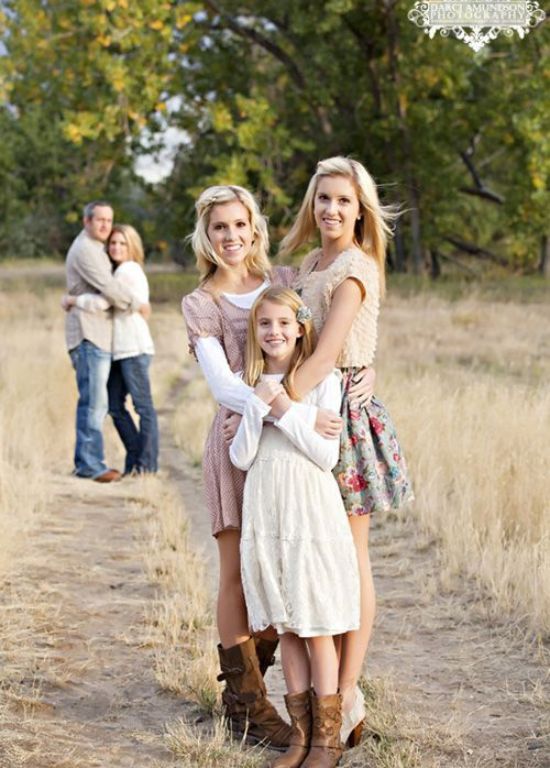 This is a different pose from another. You can hug your husband while the teens hug each other. Your children will be the focus of this family photo, but the viewer can see the whole picture and that all of you are happy in the picture because your children grow well. 
20. Walking together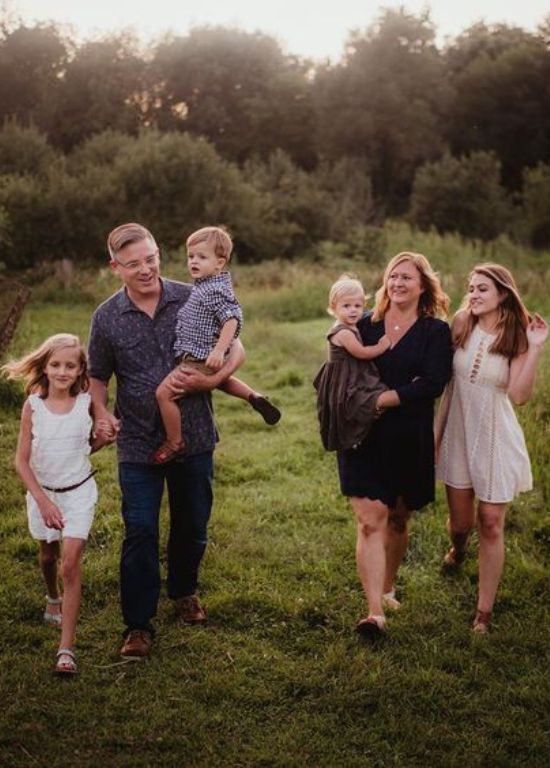 Walking pose naturally like this is best for you who lack of idea how to pose for your family photo. Your teens also don't face any difficulty with this one. Furthermore, you can set the theme based on the location of the photo session. 
---
---
21. Scrabble tiles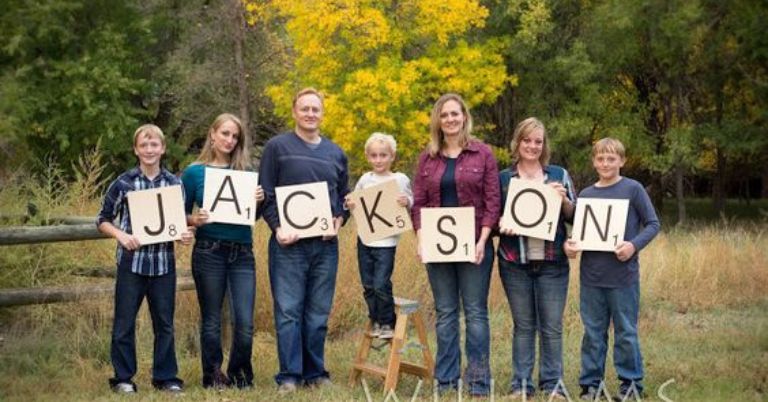 Having a family photo with a scrabble theme like this is pretty unique. You can ask your husband and teens, holding each letter, to show the name of your family. It is an excellent idea to do it. Also, if you have another pose idea with holding the scrabble.
22. Family Stacked Photshoot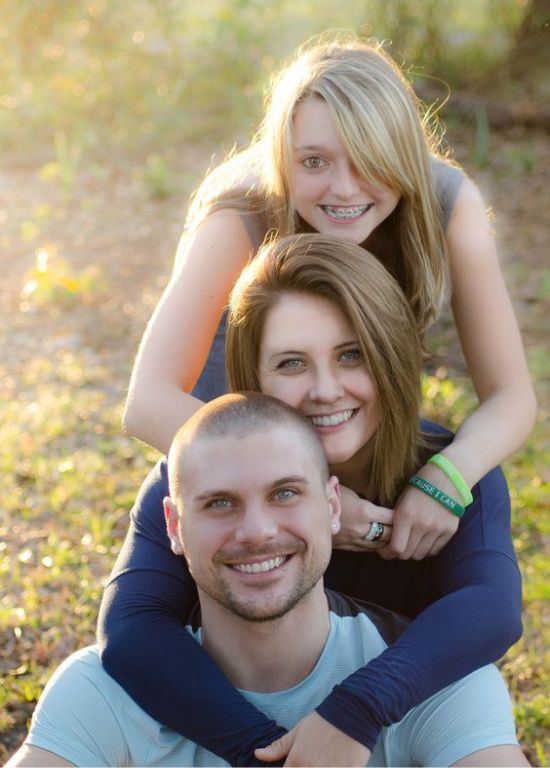 Adorable and easy pose for your small family photo. Your teenagers also don't mind doing this pose for a family picture. For the setting place, it can be done indoors or outdoors. Then, try to have a one tone color for the outfit to match in the picture.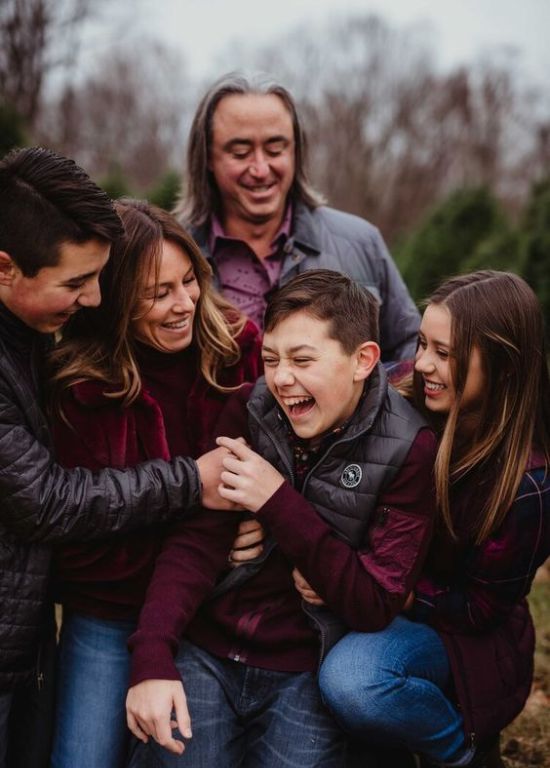 Show how happy your family is by posing while laughing together. To make the laugh look natural, you can tell your kids to remember the funniest moments that all of you have ever had. So, the photographer can capture it easily. 
24. Kissing momma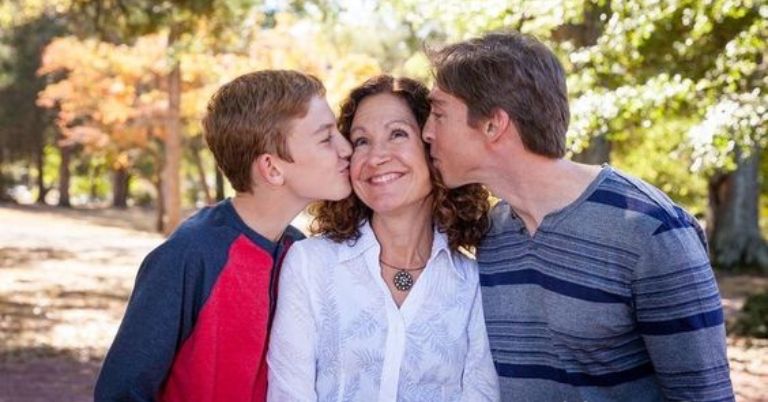 This cheeky pose is cute and adorable, especially if your teens and you are that close. As a family photo, this is such an incredible moment ever. Your child and husband kissing you will be an unforgettable picture that you can hang on the wall forever. 
25. Three members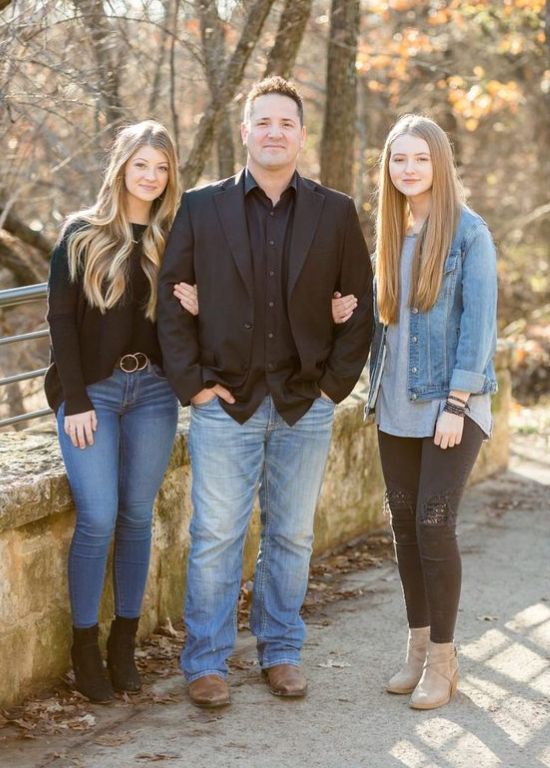 When daddy decides to do a family photo, you can ask your daughter and wife to do this idea. Your wife and daughter can hold your arm and show how they love you that much. You can do it outdoors or indoors based on your preference.
---
Latest Post:
---
Conclusion
So, already decided what pose you want to do together with your family and teenagers for your family photo? Trying one or two new poses will be great. We think having an indoor and outdoor setting place will be a perfect one. 
Where should you hang family photos in the house?
You can hang it in the living room. So, it tells the guests about your family members without having to tell them the details. Living room is also the ideal one to hang the photo of the family since it is the first room that the guest will visit your house.
What color grabs attention most?
Earth tones or black and white will grab attention the most. Although the photo is not vintage, giving the vibe of black and white gives another classic atmosphere yet elegant one. 
What clothes look good in family pictures?
Having an all black outfit, formal attire, or even a casual one in khaki or blue is a good idea. Those colors look good in family pictures. It is better to have a one theme outfit to easier the photographer edits your photo. 
Latest posts by William Niocolas
(see all)